The sight of Shohei Ohtani in a Los Angeles Angels uniform might be starting to feel familiar after he made his third spring training appearance in the past four days, but the two-way player doesn't consider himself a true big league player just yet.
"I really won't feel like a major leaguer until Opening Day," Ohtani said through his interpreter after going 0-for-3 against the Colorado Rockies on Tuesday.
While the pitcher/hitter waits for that regular-season moment to arrive, he will be plenty busy honing the unique schedule he needs to get in work both on the mound and at the plate this spring.
Under the current construction of his schedule, this means Ohtani won't see the batter's box again until at least Sunday due to a Wednesday bullpen session and Friday pitching appearance that manager Mike Scioscia announced will come in a B game against the Milwaukee Brewers. Ohtani will be limited to about 45 pitches in the game.
However, the plan currently keeping Ohtani from swinging the bat on days he throws bullpens could change as the spring progresses.
"I'm not hitting tomorrow, but that might not be the case the rest of the time" Ohtani said. "I'm still trying to get used to things. Once I get used to the rhythm of the schedule, I might start hitting on my bullpen days also."
Ohtani isn't worried about rust despite a plan that could lead to longer breaks than most hitters see between at-bats.
"I've been experiencing the same thing in Japan for a while now," Ohtani said. "The one thing I've been doing is taking BP as much as I can so I stay ready."
From the early results, Ohtani also won't press to get in extra swings when he does get at-bats for the Angels. Following a trend that led to two walks and a single in Monday's hitting debut, Ohtani showed patience again in his first plate appearance of Tuesday's game by taking five consecutive pitches on his way to a first-inning strikeout. He then hit a towering fly ball in his second at-bat before grounding into a fielder's choice and being lifted for a pinch runner in the sixth inning to complete his day.
"I think it was productive," Ohtani said of his performance. "Yesterday's game, I only swung in my third at-bat. This time, I struck out the first at-bat but then I put some good swings on the ball."
Jason Castro, Houston Astros reach agreement on one-year contract, source says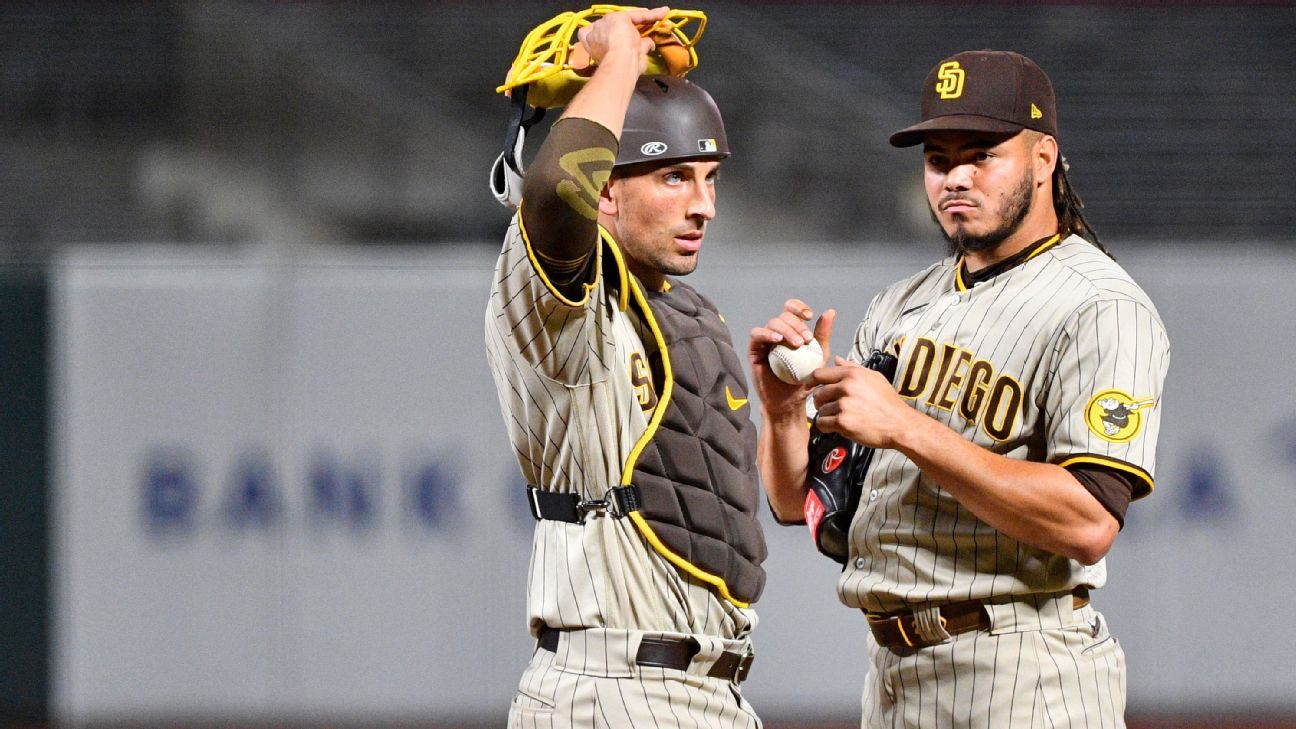 The Houston Astros have agreed to a one-year contract with catcher Jason Castro, a source confirmed to ESPN.
The deal brings Castro back to Houston, where he spent his first six major league seasons and was an All-Star in 2013.
Castro finished the 2020 season with the San Diego Padres following a trade by the Los Angeles Angels in August. The 33-year-old appeared in 27 games between the two teams during the shortened season, hitting .188 with two home runs and nine RBIs.
He has been a below-average hitter throughout his career, with a .230 batting average, but has been lauded for his pitch-framing and blocking skills.
The Athletic first reported on the agreement.
Information from The Associated Press was used in this report.
What pitching every fourth day would mean for Trevor Bauer and the team that signs him
So often, when you reference the big numbers of a pitcher from baseball's past, you are dealing with results that have no modern relevance. They certainly have little use as a signpost for what some present-day hurler might do. Things have changed too much.
There are some obvious examples of that which come up in a records-never-to-be-broken debate, like Cy Young's 511 wins or 749 complete games, figures compiled during baseball's mythical-sounding past. You don't even have to go back that far. The post-World War II record for innings pitched in a season was set less than 50 years ago: Wilbur Wood threw 376⅔ innings in 1972, edging out the 376 mark set the season before by Mickey Lolich.
What makes those kind of numbers seem so fantastical now is how impossible it feels that we'll ever see anything like them again. And that's not necessarily because a pitcher couldn't do it. It's more because through endless iterations of team-building strategies over the years — a process that has sped up exponentially over the past couple of decades because of technological innovation — organizations have realized it's not smart to have pitchers even try for numbers like that. It's not smart for exacting maximum value from the pitcher, and it's not smart for winning games.
Enter Trevor Bauer: "Allowing me to pitch every fourth game is priority No. 1. Unfortunately I can't accept less money for that because it affects future players and markets as a whole."
That tweet, from Bauer to a fan, is more than two years old. It wasn't the earliest incidence of him proclaiming his desire to become an every-fourth-day pitcher and it wasn't the last. The idea on the surface of it seems like a lark. After all, such workhorses are long extinct in the big leagues and to revive them would entail the wealth-infused madness of a real-life John Hammond, of "Jurassic Park" fame. Right?
Mike Sadek, former San Francisco Giants catcher, dies at 74 after illness
SAN FRANCISCO — – Mike Sadek, a popular backup catcher who played all eight of his major league seasons with the San Francisco Giants, has died. He was 74.
The team announced Sadek died Wednesday in San Andreas, California, following a short illness.
Sadek was a .226 career hitter with five home runs and 74 RBIs in 383 big league games from 1973-81.
San Francisco selected Sadek in the 12th round of the 1966 amateur draft, but he opted to return to the University of Minnesota. The Twins then chose him in the fifth round the following year before the Giants picked him in the December 1969 Rule 5 Draft.
At age 26, he made his major league debut on April 13, 1973, and spent parts of eight seasons with San Francisco. His 64 games in 1980 were a career high.
Sadek went on to work in the club's community relations department from 1981-99 before retiring.
"Mike was a Forever Giant in every sense of the term," Giants CEO Larry Baer said in a statement. "He spent nearly 30 years in the Giants organization between his time as a player and his role as a member of the front office. He had a genuine love for the game and was known for getting a laugh out of his teammates when they needed it the most. Our condolences go out to the Sadek family for their loss and we extend our thoughts to his teammates and friends."
Sadek was born May 30, 1946, in Minneapolis.
He is survived by his son, Mike Jr., daughter-in-law, Melanie, and grandchildren Jackson, Nicholas and Maxwell. Sadek was preceded in death by his daughter, Nicole.