TAMPA, Fla. — Russell Wilson's childhood visions became a reality Monday as he reported to the New York Yankees' spring training facility and donned the pinstripes for the first time.
The Super Bowl-winning Seattle Seahawks quarterback will be spending the next five days with the Yankees after a trade last week that sent him from the Texas Rangers to New York.
Perhaps the highlight of Wilson's arrival came when Yankees batting practice Group 2 took center stage. Wilson joined Yankees sluggers Giancarlo Stanton, Aaron Judge, Gary Sanchez and Greg Bird for a few rounds of live hitting. Unofficially, Stanton paced the group with 15 total home runs, while Judge had 10 and Bird had eight. Wilson got on the home run leaderboard, too, eclipsing Sanchez by one with six long balls.
Although he took some soft toss over the weekend, Wilson, with his 31-ounce Louisville Slugger that had his name printed on it, said this was his first batting practice session in a while.
"This is what I've known my whole life," Wilson said. "Now, I couldn't just step on a basketball court. I wouldn't be good at basketball, but baseball, it's like riding a bike once you get back out there for me. It's not an easy sport, though. It's very, very difficult."
Difficult or not, Wilson is enjoying being back around baseball.
"It's definitely one of the coolest things I've ever done," Wilson said about putting on a Yankees jersey for the first time, with a nod to Babe Ruth. "I tried to get No. 3, but I think somebody had it already.
"Ever since I was a young kid I always dreamed to be a Yankee. I always watched them. My favorite player was Derek Jeter growing up, watching him, his professionalism and how he played."
Wilson's late father, Harrison Wilson III, was a lifelong Yankees fan. Before he died in 2010 of complications related to diabetes, the elder Wilson hoped his multisport son might one day play for his favorite team.
"I always told my dad I'd be a New York Yankee, and now I'm here," Wilson said.
Although Wilson is officially on the Yankees' spring training roster, he won't be playing in any games. Manager Aaron Boone has stressed that Wilson's primary duty is simply to enjoy himself.
Before stepping into the cage, Wilson fielded ground balls at second base. In addition to making routine throws to first, he also worked on his double-play pivots with shortstop Didi Gregorius. Wilson told Gregorius it was his first time taking ground balls in a year and a half.
"I told him it does not look like it," Gregorius said. "He did not look rusty at all."
Despite the circus-like atmosphere that Wilson's arrival at Steinbrenner Field has created, he told reporters in a news conference that his appearance here was sincere.
"Some people always, for me, get confused on 'is this just a stunt' or whatever. They don't know me. If you really know me, baseball's been part of my blood," Wilson said. "It's been a part of who I am and where I've come from and what I've done. When you see me make plays on the football field, a lot of that's a direct correlation to baseball."
Although he wants his players to pick Wilson's brain about leadership, Boone has kept his charges to Wilson simple.
"I don't want him to feel like he's got to address this or do that. I want him to kind of come in and just kind of be himself, and get to know us and enjoy himself. A lot of our guys will benefit from him being in camp. It's exciting to see how excited he is about being here."
Yankees such as Oregon-born Seahawks fan Brandon Drury are ready to see how this week unfolds.
"The guy's a winner," Drury said. "Whether it's baseball or off-the-field stuff. Even mental stuff … I know he's really smart and he studies the game and he cares."
Wilson, who played college baseball at NC State, was drafted in the fourth round of the 2010 MLB draft by the Colorado Rockies. The Rangers acquired him from Colorado in 2013. Wilson spent parts of two seasons playing Class A ball in the Rockies organization before he was selected in the third round of the 2012 NFL draft by Seattle.
"I'm going to immerse myself in everything that they're doing," Wilson said of the Yankees. "I want to learn as much as I can and also compete as much as I can."
ESPN's Jenna Laine and Jon Scher contributed to this report.
Tampa Bay Rays prospect Shane Baz to start vs. Japan at Tokyo Games
YOKOHAMA, Japan — Tampa Bay Rays prospect Shane Baz will make his Olympics debut Monday night, starting for the United States against Japan.
A 22-year-old right-hander, Baz is 3-4 with a 2.26 ERA in 12 minor league starts this season, striking out 82 and walking 10 in 55⅔ innings.
After starting 2-4 with a 2.48 ERA in seven starts at Double-A Montgomery, he was promoted to Triple-A Durham in mid-June and went 1-0 with a 1.96 ERA in five starts, striking out 33 in 23 innings. He was the Rays minor league pitcher of the month in June.
Baz pitched the second inning of the Futures Game at Denver's Coors Field on July 11, throwing a called third strike past the Atlanta Braves' Michael Harris, fanning the Chicago Cubs' Brennan Davis and retiring the Colorado Rockies' Ryan Vilade on a groundout.
The United States and Japan enter the game with 2-0 records.
Joe Ryan, traded from Tampa Bay to the Minnesota Twins for Nelson Cruz, beat Israel in the U.S. opener Friday, and former Texas Rangers pitcher Nick Martinez got the victory over South Korea on Saturday.
Israel ousts Mexico from Tokyo Games with 1st Olympic baseball win
YOKOHAMA, Japan — Israel had just routed Mexico for its first Olympic baseball victory, riding a loud three-run homer by Danny Valencia that helped it jump to a six-run lead, and Nick Rickles wanted to check the reaction.
"I don't think it's so much about beating Mexico." he said after Monday's 12-5 win. "I think it's a lot to just raise awareness for baseball in Israel. For me, I was just taking in the moment and seeing after the game the amount of love that we received from people back in Israel. We had messages on top of messages from people just saying thank you."
Valencia went deep against a Double-A pitcher playing in his 15th consecutive minor league season, Rickles had three RBIs and Israel pounded relievers Fernando Salas and Oliver Perez in a six-run seventh inning to reach the tournament's double-elimination phase.
Israel (1-2) plays South Korea (2-1) on Tuesday with the chance to advance to a matchup against the United States or Japan on Wednesday that will determine a berth in the gold-medal game.
Rickles has been with the national team program for a decade and played a role in the Olympic buildup. Israel won its group at the 2017 World Baseball Classic and beat Cuba in the second round, then won a two-continent Olympic qualifying tournament and beat out the Netherlands for one of the six Olympic berths. It lost its opener to South Korea 6-5 in 10 innings.
"I don't think there was a lot of expectations coming into Israel playing baseball at all," said Rickles, a 31-year-old catcher who retired from Philadelphia's minor league system during spring training in 2019 to become a Milwaukee minor league coach.
With pitchers such as Julio Urias, Luis Cessa and Jose Urquidy unavailable because Major League Baseball doesn't allow 40-man roster players to participate, Mexico started Manny Barreda (0-1), a 32-year-old right-hander drafted by the New York Yankees in 2007 and released seven years later.
He gave up six runs, four hits and three walks in two-plus innings.
"He is a great pitcher in Mexico. Last year in the winter, he even pitched a complete nine-inning game," manager Benji Gil said through an interpreter. "Today just wasn't his day. He didn't have a lot of dominance. He had several balls he was missing the location."
Mexico (0-3), the first country eliminated, was outscored 20-9.
"I'm in shock," Gil said. "Not even in my worst nightmares did I think that this would be the result."
Mexico lost right-hander Hector Velázquez and left-hander Sammy Solís just before the Olympics when they contracted COVID-19. Adrian Gonzalez, a 39-year-old, five-time All-Star who made his last big league appearance in 2018, finished 3 for 11 with an RBI and Joey Meneses went 6 for 12 with four RBI.
Zack Weiss (1-0), who allowed four runs and got no outs for Cincinnati in his only big league appearance on April 12, 2018, got the win by allowing one run in two innings in relief of starter Josh Zeid. Israel had 12 hits and set a tournament high for runs.
On a 91-degree Fahrenheit (32.7 Celsius) afternoon with blistering sun, Mexico clawed back to 6-5 before Salas, a 36-year-old right-hander, allowed Ian Kinsler's leadoff double in the seventh and Valencia's single.
Perez relieved and the 39-year-old left-hander gave up Blake Gailen's RBI single, two-run singles by Mitch Glasser and Zack Penprase, and Scotty Burcham's RBI double.
Ryan Lavarnway, 5 for 13 in the Olympics, doubled up the left-center gap in the first, and Rickles hit an RBI single with two outs. Lavarnway, who played four games for Cleveland in June when Austin Hedges went on the concussion injured list, tried to score from second on Rickles' hit and was thrown out by left fielder Meneses.
Barreda walked his first two batters in the the third and Valencia, exactly a week shy of the third anniversary of his last big league at-bat, rocketed an armpit-high fastball 10 rows deep into the left-field seats. Rickles greeted reliever Sasagi Sanchez with a two-run single.
"I hammered it, to be honest. I crushed that ball," Valencia said. "The team needed it. It got the momentum going."
SOUTH KOREA 4, DOMINICAN REPUBLIC 3
Kim Hyun-soo capped a three-run rally in the ninth inning with his fourth hit, a two-out single over Julio Rodriguez off Arizona minor leaguer Luis Castillo, and South Korea (2-1) got its second walk-off win.
Park Hae-Min hit a run-scoring single and Lee Jung-Hoo a tying double.
Former St. Louis Cardinals closer Oh Seunghwan (1-0) relieved with a runner on in the top half and got three straight groundouts.
Juan Francisco, seven years removed from his last major league at-bat, hit a two-run homer halfway up the center-field scoreboard, the ball bouncing off the figures indicating the pitch was 148 kph (91 mph). The 34-year-old Francisco stood at the plate, raised his bat in his right hand and pointed at the scoreboard with his left, then did a quick dance as he watched the fourth-inning drive off Lee Eui-lee.
Raul Valdes, a 43-year-old left-hander whose last big league appearance was with Houston in 2014, allowed one run — on Yang Eui-ji's first-inning sacrifice fly — and seven hits in 5⅓ innings.
The Dominicans (1-2), who scored their first run on a wild pitch, play an elimination game Tuesday against the Israel-South Korea loser.
White Sox rookie Seby Zavala first in MLB history to hit his first three career home runs in same game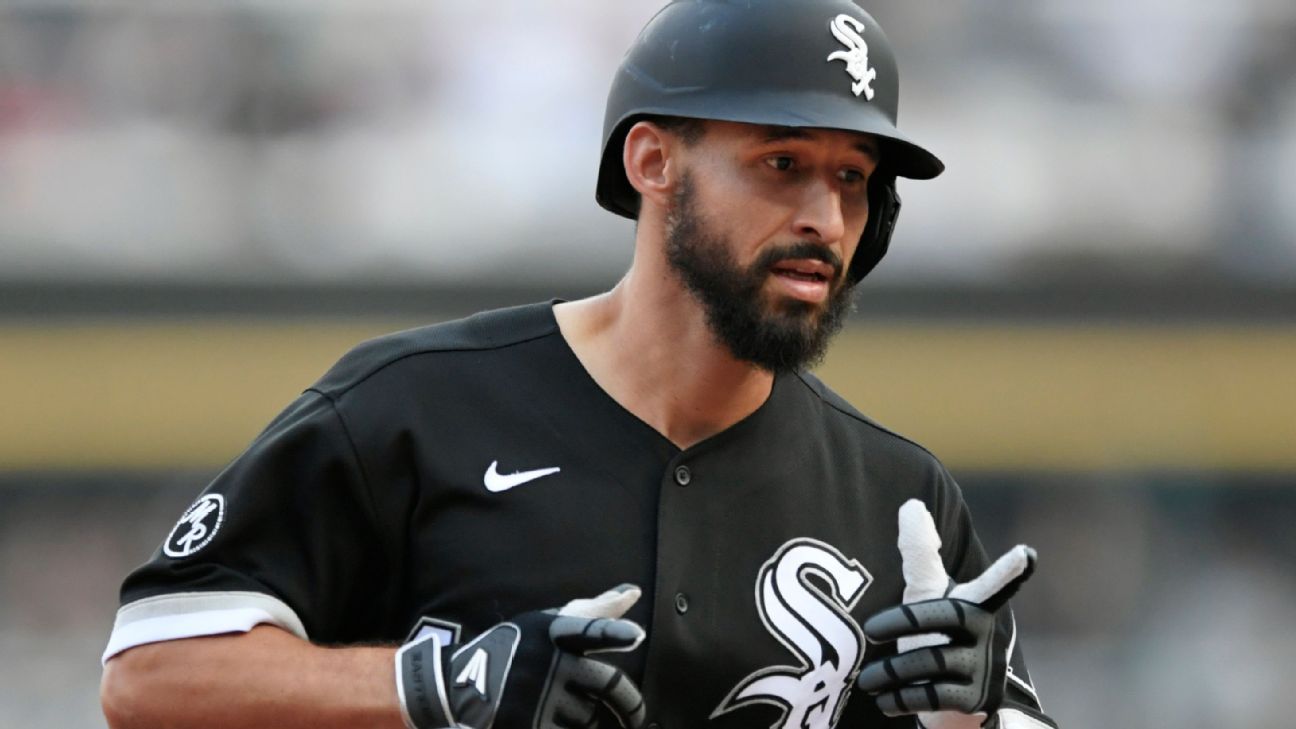 CHICAGO — White Sox rookie Seby Zavala hit the first three home runs of his career, including a grand slam, but the Cleveland Indians rallied to beat Chicago 12-11 on Saturday night.
Zavala became the first player in big league history to hit his first three career home runs in the same game, according to Elias Sports Bureau. The 27-year-old catcher played his 18th game in the majors — he was recalled from Triple-A Charlotte on July 6 to replace the injured Yasmani Grandal.
Batting ninth, Zavala hit a solo homer in the third off Triston McKenzie. Zavala connected for a grand slam off McKenize in the fourth for a 6-1 lead and a solo drive against Bryan Shaw in the seventh.
Seby Zavala is the 1st player in MLB history to hit his first 3 career home runs in the same game (pending inclusion of Negro League stats). pic.twitter.com/o4WxLM4MtQ

— ESPN Stats & Info (@ESPNStatsInfo) August 1, 2021
With a chance to become the 19th player to hit a record-tying four homers in a game, Zavala singled in the eighth and finished with six RBIs.
Zavala — who will turn 28 on Aug. 28 — played at San Diego State, finishing up with the Aztecs in 2015. Later that year, he was a 12th-round selection by Chicago in the June entry draft. He hit 20 home runs at Triple A Charlotte in 2019.
His magic wasn't enough to outpace the Indians on this night, however, as Austin Hedges, Owen Miller and Amed Rosario homered to help Cleveland overcome a five-run deficit.
The Indians totaled nine runs in three straight innings to take the lead. Justin Garza (1-0) threw two scoreless innings. Emmanuel Clase got five outs for his 13th save.
Brian Goodwin and Adam Engel homered for the White Sox, who lead the second-place Indians by eight games in the AL Central despite winning just three times in their last 10 games.
Michael Kopech (3-1) took the loss for the White Sox, allowing five earned runs in just one inning of work.
Perhaps more important to the long-term outlook of the White Sox staff, newly acquired Craig Kimbrel pitched a perfect ninth in his first appearance after they acquired him from the Cubs at the trade deadline Friday.
The Associated Press contributed to this report.