WEST PALM BEACH, Fla. — What should happen next in Major League Baseball's pace-of-play discussion is a delegation of power, a simple gesture that underscores MLB's willingness to defer to the players' unique understanding of how the game operates. Commissioner Rob Manfred should propose that the players select and build their own committee to shape initiatives that reduce the average time of games.
The composition of that committee could be determined entirely by the union. Maybe three pitchers and three hitters, or maybe five and five, or 15 and 15, if the players' association chose to have at least one representative from every team. Manfred could leave it up to the players to decide.
Whatever its makeup, that committee could generate ideas, plug them into some simulation models provided by an MLB-funded analytics group and see how they work. There is a great scene in the movie "Apollo 13" in which a group of engineers is tasked with creating a device that scrubs the capsule air of carbon dioxide. Every item on the spaceship is replicated and dumped onto a table, and the engineers are charged with finding a solution. This is what could and should happen in the effort to reduce the average time of baseball games to 2 hours, 55 minutes.
The players would have the power to design rules acceptable for them, rather than have unwanted regulations foisted on them.
But that won't happen because the relationship between the union and Major League Baseball is probably at its worst since the 2002 season. The spirit of cooperation that had evolved is now just about dead, to the degree that the simplest of requests are all but ignored. The players are furious about how free agency has played out, they are furious about the current economics of the game, and their solution is intransigence.
Think of Manfred as the parent who has told the players, in effect, to eat their vegetables for the sake of long-term health. MLB believes that shortening games will make the product more attractive to a younger generation of fans that does not appear to have the patience of waiting through baseball games that last 3½ to 4 hours.
Think of the players as the teenagers rebelling over various issues — and they are simply saying no to the vegetables, no to everything. Because they're mad. It would probably make sense for the players to talk through some of the issues, to have the conversations, and to glean some benefits, but they are in no mood to sort through any of that. They are just saying no.
Manfred had the power to implement any change he wanted in the pace-of-play rules, but he didn't, because he knows the players are mad, and he didn't want to pick a summer-long fight. Instead, he went with a much more modest proposal: no pitch clock, and a relatively liberal limit of six mound visits per game. But while the union leadership signed a paper acknowledging an understanding of the new rules, the players were still upset, many of them expressing skepticism publicly.
Privately, a lot of players think the new regulations are a joke and doubt that the changes will have a tangible impact on the pace of action and the interest of fans — and will only serve to anger the players even more, and hinder them in their work. The players were so vocal in their discord that you have to wonder if Manfred regrets not going all-in on the changes, including a pitch clock, under the premise that if MLB is going to weather a year of public complaints from the pace-of-play stuff, they might as well go all-in.
The disconnect seems so enormous that a negotiated, collaborative solution seems completely out of the question. If MLB wants to effect serious change — if it truly wants to reduce the game to an NBA-like 2 hours, 30 minutes — it should seriously consider pushing for a reduction of games from nine to seven innings.
Even if there was a reasonable path to change for the players to consider, like a players-only committee, there seems to be little to no sentiment toward cooperation. Rather, they are spoiling for a larger fight that probably can't take place until the months before the current collective bargaining agreement expires in December 2021.
• Teams have started planning for adjustments with the new six-visit limits. One manager wondered aloud if he would push his starting pitcher and catcher to avoid mound visits so that his team can save the mound visits for the later innings. Sean Doolittle, the Washington Nationals' closer, anticipates more preparation — to be fully aware of the strengths and weaknesses of various hitters, particularly recent call-ups — because in the past, catchers have reflexively gone to the mound with reminders, and that won't really be possible anymore. Catchers say there will be more time spent on generating alternative sets of signs to cope with situations when the perception is that the runner at second is stealing signs.
"You're going to have to come up with multiple systems before the game to change [the signs], so you don't have to talk," Houston Astros catcher Evan Gattis said. "That's something that's going to have to get squared away right now." [Now, as in spring training]. "It'll be something with touches, or dummy signs, or going back to the same set."
Other players speculate that phantom injuries could become more common: When a pitcher is uncertain, he might be suddenly affected by a tightening lower back or hamstring and call for the athletic trainer, to buy time to get on the same time with the catcher.
"Let's face it," one player said, "sometimes it benefits the pitcher to try to slow the game down."
Derrick Goold writes about the St. Louis Cardinals' preparation to work around the new mound-visits rule.
News from around the majors
The hangover from a championship season is commonplace. The Chicago Cubs seemed to go through it in 2017, with internal questions about the players' focus. On Opening Day in 2016, Kansas City Royals manager Ned Yost said he had no sense that his team's performance would wane, but it happened. In preparing for the 2016 season after a run through the World Series in the fall of 2015, former New York Mets manager Terry Collins asked friends about how to combat the hangover, and Jim Leyland and others told him: It's inevitable.
The Astros will present an interesting test for this conventional wisdom, because Houston is a team loaded with young players still early in their careers. George Springer, the World Series MVP, took batting practice the other day and one evaluator said, "That guy wants to be the [regular-season] MVP." Jose Altuve is obsessed with the collection of hits, Carlos Correa is a workaholic, Justin Verlander wants to be a Hall of Famer, Dallas Keuchel is entering his free-agent year and could benefit greatly from a big season, and Lance McCullers, Jr. and Gerrit Cole are still rounding out their respective resumes.
MLB has not seen a repeat champion since the Yankees from 1998 to 2000, but the Astros might have the necessary combination of talent and drive to make that happen (and yes, you could have written the same thing about Cubs a year ago).
• On Sunday, a memorial service for the former San Diego Padres GM Kevin Towers will be held at Petco Park, with dozens of baseball executives and evaluators expected to attend. They will be there to honor Towers, who was incredibly likable and fun, and a person of great integrity. I met Kevin when I covered the Padres 1992-95, and I'll be there, as well.
A few months after Ken Caminiti passed away in 2004, Kevin and I talked over the phone one evening about the heartbreaking circumstances of Caminiti's life. The third baseman had a substance-abuse history, and yet in his desire to be as great as possible on the field, he had used steroids and amphetamines. Everybody knew he was using PEDs, Kevin said, in an off-the-record conversation, and nobody did anything about it because the team was doing great and the Padres were making money. Kevin had great affection for Caminiti and felt awful about the sequence of events, and in retrospect, he said he wished he had said something.
The next day, I drove to the Padres' spring training home to see him and asked if would relate his feelings about Caminiti on the record, for publication — and he did so, without hesitation.
We were standing on the roof of the Padres' spring training complex, and as I turned the recorder off, I said to him that his comments would be a really big deal — and they were, more than either of us could've imagined. Major League Baseball was furious about his comments, and he was blistered by the folks for whom he worked — and that was before he was called to testify at the March 17, 2005, congressional hearings about steroids in baseball. The panels included Bud Selig, baseball superstars — and one general manager, Kevin Towers. This was the day Mark McGwire said he didn't want to talk about the past, and Rafael Palmeiro said he never used steroids.
In the hours before he was sworn in, I called to wish Kevin well, somewhat unsure of how he would feel about his appearance, and my role in it. He picked up on the first ring, sounding the same as always. I told him I felt bad that he was in a position of such duress, but he dismissed that concern.
"Honestly, I feel great," he said. "I told the truth. I've got nothing to hide."
Jeff Powers writes here about Kevin's impact on the steroid conversation in baseball.
And today will be better than yesterday.
Braves rip 'embarrassing call at home plate that keyed Phillies' win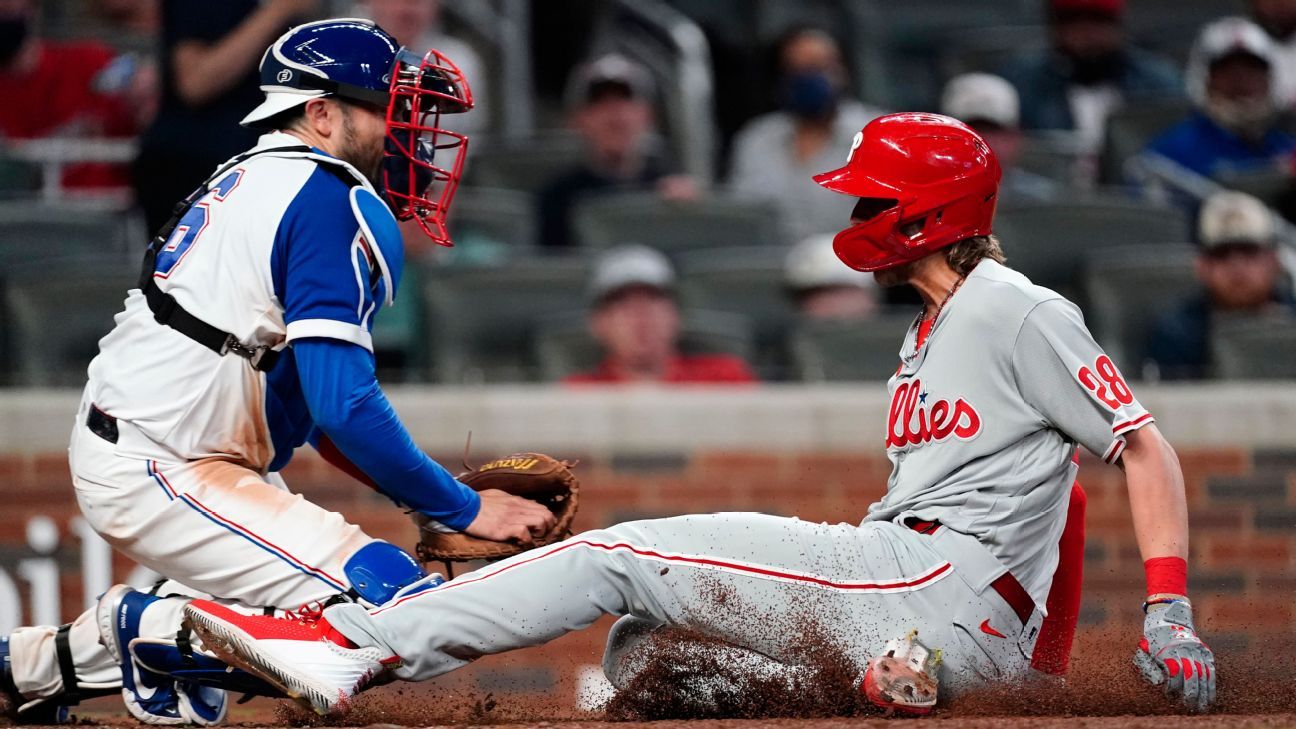 A controversial lost replay challenge by the Atlanta Braves in the ninth inning on Sunday night was the difference in the game as the Philadelphia Phillies came from behind in a wild 7-6 victory.
Phillies third baseman Alec Bohm slid home with the eventual winning run as Braves catcher Travis d'Arnaud attempted to apply the tag, moving from the third base side of the plate to the first base side where Bohm was coming in.
Home plate umpire Lance Barrett called Bohm safe though replays showed he may never have touched home plate. After a long delay for the video challenge, the ruling on the field was upheld.
"In real time it's bang, bang," Braves starter Drew Smyly said after the game. "We have five different angles on a national televised game, and it's clear that his foot didn't touch the plate. That it was on the chalk. For MLB not to overturn that, it's embarrassing. Why even have replay if you won't overturn that?"
The official ruling from MLB stated the replay official "could not definitively determine that the runner failed to touch home plate prior to the fielder applying the tag."
"Initially, I didn't know if he was safe or out but after watching the replay it looked like his foot didn't touch the bag, from any angle we saw," d'Arnaud said. "I thought he was clearly out at the plate."
The inning began with the teams tied, 6-6. After Bohm led off with a double, Jean Segura hit a ground ball to second, allowing Bohm to reach third base. Lefty Didi Gregorious then hit a shallow fly ball to left field off of Braves reliever Will Smith. Braves left fielder Marcell Ozuna camped under it then threw a two-hopper to the plate, slightly to the third base side. D'Arnaud caught the ball and then slid over towards first to tag Bohm as his left foot got to the plate.
Bohm was asked if he thought he was safe after the game. "I was called safe," he said. "That's all that matters."
Phillies manager Joe Girardi added: "We felt like we had a chance [to score on the fly ball]. It was a narrow one and it was by the skin of the big toe that we scored. It looked like his big toe kind of hit the corner of the plate when we saw all the angles."
The Braves adamantly disagreed.
"It makes me not even want [replay] anymore," d'Arnaud said. "It just slows the game down. To me, they got it wrong. I just rather not have it and get the game going."
Braves manager Brian Snitker said he didn't get a good explanation from the umpires after the call while d'Arnaud stated the replay official in New York should be the one being interviewed. After the Braves lost the challenge, the downsized crowd at Truist Park got angry, throwing garbage onto the field, prompting a scolding from Braves shortstop Dansby Swanson.
"I love our city," Swanson said. "I love our fans. They're passionate. They care. But what happened after they announced that call is the most embarrassing part of the whole night.
"The throwing of things on the field, it's disrespectful to the people who put in so much work to have the field ready for us every day. …It's an embarrassing representation of our city. The worst part of it is I don't think people realize we have families here. There are kids that are sitting in the front row and you have bottles whizzing by their heads. Endangering kids that may not be able to protect themselves is downright embarrassing and shouldn't happen again."
The controversy overshadowed another good game by Braves outfielder Ronald Acuna Jr. He had three hits, including an infield single he beat out on a routine ground ball to short in the first inning. Later, he homered to tie the game, 6-6.
In all, Acuna had nine hits in the three-game series, most for him over a 3-game span in his young career. But it won't get the headlines as the replay challenge took center stage in an early season battle between division foes.
"They said there wasn't enough evidence but there were five different angles," an incredulous Smyly declared. "It's clear. He didn't touch the plate."
Boston Red Sox slugger J.D. Martinez on a mission to leave 2020's struggles behind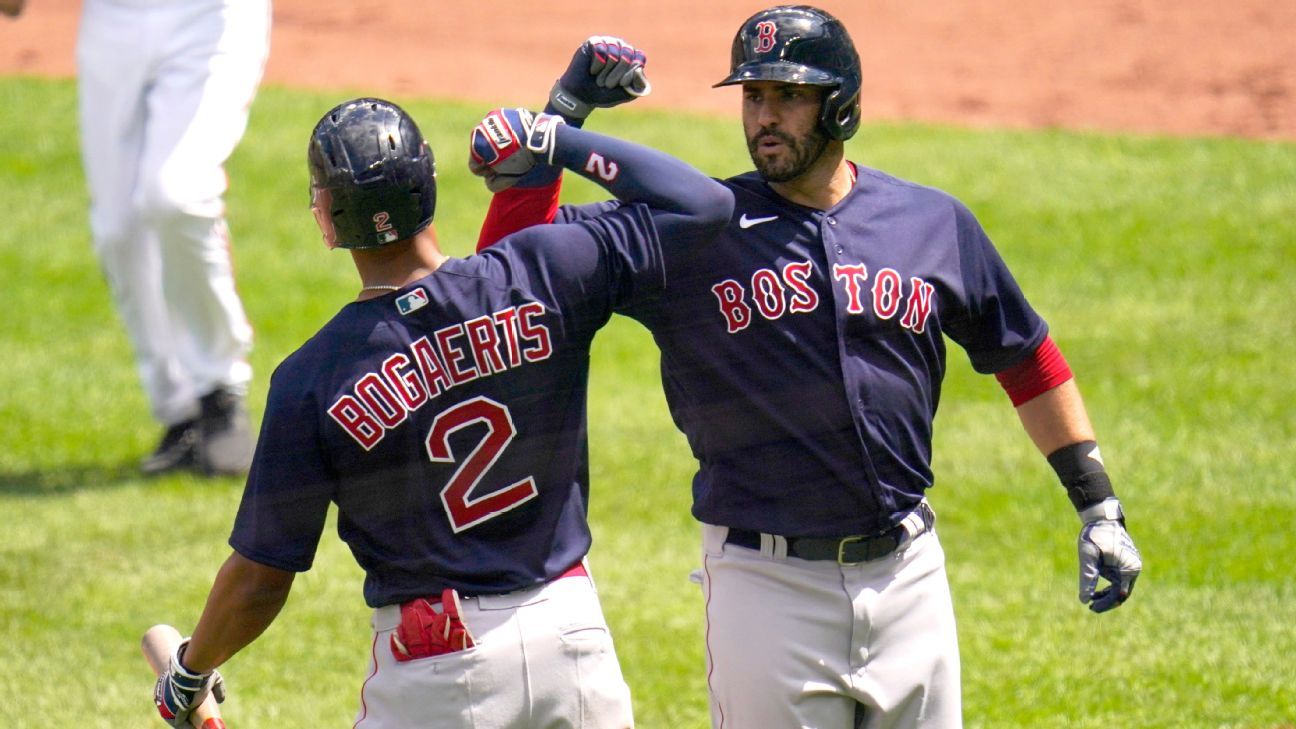 J.D. Martinez suffered through a miserable 2020 season. He hit .213. He ranked 129th out of 142 qualified hitters in weighted on-base average (wOBA). He finished with more strikeouts than hits. It was a shocking season for a hitter who ranked second in the majors in wOBA from 2017 to 2019, behind only Mike Trout.
He also made one thing clear in spring training: "I'm kind of tired of being judged on two months," he told WEEI.com's Rob Bradford late in March.
Martinez is making an early statement in 2021. He hit three home runs in Sunday's 14-9 win for the Boston Red Sox over the Baltimore Orioles and has started the season with extra-base hits in all eight games he's played — including seven doubles and five home runs. Martinez is the hottest hitter on the planet. Oh, and after Red Sox Nation and pundits were ready to bury the Red Sox after an 0-3 start in which the Orioles outscored them 18-5, Boston has won six in a row.
"He's on a mission to prove people wrong," manager Alex Cora said after Sunday's win. "It was only 60 games. He was one month away from getting his numbers right and now he's locked in and I'm glad he's swinging the bat the way he is."
Against the Orioles on Sunday, his three home runs came off three different pitchers:
• Third inning: 1-2 knuckle-curve from Jorge Lopez, 372 feet to right field (105.2 exit velo)
• Sixth inning: 1-2 curveball from Mac Sceroler, 382 feet to right-center (102.4 exit velo)
• Eighth inning: 0-2 changeup from Tyler Wells, 430 feet to center field (105.7 exit velo)
Granted, that trio of pitchers isn't exactly headed to the 2021 All-Star Game. I hadn't even heard of Sceroler and Wells until now, as Sceroler was making just his second major league appearance and Wells his fourth. Still, all three home runs came with two strikes, a good sign considering Martinez hit .171 with two strikes a year ago.
From the cool factoid department, Martinez also became the fifth player to hit three home runs in a game with three different teams:
• Martinez (Tigers, Diamondbacks, Red Sox)
• Mark Teixeira (Rangers, Braves, Yankees)
• Alex Rodriguez (Mariners, Rangers, Yankees)
• Dave Kingman (Mets, Cubs, A's)
• Johnny Mize (Cardinals, Giants, Yankees)
Martinez's eight straight games with an extra-base hit to start a season ties the major league record held by Alex Rodriguez (2007) and Sandy Alomar Jr. (1997). It's the volume of extra-base hits that is so impressive, however, as Martinez is hitting .472/.500/1.083:
Most extra-base hits in player's 1st 8 games played in a season (since at least 1906):

2021 J.D. Martinez: 12
1994 Dante Bichette: 12
2006 Chris Shelton: 11

— Sarah Langs (@SlangsOnSports) April 11, 2021
OK, the Chris Shelton reference is a reminder that not all hot starts are going to last, but Martinez has that long track record of being one of the best hitters in the game — and now he has his beloved in-game video back to study.
That was offered as one reason for Martinez's struggles in 2020, when in-game video was disallowed under the guise of pandemic protocols. He also had an ankle issue he played through that may have affected his swing. Whatever the reason, he admitted his troubles were self-inflicted.
"I think I've got a little bit of a chip on my shoulder," Martinez said when he reported to spring training in February. "I've always played with that, I've always played with that chip, having to prove people wrong my whole career. It kind of might have went away a little bit, but I think I've got it back a little bit now."
Martinez struggled most of spring training, however, leading to concerns that maybe he had just lost his swing overnight. Still, he's just 33, so it seemed a little early for that to happen. Cora pointed out Martinez finally got going late in camp, especially driving the ball to right field – like he did on Sunday. Cora sent another message to Martinez in spring training, playing him quite a bit in the outfield instead of just using him as the designated hitter. While Martinez has started just one game in the outfield so far, it was perhaps a signal from Cora to remind Martinez to stay in shape.
Still, it's hard not to ignore the psychological comfort of being able go into the dugout or clubhouse between at-bats to check the iPad. Few hitters in the game study their swing as studiously as Martinez — remember, he completely reconstructed his swing earlier in his career and was in the middle of that process when the Astros released him in spring training of 2014. Martinez signed with Detroit and has since had four 36-homer seasons, five .300 seasons and four 100-RBI seasons. And one big chip on his shoulder.
As for the Red Sox, their six-game win streak includes two extra-inning wins (12 innings over the Rays and 10 innings over the Orioles on Saturday) and they've hit a robust .332 with 53 runs those six games. Rafael Devers has homered in three straight games, Xander Bogaerts is hitting .375 and Christian Vazquez is off to a hot start. For this Red Sox lineup to click like it has in past seasons, though, it needs Martinez to thump.
What remains to be seen is how good the pitching will be. Playing six of nine games against the Orioles doesn't really tell us much. This week's series against the Twins and White Sox will be a much tougher test. Nick Pivetta, who won Sunday's game with four runs over six innings, is a key member in the rotation. For now, the Red Sox are in first place – it's early, of course, but that's a much better place to be after starting 3-9 and 6-13 in 2019 (and never really recovering) and then 6-18 in 2020.
Philadelphia Phillies reliever Archie Bradley on IL with oblique injury
Philadelphia Phillies reliever Archie Bradley was placed on the 10-day injured list with an oblique injury, the team announced Sunday.
Bradley, 28, revealed the injury to Phillies brass after giving up a run on two hits in Saturday's loss to the Atlanta Braves.
"It's not something I can pinpoint," Bradley said on Sunday afternoon. "It wasn't one particular act that I felt it on."
Bradley was a major offseason addition to the Phillies' bullpen, which had a historically bad season in 2020. He gave up runs in two of his four appearances this year before heading to the injured list.
This is Bradley's first experience with an oblique ailment, which can take considerable time to heal, depending on the severity. The righty wasn't sure on a timetable for his return.
"It's not something I felt doing baseball activities," Bradley said. "Honestly, I don't know where it came from."
The Phillies recalled lefty JoJo Romero from the alternate site to take Bradley's place on the roster. Romero was a late cut from spring training but is now needed just over a week into the season.
"He's throwing the ball pretty well," manager Joe Girardi said of Romero.