WEST PALM BEACH, Fla. — What should happen next in Major League Baseball's pace-of-play discussion is a delegation of power, a simple gesture that underscores MLB's willingness to defer to the players' unique understanding of how the game operates. Commissioner Rob Manfred should propose that the players select and build their own committee to shape initiatives that reduce the average time of games.
The composition of that committee could be determined entirely by the union. Maybe three pitchers and three hitters, or maybe five and five, or 15 and 15, if the players' association chose to have at least one representative from every team. Manfred could leave it up to the players to decide.
Whatever its makeup, that committee could generate ideas, plug them into some simulation models provided by an MLB-funded analytics group and see how they work. There is a great scene in the movie "Apollo 13" in which a group of engineers is tasked with creating a device that scrubs the capsule air of carbon dioxide. Every item on the spaceship is replicated and dumped onto a table, and the engineers are charged with finding a solution. This is what could and should happen in the effort to reduce the average time of baseball games to 2 hours, 55 minutes.
The players would have the power to design rules acceptable for them, rather than have unwanted regulations foisted on them.
But that won't happen because the relationship between the union and Major League Baseball is probably at its worst since the 2002 season. The spirit of cooperation that had evolved is now just about dead, to the degree that the simplest of requests are all but ignored. The players are furious about how free agency has played out, they are furious about the current economics of the game, and their solution is intransigence.
Think of Manfred as the parent who has told the players, in effect, to eat their vegetables for the sake of long-term health. MLB believes that shortening games will make the product more attractive to a younger generation of fans that does not appear to have the patience of waiting through baseball games that last 3½ to 4 hours.
Think of the players as the teenagers rebelling over various issues — and they are simply saying no to the vegetables, no to everything. Because they're mad. It would probably make sense for the players to talk through some of the issues, to have the conversations, and to glean some benefits, but they are in no mood to sort through any of that. They are just saying no.
Manfred had the power to implement any change he wanted in the pace-of-play rules, but he didn't, because he knows the players are mad, and he didn't want to pick a summer-long fight. Instead, he went with a much more modest proposal: no pitch clock, and a relatively liberal limit of six mound visits per game. But while the union leadership signed a paper acknowledging an understanding of the new rules, the players were still upset, many of them expressing skepticism publicly.
Privately, a lot of players think the new regulations are a joke and doubt that the changes will have a tangible impact on the pace of action and the interest of fans — and will only serve to anger the players even more, and hinder them in their work. The players were so vocal in their discord that you have to wonder if Manfred regrets not going all-in on the changes, including a pitch clock, under the premise that if MLB is going to weather a year of public complaints from the pace-of-play stuff, they might as well go all-in.
The disconnect seems so enormous that a negotiated, collaborative solution seems completely out of the question. If MLB wants to effect serious change — if it truly wants to reduce the game to an NBA-like 2 hours, 30 minutes — it should seriously consider pushing for a reduction of games from nine to seven innings.
Even if there was a reasonable path to change for the players to consider, like a players-only committee, there seems to be little to no sentiment toward cooperation. Rather, they are spoiling for a larger fight that probably can't take place until the months before the current collective bargaining agreement expires in December 2021.
• Teams have started planning for adjustments with the new six-visit limits. One manager wondered aloud if he would push his starting pitcher and catcher to avoid mound visits so that his team can save the mound visits for the later innings. Sean Doolittle, the Washington Nationals' closer, anticipates more preparation — to be fully aware of the strengths and weaknesses of various hitters, particularly recent call-ups — because in the past, catchers have reflexively gone to the mound with reminders, and that won't really be possible anymore. Catchers say there will be more time spent on generating alternative sets of signs to cope with situations when the perception is that the runner at second is stealing signs.
"You're going to have to come up with multiple systems before the game to change [the signs], so you don't have to talk," Houston Astros catcher Evan Gattis said. "That's something that's going to have to get squared away right now." [Now, as in spring training]. "It'll be something with touches, or dummy signs, or going back to the same set."
Other players speculate that phantom injuries could become more common: When a pitcher is uncertain, he might be suddenly affected by a tightening lower back or hamstring and call for the athletic trainer, to buy time to get on the same time with the catcher.
"Let's face it," one player said, "sometimes it benefits the pitcher to try to slow the game down."
Derrick Goold writes about the St. Louis Cardinals' preparation to work around the new mound-visits rule.
News from around the majors
The hangover from a championship season is commonplace. The Chicago Cubs seemed to go through it in 2017, with internal questions about the players' focus. On Opening Day in 2016, Kansas City Royals manager Ned Yost said he had no sense that his team's performance would wane, but it happened. In preparing for the 2016 season after a run through the World Series in the fall of 2015, former New York Mets manager Terry Collins asked friends about how to combat the hangover, and Jim Leyland and others told him: It's inevitable.
The Astros will present an interesting test for this conventional wisdom, because Houston is a team loaded with young players still early in their careers. George Springer, the World Series MVP, took batting practice the other day and one evaluator said, "That guy wants to be the [regular-season] MVP." Jose Altuve is obsessed with the collection of hits, Carlos Correa is a workaholic, Justin Verlander wants to be a Hall of Famer, Dallas Keuchel is entering his free-agent year and could benefit greatly from a big season, and Lance McCullers, Jr. and Gerrit Cole are still rounding out their respective resumes.
MLB has not seen a repeat champion since the Yankees from 1998 to 2000, but the Astros might have the necessary combination of talent and drive to make that happen (and yes, you could have written the same thing about Cubs a year ago).
• On Sunday, a memorial service for the former San Diego Padres GM Kevin Towers will be held at Petco Park, with dozens of baseball executives and evaluators expected to attend. They will be there to honor Towers, who was incredibly likable and fun, and a person of great integrity. I met Kevin when I covered the Padres 1992-95, and I'll be there, as well.
A few months after Ken Caminiti passed away in 2004, Kevin and I talked over the phone one evening about the heartbreaking circumstances of Caminiti's life. The third baseman had a substance-abuse history, and yet in his desire to be as great as possible on the field, he had used steroids and amphetamines. Everybody knew he was using PEDs, Kevin said, in an off-the-record conversation, and nobody did anything about it because the team was doing great and the Padres were making money. Kevin had great affection for Caminiti and felt awful about the sequence of events, and in retrospect, he said he wished he had said something.
The next day, I drove to the Padres' spring training home to see him and asked if would relate his feelings about Caminiti on the record, for publication — and he did so, without hesitation.
We were standing on the roof of the Padres' spring training complex, and as I turned the recorder off, I said to him that his comments would be a really big deal — and they were, more than either of us could've imagined. Major League Baseball was furious about his comments, and he was blistered by the folks for whom he worked — and that was before he was called to testify at the March 17, 2005, congressional hearings about steroids in baseball. The panels included Bud Selig, baseball superstars — and one general manager, Kevin Towers. This was the day Mark McGwire said he didn't want to talk about the past, and Rafael Palmeiro said he never used steroids.
In the hours before he was sworn in, I called to wish Kevin well, somewhat unsure of how he would feel about his appearance, and my role in it. He picked up on the first ring, sounding the same as always. I told him I felt bad that he was in a position of such duress, but he dismissed that concern.
"Honestly, I feel great," he said. "I told the truth. I've got nothing to hide."
Jeff Powers writes here about Kevin's impact on the steroid conversation in baseball.
And today will be better than yesterday.
Toronto Blue Jays finalizing trade for New York Mets' Steven Matz
The Toronto Blue Jays are finalizing a trade to acquire starter Steven Matz from the New York Mets for three prospects, sources familiar with the deal tell ESPN's Jeff Passan.
Matz, a 29-year-old left-hander, agreed to a $5.2 million, one-year deal with the Mets in December.
That deal came after he had the poorest of his six seasons, going 0-5 with a 9.68 ERA while earning $1,851,852 in prorated pay from a $5 million salary. He was dropped from the rotation after starting 0-4 with a 9.00 ERA in five starts, then made three relief appearances along with a spot start.
Matz is 31-41 with a 4.35 ERA over 107 career starts and five relief appearances.
Hank Aaron remembered at funeral by Bill Clinton, Bud Selig, others
ATLANTA — The Hammer made one last trip to the spot where he hit No. 715.
After a nearly three-hour funeral service Wednesday that featured two former presidents, a long-time baseball commissioner and a civil rights icon, the hearse carrying Hank Aaron's body detoured off the road bearing his name to swing through the former site of Atlanta-Fulton County Stadium.
That's where Aaron broke an iconic record on April 8, 1974, eclipsing the home run mark established by Babe Ruth.
The stadium was imploded in 1997 after the Braves moved across the street to Turner Field, replaced by a parking lot for the new ballpark. But the outer retaining wall of the old stadium remains, along with a modest display in the midst of the nondescript lot that marks the exact location where the record-breaking homer cleared the left-field fence.
A steady stream of baseball fans have been stopping by the site — comprising a small section of fence, a wall and a baseball-shaped sign that says "Hank Aaron Home Run 715" — since "Hammerin' Hank" died Friday at age 86. The fence is covered with flowers, notes and baseball memorabilia.
Fittingly, Aaron's funeral procession went by the display on the way to his burial at South-View Cemetery, the oldest Black burial ground in Atlanta and resting place for prominent civil rights leaders such as John Lewis and Julian Bond.
The police-escorted line of cars passed near the gold-domed Georgia state capitol, went under the tower that displayed the Olympic torch during the 1996 Atlanta Summer Games, and headed down Hank Aaron Drive.
At the bottom of a hill, the procession took a sharp right turn toward the site of the former stadium. Aaron's flower-covered hearse and all the vehicles that followed did a loop through the circular parking lot, which covers the footprint of the cookie-cutter stadium that became home of the Braves after they moved from Milwaukee in 1966.
It was a touching tribute that capped off several days of remembrances for one of baseball's great players. The Braves held a memorial ceremony Tuesday at their current home, suburban Truist Park.
The funeral service touched as much on Aaron's life beyond the field as it did his unparalleled baseball accomplishments, honoring his business acumen, charitable donations, and steadfast determination to provide educational opportunities for the underprivileged.
"His whole life was a home run,'" former President Bill Clinton said. "Now he has rounded the bases."
Clinton said the two became close friends after Aaron endorsed him during the 1992 presidential campaign, when he pulled out a narrow victory in Georgia. Clinton had been the last Democrat to win the state until Joe Biden edged Donald Trump in November.
"For the rest of his life, he never let me forget who was responsible for winning," Clinton quipped, drawing a few chuckles during the mostly somber ceremony. "Hank Aaron never bragged about anything — except carrying Georgia for me in 1992."
Bud Selig, who was commissioner of Major League Baseball for more than two decades and another close friend of Aaron's, said one of his fondest memories was being at Milwaukee's County Stadium as a fan for the pennant-clinching homer that sent the Braves to the 1957 World Series.
"The only ticket I could get was an obstructed-view seat in the bleachers behind a big, metal post," the 86-year-old Selig said. "The image of the great Aaron, deliriously happy, being hoisted on the shoulders of his teammates and carried off the field is indelibly imprinted in my memory."
Andrew Young, a top lieutenant of Martin Luther King Jr. during the civil right movement and a former Atlanta mayor, said Aaron helped transform his adopted hometown into one of America's most influential cities.
The Braves moved to the Deep South during an era of intense racial strife, Young pointed out, but having one of the game's greatest Black players helped ease some of the tensions.
Atlanta continued its explosive growth, eventually landing such major sporting events as the Olympics, multiple Super Bowls and World Series, as well as numerous college sports championships.
"Just his presence, before he hit a hit, changed this city," Young said. "We've never been the same."
Only about 50 people attended the funeral service because of COVID-19 restrictions. Other sent videotaped messages, including another former president, Jimmy Carter.
Remembering his tenure as governor of Georgia, the 96-year-old Carter joked that after the Atlanta Chamber of Commerce gave Aaron a new Cadillac, he followed up with "a $10 tag" to go on the vehicle. It said "HLA 715," a nod to the initials for Henry Louis Aaron.
The two became close friends and even took vacation trips to Colorado with their wives. In one pursuit, at least, Carter was the better athlete.
"Hank and I both learned how to ski together," Carter said. "He skied fairly well. I was a little bit better than that on skis."
A longtime Braves fan, Carter noted that he was at Atlanta-Fulton County Stadium the night Aaron hit his iconic home run.
On Wednesday, the Hammer went there for the final time.
Reports — New York Yankees agree with reliever Darren O'Day on 1-year, $2.5 million deal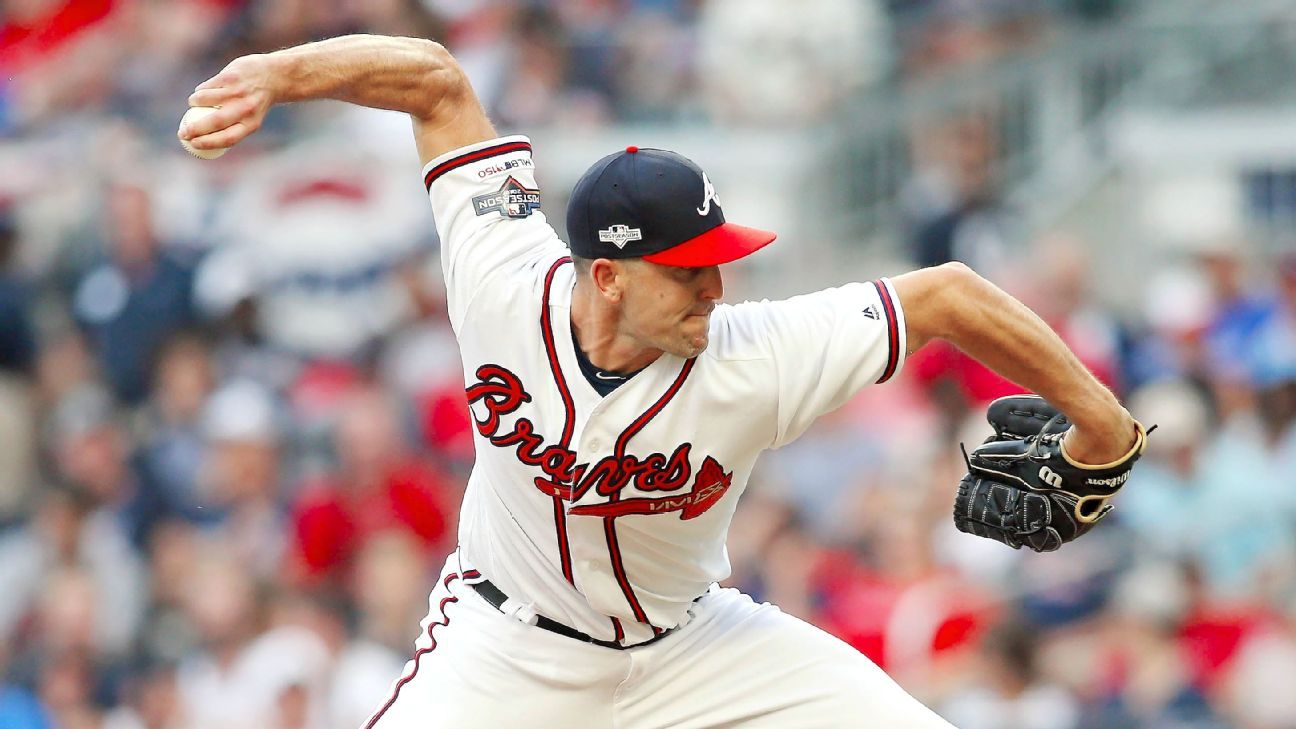 The New York Yankees quickly found a replacement for their bullpen, agreeing to a $2.5 million, one-year contract with submarining right-hander Darren O'Day, according to multiple reports.
The deal includes player and club options for 2022 and is subject to a successful physical, according to reports.
O'Day takes the spot vacated when the Yankees traded right-hander Adam Ottavino to Boston on Monday, a move that cut $7.15 million from New York's payroll. O'Day figures to join left-hander Zack Britton and right-hander Chad Green as the primary setup men for closer Aroldis Chapman.
O'Day, 38, was 4-0 with a 1.10 ERA in 16⅓ innings over 19 games last year with Atlanta, striking out 22 and walking five while allowing eight hits. While his fastball averaged just 86 mph, his low arm angle creates deception; right-handed hitters batted .143 (7-for-49) off him with one home run, by Boston's Xander Bogaerts, the leadoff batter of O'Day's final appearance of the season. Left-handed hitters were 1 for 10.
He became a free agent when Atlanta declined a $3.25 million option, triggering a $250,000 buyout.
O'Day is a 13-year major league veteran, going 40-19 with a 2.51 ERA and 600 strikeouts and 158 walks in 576⅔ innings for the Los Angeles Angels (2008), New York Mets (2009), Texas (2009-11), Baltimore (2012-18) and Braves (2019-20).
He was an All-Star in 2015, when he had a 1.52 ERA and six saves while striking out 82 in 65⅓ innings, but he missed the final two months of the 2018 season with a strained left hamstring and the first five months of 2019 with a strained right forearm sustained during spring training.
O'Day made $833,333 in prorated pay last year from a $2.25 million salary, down from a $31 million, four-year contract he signed with Baltimore ahead of the 2016 season. His wife, Elizabeth Prann, is a correspondent for HLN and CNN, formerly of Fox News.
The Associated Press contributed to this report.