PLAINVILLE, Mass. – Last year, when New England Patriots wide receiver Malcolm Mitchell held inspirational reading rallies, he did so coming off the exhilarating thrill of a Super Bowl triumph in which he played a key role.
This year, as he kicked off what promises to be a busy week for him Sunday across three different states, the feeling is a bit different as Mitchell didn't play at all in the 2017 season as a result of a knee injury.
Nonetheless, he says he feels great physically.
And of course, his message remains the same, which ties in to what he endured in 2017.
"Reading can help you overcome adversity, can help you overcome hard times, situations that you might have been placed in and had no control over. I believe reading helps us become the best we can possibly be," Mitchell said Sunday at the Unlikely Story bookshop, about 15 minutes from where the Patriots play at Gillette Stadium.
"This entire season I missed, it was a very adverse situation. That obviously wasn't something I wanted. It happens in football, just like situations happen in life that you have no control over. I read during that time. It encouraged me to keep going. And this mission, for the second year, will be even bigger than last year regardless of how football season went. It's two different missions: Become the best football player I can be, and make sure kids understand the importance of reading. One won't affect the energy I put in the other. They're both very, very important to me."
As for the football side of things, Mitchell said, "I'm feeling great. This offseason will be big. Obviously I missed all of last season and I won't shy away from the importance of making sure I'm ready when we start OTAs."
Patriots WR @Money_Mitch26 still doing great things w/ @ReadWithMalcolm program, today at @unlikely__story. "What this (new) book exemplifies is what it took me to get here. …I was a kid from the projects of Valdosta, Georgia. The day I decided to read I became more than that." pic.twitter.com/568QwjB2Ab

— Mike Reiss (@MikeReiss) February 25, 2018
Mitchell read his book, called "The Magician's Hat," to an audience of several hundred on Sunday, and also shared some inspirational words.
"I was a kid from the projects in Valdosta, Georgia. The day I decided to read I became more than that," he told the audience.
Mitchell also told the story of how he struggled reading while at the University of Georgia, but that his decision to overcome that (the first book he read was "The Giving Tree") and join reading clubs was critical in his life.
Mitchell wrote "The Magician's Hat" while at Georgia, and this year he has partnered with Scholastic to republish it with new illustrations and expanded text.
"I couldn't be happier with the way it turned out, in this new vibrant way," he said. "I'm just excited for kids to look inside and see the powerful message."
That will continue Monday, when Mitchell will be in Boston alongside Lt. Gov. Karyn Polito and Mayor Marty Walsh to help young readers from five different elementary schools tackle the literacy gap.
He then heads to New York, Atlanta and Athens, Georgia, to cap a weeklong celebration of reading in conjunction with his youth literacy initiative, Read with Malcolm, and nonprofit Share the Magic Foundation. The reading rallies are designed to boost reading skills and access to books for students under-resourced communities.
Detroit Lions to actively seek trade for QB Matthew Stafford, sources say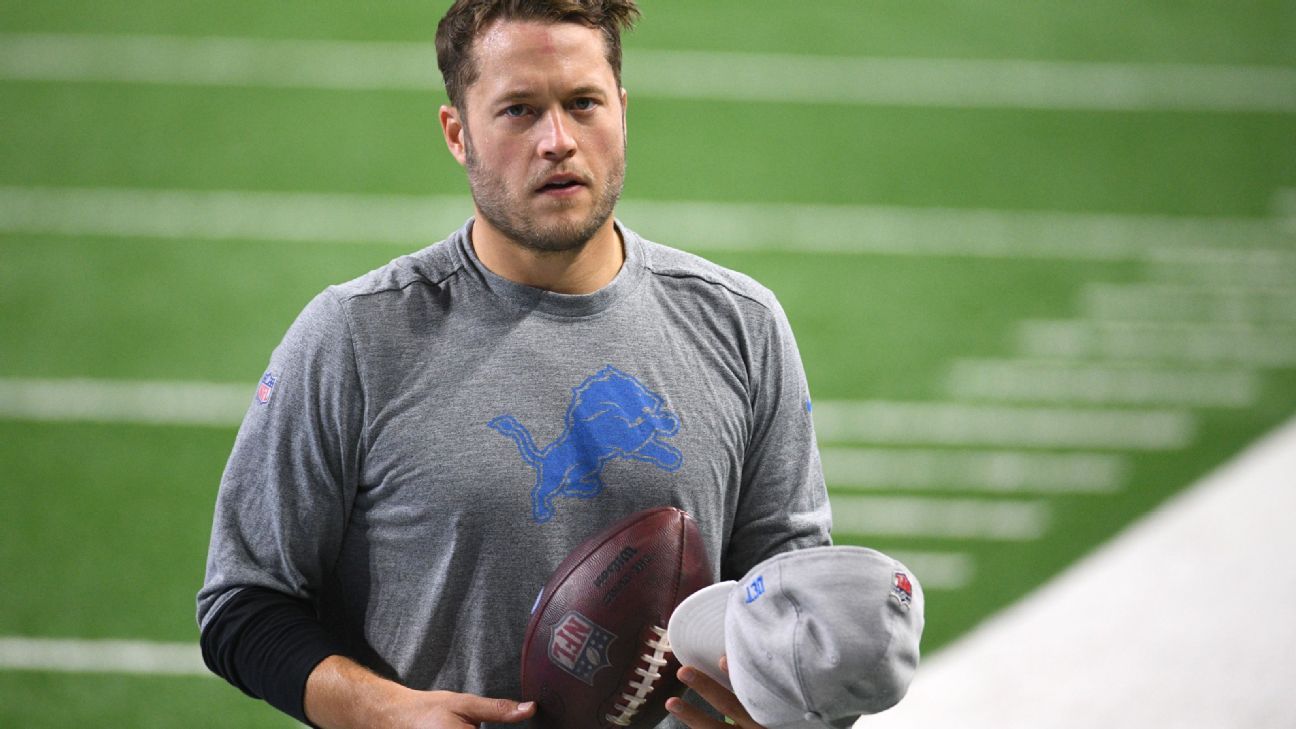 In an arrangement the two sides have discussed and mutually agreed upon, quarterback Matthew Stafford is expected to not return to the Lions this offseason, with Detroit listening to trade offers for its former No. 1 overall pick starting this week, league sources told ESPN's Adam Schefter on Saturday.
With new general manager Brad Holmes and new head coach Dan Campbell now in place, the Lions will soon begin trade discussions that most likely will result in a new quarterback — largely influenced by what and who the Lions will receive in a trade for Stafford, sources told ESPN.
The Lions are expected to receive at least a first-round pick, league sources said.
Green Bay Packers activate Tramon Williams, who could become first to play for two NFL teams in a postseason
The Green Bay Packers have elevated recent cornerback acquisition Tramon Williams to their active roster for Sunday's NFC Championship Game with the Tampa Bay Buccaneers.
Williams, who was acquired by the Packers and put on their practice squad after he was waived by the Baltimore Ravens on Monday, could become the first player in NFL history to play for two different teams in the same postseason.
The 37-year-old Williams had three tackles in the Ravens' 17-3 AFC divisional playoff loss to the Buffalo Bills last week.
Williams previously played for the Packers from 2007-14 and 2018-19, and he played a key role in the team's run to Super Bowl 45 with interceptions in playoff games vs. Philadelphia and Atlanta.
"It's special," Packers quarterback Aaron Rodgers said of the team's decision to sign Williams this week. "He's one of those teammates you just love playing with over the years. He's such a professional. The way he takes care of himself, he looks amazing. He looks like he could go out and play 70 plays for us. I'm not sure if he's going to or not, I hope he does, because he's still so talented. But he's one of those special guys, special personalities."
"… You think about the 2010 run — he ended a game in Philly; (he) basically gave us a huge jolt in the divisional round (against Atlanta) with his pick-6. Still one of my favorite moments in all the moments in that, is watching him pick that ball off and run down the sidelines with Nick Collins to put us up 14 going into half. So, it's fun. I wish we did this every year."
Green Bay may need some extra depth in the secondary due to the uncertain status of starting cornerback Kevin King, who didn't practice Friday because of a back injury and is listed as questionable.
The Packers also elevated defensive lineman Brian Price and cornerback KeiVarae Russell from the practice squad to the active roster for game day. In other moves, they signed punter Ryan Winslow to the practice squad and released running back Dexter Williams from the practice squad.
ESPN's Rob Demovsky and The Associated Press contributed to this report.
Kansas City Chiefs CB Bashaud Breeland clears concussion protocol
KANSAS CITY, Mo. — Chiefs starting cornerback Bashaud Breeland has cleared the concussion protocol and will be available to play in Sunday's AFC Championship Game against the Buffalo Bills.
Breeland was knocked out of last week's divisional round win over the Cleveland Browns in the second half and entered the concussion protocol. He practiced on a limited basis all week.
He started 11 games during the regular season and in the win over the Browns after missing the first four contests because of an NFL suspension for a violation of the substance abuse policy.
Breeland had two interceptions during the 2020 regular season as well as an interception in the Chiefs' Super Bowl LIV win over the San Francisco 49ers.