PLAINVILLE, Mass. – Last year, when New England Patriots wide receiver Malcolm Mitchell held inspirational reading rallies, he did so coming off the exhilarating thrill of a Super Bowl triumph in which he played a key role.
This year, as he kicked off what promises to be a busy week for him Sunday across three different states, the feeling is a bit different as Mitchell didn't play at all in the 2017 season as a result of a knee injury.
Nonetheless, he says he feels great physically.
And of course, his message remains the same, which ties in to what he endured in 2017.
"Reading can help you overcome adversity, can help you overcome hard times, situations that you might have been placed in and had no control over. I believe reading helps us become the best we can possibly be," Mitchell said Sunday at the Unlikely Story bookshop, about 15 minutes from where the Patriots play at Gillette Stadium.
"This entire season I missed, it was a very adverse situation. That obviously wasn't something I wanted. It happens in football, just like situations happen in life that you have no control over. I read during that time. It encouraged me to keep going. And this mission, for the second year, will be even bigger than last year regardless of how football season went. It's two different missions: Become the best football player I can be, and make sure kids understand the importance of reading. One won't affect the energy I put in the other. They're both very, very important to me."
As for the football side of things, Mitchell said, "I'm feeling great. This offseason will be big. Obviously I missed all of last season and I won't shy away from the importance of making sure I'm ready when we start OTAs."
Patriots WR @Money_Mitch26 still doing great things w/ @ReadWithMalcolm program, today at @unlikely__story. "What this (new) book exemplifies is what it took me to get here. …I was a kid from the projects of Valdosta, Georgia. The day I decided to read I became more than that." pic.twitter.com/568QwjB2Ab

— Mike Reiss (@MikeReiss) February 25, 2018
Mitchell read his book, called "The Magician's Hat," to an audience of several hundred on Sunday, and also shared some inspirational words.
"I was a kid from the projects in Valdosta, Georgia. The day I decided to read I became more than that," he told the audience.
Mitchell also told the story of how he struggled reading while at the University of Georgia, but that his decision to overcome that (the first book he read was "The Giving Tree") and join reading clubs was critical in his life.
Mitchell wrote "The Magician's Hat" while at Georgia, and this year he has partnered with Scholastic to republish it with new illustrations and expanded text.
"I couldn't be happier with the way it turned out, in this new vibrant way," he said. "I'm just excited for kids to look inside and see the powerful message."
That will continue Monday, when Mitchell will be in Boston alongside Lt. Gov. Karyn Polito and Mayor Marty Walsh to help young readers from five different elementary schools tackle the literacy gap.
He then heads to New York, Atlanta and Athens, Georgia, to cap a weeklong celebration of reading in conjunction with his youth literacy initiative, Read with Malcolm, and nonprofit Share the Magic Foundation. The reading rallies are designed to boost reading skills and access to books for students under-resourced communities.
New Orleans Saints WR Michael Thomas could miss games after ankle surgery, source confirms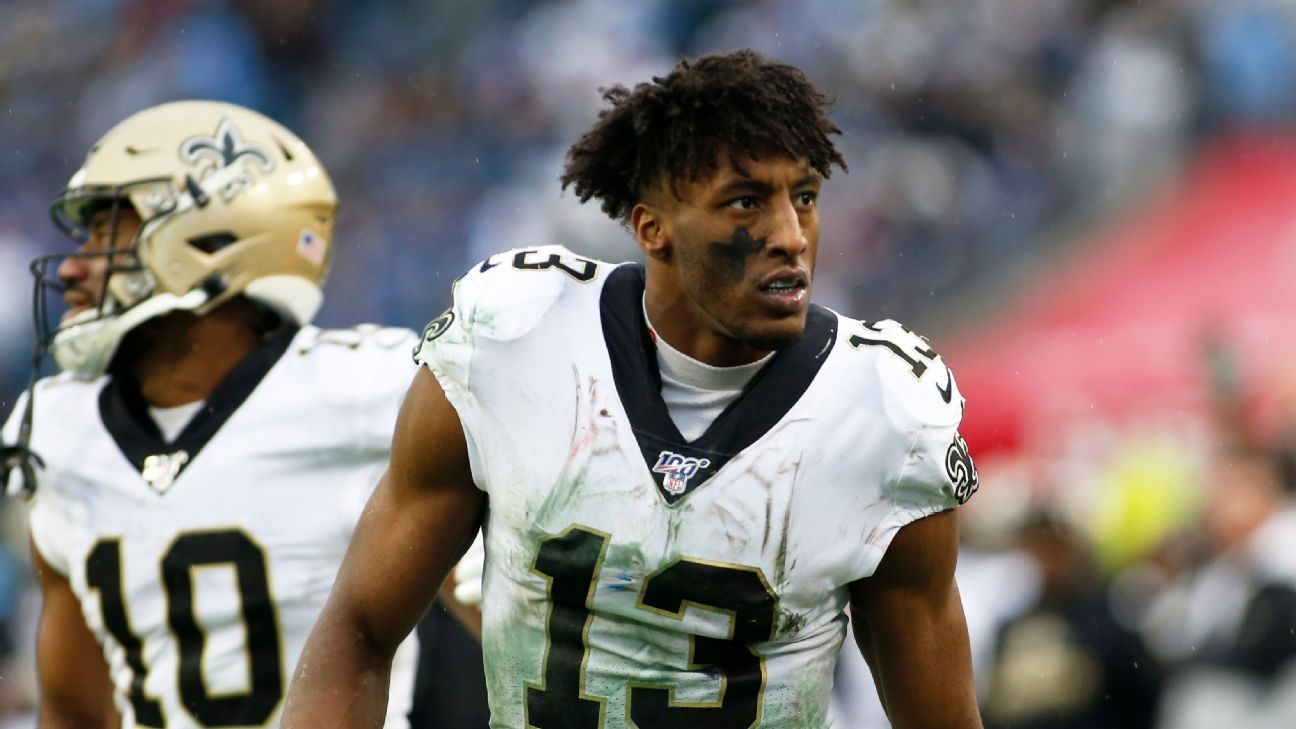 METAIRIE, La. — New Orleans Saints wide receiver Michael Thomas underwent ankle surgery in June and could miss time at the start of the season as a result, a source told ESPN, confirming multiple reports.
Thomas, 28, was plagued by the ankle injury throughout last season, and ESPN's Adam Schefter previously reported that he was expected to undergo surgery to repair the torn deltoid and other injured ligaments in his ankle.
It is unclear why Thomas had surgery so late in the offseason, but the goal is a full recovery.
Thomas missed nine games during two separate stints on injured reserve last year after initially injuring the ankle in Week 1. He finished with 40 catches for 438 yards in the regular season and didn't catch his first touchdown pass until the playoffs.
Not having Thomas available would increase the degree of difficulty for Saints quarterbacks Jameis Winston and Taysom Hill as they battle to replace the retired Drew Brees. The Saints were already thin on playmakers after parting ways with No. 2 wide receiver Emmanuel Sanders and tight ends Jared Cook and Josh Hill this offseason.
The Saints recently created more than $10 million in cap space through contract restructures and extensions and could look to add another veteran wide receiver as they approach the start of training camp next week. They will also be counting heavily on fourth-year receiver Tre'Quan Smith, second-year receiver Marquez Callaway, third-year receiver Deonte Harris and second-year tight end Adam Trautman, among others.
'Technician' Ja'Marr Chase could be playmaker Bengals, Joe Burrow need – Cincinnati Bengals Blog
CINCINNATI — His Cincinnati Bengals teammates had already left the field following a summer workout, but rookie wide receiver Ja'Marr Chase was still on the turf at Paul Brown Stadium getting familiar with his job.
Chase plotted his place in the offensive formation as he worked on keeping his pre-snap routine and routes as uniform as possible to keep defenders guessing. Implicitly, he expressed the understanding every little detail matters when trying to create separation in the NFL.
That wasn't an issue the last time Chase played football. He helped LSU win the national championship in 2019 and was crowned as the nation's best wide receiver. That prolific season vaulted him to the fifth overall pick in the 2021 draft, reunited with his former quarterback, Joe Burrow.
Elite speed and strength turned Chase into a coveted NFL prospect. But an underrated aspect is his ability to think his way to success. That mental approach could be the key to Chase becoming the immediate playmaker for the Bengals.
"Everybody's been surprised by how smart he was," said Burrow, who played with Chase at LSU in 2018 and 2019. "I told everyone coming in, 'He's not going to bust, he's going to know exactly what to do, he's going to be a pro.' And that's exactly what's happened."
Bengals assistant wide receivers coach Brad Kragthorpe was an analyst during the duo's first season together at LSU. Kragthorpe, a former LSU reserve quarterback, saw a glimpse of Chase that reminded him of some of his former college teammates such as Jarvis Landry and Odell Beckham Jr.
Kragthorpe recalled one rep in which Chase ran after a deep ball down the left sideline. It was a high throw aimed at his back shoulder, the type of catch that required elite coordination and body control. The freshman caught the pass and the attention of the other receivers.
"He flashed ball skills that freshmen in college shouldn't be able to make those types of plays," Kragthorpe said. "They shouldn't have that type of body control in the air. That stuff comes along as you develop your athletic skill set."
It was that combination of speed and strength that allowed Chase to overpower defenses, fluster coordinators and even change the offensive scheme in high school at Archbishop Rummel in Metairie, La. Even though Chase was considered a consensus 4-star recruit, some people were skeptical of him as one of the best wide receivers in the country.
"He was tired of telling them," said Jimmy Chase, Ja'Marr's father and a former safety at Alcorn State. "Well, he was tired of me telling them, OK? Because Ja'Marr wouldn't say nothing. I would say everything. But he was tired of me telling them, so he said he just wanted to show them on the field."
Chase did that in high school as he led Rummel to the brink of a state title before a knee injury ended his season during a playoff run his senior year.
When he arrived at LSU and his game evolved and the opponents got tougher, Chase realized more was required to succeed.
One film session before the pivotal 2019 season was evident of that approach. According to Chase, he and Burrow sat down for a film session to analyze a particular defensive back.
Burrow started to point out the defender's negative attributes and how he was getting beat.
"Once he showed me stuff like that, I started asking him questions about what I should look for when I'm watching film and he told me those things," Chase said.
Chase and Burrow hit their stride in 2019. After lackluster numbers as a true freshman (23 catches, 313 yards, three touchdowns), Chase blossomed into one of the nation's most productive receivers, operating in college football's most explosive offense. Chase finished the 2019 season with a staggering stat line — 84 catches for 1,780 yards and 20 touchdowns.
Chase opted out of the 2020 season amid the COVID-19 pandemic, so his sophomore season was the final game tape the Bengals and other NFL teams used to evaluate him. And even as his 6-foot-1, 200-pound frame continued to give defenders problems, those physical traits were accentuated because of Chase's mental prep work.
"He understands the ins and outs of playing receiver," Bengals coach Zac Taylor said. "He's got great route understanding and great scheme recognition. They're not 50/50 balls when he's in there. He does such a phenomenal job of positioning his body and going up and making plays and finishing plays off."
Chase's physical skills were easy to identify. But the question is the same one posed to every high-profile rookie tasked with making an immediate impact: How quickly can they learn the system and adapt to the game's highest level?
To Bengals assistant Troy Walters, that was the most impressive aspect of Chase's offseason in Cincinnati.
"He has picked it up fast — easily," Walters said. "When he's out there, you don't even think that he's a rookie. You kind of take it for granted that he's going to know what to do."
One rep during offseason workouts illustrated that perfectly. In walkthroughs, Chase was facing coverage that required him to change his route. Initially, the play called for Chase to run a post. But with the defender in press coverage, he changed it to a go route.
"He understood why and explained that," Walters said. "Just little things like that give you confidence that he's going to be able to not only master his position, which is the X (outside receiver), but he's going to be able to learn to play other places as well."
That mentality is a natural approach from how he has developed from his high school days to LSU and now to Cincinnati. His father used to needle Chase about little things he missed on various plays at LSU or how he needed to prepare for tough matchups.
Chase reassured his father with a simple phrase: "Just watch the show."
Jimmy's role has been relegated to being a spectator.
"He's a technician now," Jimmy Chase said. "He's a professional."
In addition to his attention to detail, Chase's humility was referenced by multiple current and former coaches. When Chase met with Walters for the first time, he said he wanted to run a 4.5-second, 40-yard dash at LSU's pro day, a slow time for wide receivers. Chase ran a blistering 4.38.
Right before the draft, one of his former Rummel coaches asked him to come back for an alumni event. Chase signed everything in sight for a full hour — hats, pictures, high school programs and LSU memorabilia.
"Then they made an announcement that he would not sign anymore," said Jay Roth, Rummel's former head coach. "And when it was over, when they came up to him, he did whatever people asked him to do."
When the Bengals open the season on Sept. 12 against the Minnesota Vikings, Chase will have the opportunity to show why the Bengals drafted him to be an immediate playmaker. He has prepared for this dating back to the moment he opted out of the 2020 LSU season.
And in joining a team with a legacy of great wide receivers, his expectations for himself are as high as they are externally.
"I'm going to break every record they have," Chase said on draft night. "That's my goal, and I'm telling you right now. I don't know how I'm going to do it, but it's going to get done."
Tom Brady, champion Bucs get glitzy Super Bowl LV rings honoring historic hometown win
TAMPA, Fla. – The Tampa Bay Buccaneers are sporting brand new Super Bowl LV rings to pay tribute to the NFL's first league championship won in a team's own stadium in front of hometown fans.
The rings, unveiled Thursday night in a private ceremony for players, coaches, front office members, team employees and their families, feature a removable top of the ring which allow you to see an entire replica of Raymond James Stadium, with everything from the 50-yard line to seats.
The 319 diamonds, which include 15 karats of white diamonds and 14 karats of yellow diamonds, reflect the Super Bowl's 31-9 final score. The twist-off removable top is a first of any Super Bowl ring. On the bottom of the removable top, laser-etched in gold, is the word "HISTORIC," to commemorate the accomplishment. The top also features two Lombardi trophies as a nod to the Bucs' 2002 Super Bowl win — the first in franchise history.
Around the top of the stadium on each of the four sides are four game scores from the Bucs' four postseason wins over the Washington Football Team, New Orleans Saints, Green Bay Packers and Kansas City Chiefs. Inside the band are the words "Trust, Loyalty, Respect," their team motto.
We've got a really big team and they need some really big rings 💍

— Tampa Bay Buccaneers (@Buccaneers) July 23, 2021
"We wanted it to represent the camaraderie and sacrifice that our players and coaches experienced along the way," co-owner Darcie Glazer-Kassewitz said. "This ring tells the story of that journey, it reflects the heart and soul of a team like none other before it. We know it will be an emotional touchstone for everyone involved for many, many years to come."
The Bucs' official Twitter feed showed quarterback Tom Brady and running back Leonard Fournette, among several other players, proudly showing off their Super Bowl rings.
💍💍💍💍💍💍💍 pic.twitter.com/DEpiJXMv6T

— 7⃣ Leonard Fournette (@_fournette) July 23, 2021
The Bucs' previous Super Bowl rings were manufactured by Tiffany's. But most NFL teams have used Jostens, which designed all six of Tom Brady's Super Bowl rings with the New England Patriots and the rings worn by the Kansas City Chiefs after winning Super Bowl LIV following the 2019 season. But the Glazer family, who own the Buccaneers, wanted something different.
"They said, 'Listen, we are not doing what is expected of us. We are going rogue with you guys. We want to do something different. We don't want to follow the herd,'" said Jason Arashben, founder of Jason of Beverly Hills, who has produced championship rings for the Los Angeles Lakers and Golden State Warriors, but had never produced Super Bowl rings.
"This is the most hands-on ownership group we've had," said Arasheben, who has also created custom pieces for celebrities like Drake, Jennifer Lopez, Dwyane Wade, Rihanna and Matthew McConaughey. "They really, really wanted to design a ring that the team and the city would love. They put their blood, sweat and tears – and most importantly, their time into it, to make sure it was exactly the way they envisioned in the end."
Players like Lavonte David had input in designing it and even got a sneak peek, while coach Bruce Arians, who has won two Super Bowl rings as an assistant with the Pittsburgh Steelers and chose not to see the final design, had just a simple request: "I wanted to be able to wear it," Arians said.
"We have multiple messages in there. Everything from the final score of the Super Bowl to the fact that it was the first Super Bowl championship in a home stadium, the fact that they had eight consecutive wins leading up to the Super Bowl, the fact that they held their opponent to only 9 points – which is one of the fewest ever," Arasheben said.
"We paid homage to each individual playoff win, each individual opponent. I think that's what makes this special," Arasheben said. "I don't recall a ring in Super Bowl history that has this many storylines to it. That is why this ring took so long to conceive, because they weren't happy just making a diamond ring. They wanted a diamond ring that was going to tell a whole story and in multiple ways – to the design to the stone count – they wanted to do a ring that was something special."
The design alone took 2 ½ months to finalize and included sometimes three phone calls a day with Bucs' ownership. The rings are yellow and white gold and are made up of over 140 grams of gold and 15 karats of ethically-sourced diamonds, something that was very important to the Glazer family. Each individual ring is comprised of 11 different pieces that needed to be manufactured and then assembled, which took 40-50 hours of labor from seven different specialists. Each ring is personalized with the players' name, along with their number, set in diamonds.
Was there additional pressure coming up with a design for Brady, knowing he's already got six other rings? Arasheben said he had a similar experience creating the Lakers' ring for LeBron James.
"This one, I felt the same pressure, if not more. Tom Brady has six previous Super Bowl rings. I was like, 'You know what? This one has to supersede the expectations, to exceed every other one he's had in the past. And I feel more than confident that we succeeded in doing that."