MESA, Ariz. — For the player the Chicago Cubs call The Professor, the experiment is long over. Or as Jon Lester says of Kyle Hendricks, "The training wheels are off."
Hendricks, now married and making his first millions in the big leagues, is no longer just the quirky soft-tosser who went to an Ivy League school. He's an established mainstay of the Cubs rotation and a player trying to put it back together after an injury-plagued 2017.
"I've learned so much about myself," Hendricks said over the weekend. "This is my peak time. The amount that I've learned is amazing. You think you know everything, but every year in this game I've learned about myself."
Hendricks has had an every-other-year type of odyssey so far in the big leagues — if you consider a 3.03 ERA an "off" year. That was his mark last season after leading all starters in 2016 with a nifty 2.13. In reality, the second half of 2017 was more like the old Hendricks. His 2.19 ERA ranked third in baseball behind Corey Kluber and Justin Verlander. It's becoming obvious what Hendricks needs to do to be elite.
"The big thing is him staying healthy," Lester said. "The training wheels are off, per se, as far as an organizational aspect. They limited him in '15 and '16. Last year he had stuff going on. Now it's just pitching."
The "stuff" going on last season was a sore tendon in his pitching hand that sidelined him for about seven weeks. But Hendricks won't use it as an excuse. In his mind, his first-half ERA of 4.09 was about mechanics, not injury.
"I could not get into my mechanics both last year and in 2015," Hendricks said. "Something wasn't right."
A shoe problem at the end of 2014 led to some uncertainty heading into 2015 — a switch from Nike to New Balance helped, but Hendricks struggled, and there were doubters who wondered whether he could actually be successful throwing in the mid-80s. Lester, however, never doubted that the maturity in Hendricks' game would show up.
"I got a front-row seat for it," Lester recalled. "He went from comfortable and being OK to being uncomfortable and being really good. It's a hard step to take. He did that in 2015. It's really cool to see him take that and go off on it."
Catching coach and game planner Mike Borzello agreed, pointing to a time when he challenged Hendricks by telling the young pitcher he could either be a journeyman fifth starter or, perhaps, find something more. Being "uncomfortable" meant not just relying on what got him to the big leagues and learning to follow a game plan, even if it was asking him to do something he was used to. Once Hendricks took to it, everything changed.
"He went to Dartmouth," Lester said with smile. "Immature people don't go to Dartmouth."
Then came 2016.
Hendricks dominated as the season progressed, eventually winning the ERA title before he famously dueled Clayton Kershaw in Game 6 of the NLCS that season and started Game 7 of the World Series.
"It is still mind-blowing," Hendricks said. "It's hard to fathom or put into words. I dreamed of being in the big leagues, but to lead the league in ERA and pitch like that, I never would have imagined that."
He's in an even better place now, after getting married, settling on a $4 million contract for 2018 and even being invited to an exclusive event: the Shohei Ohtani sales pitch.
"It was eye-opening," Hendricks recalled. "Seeing how that whole process worked."
No, it wasn't veteran Jon Lester or team leader Anthony Rizzo that Cubs brass asked to attend their meeting with the Japanese star last fall — it was the mild-mannered Hendricks. Theo Epstein wanted someone who could articulate what the Cubs do for their pitchers, including the unique game plans put together by Borzello. There was one problem: Hendricks was on his honeymoon. He and his new wife were enjoying the sun in Bora Bora when they opened their laptop.
"[Epstein's] email started with 'My wife is going to kill me for this,'" Hendricks said, laughing at his boss' acknowledgement of the faux pas of asking him a work question during his honeymoon.
Fortunately, the meeting took place on the day Hendricks landed in Los Angeles after their vacation. The Cubs didn't sign Ohtani, but the whole experience was another signal to Hendricks that he wasn't just an employee trying to keep his job, he was part of the core of the Chicago Cubs.
Confidence is a big part of baseball, and Hendricks has never had it more than over these past couple of years — both on and off the field.
"Confidence can help a lot," Hendricks explained. "It does depend on the personality you have. I do like to be settled. Getting married is very settling, and obviously the contract gives you a little bit of security. … All of it solidified what these guys have been telling me, just to be me and it can be successful."
His manager sees the same thing everyone else does.
"He's really confident where he is right now," Joe Maddon said. "He's overcome some difficult moments and made adjustments."
Hendricks is leaving no stone unturned. He wants to make all 32 starts this year, and he wants to develop beyond what you see on the mound.
"To reach the top of the game, it is health, being consistent, handling the bat even," Hendricks said. "If you want to be that top-of-the-rotation guy, you want to be left in there for that third AB. Even fielding my position could be better."
More than anything, Hendricks will always have his brain to help him out. Lester is amazed at how he goes about a game plan.
"I can literally sit there with the scouting report in front of me and call every pitch he's going to make," Lester said. "And then he makes it."
Armed with a catalog of knowledge on hitters he didn't possess in previous years, combined with the confidence of knowing he's been an elite pitcher in the past and now a settled home life and good health, Hendricks is ready for another season among the elite arms in the game.
"He can be that guy," Lester said. "He already has been."
Predicting 40 active future Hall of Famers and their best Cooperstown comparisons
It's Baseball Hall of Fame election week, and with nobody likely to get voted into Cooperstown when ballots are revealed Tuesday night, it seems like a perfect time to look ahead by predicting 40 active Hall of Famers.
Why 40? After all, that feels like a lot of Hall of Famers. History suggests, however, that that is about the number of players in any given season who will eventually receive a plaque in Cooperstown. Here are the tallies for each year of a decade ending in 1 (not including 2011, since many players that year are still not eligible):
2001: 27
1991: 33
1981: 34
1971: 39
1961: 34
1951: 29
1941: 54
1931: 66
1921: 45
1911: 31
1901: 28
(Note: I included players elected for their play in the Negro Leagues, using their active years as listed on Seamheads.com. For Negro Leaguers who played in MLB, such as Satchel Paige and Monte Irvin, their MLB years are included as well.)
Yes, there are only 27 Hall of Famers from 2001, for example — so far. There are still players on the ballot who were active in 2001 who might get in (Curt Schilling, Scott Rolen, Todd Helton, etc.), players who have yet to hit the ballot (Alex Rodriguez, David Ortiz, Carlos Beltran, etc.), plus the steroid guys who otherwise would already be in (Barry Bonds, Roger Clemens, Mark McGwire, Rafael Palmeiro, etc.).
Keep in mind that there are nearly double the teams (30) than existed for the first 60 years of the 20th century (16). That makes 40 Hall of Famers a reasonable estimate. A few quick notes:
A player can get elected via the baseball writers (Baseball Writers' Association of America) or a veterans committee (currently made up of 16 members including Hall of Fame players, former executives and writers). In recent years, the BBWAA has started to recognize more players who had a peak value instead of just a long career with impressive counting stats — think Larry Walker or Edgar Martinez. The veterans committee in the past few years has recognized players with longevity even if their peak value wasn't extraordinary (Harold Baines, Lee Smith, Jack Morris).

I reference Baseball-Reference WAR unless noted. As a general guide, 70 WAR or higher is a strong Hall of Fame candidate, 60 WAR is borderline and 50 WAR gets you in the discussion (relievers are in their own category). WAR is by no means the end of the debate, but the BBWAA is starting to put a heavy weight on it. There are other factors, of course: Dominant seasons (a 5-WAR, or five-win season, is an All-Star-type season, while 8 WAR is an MVP-type season), postseason play and the old "feel" factor all play a role (along with PEDs and off-the-field issues).

I did not include Robinson Cano, who won't play in 2021. His PED suspensions probably put him in the Manny Ramirez category anyway: He would have gone in, but now he won't.
OK, to the list. I've divided it into six tiers, with the players ranked within each tier.
Jump to a tier:
The locks | The Votto group | On the right path
Sky is the limit | Work to do | Next generation
Brad Hand, Washington Nationals agree to 1-year, $10.5M deal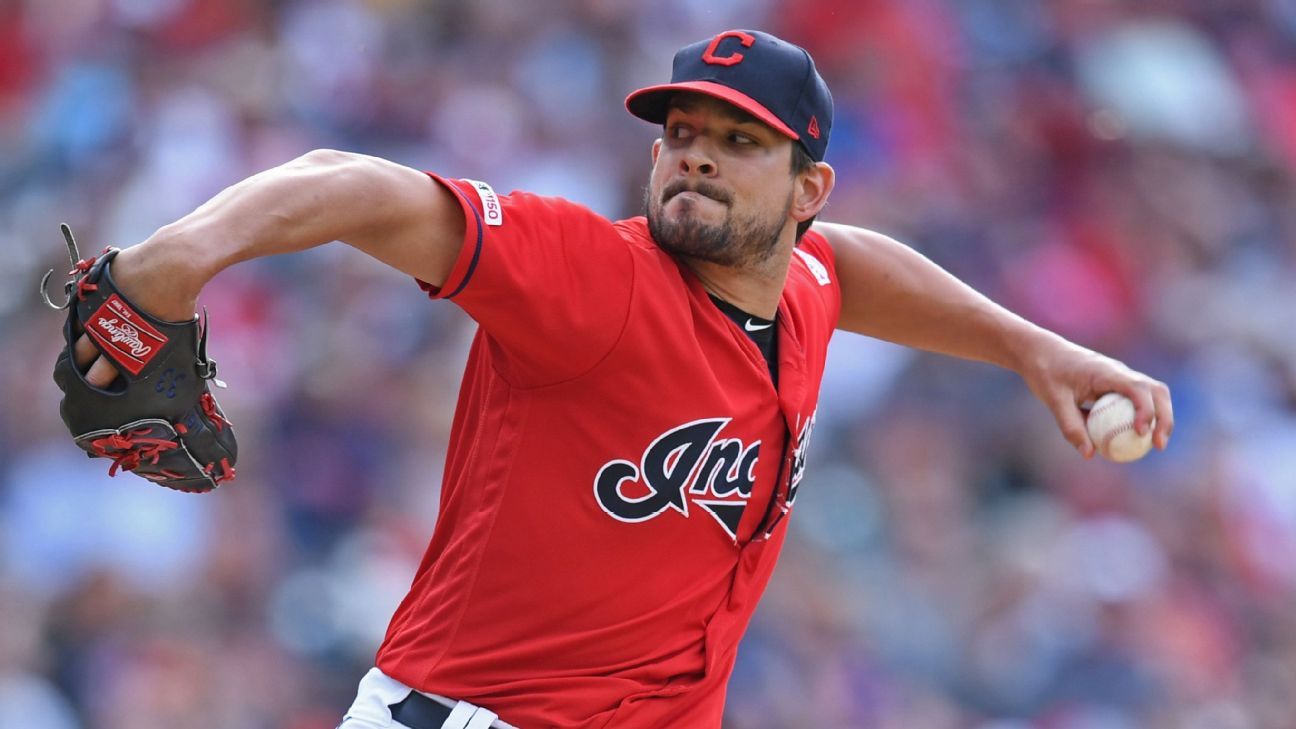 Closer Brad Hand and the Washington Nationals are in agreement on a one-year, $10.5 million contract, sources familiar with the deal told ESPN's Jeff Passan on Sunday.
Hand had another solid season as the closer for the Cleveland Indians, leading the major leagues with 16 saves, but he was a victim of the team's salary purge heading into 2021. Cleveland declined his $10 million option in exchange for a $1 million buyout.
Cleveland tried to deal the 30-year-old left-hander after the season but was unable to find a trade partner.
Hand was acquired from the San Diego Padres at the trade deadline in 2018. In two-plus seasons with Cleveland, he had 58 saves in 65 chances and a 2.78 ERA and 154 strikeouts in 107 innings over 111 games.
Hand went 2-1 with a 2.06 ERA and was 16-for-16 in save chances during the pandemic-shortened 2020 60-game season. However, his blown save against the New York Yankees led to the Indians' elimination in the American League Wild Card Series.
The Padres claimed Hand off waivers from Miami early in the 2016 season, and he developed into a two-time All-Star. Known for his slider, he has 105 saves in 128 chances, with a 3.65 ERA and 624 strikeouts in 608⅔ innings pitched.
The Associated Press contributed to this report.
In Jameson Taillon, did New York Yankees trade for latest starter who will dominate after leaving Pittsburgh Pirates?
The year 2018 wasn't that long ago. It really wasn't, despite how it seems. The Red Sox beat the Dodgers in the World Series that year and while it feels like an epoch has passed since that happened, the highlight reels of that matchup are in full color, not black and white.
I fixate on 2018 because after the New York Yankees agreed to acquire right-hander Jameson Taillon from the Pittsburgh Pirates in exchange for a middling package of four prospects on Sunday, that year has a special relevance for Bronx denizens sketching out their team's new-look rotation.
Let's say Luis Severino returns from his Tommy John surgery rehabilitation sometime in June, Corey Kluber's shoulder holds up enough that he holds down a rotation spot, Gerrit Cole keeps being Gerrit Cole, Taillon is a full go and, just for the fun of it, that New York's low-key minor league invite, righty Jhoulys Chacin, bounces back enough to win the No. 5 slot. The quintet would probably slot like this: Cole, Taillon, Kluber, Severino and Chacin.
In 2018, those five starters combined to go 83-38 (a .686 winning percentage) over 164 starts with a 3.16 ERA and 9.6 strikeouts per nine innings. They put up 94 quality starts. Together, they compiled 22.3 WAR, per baseball-reference.com. The MLB-leading WAR total for any rotation in 2018 was 22.4, by the Astros, but of course that total was bolstered by the presence of Cole.