MESA, Ariz. — For the player the Chicago Cubs call The Professor, the experiment is long over. Or as Jon Lester says of Kyle Hendricks, "The training wheels are off."
Hendricks, now married and making his first millions in the big leagues, is no longer just the quirky soft-tosser who went to an Ivy League school. He's an established mainstay of the Cubs rotation and a player trying to put it back together after an injury-plagued 2017.
"I've learned so much about myself," Hendricks said over the weekend. "This is my peak time. The amount that I've learned is amazing. You think you know everything, but every year in this game I've learned about myself."
Hendricks has had an every-other-year type of odyssey so far in the big leagues — if you consider a 3.03 ERA an "off" year. That was his mark last season after leading all starters in 2016 with a nifty 2.13. In reality, the second half of 2017 was more like the old Hendricks. His 2.19 ERA ranked third in baseball behind Corey Kluber and Justin Verlander. It's becoming obvious what Hendricks needs to do to be elite.
"The big thing is him staying healthy," Lester said. "The training wheels are off, per se, as far as an organizational aspect. They limited him in '15 and '16. Last year he had stuff going on. Now it's just pitching."
The "stuff" going on last season was a sore tendon in his pitching hand that sidelined him for about seven weeks. But Hendricks won't use it as an excuse. In his mind, his first-half ERA of 4.09 was about mechanics, not injury.
"I could not get into my mechanics both last year and in 2015," Hendricks said. "Something wasn't right."
A shoe problem at the end of 2014 led to some uncertainty heading into 2015 — a switch from Nike to New Balance helped, but Hendricks struggled, and there were doubters who wondered whether he could actually be successful throwing in the mid-80s. Lester, however, never doubted that the maturity in Hendricks' game would show up.
"I got a front-row seat for it," Lester recalled. "He went from comfortable and being OK to being uncomfortable and being really good. It's a hard step to take. He did that in 2015. It's really cool to see him take that and go off on it."
Catching coach and game planner Mike Borzello agreed, pointing to a time when he challenged Hendricks by telling the young pitcher he could either be a journeyman fifth starter or, perhaps, find something more. Being "uncomfortable" meant not just relying on what got him to the big leagues and learning to follow a game plan, even if it was asking him to do something he was used to. Once Hendricks took to it, everything changed.
"He went to Dartmouth," Lester said with smile. "Immature people don't go to Dartmouth."
Then came 2016.
Hendricks dominated as the season progressed, eventually winning the ERA title before he famously dueled Clayton Kershaw in Game 6 of the NLCS that season and started Game 7 of the World Series.
"It is still mind-blowing," Hendricks said. "It's hard to fathom or put into words. I dreamed of being in the big leagues, but to lead the league in ERA and pitch like that, I never would have imagined that."
He's in an even better place now, after getting married, settling on a $4 million contract for 2018 and even being invited to an exclusive event: the Shohei Ohtani sales pitch.
"It was eye-opening," Hendricks recalled. "Seeing how that whole process worked."
No, it wasn't veteran Jon Lester or team leader Anthony Rizzo that Cubs brass asked to attend their meeting with the Japanese star last fall — it was the mild-mannered Hendricks. Theo Epstein wanted someone who could articulate what the Cubs do for their pitchers, including the unique game plans put together by Borzello. There was one problem: Hendricks was on his honeymoon. He and his new wife were enjoying the sun in Bora Bora when they opened their laptop.
"[Epstein's] email started with 'My wife is going to kill me for this,'" Hendricks said, laughing at his boss' acknowledgement of the faux pas of asking him a work question during his honeymoon.
Fortunately, the meeting took place on the day Hendricks landed in Los Angeles after their vacation. The Cubs didn't sign Ohtani, but the whole experience was another signal to Hendricks that he wasn't just an employee trying to keep his job, he was part of the core of the Chicago Cubs.
Confidence is a big part of baseball, and Hendricks has never had it more than over these past couple of years — both on and off the field.
"Confidence can help a lot," Hendricks explained. "It does depend on the personality you have. I do like to be settled. Getting married is very settling, and obviously the contract gives you a little bit of security. … All of it solidified what these guys have been telling me, just to be me and it can be successful."
His manager sees the same thing everyone else does.
"He's really confident where he is right now," Joe Maddon said. "He's overcome some difficult moments and made adjustments."
Hendricks is leaving no stone unturned. He wants to make all 32 starts this year, and he wants to develop beyond what you see on the mound.
"To reach the top of the game, it is health, being consistent, handling the bat even," Hendricks said. "If you want to be that top-of-the-rotation guy, you want to be left in there for that third AB. Even fielding my position could be better."
More than anything, Hendricks will always have his brain to help him out. Lester is amazed at how he goes about a game plan.
"I can literally sit there with the scouting report in front of me and call every pitch he's going to make," Lester said. "And then he makes it."
Armed with a catalog of knowledge on hitters he didn't possess in previous years, combined with the confidence of knowing he's been an elite pitcher in the past and now a settled home life and good health, Hendricks is ready for another season among the elite arms in the game.
"He can be that guy," Lester said. "He already has been."
Pete Rose to sell picks for baseball, other sports through website
Pete Rose's baseball predictions are for sale for $89 a month.
Rose announced Wednesday that he was joining Upicktrade, a pick-selling website based in Mexico that recently made headlines in the U.S. with a short-lived partnership with the Vegas Golden Knights of the NHL. Rose will be making daily predictions about baseball and other sports.
Rose, who turned 80 on Wednesday and resides in Las Vegas, was banished from baseball in 1989 after an investigation revealed that he had bet on the game while managing the Cincinnati Reds. He has appealed to be reinstated multiple times but has been denied, most recently in 2015 by then first-year commissioner Rob Manfred.
During a conference call with the media Wednesday, Rose said he won't be placing wagers on his picks and doesn't believe working for the sports betting site would damage his chances of getting into the Hall of Fame.
"By me working with Upick, I'm not hurting Rob Manfred. I'm not trying to show him up by doing that," Rose said. "I'm trying to make a living like everyone else. I'm not making a bet on the baseball game; I'm picking a baseball game. I'm using my knowledge to pick a game for whoever is working with Upick.
"But picking games on Upick don't make me a bad person," he added. "It's not me trying to give baseball a black eye, because I'm not. I love baseball."
It has been over 30 years since Rose's banishment, and Major League Baseball is now embracing the legal sports betting market in the U.S. MLB has partnered with bookmakers, and select stadiums have announced plans to install retail sportsbooks.
Rose said he understands baseball's change of heart on sports betting.
"Why is baseball doing what they're doing? Because of the dollars, because there's money in it," he said. "Baseball was kind of stubborn for so many years, worried about gambling. But gambling is a big part of our country right now."
Legal sportsbooks are operating in more than 20 states and the District of Columbia, with another wave of jurisdictions preparing to launch sports betting markets in the near future.
Upicktrade, which is based in Guadalajara, Mexico, partnered with the Golden Knights in February. Just days after the deal was announced, the Knights terminated the partnership with no explanation.
Yasiel Puig denies accusations in sexual assault lawsuit
In a statement released on his Twitter feed Tuesday, free-agent outfielder Yasiel Puig has denied claims in a lawsuit that he sexually assaulted a woman in 2018 and said that the allegations have prevented him from continuing his Major League career.
"I am speaking out now to defend my name against false and malicious allegations by a woman who claims I assaulted her in 2018," Puig wrote. "These allegations are totally false, the evidence proves they are false, and I look forward to all the facts and the truth coming out."
The woman, identified in federal court documents only as Jane Roe, sued Puig last October, saying the former Dodgers outfielder followed her into a Staples Center bathroom after a Lakers game on Oct. 31, 2018, "pinned her with one arm" to prevent her from leaving, groped her and masturbated in front of her.
The woman did not file a police report. Puig has not been charged with any crime and he has previously denied the allegations in a court filing.
In his statement Tuesday, released by his attorneys, Puig said: "The fact is that I had consensual sex with a woman I met at a Lakers game after she propositioned me. Afterward we talked about going out together, but she said she did not want her fiancé to find out."
Attorney Taylor Rayfield, who is representing the woman, said in a statement to ESPN Wednesday, "The simple fact of the matter is that our client never engaged in consensual sexual activity with Mr. Puig — not at the Staples Center Chairman's Club, and not anywhere else."
In her own statement, released through Rayfield, the woman said, "I am an out and proud lesbian and have been during my entire adult life. My female fiancée and I were enjoying a Lakers game at the Staples Center when this attack occurred." She added that the notion that she would leave her fianceé for a sexual encounter in the bathroom with someone she'd just met "is demeaning and ridiculous."
Puig said Tuesday that he and the woman "messaged each other" after their encounter and planned to get together but never did.
Puig's Los Angeles-based attorneys, Alan Jackson and Caleb Mason, also said in their statement Tuesday that text messages between Puig and the woman help to confirm Puig's account of what happened.
"On November 2, 2018, two days after their encounter, when Mr. Puig wrote to ask her when they could see each other again, she replied "I['m] working it out! I didn't forget about you."
Puig's attorneys point out that the woman sent Puig heart emoji messages and that, on November 23, 2018, several weeks after the Lakers game, she messaged Puig asking him when he would be back in town.
ESPN has reviewed text message exchanges between Puig and the woman, which became public through an exhibit filed as part of the woman's federal lawsuit.
She did send the text messages Puig's legal team referenced but only after Puig had sent her several messages in an apparent attempt to meet privately.
Rayfield said the woman only sent those messages because she was "fearful of a further attack or retribution by Puig," and in an attempt "to de-escalate his behavior by providing curt responses."
In their statement Tuesday, Puig's attorneys did not include a text message Puig sent the woman hours after the Lakers game. In that text, Puig wrote: "Private between me and me [sic] everything that happens no one has to know," according to the transcript of text messages that appears in court documents.
Last month, ESPN reported that a number of teams had factored the allegations, as well as Puig's declining play, into their decision making when considering him as a free-agent signing.
"Nobody wants the headache," one front-office source told ESPN.
Puig said Tuesday he initially remained silent about the allegations against him on the advice of his attorneys and is speaking out now because of delays in the legal system and a civil case that has unfairly tarnished his image in baseball circles.
"With a mere unsupported accusation, the sports world has turned against me without ever hearing my side," Puig said in the statement from his attorneys.
"All I ask is that I be given the chance to prove these claims false, and in the meantime, play the game that I love so much."
Jose Altuve, Alex Bregman among Houston Astros players on IL for health and safety protocols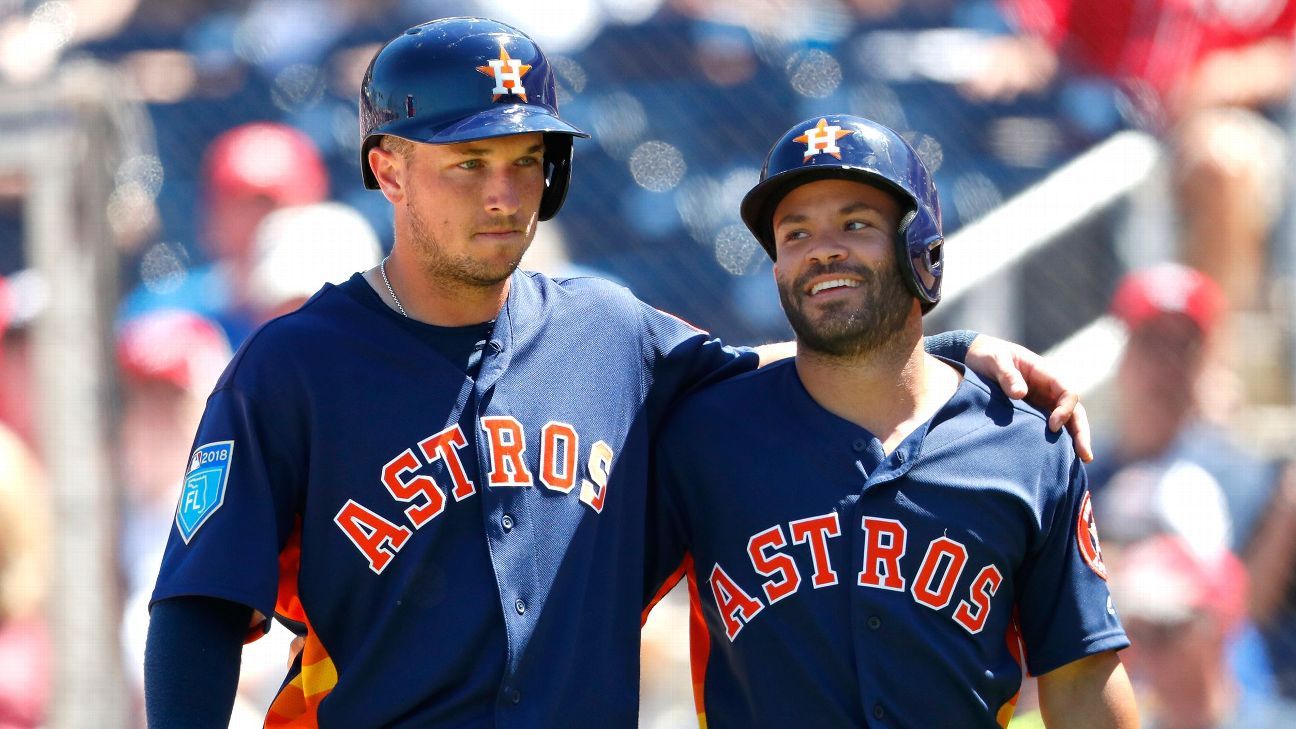 The Houston Astros have placed Yordan Alvarez, Jose Altuve, Alex Bregman, Robel Garcia and Martin Maldonado on the injured list "as a result of health and safety protocols," general manager James Click said Wednesday.
Click said the moves were not a function of the players breaking COVID-19 protocols.
"Absolutely not. The guys have been exceptionally vigilant of making sure that at the ballpark, away from the ballpark, they're following the rules," Click told reporters. "I think this is just another reflection of the situation we're in, not just in baseball but in the country."
The Astros, who are not at the 85% vaccination threshold to loosen the protocols, said they didn't know about having to make these moves until after Tuesday's game. All other players on the team will go through increased testing, and all coaches and staff have been cleared to continue working.
In corresponding moves, the Astros called up infielder Taylor Jones, catcher Garrett Stubbs, infielder Abraham Toro, infielder Alex De Goti and outfielder Ronnie Dawson from the team's alternate training site.
All five players are expected to arrive in time for Wednesday night's game against the Detroit Tigers at Minute Maid Park.
"When it rains it pours," Click said. "It's a difficult situation, but we can't let that take our focus away from winning this game."