COOPERSTOWN, N.Y. — To know what the moment meant to Jim Thome, all you had to do was look into his tear-filled eyes.
"It's hard to explain the emotions that go through you," Thome said Tuesday as he gazed around the Baseball Hall of Fame's Plaque Gallery, the most hallowed corner of the shrine and where he'll take his place in July. "How do you ever dream of this happening, walking through and having all those great players stare at you?"
Thome got the call in January when he was elected along with Chipper Jones, Vladimir Guerrero and Trevor Hoffman. Also to be inducted July 29 are Jack Morris and Alan Trammell, who were selected in December by a veterans committee.
At 6 feet 4 and 250 pounds, the left-handed-hitting Thome was a pure slugger with the sweetest of swings. Drafted by the Cleveland Indians in the 13th round in 1989 out of Illinois Central College, he hit 612 homers, eighth all time, and drove in 1,699 runs in a 22-year career with six teams. Thome, who hit 17 homers in the postseason, also had 13 walk-off home runs, still the major league standard.
There have been just more than 19,000 men to appear in a major league game, and the Hall of Fame has just 323 elected members, including 226 players. Of those, 128 have been voted in by the Baseball Writers' Association of America, and only 54, including Thome, were picked in their first year of eligibility.
"How do you ever envision that?" Thome said. "As you're playing, you don't play to make it to the Hall of Fame. You play to win. You play to do well, to be a guy that helps your club win. Then this career happens and you look back, and then to have somebody say that you're one of 54. There's something special about it. You hold your chest out a little more."
In his long career, Thome reached the World Series twice, in 1995 and 1997. The Indians lost to the Atlanta Braves in six games in the first one and were two outs from a title in the second before the Florida Marlins rallied in the bottom of the ninth and won Game 7 in 11 innings.
"Looking back, I think the championship always motivated me to every year prepare, but this is such a special thing, too," Thome said.
The tour, which helps inductees prepare for their big day, takes them through every corner of the Hall of Fame — to the basement where most get to swing a bat Babe Ruth or Lou Gehrig once wielded, to the library upstairs with its vast collection of newspaper clippings and photos — culminating in the Plaque Gallery.
There were too many plaques to read on this day, but Thome took his time and stopped at several — Ruth, Ernie Banks, Hank Aaron and others — as his wife, Andrea, captured the moment.
The emotion was palpable after Erik Strohl of the Hall of Fame mentioned off the cuff that among American League sluggers, only Ruth had reached 500 homers faster than Thome.
"It's a dream," Thome said as he hugged his host, tears welling in his eyes. "To come through here and soon to be on the wall with them, it's beyond special. You don't ever envision an opportunity to walk down this hall and have all this staring at you. I just feel honored."
Hearing for restraining order requested against Trevor Bauer postponed until Aug. 2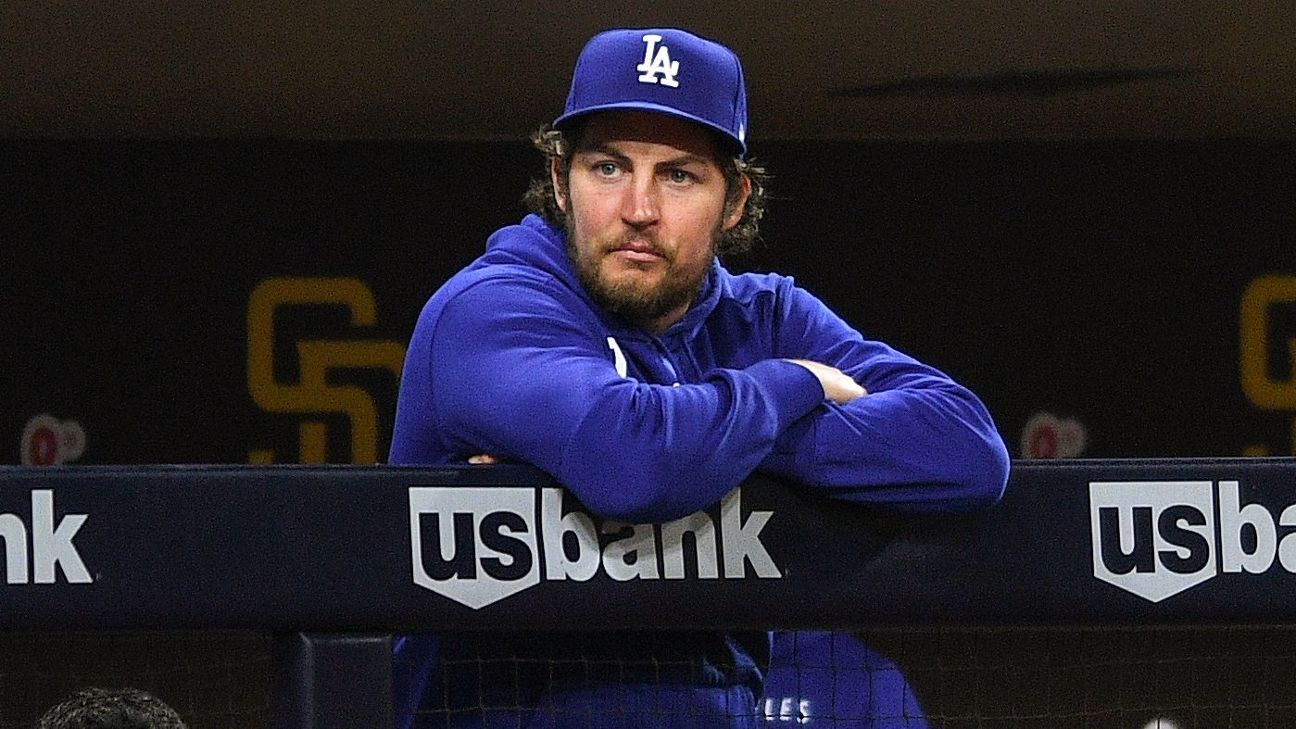 LOS ANGELES — The civil hearing for a restraining order requested against Los Angeles Dodgers pitcher Trevor Bauer has been postponed to Aug. 2 after Bauer's legal team requested more time to prepare a defense against witnesses and documents that it claimed to have received only recently.
Judge Dianna Gould-Saltman set aside Aug. 2, 3 and 19 for the hearing, which is expected to take between two and three days. The temporary restraining order against Bauer will remain in place until the hearing is complete. Bauer's administrative leave expires on Tuesday, but Major League Baseball can extend it once again with consent by the MLB Players Association.
Bauer was present for the hearing in L.A. Superior Court on Friday, wearing a burgundy suit and quietly staring straight ahead throughout the proceedings. Also present was the woman who has accused him of sexual assault. Bauer's legal team told the judge that it has advised him not to testify given the ongoing criminal investigation for alleged sexual assault. But the petitioner's side stated that he must nonetheless take the stand, even if he utilizes his Fifth Amendment rights to not answer questions, to which the judge seemingly agreed. Both sides will call witnesses.
MLB and the City of Pasadena Police Department are conducting separate investigations into Bauer, who has been accused by a woman of choking her until she lost consciousness on multiple occasions, punching her in several areas of her body and leaving her with injuries that required hospitalization over the course of two sexual encounters earlier this year, according to a domestic violence restraining order that was filed in L.A. County Superior Court in late June, copies of which were obtained by ESPN.
The restraining order was executed as a temporary ex parte, which can be attained without input from the other party. Bauer's side told the judge it plans to fight against the declaration "at great length" and previously issued a statement denying that Bauer had assaulted the woman, calling the encounters "wholly consensual."
The Dodgers have canceled Bauer's bobblehead night, which was scheduled for Aug. 19, and have removed all of his merchandise from the team and online stores, saying they "did not feel it was appropriate" given the investigations. Bauer, the 2020 National League Cy Young Award winner as a member of the Cincinnati Reds, joined the Dodgers with a record-setting three-year, $102 million contract in February.
Some players say Los Angeles Angels failing in treatment at minor league level, as GM vows to address it
While consolidating the minor leagues during the 2020 season, Major League Baseball claimed that reducing and realigning its developmental leagues would increase player salaries at all levels, increase condition standards at ballparks and clubhouses, and create lower operating costs for teams.
Some minor league players in the Los Angeles Angels organization say that is not happening for them.
Kieran Lovegrove, an active pitcher for the Double-A Rocket City Trash Pandas, said he is living with six other teammates in a three-bedroom apartment, sleeping on a twin mattress, with one person sleeping in the kitchen and two others in the living room. Others like Shane Kelso — who spent part of the 2021 season with the low-A Inland Empire 66ers, another Angels affiliate, before retiring due to the living conditions for players — said four teammates bunked in a camper van in a trailer park while others lived out of cars.
"It's gotten to the point now where there are guys who are in a serious mental health crisis because of how stressful money is here," Lovegrove told ESPN. "I really do think it affects not only their play on the field, but I think it affects quality of life overall. We're reaching a point now where this is actually becoming detrimental to the players' overall health, and the owner not addressing it is [the organization] actively saying that they don't care about the health of their players."
Kelso said he was losing $1,000 a month from his savings and would have been broke before the end of the season had he not decided to retire; rent for his housing cost $2,000, but the team paid him $1,600 a month.
"People don't understand the mental strain that comes along with that, that you don't know how much money you're going to have at the end of each month and not knowing how you're going to make ends meet," Kelso said. "I was a late-rounder. I didn't sign for a lot of money. The vast majority of players are in my position."
Lovegrove worked as a Lyft and Uber driver and as a warehouse worker for UPS and Best Buy in the offseason to supplement his minor league income and maintain his career pursuit in baseball. While Lovegrove remains on the minor league roster of the Trash Pandas, he said he is considering ending his baseball career after 2021 because of the financial and mental health strain of life in baseball.
One of the major issues facing minor leaguers, according to both Lovegrove and Kelso, is the lack of access to quality food. Kelso said the team expected him to consume between 3,500 and 4,500 calories a day but only fed players 800-1,200.
"That's required for our job," Kelso said. "If we don't do that, our bodies fail and we can't do it."
Lovegrove said he witnessed the bodies of teammates break down because of the lack of healthy food options, with many defaulting to fast food like McDonald's or Taco Bell.
"They were not receiving enough nutrition to maintain muscle mass," Lovegrove said. "We had guys lose 5 pounds in two weeks."
Lovegrove said that the living conditions for minor leaguers show that Angels owner Arte Moreno "really doesn't give a s— about the winning side" of running a baseball team because of its failure to develop the next generation of baseball players.
"It's frustrating when you're sitting in the pen and you're hearing guys just harp about how bad the ownership is and how bad the organization is because you don't want guys to be somewhere that they are unhappy," Lovegrove said. "Is Moreno completely out of touch with the reality of what it's like to be a player? Probably. I don't see that really changing because I don't know that he really does care about the quality of the organization so much as the amount of money it produces."
Moreno did not respond to ESPN after request for comment.
Angels general manager Perry Minasian responded in a statement through a team spokesperson.
"What is being reported is unacceptable, and we will look into it and address it," Minasian said.
Lovegrove previously played in the Cleveland Indians, San Francisco Giants, Baltimore Orioles and Los Angeles Dodgers organizations. He said that there was a large gap between how he was treated previously versus in the Angels' farm system.
"Cleveland redid their entire weight room, providing three meals a day. They were flying guys out," Lovegrove said. "They were giving a lot of players, not just their top prospects, the opportunity to seriously improve themselves under the eye of the organization, and in doing so, I think they produced significantly better players than they would have had their system operated like the Angels."
Kelso believes Moreno and the Angels are symptomatic of a bigger issue in baseball.
"They made the move to consolidate, so it gave the owners in the league more power that they can choose what they want to do with minor leaguers," Kelso said. "There's no longer a separate body that is Minor League Baseball. I don't think that move was to improve living conditions or money [for players], because it didn't. It made living situations worse."
Teams across baseball are making changes to their minor league systems, including the Giants, Boston Red Sox and New York Mets. The Giants previously were not paying salaries to players in extended spring training before changing their tune in June, according to SFGATE. The Red Sox are now offering additional benefits to minor leaguers, including extended spring training back pay and housing stipends retroactive to early May. The Mets joined 12 other teams in baseball in paying extended spring training players.
"It is time for the Los Angeles Angels and every other MLB team to take responsibility for housing their minor leaguers during the season," said Harry Marino, a former minor leaguer and the director of the organization Advocates for Minor Leaguers. "The players will not be satisfied until that outcome is achieved. In the meantime, we should ask why we entrust our national pastime to billionaires who don't care if their employees have a place to sleep at night."
Lovegrove added that he is not concerned about his baseball career ending because of the decision to speak up against the Angels organization
"Arte Moreno wouldn't have his kids live like this," he said.
Washington Nationals' Starlin Castro has administrative leave extended seven days by Major League Baseball
Washington Nationals infielder Starlin Castro's administrative leave was extended an additional seven days Friday by Major League Baseball through July 29 under its domestic violence, sexual assault and child abuse policy.
The leave began July 16 under the policy adopted by MLB and the players' association in 2015 and can be the initial step leading to a longer suspension.
Castro, 31, was placed on the restricted list June 16 due to what manager Dave Martinez at the time said were "family matters." The infielder was reinstated two days later and pinch hit that night against the New York Mets.
Nationals general manager Mike Rizzo said on Tuesday that he doesn't plan on having Castro back with the team this season.
Castro is hitting .283 with three home runs and 38 RBIs in 87 games this season. He is in his second season with the Nationals after stints with the Cubs, Yankees and Marlins.
The Associated Press contributed to this report.