As the NFL turns its attention to the draft and free agency, Dallas Cowboys reporter Todd Archer, Washington Redskins reporter John Keim, Philadelphia Eagles reporter Tim McManus and New York Giants reporter Jordan Raanan look to the 2018 season with a series of questions this week.
Monday's question: Can the Eagles command the East the way they did under Andy Reid?
Tuesday's question: How will Alex Smith's addition to the Redskins impact the division?
Keim: The Redskins internally say they've upgraded at quarterback. Of course, that could be justification for going in a different direction — toward Smith and away from Kirk Cousins — as not everyone in the NFL agrees with them. But for part of the season Smith was in the MVP discussion, and if nothing else, he and Cousins are at a comparable level. Smith offers the ability to make more off-schedule plays — it's how he helped the Chiefs beat Washington last season, and that's always a plus. But here's the biggest plus for Washington: Smith is a lot cheaper. And that's how he'll impact the division. The only way Washington could have retained Cousins was via one of the tags. Let's say it opted for the transition tag, the cheaper of the two. Washington would have paid Cousins $28.8 million. Smith will count $17 million on the cap this season. So the Redskins will have around $34 million to spend on other players rather than just $23 million, giving them the ability to retain some of their own free agents, extend young players or sign others. Smith's presence alone isn't enough, but his ability plus the extra cap room will allow the Redskins to build — if they spend wisely.
McManus: I don't think it moves the needle drastically in either direction. They aren't identical in their playing style, but Smith and Cousins are similar. They are both quality quarterbacks capable of winning (and even winning big) in the right system with a strong supporting cast, but in a tier below the magic-making QBs who can throw a franchise on their shoulders. Smith has completed 67 percent of his passes with an average of 20 touchdowns to seven interceptions over his last three seasons; Cousins also has a 67 percent completion rate over that span while averaging 27 touchdowns and 12 interceptions. Cousins is more aggressive as a passer, and Smith is a bit more active with his legs. It's close to a wash in my view. If anything, Washington may have weakened itself at quarterback considering Cousins has more upside at this stage and is 29 years old. Smith is 33. The Redskins have a chance to find success under Smith — and who knows, maybe he'll be a better fit for coach Jay Gruden — but the move from Cousins to Smith heightens the urgency to find the quarterback of the future.
Raanan: Not much. He's a competent quarterback no doubt but a downgrade in my estimation from Kirk Cousins. Smith is going to be 34 years old by the start of the season. This will be the homestretch of his career and he's never thrown 30 touchdown passes in a season. He doesn't strike fear into opposing defenses, especially with his limitations throwing the ball deep downfield. The Redskins can win with Smith if they have the right pieces around him. But do they? They need a running back. They need a No. 1 wide receiver. They need to keep tight end Jordan Reed healthy. They need to upgrade their defense. If they can do most or all of those things in the next year or two then the Alex Smith move can make waves in the NFC East. Otherwise it seems like a shortsighted move for an above-average quarterback in his final few productive seasons. The rest of the division should barely pay it any attention right now.
Archer: From a Cowboys' perspective, seeing Cousins out of the division isn't a good thing. He had some big passing days against the Cowboys but a 1-6 record. To me, Smith can be more dynamic than Cousins because of his ability when things break down. Yes, he is older, but he has not shown a signs of unwillingness to leave the pocket to make plays. He is also risk averse. In his five-year run with the Kansas City Chiefs, he did not have more than eight interceptions in a season. His best season was 2017, with more than 4,000 yards passing, 26 touchdown passes and five interceptions. But he won't have Travis Kelce, Tyreek Hill or Kareem Hunt around him. Coach Jay Gruden wanted Cousins to pull the trigger more, especially down the field. It will be interesting to see if Gruden will get frustrated by Smith in the same manner. First, the Redskins will have to give Smith more skill players, especially at receiver, where they were still waiting for Josh Doctson to break out. If tight end Jordan Reed can stay healthy, that would help. And an improved running game would also help. Smith isn't a carry-the-load type of quarterback like, say, Tom Brady and Aaron Rodgers, but he can win games.
Sources — Lions to hire ex-Chargers coach Anthony Lynn as offensive coordinator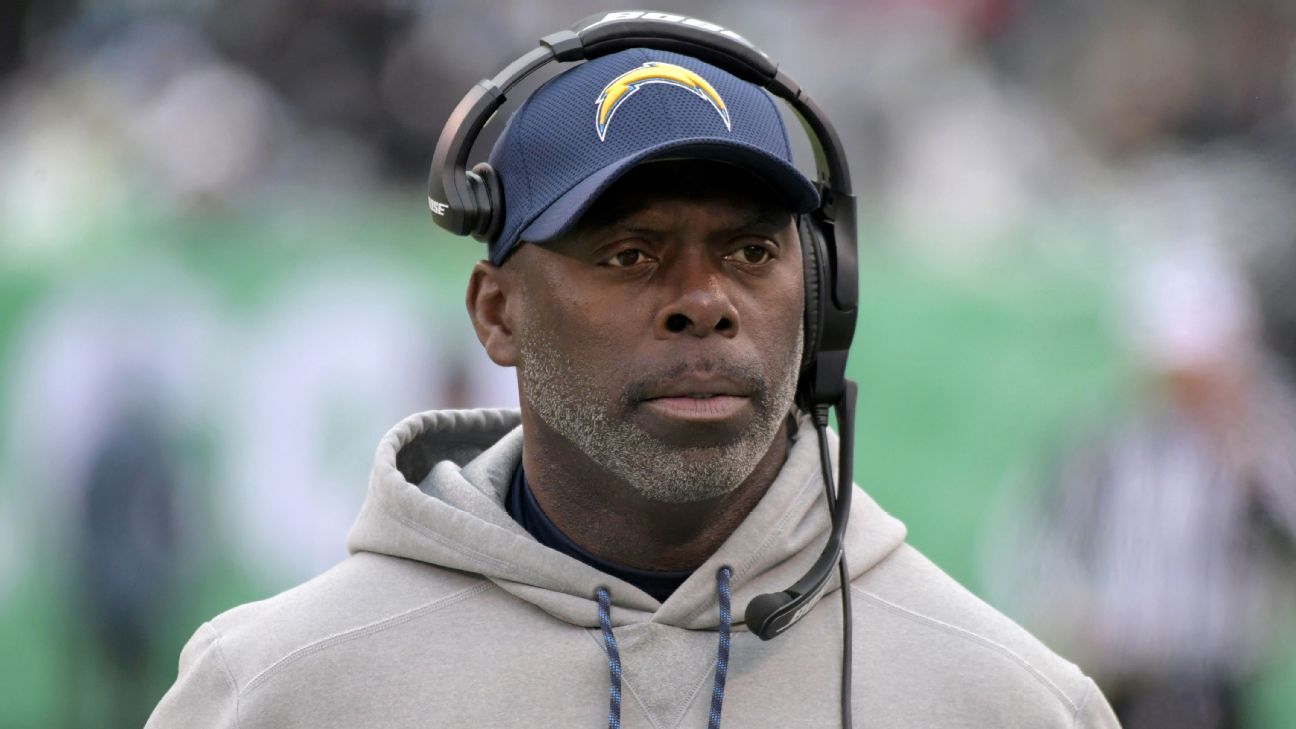 Detroit Lions head coach Dan Campbell knew he wanted to get some experience around him on his coaching staff and on Saturday he did that, hiring former Los Angeles Chargers head coach Anthony Lynn as the team's offensive coordinator, sources told ESPN's Dan Graziano.
The 52-year-old Lynn had been with the Chargers from 2017-20 with a record of 33-31. Before that, he was the offensive coordinator for the Buffalo Bills for one season, in 2016.
He and Campbell have familiarity with each other, too. Lynn was the running backs coach in Dallas in 2005 when Campbell was a tight end with the team.
"What's more important than anything to me as far as an offensive coordinator is someone that I believe has the vision of the offense kind of the way I do," Campbell said Thursday. "Just in regard to, 'Listen, I'm not going to get hung up on what you want to call the terminology. I'm not going to get hung up on the style of system that you want to put in.'
"I'm more into, 'Man, show me what are the nuts and bolts that you believe in.' " One thing Campbell stressed in his introductory press conference is making sure whoever his coordinators are – the team officially announced Aaron Glenn as the defensive coordinator Saturday – can identify and exploit matchup mismatches.
In Buffalo in 2016, Lynn had the best rushing offense in the NFL, averaging 164.4 yards a game and 5.35 yards per carry with LeSean McCoy as his main back. Lynn has also shown a willingness to throw. His Chargers team this past season was sixth in the league in passing yards per game (270.6) with a rookie quarterback, Justin Herbert, behind center the majority of the season and had the No. 6 passing offense in 2019 (276.6 yards per game).
Lynn will likely be working with a new quarterback in 2021, too, as ESPN's Adam Schefter reported Matthew Stafford has requested a trade from Detroit — the only place he's played in his career after being drafted No. 1 overall in 2009.
Detroit Lions to actively seek trade for QB Matthew Stafford, sources say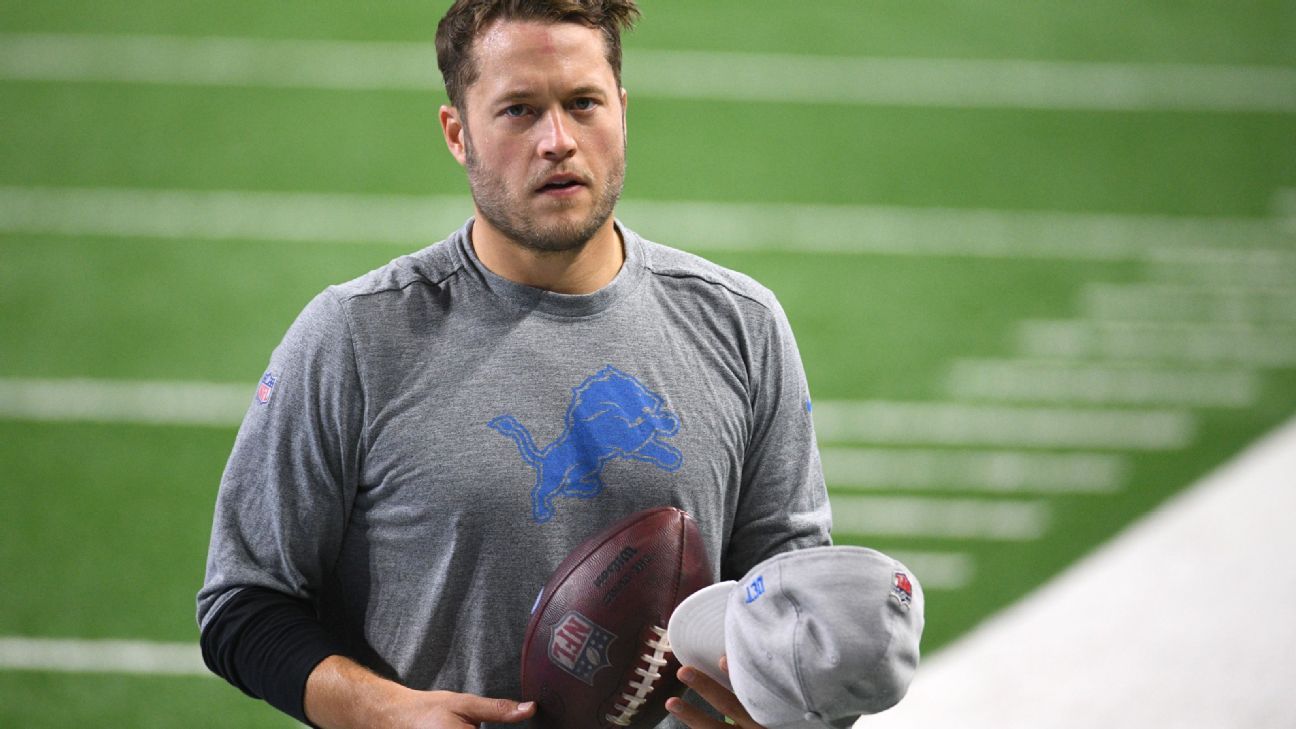 In an arrangement the two sides have discussed and mutually agreed upon, quarterback Matthew Stafford is expected to not return to the Lions this offseason, with Detroit listening to trade offers for its former No. 1 overall pick starting this week, league sources told ESPN's Adam Schefter on Saturday.
With new general manager Brad Holmes and new head coach Dan Campbell now in place, the Lions will soon begin trade discussions that most likely will result in a new quarterback — largely influenced by what and who the Lions will receive in a trade for Stafford, sources told ESPN.
The Lions are expected to receive at least a first-round pick, league sources said.
Green Bay Packers activate Tramon Williams, who could become first to play for two NFL teams in a postseason
The Green Bay Packers have elevated recent cornerback acquisition Tramon Williams to their active roster for Sunday's NFC Championship Game with the Tampa Bay Buccaneers.
Williams, who was acquired by the Packers and put on their practice squad after he was waived by the Baltimore Ravens on Monday, could become the first player in NFL history to play for two different teams in the same postseason.
The 37-year-old Williams had three tackles in the Ravens' 17-3 AFC divisional playoff loss to the Buffalo Bills last week.
Williams previously played for the Packers from 2007-14 and 2018-19, and he played a key role in the team's run to Super Bowl 45 with interceptions in playoff games vs. Philadelphia and Atlanta.
"It's special," Packers quarterback Aaron Rodgers said of the team's decision to sign Williams this week. "He's one of those teammates you just love playing with over the years. He's such a professional. The way he takes care of himself, he looks amazing. He looks like he could go out and play 70 plays for us. I'm not sure if he's going to or not, I hope he does, because he's still so talented. But he's one of those special guys, special personalities."
"… You think about the 2010 run — he ended a game in Philly; (he) basically gave us a huge jolt in the divisional round (against Atlanta) with his pick-6. Still one of my favorite moments in all the moments in that, is watching him pick that ball off and run down the sidelines with Nick Collins to put us up 14 going into half. So, it's fun. I wish we did this every year."
Green Bay may need some extra depth in the secondary due to the uncertain status of starting cornerback Kevin King, who didn't practice Friday because of a back injury and is listed as questionable.
The Packers also elevated defensive lineman Brian Price and cornerback KeiVarae Russell from the practice squad to the active roster for game day. In other moves, they signed punter Ryan Winslow to the practice squad and released running back Dexter Williams from the practice squad.
ESPN's Rob Demovsky and The Associated Press contributed to this report.