We're still more than a month away from the start of the MLB season … so how do you approach drafting bullpen arms at this time of year?
Tristan H. Cockcroft: As would be the case with any position, the further ahead of Opening Day that we're drafting, the more heavily I'm weighing the "skills over roles" axiom when it comes to relief pitchers. It's simply a more pronounced strategy at that position compared to others, even if that seems odd because fantasy value is more role-oriented there than at any other position.
Saves are the easiest category to fill after the draft, when the least is known about who will be getting them — more saves still up for grabs means more will likely land in the free-agent pool. And the downside of drafting an ordinary (read: no ERA/WHIP/K's help) reliever who winds up in middle relief, providing you no value whatsoever, is simply too scary at this early stage.
In short, this is a time during draft season when I'm going to pass up Fernando Rodney and his inconsistency and history of poor ratio support, instead grabbing Addison Reed, who has superior skills, in the much later rounds.
It's a time when I'll take a chance on Archie Bradley, the most talented of the Arizona Diamondbacks' top three closer challengers, or even David Robertson, hoping that maybe the New York Yankees will need to shed his salary in a trade to stay under the luxury-tax threshold.
And I'll be more apt to pass on Luke Gregerson, the St. Louis Cardinals' de facto closer, and Kelvin Herrera, whose skills declined sharply in 2017.
Worst case: If I end up with no saves coming out of the draft, any saves "dart throws" I took that missed would just end up being my first cuts for the eventual winners of these spring closer battles.
Eric Karabell: In ESPN standard formats, I likely don't deal with bullpen uncertainty at all. These are shallow leagues, and saves will always be available on free agency in April, May and beyond.
I think, for example, that Los Angeles Angels manager Mike Scioscia, wily veteran that he is, will eventually settle on right-hander Blake Parker, who pitched so well in numerous roles last season — including the ninth-inning role — so I might spend a pick in the final round or two on Parker. I probably will not, though, because I do not see much upside there.
After all, don't we know by this point that nearly a third of closer roles for Opening Day — and we are still a month from that point — will change?
So I am more likely to use precious bench spots on upside options for other statistical categories in case they make their respective MLB rosters or their situation becomes more positive during spring training.
For example, top outfield prospects Ronald Acuna and Victor Robles seem like better initial investments than Parker, Miami Marlins right-hander Brad Ziegler and Texas Rangers lefty Alex Claudio. Same with Tampa Bay Rays right-hander Brent Honeywell and St. Louis Cardinals right-hander Alex Reyes.
In deeper formats where it might be tougher to secure saves during the season, then I will likely bypass the top-100 closers — I always do — and take four or five lesser relief pitchers with the hope a few perform well and secure roles.
I like Parker. I think Parker, Bradley and a few others who are off the radar, like Milwaukee Brewers right-hander Corey Knebel a year ago this time, can actually be top-10 closers if the opportunity presents itself. But still, we are talking about late draft selections here, after a deep roster of hitters and rotation depth is secured.
AJ Mass: It's all about job security when it comes to closers, whose value in category-based formats is almost completely tied to how many saves they can give a fantasy manager. So, while the ideal scenario would be to actually know the results of the many spring battles for that ninth-inning role as possible, when time is not on your side, for many teams, you'll simply have to make your best guess.
Obviously, established relievers like Kenley Jansen, Craig Kimbrel and Aroldis Chapman are very unlikely to lose their jobs and are, hence, "safe." Similarly, Wade Davis didn't get a $52 million contract to pitch in long relief. In cases like his and that of Rodney, follow the money.
For the rest of the bunch, I'd play the "follow the leader" game. If someone picks Mark Melancon, I'll grab Sam Dyson. If Jeurys Familia gets drafted, I'll pounce on AJ Ramos. For one thing, the more "lottery tickets" I draft in this fashion, the more chances I have that at least one of these closer competitors will come out on top come April. Plus, say my Carl Edwards Jr. ends up as the Cubs' go-to guy. That opens a big door for me to call the guy who put all of his eggs into Brandon Morrow's basket and name my price.
Kyle Soppe: The necessary evil of forecasting bullpen usage is nothing short of a pain — and often a game-changer. If I'm drafting today, I'm making a run at, but not reaching for, one of the six top closers.
From Jansen to Ken Giles, if value presents itself, I'll happily lock in the few "safe" saves on the board and piece together the rest, knowing that I have an edge on at least a handful of teams, given the stability. But if you decide to pass on the top options, my philosophy is pretty simple: Go for talent or résumé.
The thought with the talent angle is that, at the bare minimum, you're supporting your ratios while you wait for a role to present itself (the Bradley approach). The résumé idea is more of a short-term plan, hoping that loyal managers look in the past to determine whom they hand the ball to in the ninth (the Melancon-rebound approach).
I prefer the Bradley approach, as there is less risk involved, but it is important to understand that you are not the only manager struggling to secure saves (29 players had 15-plus saves last season, but only 10 had more than 30), and that this category is often decided during the season.
Judge dismisses former Los Angeles Angels employee Brian Harkins' defamation lawsuit vs. team, MLB
A defamation lawsuit filed against Major League Baseball and the Los Angeles Angels by Brian Harkins, the longtime clubhouse attendant who was fired for supplying illegal ball-doctoring substances to pitchers, has been struck down in Orange County Superior Court.
Judge Geoffrey T. Glass granted the defendants' motion to dismiss Harkins' complaint, stating there was not enough evidence to prove Harkins had been defamed in the wake of his firing.
A hearing was held on Jan. 21 to determine whether the case would move forward, and the judge's ruling was released Monday. Dan Rasmussen, an attorney for Harkins, said he plans to appeal.
Harkins was fired last March, ending a nearly four-decade run with the Angels, after the organization was informed by MLB that he was providing pitchers with an illegal blend of rosin and pine tar.
Harkins' original complaint, alleging defamation and false light, outlined the reasons applying rosin and pine tar on baseballs has been a long-held, accepted practice done largely for safety reasons and stated that the publicity surrounding his firing unfairly cast him in a negative light that impacted his ability to find employment.
MLB and the Angels filed a motion to dismiss Harkins' complaint in early November. In an opposition to that motion, Harkins' lawyers aimed to capture the widespread use of Harkins' concoction and show that others had not been punished for similar, if not more serious, transgressions. It included a January 2019 text message from Gerrit Cole in which he clearly asked Harkins for his blend, as well as notes from a phone conversation in which Justin Verlander allegedly told Harkins that MLB began to crack down on pitchers' use of ball-doctoring substances when it learned teams were conducting studies to concoct more advanced blends in order to maximize pitchers' spin rates.
The opposition also included declarations from longtime major league players Wally Joyner and Mike Sweeney defending Harkins and named several pitchers — including Corey Kluber, Max Scherzer, Felix Hernandez and Adam Wainwright, as well as several current and former Angels — who previously asked Harkins for his blend.
In its decision, the court weighed three central issues — whether Harkins was truly fired because of his concoction of rosin and pine tar, whether he provided it to pitchers and whether doing so was illegal. The fact Harkins didn't dispute the first two issues and that the third is supported by Rule 6.02(c) hurt the plaintiff's side.
Another factor was that comments from MLB and the Angels toward Harkins were made in private, and that subsequent reports about the reason for his firing were attributed to unnamed sources.
"This is not to say that the termination was justified under the circumstances," the judge's ruling read, "only that the plaintiff cannot show that these statements were false and defamatory."
We'll be ready to host spring training, delay or no delay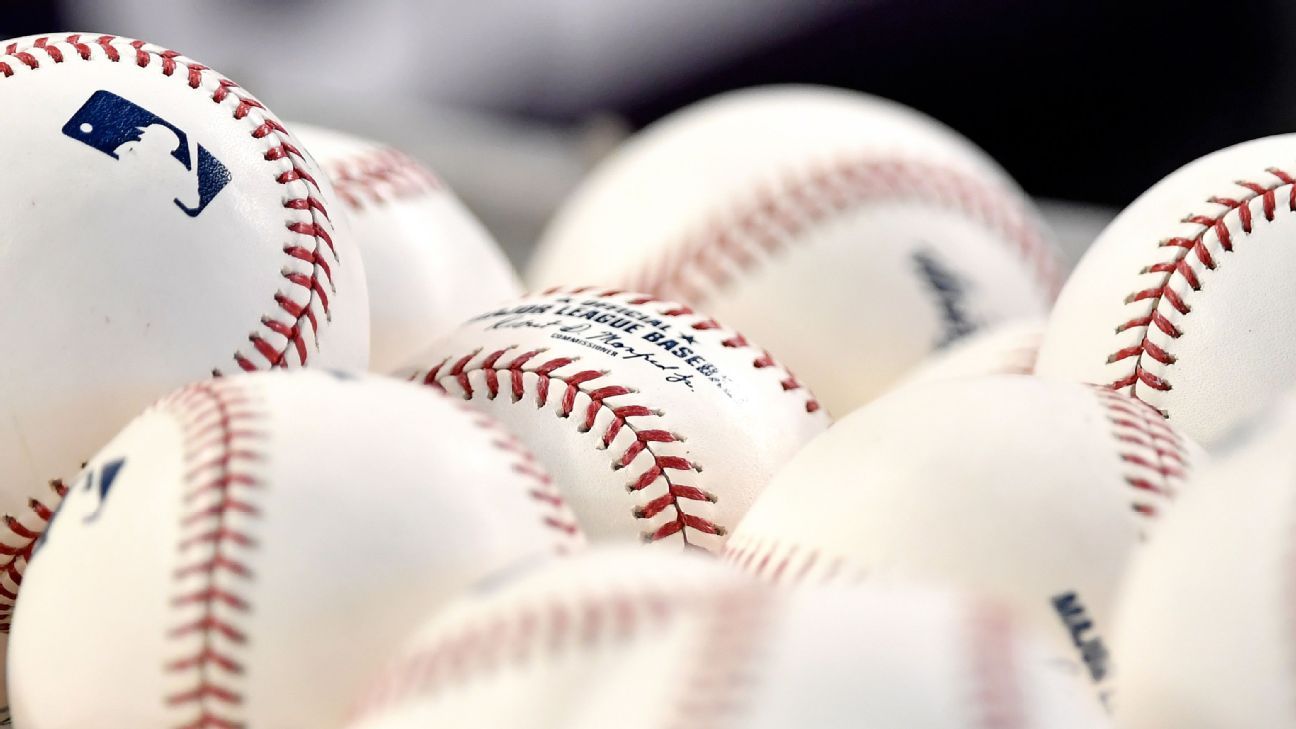 After sending a letter to Major League Baseball commissioner Rob Manfred that suggested delaying spring training "to allow for the COVID-19 situation to improve here," Cactus League executive director Bridget Binsbacher told ESPN on Monday that the 10 Phoenix-area facilities that host teams will be ready to open if games start as scheduled.
"If it is determined that spring training is going to start on Feb. 27, we're prepared for that," Binsbacher told ESPN in an interview. "Our focus is having a safe, secure experience for all involved. We believe we can do that on the 27th. We believe we can do that a month from the 27th."
Binsbacher's letter, which was co-signed by six mayors, two city managers and a president of a tribal community, cited the Phoenix area's high COVID-19 infection rate and a model that "projects a sharp decline in infections in Arizona by mid-March." Fifteen teams are scheduled to arrive in Arizona around mid-February, with games slated to begin Feb. 27. The Cactus League has no authority to change the schedule.
The letter comes as MLB and the MLB Players Association attempt to juggle a series of issues, including the viability of starting games on time, in a continuation of their strained relationship that manifested itself last season with Manfred's implementation of a 60-game schedule. The union is insistent on playing a full 162-game season this year and continues to chafe at the notion of anything less.
In a statement, the MLBPA said: "While we, of course, share the goals of a safe spring training and regular season, MLB has repeatedly assured us that it has instructed its teams to be prepared for an on-time start to spring training and the regular season."
The league, in a statement, said: "As we have previously said publicly, we will continue to consult with public health authorities, medical experts and the players association whether any schedule modifications to the announced start of spring training and the championship season should be made in light of the current COVID-19 environment to ensure the safety of the players, coaches, umpires, MLB employees and other gameday personnel in a sport that plays every day."
Binsbacher said the Cactus League had worked with spring-training facilities, other local sports and MLB since September — and that MLB did not specifically request the letter. The concern from officials expressed in it goes against the actions taken by sports franchises and others in the Phoenix area. The Arizona Coyotes and San Jose Sharks are playing regular-season NHL games in Glendale, the Phoenix Suns are having regular-season NBA games downtown, and high schools across the area are participating in all sports.
One issue with baseball, Binsbacher said, is the influx of tourists — six in 10 who attend spring-training games are from out of state, she said — and the packed schedule teams play. "The big difference here," she said, "is we've got 32 to 36 days straight of spring training."
Further, Binsbacher said, the likelihood of the COVID spike in Arizona abating is greater with every day delayed. Arizona leads the United States in COVID case rate and death rate, a position it has held for most of January. The state is averaging nearly twice as many cases per 100,000 people than the average in the United States.
"We know that there's a vaccine and that it's going to have been administered," Binsbacher said. "The projections say that the cases will plummet by mid-March. That makes it absolutely more manageable to do this with every additional day."
A December executive order by Arizona Gov. Doug Ducey limited the number of people at a public event to 50 "unless the city, town or county in unincorporated areas has determined that adequate safety precautions which are consistent with the guidance issued by both the CDC and ADHS for mitigating the spread of COVID-19 are documented as part of the request." If the mayors or other leaders insist spring training will not come to Phoenix, it could scuttle the Cactus League — though sources doubt they have the political will to do so, particularly as other sports are held in the area.
The Grapefruit League in Florida, meanwhile, saw its first ballpark, Roger Dean Stadium, start ticket sales Monday for St. Louis Cardinals and Miami Marlins games in February and March.
Any spring training delay could theoretically have an effect on the regular season — something the MLBPA is treating as a nonstarter and MLB understands would cause regular-season games to move into October and postseason games to November. Already the discussions between the union and league about potential playoff expansion and the implementation of the universal designated hitter have gone nowhere. The MLBPA, sources said, rejected and didn't counter an MLB proposal to expand the playoffs this year to 14 teams, fearful that a diluted playoff system would disincentivize teams from spending in free agency.
With the current collective-bargaining agreement set to expire in December, the relationship between the sides has remained frosty. Whether the letter is simply much ado about nothing or the first salvo in the latest fight between the two remains to be seen.
MLB to hold first pre-draft combine from June 20-28 in Cary, North Carolina
Major League Baseball will hold its first-ever pre-draft combine June 20-28 in Cary, North Carolina, at the USA Baseball National Training Complex.
The group of invited players will be chosen in consultation with MLB scouts, and the event will include a tournament involving 88 of those players through the 26th, to give scouts in-game looks of the players in addition to combine testing. There will also be medical, educational and various performance assessments happening at the event.
It will be a unique information-collecting opportunity for teams, timed in the leadup to the 2021 MLB draft, which is July 11-13 in Atlanta around the All-Star Game festivities. The draft will be at least 20 rounds.
This year will also see the return of MLB's PDP (prospect development pipeline) event for 2022-eligible draft prospects on July 22 through Aug. 1, also to be held in Cary. The event was skipped in 2020 due to the coronavirus pandemic and will return to being one of the key early-summer events for 2022 prospects, taking place just after the 2021 draft has concluded.
Both the pre-draft combine and PDP events are voluntary and free of charge for participants.