Our staff recently held its first mock draft for the 2018 season, and you can check out the entire board here.
But what did our writers learn from the mock, what surprised them, and how did they feel their teams turned out?
Eric Karabell: Each draft I've participated in so far has seen a different first round, and on this first ESPN mock of the season it felt like it was a subtle race to secure someone from the top tier of four starters. I didn't consider a pitcher at the third pick, but they didn't last long and certainly didn't make it back to me at my next pick. It's so interesting. Look, if you want Clayton Kershaw anytime after the second pick, do it. The case can be made at No. 3! I decided for this format I wanted Mookie Betts third. That's where the draft really begins.
Later in the draft I did my usual thing, seeking value, getting a decent base of innings, waiting on saves, loading up on offense and then seeking more value. Don't know why nobody seemed to want the likes of Kyle Hendricks, Nomar Mazara, Brett Gardner and Mark Melancon, but I did! It's not "reaching" for Yoan Moncada or Aaron Sanchez if you're a believer. And never worry about any site's ADP. Time will tell, I suppose.
Tristan H. Cockcroft: This mock occurred early in spring training, in a season when many free agents remained on the market well beyond the opening of camps, and those players still without teams stood out. Yes, there's great risk that Jake Arrieta, Greg Holland, Lance Lynn and Alex Cobb will end up in unfavorable situations for their fantasy value, but aren't the odds also at least good that each will wind up in roles that will give them fighting chances at repeating (or at least approaching) their 2017 value?
We'll see how this plays out in the coming weeks, but Arrieta went No. 142 overall, roughly four rounds beyond his ranking and 49 spots beneath his 2017 Player Rater finish; Holland went 185th, two rounds beyond his ranking and 123 spots beneath his Player Rater finish; Lynn went 229th, nearly five rounds beyond his ranking and 117 spots beneath his Player Rater finish; and Cobb went 228th, three rounds beyond his ranking and 92 spots beneath his Player Rater finish. I don't think these were unreasonable draft valuations, but they also probably reside on the lower end of the scale. In short, I wouldn't wait beyond those price points.
AJ Mass: What are mock drafts for? They're for trying out strategies you might not be willing to risk using if this were a "for real" league. I've never before seen what my pitching staff might be if I waited until Round 10 to take my first pitcher — and quite frankly, I'm surprised at how competitive this particular team has a chance to be.
If I had caved one round sooner, I could have had Masahiro Tanaka as the foundation of this staff, but as it stands, I have six SP with 200-K potential and every one of my hitters could end up with at least 20 HR — should things break the right way — to go along with 10 out of 15 position players who could end the season with double-digit steals.
The upshot is, while I might not wait this long to take my first pitcher in every rotisserie-based league I participate in, I'm also not going to sweat it if, 100 picks in, I haven't yet broken the seal on the position. There are a lot of arms out there to be had.
Kyle Soppe: This mock draft reinforced what I thought might be the case … you need outfielders and pitchers. The standard ESPN roster requires you to roster a boatload of each, so there is the natural urge to grab one or two of them and believe that you can fill in the holes later, but I don't think that's going to be the case this season. Contrary to AJ's take on things, the pitchers I truly feel comfortable with evaporated after the first pick of Round 8 and the outfielders I consider viable starters ran out shortly thereafter.
Those may not sound like "early" endpoints for starter-worthy talent, but considering that you need to play at least five outfielders and will want to roster at least a handful of starting pitchers, these positions are shallower than most assume. I'm honing my research over the next month on infielders: I'm going to need to hit on them after taking OFs and SPs with regularity in the first 10 rounds.
Leo Howell: I wrote up Shohei Ohtani as a "bust" in a recent article, so why would I then take him in a mock? Would I ever actually take the much-hyped rookie in a real draft?
Maybe. I wanted to test my assumptions. And all-in-all, I think I already softened my stance on the potential "Babe Ruth" for the 21st century.
After all, if my choice at starting pitcher is between him and Luis Castillo, I am willing to roll the dice on either, knowing that certainty just isn't there with these players. Castillo is just as unproven as Ohtani, and doesn't offer the obvious versatility that Ohtani does.
Sure, there are concerns about workload, but if all I wanted was security of innings, I'd have selected Jon Lester … a player I've blindly rostered several years in a row now, including last year's incredible disappointment.
As AJ said above, mocks are about testing new strategies and seeing what works and how you feel about it. And I can confidently say now that, if he falls to the right area of a draft, I'm willing to take Ohtani. Now the question becomes: How high am I willing to go for the Angels' new star? I'll need another few mocks to find out.
Chicago White Sox agree to trade with Chicago Cubs for closer Craig Kimbrel
The Chicago White Sox have agreed to acquire All-Star closer Craig Kimbrel from the Chicago Cubs before the trade deadline, the team announced Friday.
In return, the Cubs are getting second baseman Nick Madrigal and right-hander Codi Heuer.
The White Sox, who lead the AL Central, were looking for bullpen help, and they now have it with Kimbrel and Liam Hendriks.
Kimbrel, 33, has 23 saves this season for the Cubs with an 0.49 ERA and 64 strikeouts in 36⅔ innings. Overall, he has 371 career saves with the Cubs, Red Sox, Padres and Braves over his 12 major league seasons.
"We viewed Craig as the premier relief pitcher available at this trade deadline, and so we knew the cost would be steep in terms of parting with young talent," White Sox general manager Rick Hahn said in a statement. "But we recognize the special opportunity that currently exists and our team, our clubhouse and our fans deserve to know we will do everything we can to reach the postseason and win meaningful games in October."
Madrigal tore his right hamstring and early June and is out for the season following surgery. He's targeted to be the Cubs' starting second baseman next season. He was hitting .305 when he was injured. Madrigal also won a minor league Gold Glove award in 2019.
Heuer, a 25-year-old right-hander, is 4-1 this season for the White Sox out of the bullpen. He's appeared in 40 games. Last season, his first in the big leagues, he was 3-0 with a save and a 1.52 ERA in 21 appearances.
The White Sox entered Friday with an eight-game lead over division rival Cleveland. The Cubs are fourth in the NL Central and entering a rebuild.
The White Sox had already addressed the loss of Madrigal by acquiring slugging second baseman Cesar Hernandez from the Cleveland Indians on Thursday.
Information from The Associated Press is included in this report.
New York Yankees acquire LHP Andrew Heaney from Los Angeles Angels for minor leaguers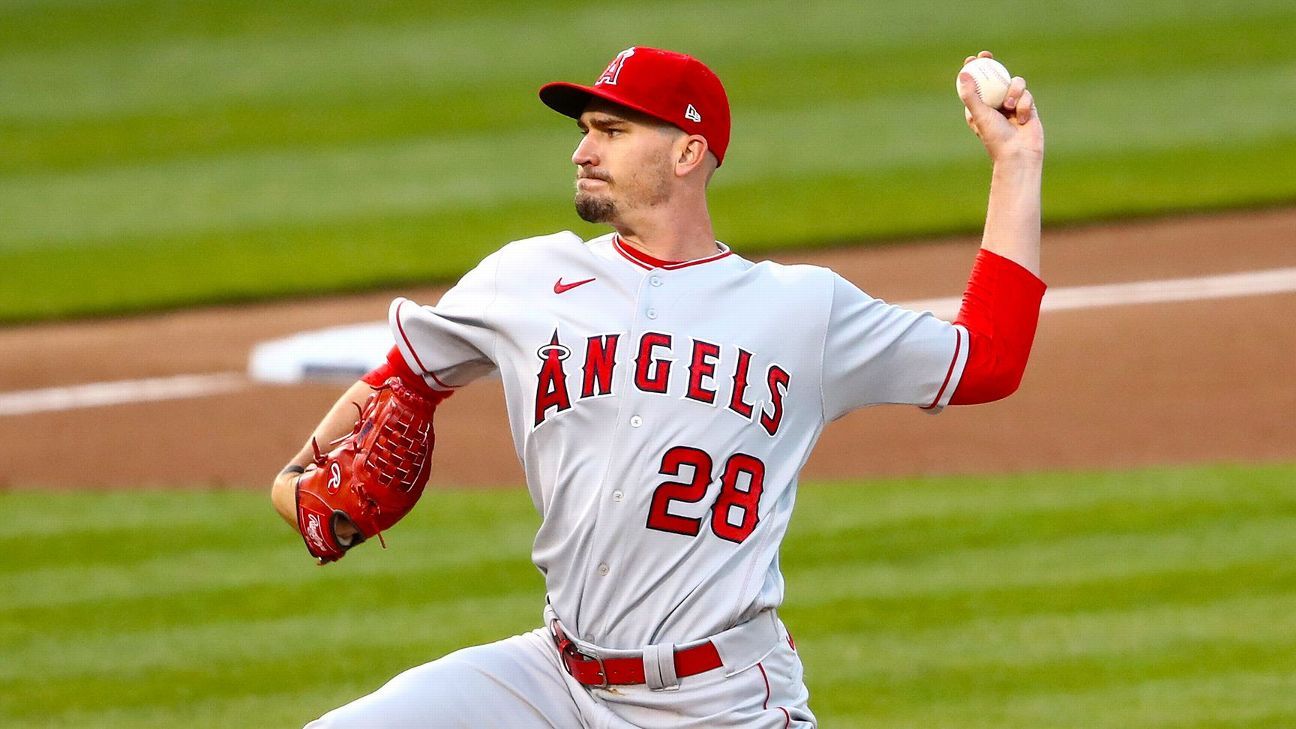 The New York Yankees acquired left-handed pitcher Andrew Heaney and cash considerations from the Los Angeles Angels on Friday in exchange for minor league right-handers Janson Junk and Elvis Peguero.
Heaney is 6-7 with a 5.27 ERA this season.
The moves comes after the Yankees previously added left-handed power bats Joey Gallo and Anthony Rizzo.
Braves further bolster outfield, acquire slugger Jorge Soler from Royals
The Atlanta Braves have bolstered their lineup by acquiring slugger Jorge Soler from Kansas City in exchange for right-hander Kasey Kalich, the team announced Friday.
The deal comes hours after the Braves added fellow outfielder Adam Duvall in a trade with the Miami Marlins for catcher Alex Jackson.
Soler, 29, is batting .201 with seven home runs and 18 RBIs. He has failed in the past two seasons to match his breakout 2019 season, when he played all 162 games and hit a Royals club-record 48 homers, but will still provide a strong right-handed power bat to the Braves' lineup.
The Braves needed to revamp their outfield as they attempt to remain in the hunt for a fourth consecutive NL East title. Atlanta suffered a severe blow to its playoff hopes when it lost Ronald Acuna Jr. to a season-ending knee injury on July 10.
In a separate trade, Atlanta also acquired pitcher Richard Rodriguez from the Pittsburgh Pirates for two minor leaguers.