The defending World Series champion Houston Astros stand as the co-favorite to win the 2018 World Series at 5-1 (along with the Los Angeles Dodgers) and lead the MLB with the highest win total at 96.5. Here is a look at complete odds for the 2018 season, including win totals, World Series odds, division title odds and odds to make the playoffs.
All odds are from Westgate Las Vegas SuperBook, as of Feb. 26.
---
AL East
AL Central
AL West
NL East
NL Central
NL West
Dave Roberts says Kenley Jansen is still Los Angeles Dodgers' closer after 3rd straight blown save
Los Angeles Dodgers manager Dave Roberts was steadfast that Kenley Jansen will remain his closer, after the San Francisco Giants again rallied against him Thursday night.
"I don't think all the blame should be on Kenley. The game should have been over a couple times in that inning," Roberts said after L.A.'s 5-3 loss — and Jansen's third consecutive blown save.
The Giants trailed 3-1 going into the ninth inning. San Francisco's Jason Vosler got a good lead off first base with the bases loaded and beat Dodgers shortstop Chris Taylor's throw to second on an infield single by Thairo Estrada. That kept the game going and scored Wilmer Flores to bring San Francisco to 3-2.
Vosler was initially ruled out at second for the final out, but the call was overturned following a replay review.
Darin Ruf then checked his swing on a full-count cutter — although replays appeared to show he went around — to draw a walk from Jansen that forced in the tying run.
Roberts yanked off his cap and argued vehemently, leading to him being ejected in the ninth inning for the second consecutive night.
"There's no doubt in my mind that he went and the game should have been over. In that spot with two contending teams, you just can't miss that call," Roberts said. "We should have won that game, and it's a game we really wanted, we had, and we didn't."
LaMonte Wade Jr. then hit a sinking liner to right field for two-run single, giving San Francisco a 5-3 advantage.
Jansen was lifted to a chorus of boos for the second straight night. On Wednesday, he served up the go-ahead home run to Flores in the Dodgers' 4-2 loss.
Jansen (1-4) fell to 21 for 26 in save opportunities this season. He has allowed seven runs on seven hits with four walks in one inning over the past two games.
He has compiled 333 regular-season saves in 12 years with the Dodgers but has drawn the ire of fans over a string of inconsistent performances during the past three years, most notably in the postseason. The 33-year-old right-hander appeared to return to prime form in 2021, posting a 1.24 ERA while converting 21 of 23 save chances through his first 36 appearances. But he blew a one-run lead against the Colorado Rockies on Sunday, followed by the two Giants rallies.
ESPN's Alden Gonzalez and The Associated Press contributed to this report.
New York Yankees reliever Brooks Kriske throws 4 wild pitches in 10th; Boston Red Sox rally to win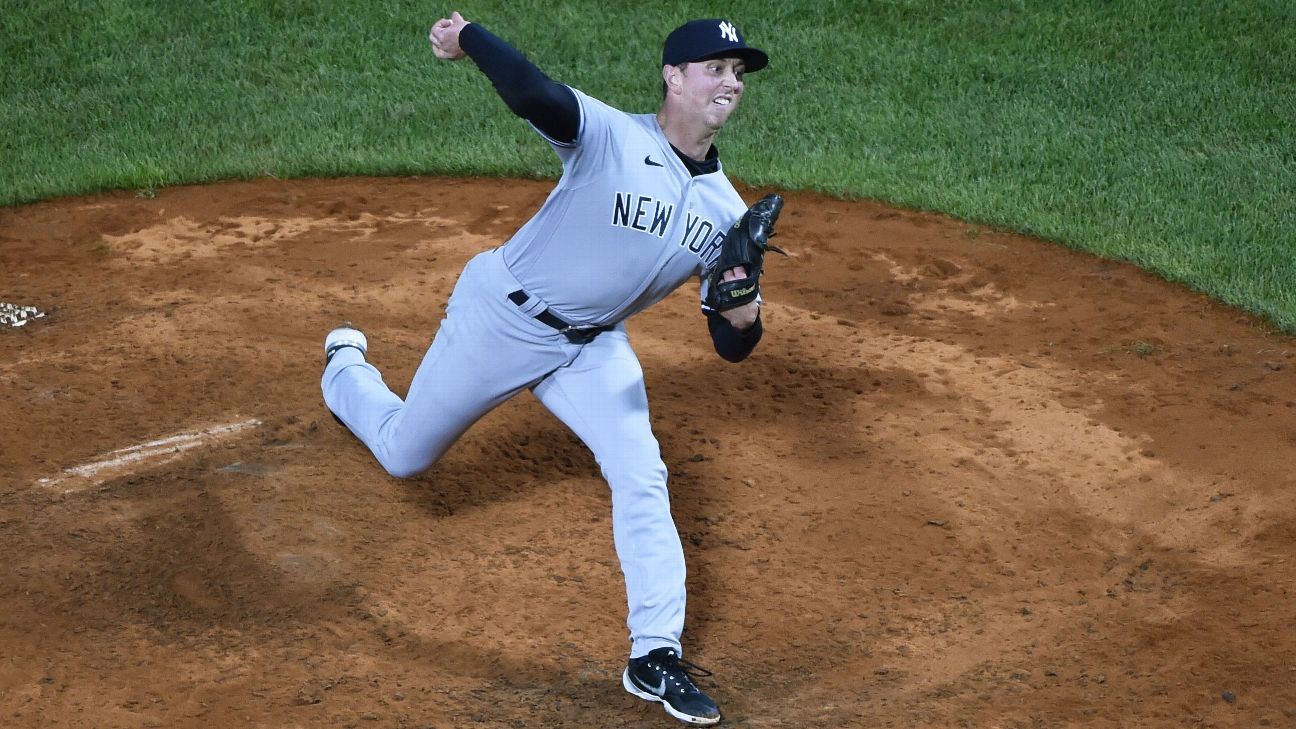 BOSTON — It took most of a rainy night at Fenway Park for the Red Sox to find their offense. It took one wild inning by reliever Brooks Kriske for the Yankees to squander an opportunity to gain valuable ground on their longtime rivals.
Enrique Hernandez hit a two-run double that tied the game with two outs in the ninth inning, and Boston took advantage of a record four wild pitches by Kriske in the 10th to rally past New York 5-4 on Thursday.
Kriske (1-1) allowed Boston's final two runs for a blown save, becoming the first major leaguer to throw four wild pitches in a single extra inning, according to STATS. His four wild pitches are tied for the most in any inning and for the most in a game by any pitcher this season.
All of them came on splitters that bounced.
"It was just pure execution," said Kriske, optioned to Triple-A Scranton/Wilkes-Barre after the loss. "It's part of the game. I've got to do a better job."
New York took a 4-3 lead in the 10th on a sacrifice fly by Brett Gardner that scored Tyler Wade. But Boston quickly tied it in the bottom half thanks in large part to Kriske's quartet of wild pitches. His first one moved automatic runner Rafael Devers to third base, and a second pitch in the dirt allowed him to score.
After Xander Bogaerts walked, Kriske's control issues continued. Two more wild pitches got Bogaerts to third, setting up Hunter Renfroe's game-ending sacrifice fly to right.
The Associated Press contributed to this report.
How to use Nelson Cruz, Barry Bonds and Hank Aaron in the same sentence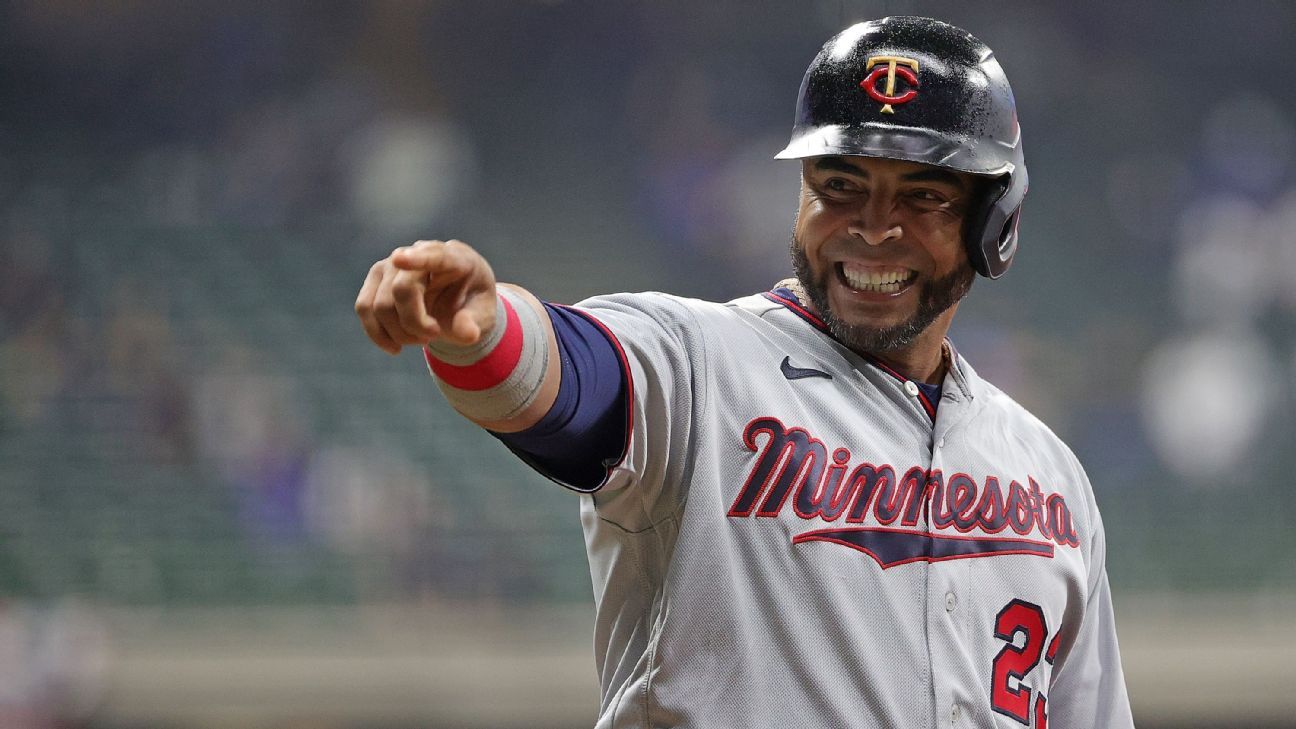 Nelson Cruz is so old that when he first signed with the New York Mets in 1998, Roger Maris still held the single-season home run record.
Nelson Cruz is so old that when he played his first professional game, his new teammate Wander Franco had not been born.
Nelson Cruz is so old …
OK, you get the idea. Cruz is 41 years old, is still one of the best hitters in the game, and the Tampa Bay Rays are hoping he's the missing slugger they need not just to chase down the Red Sox in the American League East, but to return to the World Series and — this time — come out on top.
The Rays acquired Cruz on Thursday from the Minnesota Twins for minor league pitchers Joe Ryan and Drew Strotman, looking to add more life to an offense that ranks seventh in the majors in runs per game but just 16th in OPS. They've particularly struggled against left-handers, hitting just .226/.303/.380 against southpaws. Cruz is hitting .362/.410/.600 against lefties and .294/.370/.537 overall, with 19 home runs in 85 games.
Cruz's production is no fluke. He ranks ninth in the majors in OPS+ in 2021, ranks fourth over the past two seasons and third over the past three seasons. Few players hit the ball harder on a consistent basis, as he ranks in the 95th percentile in average exit velocity, the 94th percentile in hard-hit rate, the 98th percentile in max exit velocity and 92nd percentile in expected slugging percentage.
The Rays are finalizing a deal to acquire Nelson Cruz according to @JeffPassan.

Cruz's 19 home runs are tied for 2nd-most among designated hitters this season. While the Rays have struggled to get production from that spot ranking in the bottom 5 in AL in BA, OPS and HR pic.twitter.com/MGffmCw1Hv

— ESPN Stats & Info (@ESPNStatsInfo) July 22, 2021
It's just the latest from one of the greatest "old" players in major league history. Cruz has hit 220 home runs since turning 35 — only Barry Bonds (340) and Henry Aaron (245) have hit more and Cruz looks like a good bet to pass Aaron. The remarkable aspect to that trivia: Cruz hit 216 home runs before turning 35, so he has hit more after turning 35 than he did before.
Cruz was traded twice as a minor leaguer, from the A's to the Mets — way back in 2000 — and then from the A's to the Brewers. He played eight games for the Brewers in 2005 and was traded to the Rangers during the 2006 season. He would eventually make his mark in Texas, but not before the Rangers designated him for assignment in 2008. At the time, his power potential was obvious, but he was wild and undisciplined at the plate and he had hit .235 with a .287 on-base percentage for Texas in 2007. When the Rangers placed him on waivers after he failed to make the team out of spring training in 2008, any team could have claimed him. No team did. He was 27 years old and back in Triple-A, the "Quad-A" label hung on him.
Little did we know that Cruz's transformation was just beginning.
"You can watch videos and hit off the tee, stuff like that, but at the same time, it's you against the pitcher. I just need one swing or one pitch to click, and you can find your swing," Cruz once said. It would be easy to say that's exactly what Cruz learned. He didn't need to swing at every pitch — he just needed to swing at the right ones.
The odd thing is when you go through Cruz's data, a lot of the various metrics have remained unchanged since he came back up with the Rangers in 2008 and posted a 1.030 OPS in 31 games and then made his first of seven All-Star teams in 2009 when he hit 33 home runs. Things like swing rate, chase rate, where he hits the ball — they're essentially the same, other than minor year-to-year changes.
Snap verdict on the Nelson Cruz trade: The Rays get the single best bat on the market and someone with an A+ clubhouse reputation. But the Twins did very well, too, in getting Joe Ryan and Drew Strotman, two hard-throwing right-handers who are close to big-league-ready.

— Jeff Passan (@JeffPassan) July 22, 2021
On some level, all Cruz ever needed was an opportunity. His breakthrough 2009 season came during his age-28 season. He has hit 414 home runs since then — ninth all time from a player's age-28 season. One of the players ahead of him is David Ortiz, who hit 452 home runs from his age-28 season on, and there are some clear similarities between the two, as both are big, strong Dominican sluggers and also viewed as great clubhouse leaders. Ortiz had a clear change in his hitting approach, however, between his age-34 and age-35 seasons. In 2010, he struck out 145 times in 606 plate appearances. In 2011, he struck out just 83 times in 605 plate appearances. Indeed, over his final six seasons, even as strikeout rates were rising dramatically across the league, Ortiz never again struck out 100 times.
That hasn't been Cruz's case. He struck out 22.5% of the time through is age-34 season and 22.6% of the time since then. His walk rate has improved slightly — 8.1% to 10.2%, even though his chase rates haven't improved. In fact, his 30.8% chase rate each of the past two seasons are the highest of his career.
What Cruz seems to do so well is hunt out certain pitches. I don't know if it's fair to call him a guess hitter, but he can take some ugly swings when he guesses wrong. When he guesses right, however, goodbye baseball. Ortiz had the same ability, looking terrible on one pitch and then crushing the next one.
Ortiz could still hit when he retired — he led the AL in slugging, OPS, doubles and RBIs his final season, but the pain in his knees forced him to call it quits. We don't know how long he could have kept going. That's the fascinating thing about Cruz — who knows how long he can remain an elite hitter. With 436 home runs, 500 looks possible, which would be a ridiculous accomplishment for a player who had just 22 through his age-27 season.
As for the Rays, they're just hoping for a bunch over the next three months — August, September and October.
ESPN Stats & Information contributed to this story.