Outside linebacker Pernell McPhee, the first big free agent signed by Chicago Bears general manager Ryan Pace in 2015, and safety Quintin Demps were released by the team on Monday.
McPhee, 29, was scheduled to earn a base salary of $7.2 million in 2018, which was too high for a player with only 14 sacks over three seasons in Chicago. By releasing him, the Bears will open up $7.075 million in salary-cap space.
Demps, 32, played in three games last season before landing on injured reserve with a broken forearm. Demps was due to collect a $500,000 roster bonus on the third day of the league year; Demps' total compensation would've maxed out at $4 million in 2018. The Bears signed Demps to a three-year deal last March.
McPhee played extremely hard on defense, and he was also a forceful and entertaining presence in the locker room. However, he missed 12 games with a variety of ailments, including chronic knee issues, since joining the Bears. He was placed on injured reserve on Dec. 21 after trying to battle through a shoulder injury.
The Bears are looking for a long-term solution at the position opposite Leonard Floyd, the ninth overall pick in the 2016 draft. Floyd had developed into one of the Bears' best defenders in 2017 up until he suffered a knee injury that ultimately required surgery.
Before joining the Bears on a five-year deal that included $15.5 million in guaranteed money, McPhee played four seasons with the Ravens, who selected him in the fifth round of the 2011 draft. Overall, he has 182 tackles, 31 sacks, six forced fumbles and an interception in his seven NFL seasons.
Demps, who intercepted a career-high six passes for the Houston Texans in 2016, was the odd man out in Chicago's secondary after young safeties Eddie Jackson and Adrian Amos emerged as dependable full-time starters in the wake of Demps' season-ending injury in Week 3.
A fourth-round draft choice of the Philadelphia Eagles in 2008, Demps also spent time with Kansas City and the New York Giants before he arrived in Chicago last offseason.
Sources — Lions to hire ex-Chargers coach Anthony Lynn as offensive coordinator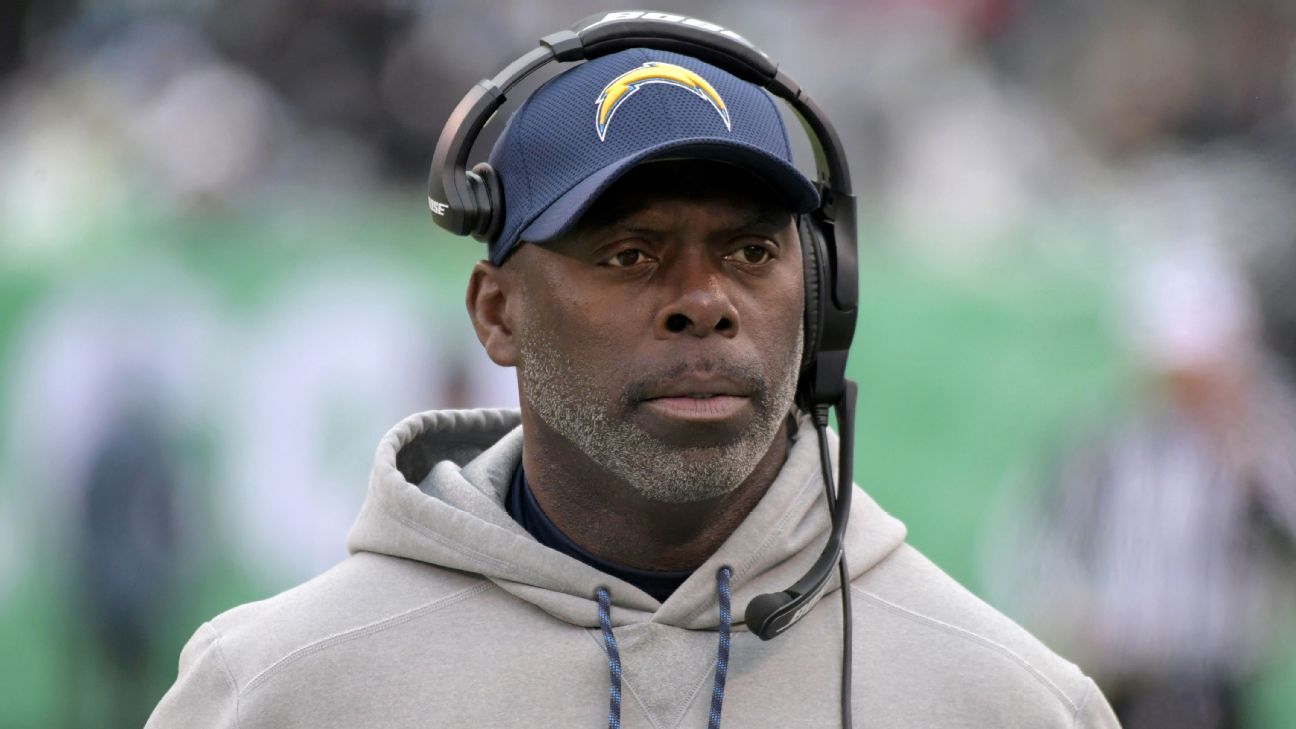 Detroit Lions head coach Dan Campbell knew he wanted to get some experience around him on his coaching staff and on Saturday he did that, hiring former Los Angeles Chargers head coach Anthony Lynn as the team's offensive coordinator, sources told ESPN's Dan Graziano.
The 52-year-old Lynn had been with the Chargers from 2017-20 with a record of 33-31. Before that, he was the offensive coordinator for the Buffalo Bills for one season, in 2016.
He and Campbell have familiarity with each other, too. Lynn was the running backs coach in Dallas in 2005 when Campbell was a tight end with the team.
"What's more important than anything to me as far as an offensive coordinator is someone that I believe has the vision of the offense kind of the way I do," Campbell said Thursday. "Just in regard to, 'Listen, I'm not going to get hung up on what you want to call the terminology. I'm not going to get hung up on the style of system that you want to put in.'
"I'm more into, 'Man, show me what are the nuts and bolts that you believe in.' " One thing Campbell stressed in his introductory press conference is making sure whoever his coordinators are – the team officially announced Aaron Glenn as the defensive coordinator Saturday – can identify and exploit matchup mismatches.
In Buffalo in 2016, Lynn had the best rushing offense in the NFL, averaging 164.4 yards a game and 5.35 yards per carry with LeSean McCoy as his main back. Lynn has also shown a willingness to throw. His Chargers team this past season was sixth in the league in passing yards per game (270.6) with a rookie quarterback, Justin Herbert, behind center the majority of the season and had the No. 6 passing offense in 2019 (276.6 yards per game).
Lynn will likely be working with a new quarterback in 2021, too, as ESPN's Adam Schefter reported Matthew Stafford has requested a trade from Detroit — the only place he's played in his career after being drafted No. 1 overall in 2009.
Detroit Lions to actively seek trade for QB Matthew Stafford, sources say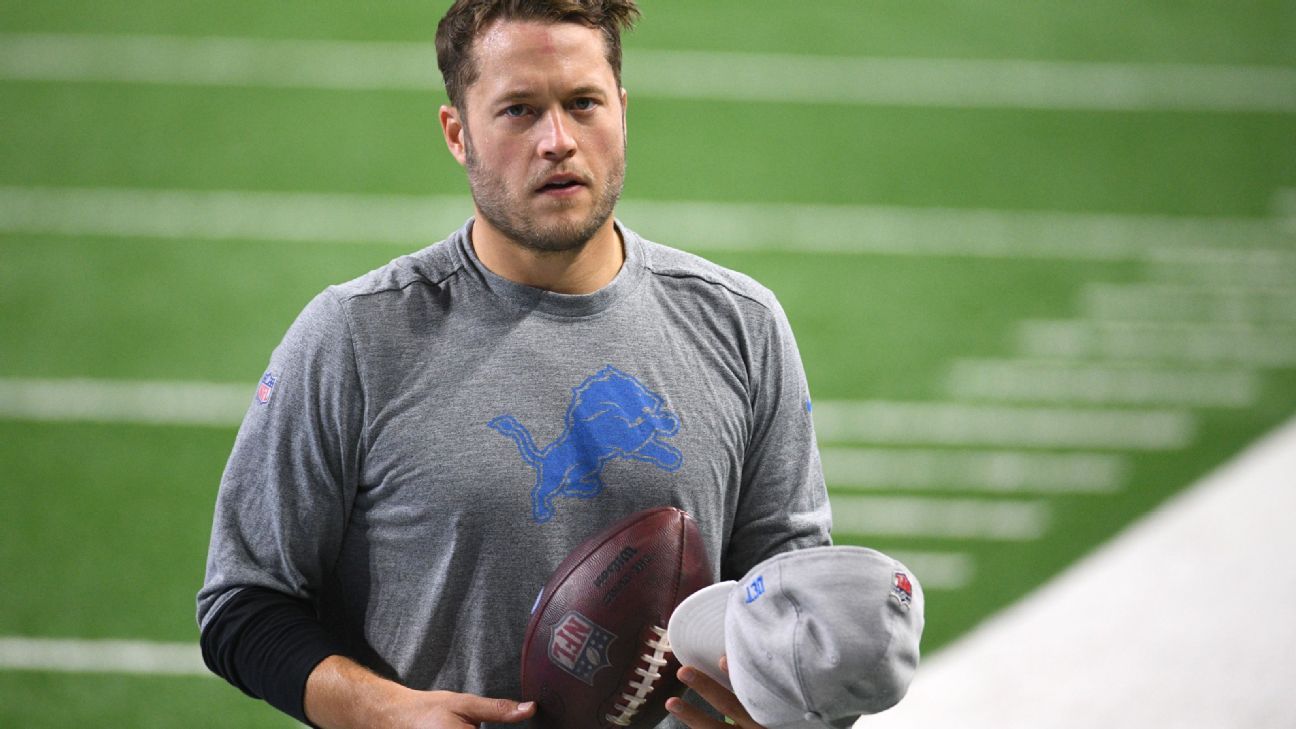 In an arrangement the two sides have discussed and mutually agreed upon, quarterback Matthew Stafford is expected to not return to the Lions this offseason, with Detroit listening to trade offers for its former No. 1 overall pick starting this week, league sources told ESPN's Adam Schefter on Saturday.
With new general manager Brad Holmes and new head coach Dan Campbell now in place, the Lions will soon begin trade discussions that most likely will result in a new quarterback — largely influenced by what and who the Lions will receive in a trade for Stafford, sources told ESPN.
The Lions are expected to receive at least a first-round pick, league sources said.
Green Bay Packers activate Tramon Williams, who could become first to play for two NFL teams in a postseason
The Green Bay Packers have elevated recent cornerback acquisition Tramon Williams to their active roster for Sunday's NFC Championship Game with the Tampa Bay Buccaneers.
Williams, who was acquired by the Packers and put on their practice squad after he was waived by the Baltimore Ravens on Monday, could become the first player in NFL history to play for two different teams in the same postseason.
The 37-year-old Williams had three tackles in the Ravens' 17-3 AFC divisional playoff loss to the Buffalo Bills last week.
Williams previously played for the Packers from 2007-14 and 2018-19, and he played a key role in the team's run to Super Bowl 45 with interceptions in playoff games vs. Philadelphia and Atlanta.
"It's special," Packers quarterback Aaron Rodgers said of the team's decision to sign Williams this week. "He's one of those teammates you just love playing with over the years. He's such a professional. The way he takes care of himself, he looks amazing. He looks like he could go out and play 70 plays for us. I'm not sure if he's going to or not, I hope he does, because he's still so talented. But he's one of those special guys, special personalities."
"… You think about the 2010 run — he ended a game in Philly; (he) basically gave us a huge jolt in the divisional round (against Atlanta) with his pick-6. Still one of my favorite moments in all the moments in that, is watching him pick that ball off and run down the sidelines with Nick Collins to put us up 14 going into half. So, it's fun. I wish we did this every year."
Green Bay may need some extra depth in the secondary due to the uncertain status of starting cornerback Kevin King, who didn't practice Friday because of a back injury and is listed as questionable.
The Packers also elevated defensive lineman Brian Price and cornerback KeiVarae Russell from the practice squad to the active roster for game day. In other moves, they signed punter Ryan Winslow to the practice squad and released running back Dexter Williams from the practice squad.
ESPN's Rob Demovsky and The Associated Press contributed to this report.