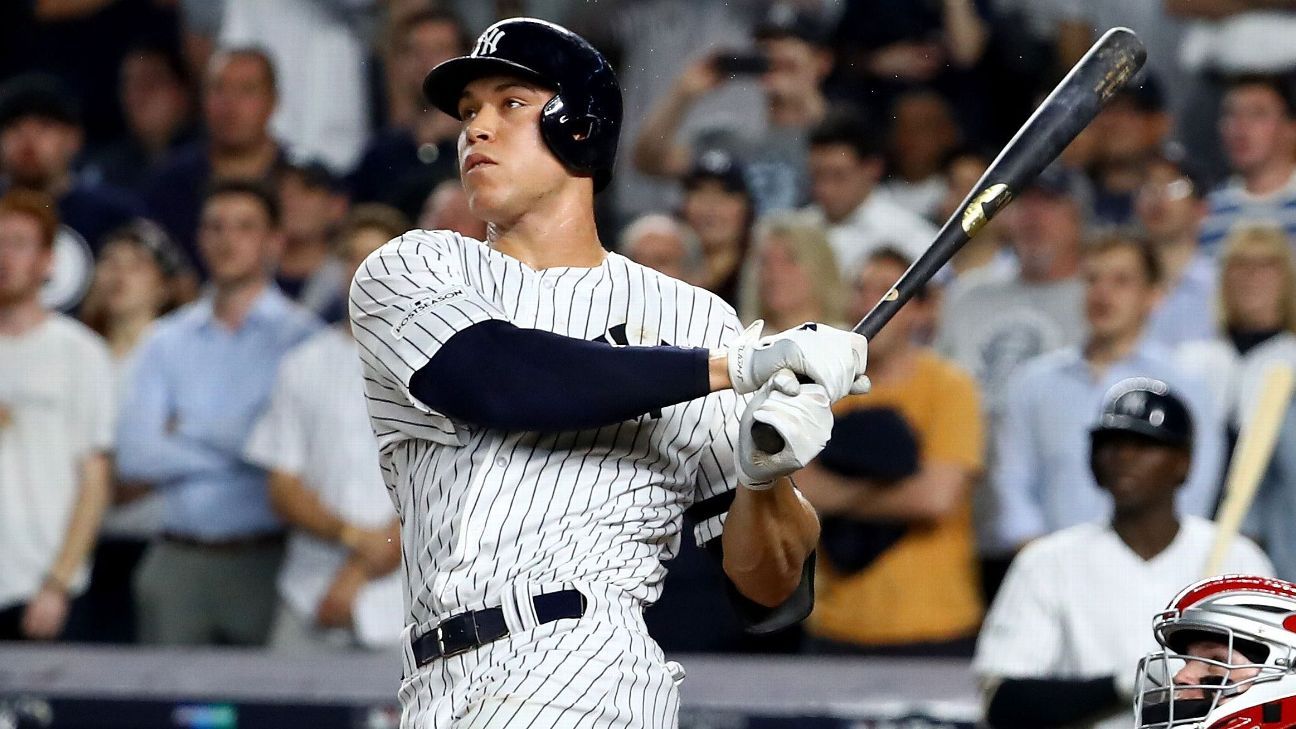 TAMPA, Fla. — Although New York Yankees outfielder Aaron Judge will be appearing in his first spring training game Wednesday, the reigning American League home run champion told ESPN on Monday night that he still isn't feeling 100 percent since his offseason shoulder surgery and that he doesn't expect to be feeling fully back until Opening Day.
"It's a work in progress until Opening Day," Judge said.
The Yankees open the regular season at Toronto on March 29.
The Yankees announced in November that the procedure Judge had in Los Angeles involved a "loose-body removal and cartilage clean-up." They also anticipated Judge's recovery time would be complete in advance of the start of spring training.
Judge said when he reported for spring training earlier this month that he was still far from having a complete recovery from the arthroscopic procedure to his left shoulder in late November. As a result, he expected to be slowly brought into full action with the team. He knew before he arrived in Tampa that he'd likely miss five or six games.
His appearance Wednesday against the Tigers will coincide with New York's sixth game of the spring. Yankees manager Aaron Boone said Judge will hit and play the field in that game.
"I got my timing down and the arm feels good, so I think Wednesday's the date and I'm looking forward to it," Judge told reporters Monday afternoon.
As for Judge's continued recovery, "it's just about trusting it and trusting how it feels, and making sure I continue to build up my strength," Judge told ESPN. "It's about making sure it's pain-free when I wake up each morning."
Even if Judge isn't currently pain-free, he hasn't appeared to show signs of discomfort during the batting practice sessions he has been part of this spring. On Monday alone, he hit a home run that cleared the batter's eye behind the center-field fence.
Unofficially, it was one of 10 home runs Judge had on the day.
Washington Nationals' Juan Soto (left shoulder) goes on 10-day injured list
The Washington Nationals placed star outfielder Juan Soto on the 10-day injured list with a strained left shoulder, the team announced Tuesday afternoon.
Soto, 22, will have to sit out at least the next seven games; the Nationals have three off days during his IL stint.
The team recalled outfielder Yadiel Hernandez from their alternate site to replace Soto on the roster.
Soto is hitting .300 in 14 games this season.
Slumping New York Yankees shake up lineup against Atlanta Braves
NEW YORK — New York Yankees manager Aaron Boone made three changes to the starting lineup of his slumping team against Atlanta on Tuesday night, inserting first baseman Mike Ford and left fielder Mike Tauchman and giving Brett Gardner his second start this season in center field.
DJ LeMahieu moved back to second base from first, and center fielder Aaron Hicks, left fielder Clint Frazier and second baseman Rougned Odor moved to the bench.
New York has lost five straight games, dropping to 5-10 for its worst start since 1997.
The switch-hitting Hicks was batting .160, including 3 for 32 vs. right-handers, Frazier was hitting .167 with no RBI and Odor was batting .125.
Ford was to make his season debut. He was recalled from the alternate training site and took the roster spot of Jay Bruce, who hit .118 and retired Sunday.
Jameson Taillon started for the Yankees, who were starting a stretch of games on 13 consecutive days. Charlie Morton started for Atlanta.
Boone said he might give Hicks another day off Wednesday.
Infielder Neil Walker retires after 12 MLB seasons
Veteran infielder Neil Walker announced his retirement Tuesday after 12 major league seasons.
Born in Pittsburgh, he played his first seven seasons for the Pittsburgh Pirates before playing for the New York Mets, Milwaukee Brewers, New York Yankees, Miami Marlins and Philadelphia Phillies over his final five seasons.
Walker, 35, made his announcement on Twitter, writing, "thank you to everyone that helped me in my journey to live out my childhood dream of being a Major Leaguer, I loved & cherished every day."
Officially retired, thank you to everyone that helped me in my journey to live out my childhood dream of being a Major Leaguer, I loved & cherished every day. From Pittsburgh, NY Mets & Yankees, Milwaukee, Miami, and Philly, nothing but love to those Organizations, Cities & Fans! pic.twitter.com/mvl3cg9k80

— Neil Walker (@NeilWalker18) April 20, 2021
The Pirates selected Walker with the 11th-overall pick of the 2004 draft and he went on to hit 93 home runs with 418 RBIs while slashing .272/.338/.431 in 836 games. His best major league season came in 2014 when he hit .271 and set career bests with 23 home runs and 76 RBIs, earning a Silver Slugger award. His 23 home runs broke Bill Mazeroski's franchise record for home runs in a season by a second baseman.
Walker played for the Phillies during the 2020 pandemic shortened season, appearing in 18 games.
Overall, Walker finishes his major league career with 149 home runs and 609 RBIs and a slash line of .267/.338/.426.