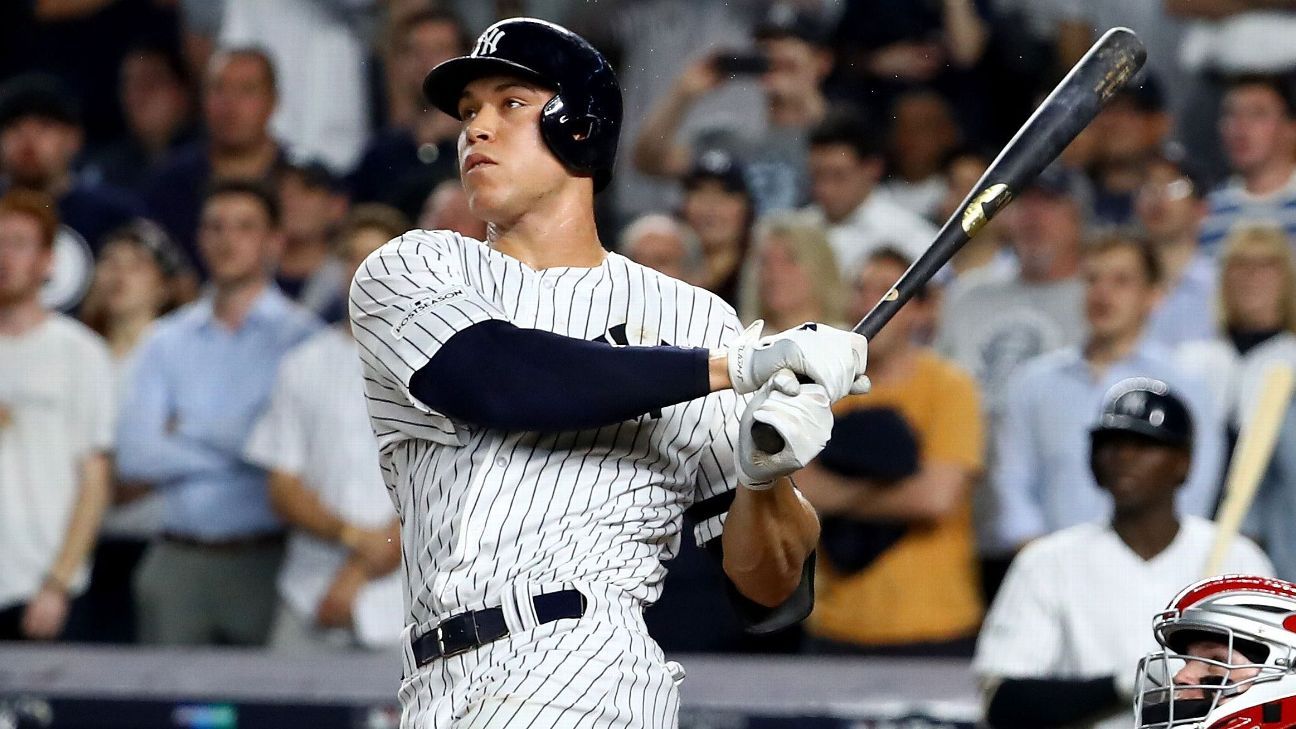 TAMPA, Fla. — Although New York Yankees outfielder Aaron Judge will be appearing in his first spring training game Wednesday, the reigning American League home run champion told ESPN on Monday night that he still isn't feeling 100 percent since his offseason shoulder surgery and that he doesn't expect to be feeling fully back until Opening Day.
"It's a work in progress until Opening Day," Judge said.
The Yankees open the regular season at Toronto on March 29.
The Yankees announced in November that the procedure Judge had in Los Angeles involved a "loose-body removal and cartilage clean-up." They also anticipated Judge's recovery time would be complete in advance of the start of spring training.
Judge said when he reported for spring training earlier this month that he was still far from having a complete recovery from the arthroscopic procedure to his left shoulder in late November. As a result, he expected to be slowly brought into full action with the team. He knew before he arrived in Tampa that he'd likely miss five or six games.
His appearance Wednesday against the Tigers will coincide with New York's sixth game of the spring. Yankees manager Aaron Boone said Judge will hit and play the field in that game.
"I got my timing down and the arm feels good, so I think Wednesday's the date and I'm looking forward to it," Judge told reporters Monday afternoon.
As for Judge's continued recovery, "it's just about trusting it and trusting how it feels, and making sure I continue to build up my strength," Judge told ESPN. "It's about making sure it's pain-free when I wake up each morning."
Even if Judge isn't currently pain-free, he hasn't appeared to show signs of discomfort during the batting practice sessions he has been part of this spring. On Monday alone, he hit a home run that cleared the batter's eye behind the center-field fence.
Unofficially, it was one of 10 home runs Judge had on the day.
Baltimore Orioles reach one-year deal with recovering Trey Mancini
BALTIMORE — The Baltimore Orioles agreed to a one-year deal with recovering slugger Trey Mancini on Friday but haven't come to terms yet with outfielder Anthony Santander.
The Orioles and Santander exchanged salary arbitration figures Friday, with Baltimore offering $2.1 million and Santander asking for $2,475,000. The sides can still settle on a number until an arbitrator hears the case and makes a ruling next month.
Mancini missed the entire 2020 season while recovering from stage 3 colon cancer. He signed on deadline day last January for $4.75 million and was preparing for another solid season before being diagnosed with cancer. The first baseman/outfielder was voted team MVP in 2019 after batting .291 with 35 home runs and 97 RBIs.
Mancini, 28, has been working out this offseason and expects to play a full season this year on a team in the midst of a significant rebuild. Before being sidelined, he averaged 28 homers over his three full seasons and remains one of Baltimore's most potent offensive threats.
Santander is arbitration-eligible for the first time, and the timing works well for the budding outfielder. Although limited to 37 games in 2020 because of injuries, he hit 11 homers and 13 doubles in only 153 at-bats and drove in 32 runs. He received around $550,000 in 2020 and should receive a significant raise in 2021.
His breakout season came in 2019, when he batted .261 with 20 homers and 59 RBIs in 93 games.
Cardinals, ace Jack Flaherty still without deal, swap arbitration figures
ST. LOUIS — – The St. Louis Cardinals and ace Jack Flaherty have not agreed to terms on a 2021 contract and they swapped figures for salary arbitration Friday.
The 25-year-old Flaherty asked for $3.9 million and the team offered $3 million. The sides can come to an agreement until an arbitrator hears their case and makes a decision next month. If left to the arbitrator, the ruling will go entirely to one side or the other — no settling in the middle.
After finishing fourth in NL Cy Young Award voting in 2019, Flaherty went 4-3 with a 4.91 ERA over nine starts during the pandemic-shortened 2020 season. He made one postseason start, pitching one-run ball over six innings in a 4-0 loss to San Diego in the deciding Game 3 of their first-round series.
Flaherty was set to make $604,000 last year and ended up with $223,889 in prorated pay.
This is Flaherty's first season eligible for arbitration, and he's not eligible for free agency until after the 2023 season.
New York Yankees roll dice on Corey Kluber
Timing is everything, in sports as well as life. If the timing is right between Corey Kluber and the New York Yankees, with whom the longtime ace was finalizing a one-year, $11 million deal late Friday, it will be good news for the pitcher in the long term — and perhaps even better for the team in the short term.
Speaking of timing, in the larger context of this winter's free-agent market, the timing of Kluber's free agency reveals an irony when you consider the similar status of former Cleveland teammate Trevor Bauer. Kluber is nearly five years older than Bauer, but for five full seasons (2014 to 2018), Kluber was the most dominant starting pitcher in the American League, leading the circuit in wins (83) and WAR (31.7), according to Baseball-Reference. He won two Cy Young Awards and finished third in the balloting two other times.
In each of those seasons, he was better than Bauer, with the debatable exception of Bauer's breakout season in 2018, when both star righties ranked among the American League's top Cy Young candidates. Yet here we are, two seasons later, and it's Bauer, not Kluber, who is the most coveted pitcher on the market. It was Kluber, not Bauer, who had to audition for teams, throwing a reported 30 pitches before scouts and other interested parties earlier this week at a gathering at which as many as 25 teams were represented.
If anything, that should help light a fuse under Kluber. So, too, will the short duration of his new contract, which is in part a result of his own preference, according to the Newark Star-Ledger, as he hopes to set himself up for a bigger payday next year. That has to be A-OK for the Yankees, who have acquired a pitcher who has thrown just 36⅔ innings over the past two seasons. In 2020, which represents the whole of Kluber's career with the Texas Rangers, he threw 18 pitches, or 12 fewer than he threw at his showcase earlier this week.
For Kluber, the deal is a chance to prove his outstanding career has a promising second act in the works. For the Yankees, it's a low-risk, high-upside deal for a hurler who only recently was among the elite of the elite but whose recent string of injuries renders a multiyear splurge as just too risky.
So what kind of Klubot did the Bombers just acquire?