A few minutes past 9 a.m. Monday, J.D. Martinez shook his new boss' hand, buttoned up a neatly pressed Boston Red Sox jersey — No. 28 stitched onto the back — and mugged for the cameras.
And if it had been Nov. 26 in Boston rather than Feb. 26 in Fort Myers, the whole thing would've been completely normal.
But nothing about this offseason was normal, not even the union of a team and a slugger that seemed all along to be a perfect match. Never mind Martinez bashed 45 home runs last year — including as many in August and September (24) as any Red Sox player hit all season — or that the Sox were one of the few teams willing to confer a nine-figure contract upon a free agent. The sides still waited and waited until spring training was underway before coming together on a front-loaded five-year, $110 million agreement with three separate opt-out provisions. Then, they spent another seven days reviewing medical records and hashing out contract language before finalizing the deal.
So, as Martinez and Red Sox president Dave Dombrowski went through their grip-and-grin routine in a media dining room that had been transformed on the fly for a press conference, one question begged to be asked, the same question that even Red Sox first baseman Hanley Ramirez seemed to ask all winter whenever he and Martinez worked out together in Miami.
What the heck took so long?
"Hanley would always tease me, 'Hey, spring training report date is Feb. 15. Don't be late,'" Martinez said. "I just started laughing."
Martinez didn't get the contract he initially sought, but his deal with the Red Sox is no joke. He will make $23.75 million this year, making him the team's highest-paid position player and second-highest overall behind lefty David Price.
And although there were medical reviews last week that forced agent Scott Boras to relocate his office to Fort Myers for what he describes as "18 hours a day of doctors, language, using our database historically to answer the needs to the team, the needs of doctors," Martinez said he never feared the deal would come apart.
The sides agreed to terms last Monday, and Martinez arrived at the Red Sox's spring-training complex two days later to take a physical. As Wednesday and Thursday passed without the deal becoming official, team sources described challenging logistics of administering a physical in Fort Myers and relaying results up north for a review by doctors at Massachusetts General Hospital. On Thursday, Martinez even flew to Boston to be seen in person.
As the situation dragged into the weekend, it became clear Red Sox doctors had concerns about the Lisfranc ligament in Martinez's right foot. He sprained the ligament last year and missed the first six weeks of the season, and although he's healthy now, the team wanted protection against a long-term problem.
It was reminiscent of the last time the Red Sox signed another J.D. who was represented by Boras. In the winter of 2006-07, they held up outfielder J.D. Drew's five-year, $70 million contract for 52 days while they negotiated for protection against a future injury to his surgically repaired right shoulder.
"Dave and I have known one another a long time. We've gotten to know each other a lot better over the last five days — and that says a lot," Boras said. "These negotiations are more of a cooperative venture, as you're dealing with medical, legal. The goal is common, very mutual. We all wanted to execute an agreement that we all thought was in the best interest of both J.D. and the Red Sox."
But to fully understand the twists and turns of the road Martinez took to finally land in the middle of the Red Sox batting order, you have to go back to last autumn.
With free agency looming and his earning power at an all-time high after a career-best season, Martinez hired Boras to replace his longtime agent Bob Garber. Coldhearted? No doubt. But Boras has a track record of getting seven-year contracts for free-agent outfielders, from Matt Holliday and Jayson Werth to Shin-Soo Choo and Jacoby Ellsbury. And Martinez is entering his age-30 season, just like Holliday, Ellsbury and Choo were when Boras negotiated their deals.
Another relevant number: $27.5 million. That's the average annual value of the four-year contract Yoenis Cespedes signed with the New York Mets before last season, a record for a free-agent outfielder. If Cespedes, who has 105 homers and an .841 OPS over the past four seasons, got $27.5 million per year entering his age-31 season, it seemed Martinez could make more after hitting 128 homers with a .936 OPS over that same span.
It was no surprise, then, that the teams that reached out to Boras early in the offseason got the impression he was seeking a contract in excess of $200 million for a hitter he dubbed "The King Kong of slugging."
There was only one problem: The market for Martinez and so many other free agents — including Boras clients Eric Hosmer, Jake Arrieta and Mike Moustakas — never developed as everyone anticipated. More than 100 free agents were still looking for work when teams opened their camps two weeks ago. Boras landed Hosmer an eight-year deal with the San Diego Padres before finally securing Martinez's deal with the Sox, but Arrieta and Moustakas are still unsigned.
Agents have accused the teams of colluding, a claim Red Sox owner John Henry dismissed as "ridiculous," while players' union chief Tony Clark has decried a competitive imbalance caused by what he describes as one-third of the teams having little or no interest in winning this year.
"There's a lot of factors that have driven this offseason," Henry said, not referring specifically to Martinez's situation. "You just can't expect every offseason to be a feeding frenzy."
Industry insiders figured Martinez would get his money after Shohei Ohtani signed with the Los Angeles Angels and Giancarlo Stanton got traded to the New York Yankees. But several teams that were looking for power turned elsewhere. The St. Louis Cardinals capitalized on the Miami Marlins' Derek Jeter-mandated fire sale by trading for outfielder Marcell Ozuna. The San Francisco Giants added offense with trades for third baseman Evan Longoria and outfielder Andrew McCutchen.
The Arizona Diamondbacks wanted to re-sign Martinez, who slugged 29 homers in a 62-game binge after they traded for him last July. But they couldn't afford to keep Martinez and still have money to lock up All-Star first baseman Paul Goldschmidt after next season, not as long as ace Zack Greinke's hefty contract remains on the books.
"The offseason for J.D. was like a river with a dam. A lot of water behind it. The question is, when were the gates going to open up," Boras said. "You kept getting the calls, the interest, the dynamic — we may do this, we may do that — and so that part hadn't filtered through."
In December, Martinez drove from his Miami-area home to the winter meetings in Orlando and met for several hours with Red Sox officials, including new manager Alex Cora and special assistant Jason Varitek. Although Boras says "it was very clear there was a fit," the agent is also well-known for his patience. Rather than rushing into deals early in the offseason, he often advises clients to wait while the market builds.
But with most of the usual big spenders, namely the Yankees and Dodgers, sitting out free agency — perhaps in preparation for next year's Bryce Harper/Manny Machado/Josh Donaldson class — the action didn't pick up in January as much as it has in past years.
Dombrowski, meanwhile, read the market correctly. The Red Sox offered Martinez a five-year contract worth about $100 million, then sat back and waited. Although chairman Tom Werner said in January the team was in "active negotiations" with Martinez, Dombrowski refused to bid against himself, even claiming throughout the offseason he was content to open the season with the same lineup that produced the fewest homers in the American League last year.
But for as much as Martinez needed the Red Sox, the Red Sox needed Martinez, not only to bring the middle-of-the-order thunder they have lacked since David Ortiz retired 16 months ago but also as a counter-punch to the Yankees' pairing of Stanton and Aaron Judge. Once Boras was willing to negotiate, the Sox upped their offer slightly.
Really, though, it was the structure of the deal — in particular, the three opt-outs — that got it done. Martinez can re-enter the free-agent market after the 2019, 2020 or 2021 seasons, essentially giving him a chance to get out of the contract if he doesn't like Boston, a sports-obsessed market that isn't for everyone (ask Carl Crawford, Pablo Sandoval and Price).
Martinez didn't wind up topping Cespedes' annual salary. But by getting the Sox to pay 45 percent of the money ($50 million) this season and next, Boras can also boast of a $25 million AAV for the first two years of the contract, which beats Angels outfielder Justin Upton's $22.125 million AAV from a free-agent deal signed in 2016.
And if Martinez remains one of the most productive sluggers in baseball, he has an opportunity to go back out on the market as soon as the winter of 2019-20, one year after the Harper/Machado/Donaldson group. Martinez will be 32 then, and with three years and $60 million left on the contract, Boras would be aiming to top the deals signed by Edwin Encarnacion and Carlos Santana in the past two offseasons.
If Martinez needed to be talked into joining the Red Sox, he got positive reviews from Price and right-hander Rick Porcello, both of whom were his teammates in Detroit.
"I talked to him a couple times," Price said. "I told him we'd love to have him here."
Martinez also has history with Dombrowski, who was running the Tigers' baseball operations in 2014 when Detroit signed Martinez after he'd been released by the Houston Astros.
In the end, though, it was a matter of signing with the team that needed him most and proved it with a nine-figure offer.
"Talking to Alex [Cora] about going out there every day, it's almost like, football has Monday night. They said at Fenway that every night is like Monday Night Football," Martinez said. "I love this game, I love to play. To play in front of fans that are just as passionate and love it just as much is exciting."
We'll be ready to host spring training, delay or no delay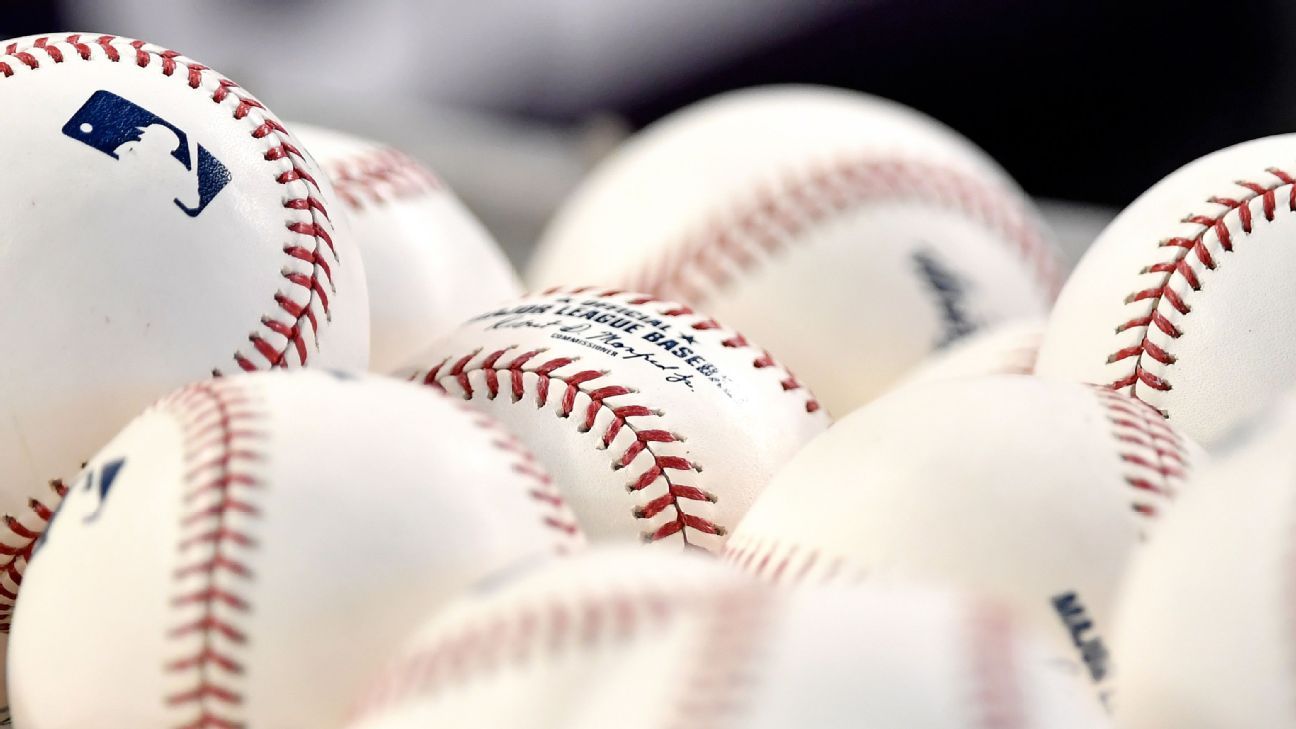 After sending a letter to Major League Baseball commissioner Rob Manfred that suggested delaying spring training "to allow for the COVID-19 situation to improve here," Cactus League executive director Bridget Binsbacher told ESPN on Monday that the 10 Phoenix-area facilities that host teams will be ready to open if games start as scheduled.
"If it is determined that spring training is going to start on Feb. 27, we're prepared for that," Binsbacher told ESPN in an interview. "Our focus is having a safe, secure experience for all involved. We believe we can do that on the 27th. We believe we can do that a month from the 27th."
Binsbacher's letter, which was co-signed by six mayors, two city managers and a president of a tribal community, cited the Phoenix area's high COVID-19 infection rate and a model that "projects a sharp decline in infections in Arizona by mid-March." Fifteen teams are scheduled to arrive in Arizona around mid-February, with games slated to begin Feb. 27. The Cactus League has no authority to change the schedule.
The letter comes as MLB and the MLB Players Association attempt to juggle a series of issues, including the viability of starting games on time, in a continuation of their strained relationship that manifested itself last season with Manfred's implementation of a 60-game schedule. The union is insistent on playing a full 162-game season this year and continues to chafe at the notion of anything less.
In a statement, the MLBPA said: "While we, of course, share the goals of a safe spring training and regular season, MLB has repeatedly assured us that it has instructed its teams to be prepared for an on-time start to spring training and the regular season."
The league, in a statement, said: "As we have previously said publicly, we will continue to consult with public health authorities, medical experts and the players association whether any schedule modifications to the announced start of spring training and the championship season should be made in light of the current COVID-19 environment to ensure the safety of the players, coaches, umpires, MLB employees and other gameday personnel in a sport that plays every day."
Binsbacher said the Cactus League had worked with spring-training facilities, other local sports and MLB since September — and that MLB did not specifically request the letter. The concern from officials expressed in it goes against the actions taken by sports franchises and others in the Phoenix area. The Arizona Coyotes and San Jose Sharks are playing regular-season NHL games in Glendale, the Phoenix Suns are having regular-season NBA games downtown, and high schools across the area are participating in all sports.
One issue with baseball, Binsbacher said, is the influx of tourists — six in 10 who attend spring-training games are from out of state, she said — and the packed schedule teams play. "The big difference here," she said, "is we've got 32 to 36 days straight of spring training."
Further, Binsbacher said, the likelihood of the COVID spike in Arizona abating is greater with every day delayed. Arizona leads the United States in COVID case rate and death rate, a position it has held for most of January. The state is averaging nearly twice as many cases per 100,000 people than the average in the United States.
"We know that there's a vaccine and that it's going to have been administered," Binsbacher said. "The projections say that the cases will plummet by mid-March. That makes it absolutely more manageable to do this with every additional day."
A December executive order by Arizona Gov. Doug Ducey limited the number of people at a public event to 50 "unless the city, town or county in unincorporated areas has determined that adequate safety precautions which are consistent with the guidance issued by both the CDC and ADHS for mitigating the spread of COVID-19 are documented as part of the request." If the mayors or other leaders insist spring training will not come to Phoenix, it could scuttle the Cactus League — though sources doubt they have the political will to do so, particularly as other sports are held in the area.
The Grapefruit League in Florida, meanwhile, saw its first ballpark, Roger Dean Stadium, start ticket sales Monday for St. Louis Cardinals and Miami Marlins games in February and March.
Any spring training delay could theoretically have an effect on the regular season — something the MLBPA is treating as a nonstarter and MLB understands would cause regular-season games to move into October and postseason games to November. Already the discussions between the union and league about potential playoff expansion and the implementation of the universal designated hitter have gone nowhere. The MLBPA, sources said, rejected and didn't counter an MLB proposal to expand the playoffs this year to 14 teams, fearful that a diluted playoff system would disincentivize teams from spending in free agency.
With the current collective-bargaining agreement set to expire in December, the relationship between the sides has remained frosty. Whether the letter is simply much ado about nothing or the first salvo in the latest fight between the two remains to be seen.
MLB to hold first pre-draft combine from June 20-28 in Cary, North Carolina
Major League Baseball will hold its first-ever pre-draft combine June 20-28 in Cary, North Carolina, at the USA Baseball National Training Complex.
The group of invited players will be chosen in consultation with MLB scouts, and the event will include a tournament involving 88 of those players through the 26th, to give scouts in-game looks of the players in addition to combine testing. There will also be medical, educational and various performance assessments happening at the event.
It will be a unique information-collecting opportunity for teams, timed in the leadup to the 2021 MLB draft, which is July 11-13 in Atlanta around the All-Star Game festivities. The draft will be at least 20 rounds.
This year will also see the return of MLB's PDP (prospect development pipeline) event for 2022-eligible draft prospects on July 22 through Aug. 1, also to be held in Cary. The event was skipped in 2020 due to the coronavirus pandemic and will return to being one of the key early-summer events for 2022 prospects, taking place just after the 2021 draft has concluded.
Both the pre-draft combine and PDP events are voluntary and free of charge for participants.
Jameson Taillon excited to join Yankees, reunite with Gerrit Cole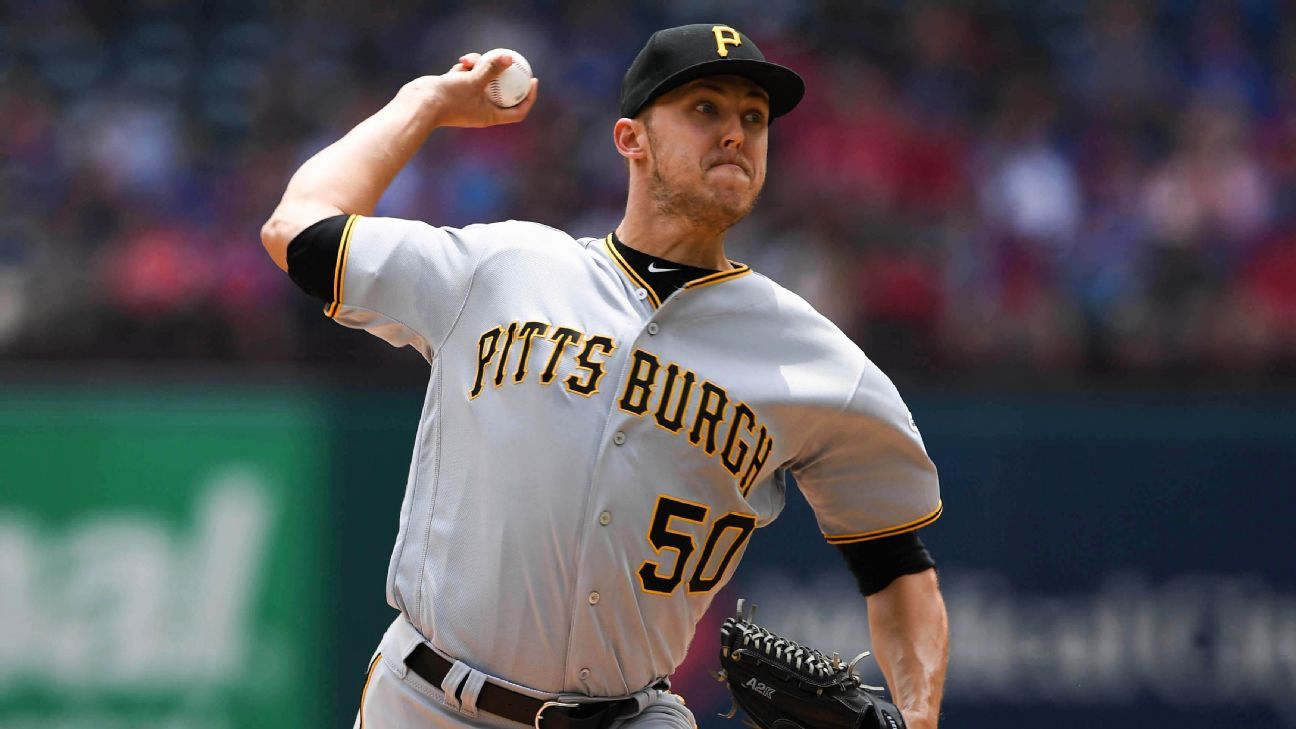 NEW YORK — Jameson Taillon's trade from Pittsburgh to the New York Yankees started to soak in, and he thought about reuniting with former roommate Gerrit Cole.
"Every night you get a five-star cooked meal," Taillon said. "Even if he's cooking for himself, he's going to marinate whatever he's cooking properly. He's going to do everything with the perfect execution. He's going to have a perfect wine pairing for it."
Taillon, recuperating from his second Tommy John surgery, was acquired Sunday for four prospects. He joins a revamped rotation headed by Cole and projected to include Deivi García, Jordan Montgomery and Corey Kluber, whose pending $11 million, one-year deal is expected to be finalized this week.
A 29-year-old right-hander, Taillon has not pitched since May 1, 2019. In addition to the elbow operations with New York Mets medical director Dr. David Altchek on April 9, 2014, and on Aug. 13, 2019, he also had operations for a sports hernia on July 8, 2015, and for testicular cancer on May 8, 2017. He was hit on the head by a 105 mph line drive off the bat of Milwaukee's Hernán Pérez on July 19, 2016, and stayed in the game.
"When you're going through it, it doesn't seem like as much as it sounds. That sounds crazy. But each injury is separate. Each experience is separate," he said.
Taillon felt he didn't fulfill the confidence Pittsburgh showed when he was selected with the second overall pick in the 2010 amateur draft. He was disappointed the Pirates blew up a group that came through the minors together and admitted "seeing all my good friends get traded in Pittsburgh and to see the direction we were headed … didn't necessarily light a fire" and he thought a trade "was necessary."
"I'm jumping into a legendary franchise, a legendary organization," he said. "I overnight went from a rebuilding organization to a team like the Yankees where I'm stepping in and the only thing they care about is to win. So that's kind of lit a fire under me."
When he awoke from his last operation, he decided he needed to relieve pressure on his elbow, putting more work on his legs and shortening his arm motion. He reworked his mechanics with Ben Fairchild, a sports performance manager in Houston who has assisted Andy Pettitte, Mark Melancon, and Anthony Rendon; Pirates director of sports performance A.J. Patrick; Pirates pitching coach Oscar Marin; Pirates bullpen coach Justin Meccage and the Florida Baseball Ranch in Lakeland.
He started throwing bullpen sessions last July and got up to about three innings of batting practice. Taillon thinks his fastball velocity is about 95 mph, where it was before the latest injury, and he gained deception. Taillon plans to leave heavily on his four-seam fastball, alternating curveballs and sliders along with occasional changeups.
"I hate seeing videos of the way I used to throw. It disgusts me," he said. "I kind of had like a coming-to-grips moment where I said, you know what, my current set of mechanics and what I'm doing isn't working. That's just the cold, hard truth. I need to change something or else my career is going to be over. So I stripped it all the way down. With rehab, all you have this time. I had 12, 15, 16 months to strip it down and kind of revamp my mechanics and revamp my career."
Taillon was inspired watching former Pirates teammate Daniel Hudson overcame two Tommy John operations and strike out Houston's Michael Brantley for the final out of the 2019 World Series for Washington. Taillon looks forward to reaching the big league playoffs for the first time with the Yankees.
"New York's one of those organizations where it's all about winning. From what I've heard, nothing else matters in that clubhouse," he said. "It's a group of guys trying to make each other better, trying to push for October. And I mean, seriously, ever since I got the news that the Yankees are where I was headed, I can't stop thinking about that. I've heard Yankee Stadium in October is just absolutely incredible."