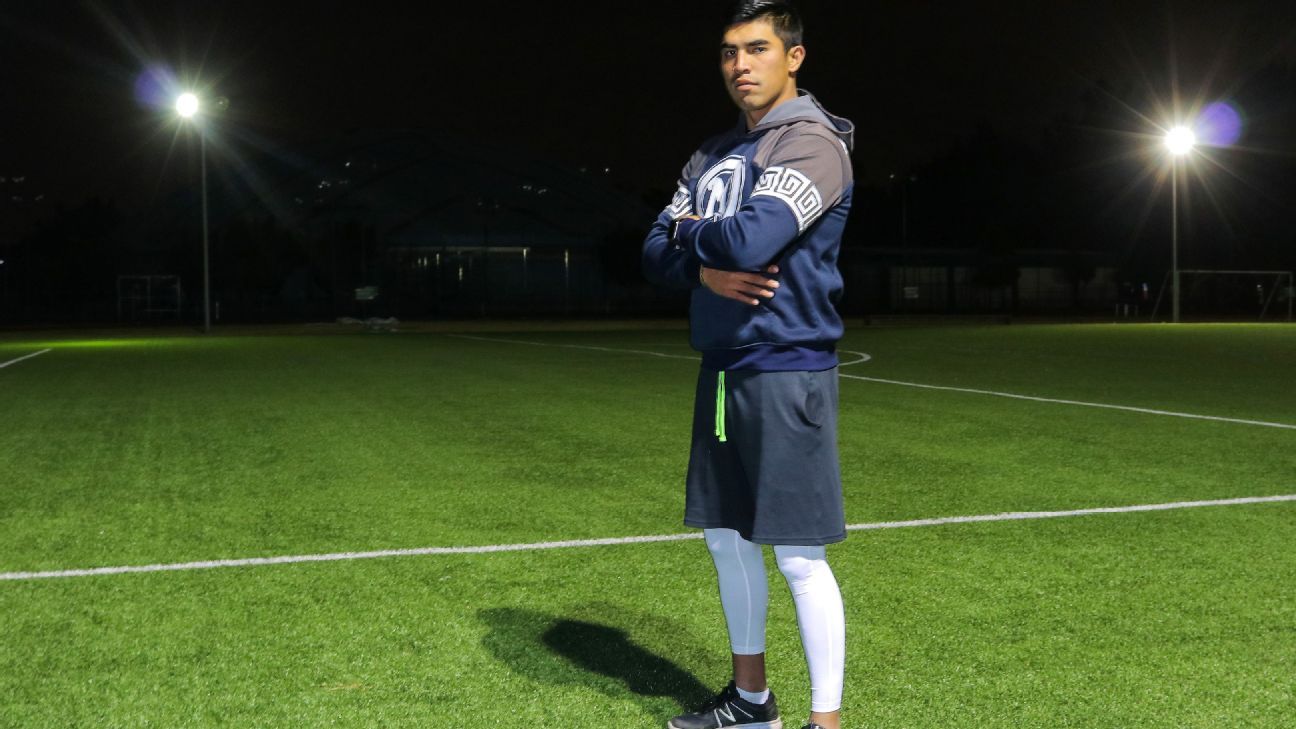 MEXICO CITY — The back-to-back champions of Mexico's budding six-team pro football league still train on a rented soccer field, where a kicker launches footballs over phantom uprights while players are careful not to run over corner-kick flags. And the goalposts? That's where touchdowns are called.
It's football in a fútbol environment.
On a chilly winter evening beneath pale lighting, the CDMX (Mexico City) Mayas are running no-contact drills, in helmets but without pads as preparation for the seven-game 2018 regular season, which kicked off last Saturday.
"If people give us a chance and watch us perform, I know they'll be hooked," said 26-year-old Omar Cojolum, running back for the Mayas and the league's leading rusher in 2017. "We play with passion. For me, football is life."
The Liga de Futbol Americano Profesional (LFA) is still looking to gain a foothold with fans in its third season of play, lining up television partners and streaming games on the league website and Facebook page, along with an Under Armour deal to dress the squads. Yet venues are modest, as the six teams — four from Mexico City and the surrounding area — play in stadiums that hold fewer than 10,000 fans. Sellouts are rare.
Last season, in an attempt to gain notoriety, the league signed former Bengals WR Chad "Ochocinco" Johnson to a one-game cameo with the Monterrey Fundidores.
Though Johnson's incursion in the LFA was little more than a publicity stunt, the league mostly features domestic players looking to chase gridiron dreams beyond college football. A select few, however, have NFL experience. Mauricio "Tyson" López, the Mayas' star defensive lineman, was signed by the Philadelphia Eagles for the 2007 preseason, and by the Oakland Raiders in 2009. Tackle Ramiro Pruneda, also of the Mayas, was on the practice squad for the San Francisco 49ers, Kansas City Chiefs and the Eagles from 2007 to 2008. In addition, both López and Pruneda lend their expertise as NFL analysts for ESPN Mexico.
Cojolum hails from Naucalpán, a city just 13 miles outside of Mexico City. He grew up in an impoverished neighborhood with his mother, María Guadalupe and two older brothers, Marco Antonio and Ramón Olaf, the latter requiring special attention because of a disability. As a child, Cojolum found solace in football after initially resisting the game.
"[Marco] dragged me with him at first and I just didn't want to go. After a while, it grew on me," he said.
Starting at just 4 years old, Cojolum excelled at the game through grade school, eventually gaining a scholarship to the nearby Universidad del Valle de México (UVM). Though the commute to the college was barely a handful of miles, he said it felt like a whole new world.
"Where I'm from, it would've been easier for me to take the path with crime and drugs maybe, but I've always loved sports," he said after finishing practice one day. "I didn't want to poison my body and mind with that."
With his college team, the Linces (Lynx), Cojolum shined as a running back, all the while pursuing a degree and holding down a job in support of his family.
"Then, I found out I was going to have a son," he said.
Cojolum's part-time job turned into a full-time gig. Unable to keep playing, his scholarship was withdrawn. At age 20, Cojolum briefly dropped out of school to provide for his mother, brother and new son.
"The amount of hardship he's been through has shaped him as a man," said Alma Martínez who along with her husband, Jesús Omana, owns the Mayas. Martinez developed a close bond with Cojolum since their association with the Mayas first began a year ago.
"He never wavered from his dream, and he was so good you just knew he would find a way to come back eventually," Martinez said.
Cojolum settled in with a work schedule allowing him to return to school, and his scholarship in 2011.
"Then I broke my leg," he recalled.
Sidelined for another six months, he redshirted and played his last season in 2015, just in time to be considered eligible for the nascent pro football league, as it held its draft for the inaugural season in 2016. Cojolum was the Mayas' first pick.
Reminiscent of the NFL model, players in Mexico's two main college leagues, the 22-team ONEFA and the 12-team CONADEIP have been drafted by the LFA since its creation to provide a pipeline from the amateur game to the next level.
"I think it's fair to say players reach a physical peak in this sport from age 23 to about 30," said Oscar Perez, president of the LFA. "We didn't have a pro league in Mexico that enabled players to take advantage. Omar is a perfect example of this, and we're happy to have him."
Perez has high hopes for his league, and the LFA is in full expansion mode in the coming seasons. Of the six teams in the 2018 season, four are from Mexico City area –the Mayas, Condors and Méxicas are from CDMX and the Raptors are from Edomex, or the state of Mexico surrounding the capital city. Two teams in the north, Dinos from Saltillo and the Monterrey Fundidores, round out the league. The Mayas didn't fare very well in their season debut, as the Raptors blanked them in the opener.
"There are still difficulties there, logistically speaking, economically speaking. But we're hopeful the league will expand greatly," he said.
"It was an absolute coup for us to get Omar," said César Zúñiga, the Mayas' technical director, a position he described as a sort of cross between general manager and director of player personnel. "He reminds me of [former Rams RB] Eric Dickerson, the way he runs with such power and purpose."
In the league's first championship game in April 2016, Cojolum scored two touchdowns, including a 71-yard scamper in the Mayas' 29-13 win over the Mexico City Raptors. The performance enamored Omana, then just a fan, into buying the franchise.
"Both of my sons play youth football, so we went to all the games that first season as a way to bond as a family," Omana said. "I loved what I saw, so I contacted the league about buying the team, and they offered me a different one. I didn't want it. If it's not Mayas, then don't bother."
Finally, with the 2017 season underway, Omana was granted the chance to buy into the LFA with his dream franchise.
Although they are close now, the relationship between the Omanas and Cojolum got off to a rocky start. Just a few days after securing ownership of the team, the couple were unable to procure a flight for the team for an away game in Monterrey. Martinez was then stuck on a 13-hour bus ride with a cranky group of players, the chorus of groans led by the star running back.
"Every time we'd hit a bump or slow down because of traffic, Omar would complain," Martinez said.
Soon, she felt, there would be a mutiny on her hands.
"I stood up, walked towards him and told him to stop being a diva," she recalled.
Finger to his face, Martinez challenged Omar to show the new owners what he was capable of doing as a leader on the field.
It wasn't the only time Cojolum would get in trouble on a team trip. Cojolum posted a video of a Mayas official addressing the team during a bus ride to an away game, a violation of the league's policy. He served a one-game suspension at the start of this season.
"It's a little strange to think that now I refer to Alma and Jesus as 'Mom and Dad,' " Cojolum said.
After the Mayas won the second of their back-to-back titles in 2017, Cojolum sprinted to Alma and Jesus to embrace them.
"It was a special moment, I feel like I owe them so much," he said. Cojolum crowned his sophomore season winning the league's award for best running back.
Aiming to become the first dynasty in the fledgling league's history, the Mayas are hoping to end their upcoming season on a different fútbol pitch. The Estadio Azul, home of Liga MX's Cruz Azul and the place where the NFL held its first exhibition game south of the border in 1978, will host the LFA's championship game next April.
"It's exciting to think about what it would be like to play in front of a crowd like that," Cojolum said. "It's a long way away, but I can picture myself celebrating another title with my family."
Rusty Hardin – Deshaun Watson never engaged in acts with plaintiffs that weren't 'mutually desired'
HOUSTON — Deshaun Watson's lawyer, Rusty Hardin, acknowledged during a Friday news conference that there were some "consensual encounters" between the Houston Texans quarterback and some of the 22 women who have filed lawsuits against him, but said at no point did Watson engage in any acts that were not "mutually desired."
"In some of these massages there's going to be no question," Hardin said when asked to clarify his comments about Watson taking part in sex acts with some of the women who have filed lawsuits against him alleging inappropriate behavior and sexual assault. "We've never run from it."
Watson has publicly denied any wrongdoing, and Hardin has emphasized since he began representing the quarterback last month that he believes "any allegation that Deshaun forced a woman to commit a sexual act is completely false."
"I'm not going to go into what it is or the nature or the numbers or with whom," Hardin said Friday regarding any consensual encounters between Watson and some of the plaintiffs. "But I think you can rightfully assume that. The question always that we have always been emphasizing: Never at any time, under any circumstances … did this young man ever engage in anything that was not mutually desired by the other party."
Earlier Friday, two judges ruled that most of the plaintiffs suing Watson must identify themselves. The rulings from two hearings Friday cover 13 of the 22 lawsuits filed against Watson alleging sexual assault and inappropriate conduct, while the attorneys also agreed to release a 14th name later in the day.
Court records show Hardin has filed motions asking that the remaining women who have not revealed their names also make their identities public.
Prior to Friday, only two women had been publicly identified.
During Friday's first hearing, in the 270th District Court, Hardin had accused the plaintiffs' lawyer, Tony Buzbee, of using the women's anonymity to "kill the reputation of our client."
Buzbee argued that allowing anonymity is common in cases dealing with allegations of sexual assault. Buzbee said Ashley Solis, who publicly identified herself earlier this week, had received death threats, and during the second hearing he shared an example of a threatening message sent to Solis.
After the hearings, Buzbee released a statement saying the other women suing Watson have been "emboldened" by Solis going public with her experience.
"They are ready to be identified," Buzbee said. "In lawsuits sometimes we push hard for something that may turn out to not be helpful. As I said in Court, 'be careful what you ask for.' Identifying these women at this point adds even more credibility to the allegations being made, and I am proud to stand with these brave and courageous women."
Buzbee and Hardin also agreed that the 22 lawsuits could be consolidated in the 113th District Court for any pretrial matters.
In a statement Tuesday, NFL spokesperson Brian McCarthy called the allegations against Watson "deeply disturbing," noting, "We take these issues very seriously."
McCarthy said the league launched an investigation under its personal conduct policy last month after the first allegations and that the NFL is "continuing to closely monitor all developments in the matter."
DMX tributes pour in from LeBron James and others in the sports world
Earl Simmons, the rapper, songwriter and actor known as DMX, died Friday at the age of 50.
DMX, who rose to fame in the early 1990s, died after having a heart attack earlier last week.
"We are deeply saddened to announce today that our loved one, DMX, birth name of Earl Simmons, passed away at 50-years-old at White Plains Hospital with his family by his side after being placed on life support for the past few days," his family said in a statement. "Earl was a warrior who fought till the very end."
DMX's songs were often used by teams, athletes, stadiums and arenas, and were known for their deep-cutting, aggressive lyrics and catchy bass-filled beats. His signature raspy voice was instantly recognizable on his hit songs "Ruff Ryders' Anthem" and "Party Up (Up in Here)."
Athletes took to social media to express their condolences about DMX's death, including LeBron James and former NFL star Torrey Smith.
❌4L!! Rest In Paradise LEGEND!! 🐕🐕 pic.twitter.com/Y0m0DVl5Up

— LeBron James (@KingJames) April 9, 2021
RIP DMX! My love for dogs was influenced by him. His lyrics also made me feel like I could get through anything! I'm glad that he was able to receive his roses recently. His mental health struggle was documented for all of us to see and learn from. Prayers up for his family 🙏🏿

— Torrey Smith (@TorreySmithWR) April 9, 2021
Icon.
RIP DMX😔 pic.twitter.com/xYiBdqjLQl

— Trae Young (@TheTraeYoung) April 9, 2021
All Dawgs go to Heaven!! 🕊RIP DMX 🐐

— AJ Brown (@1kalwaysopen_) April 9, 2021
Damn man RIP DMX 😔

— Trending Topic 🤫 (@BigTicket73) April 9, 2021
Forever DAWG pic.twitter.com/1nJgZwNpNJ

— Tyrann Mathieu (@Mathieu_Era) April 9, 2021
Rest easy king!!! https://t.co/CIK2d9Nw0d

— Darius Slay (@bigplay24slay) April 9, 2021
A Hip hop icon like no other

RIP 🖤 https://t.co/RChXorTzq7

— Adrian Peterson (@AdrianPeterson) April 9, 2021
dmx all day today. rip, legend

— feeno (@ArianFoster) April 9, 2021
DMX gave hope to the hopeless.. RIP legend 🙏🏾

— 🏁 Jamal Crawford (@JCrossover) April 9, 2021
RIP DMX 🙏🏾

— Isaiah Thomas (@isaiahthomas) April 9, 2021
RIP DMX! My love for dogs was influenced by him. His lyrics also made me feel like I could get through anything! I'm glad that he was able to receive his roses recently. His mental health struggle was documented for all of us to see and learn from. Prayers up for his family 🙏🏿

— Torrey Smith (@TorreySmithWR) April 9, 2021
Wow. RIP DMX 💔

— Danielle Robinson (@justDROB) April 9, 2021
RT for the GOAT pic.twitter.com/uxP2yJ0neV

— 7⃣ Leonard Fournette (@_fournette) April 9, 2021
🙏🏽 damn https://t.co/EiqWzy8Zfu

— Ja Morant (@JaMorant) April 9, 2021
Goon to soon, RIP DMX

— Robert Griffin III (@RGIII) April 9, 2021
Brain of Phillip Adams, former NFL player who killed five, to be examined for CTE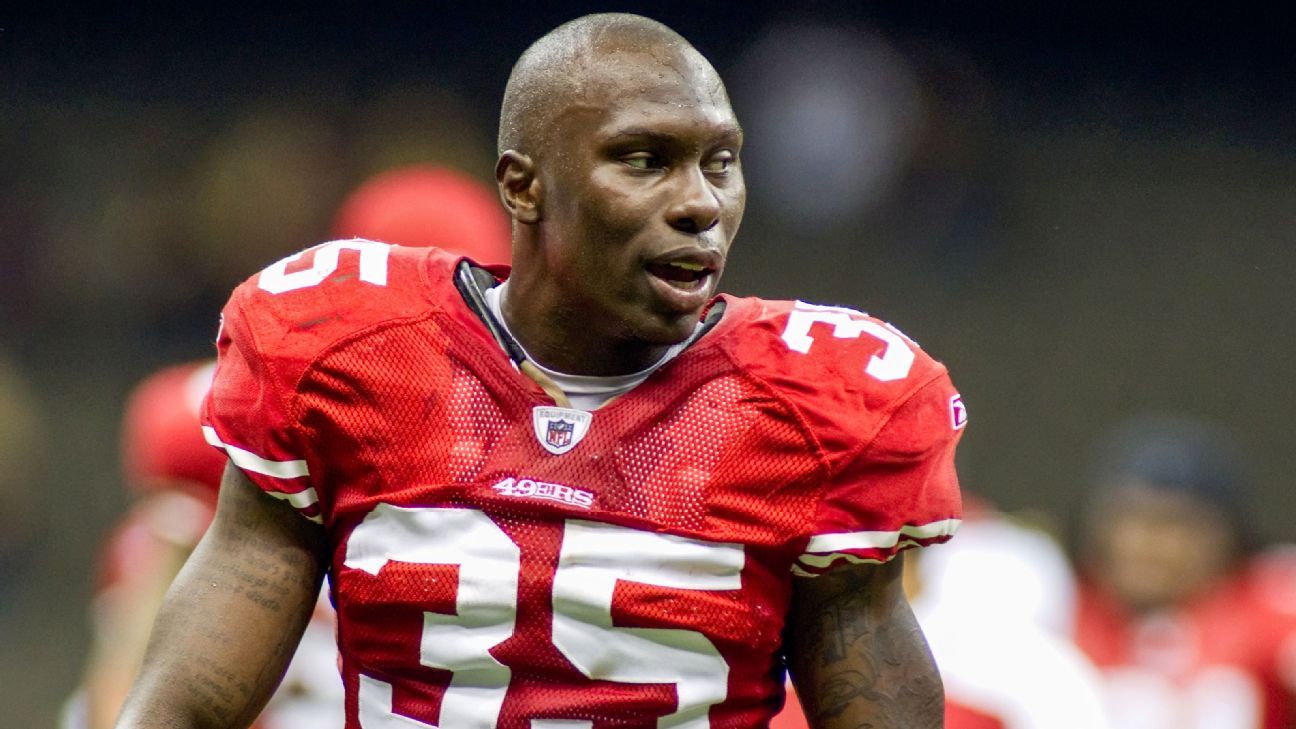 COLUMBIA, S.C. — The brain of Phillip Adams – the former NFL player who killed a South Carolina physician, three family members and a repairman before fatally shooting himself – will be tested for a degenerative disease that has affected a number of pro athletes and has been shown to cause violent mood swings and other cognitive disorders, according to a news report.
York County Coroner Sabrina Gast told McClatchy Newspapers on Friday that she had gotten approval from Adams' family for the procedure to be included as part of his autopsy, which will be performed at the Medical University of South Carolina. The hospital will be working with Boston University, whose chronic traumatic encephalopathy center conducts research on the long-term effects of repetitive brain trauma in athletes and military personnel, according to its website.
Gast did not immediately return phone calls and emails from The Associated Press or respond to a message left in person at her office.
According to police, Adams went to the home of Robert and Barbara Lesslie on Wednesday and and shot and killed them, two of their grandchildren, 9-year-old Adah Lesslie and 5-year-old Noah Lesslie, and James Lewis, a 38-year-old air conditioning technician from Gaston who was doing work there. He also shot Lewis' colleague, 38-year-old Robert Shook, of Cherryville, North Carolina, who was flown to a Charlotte hospital, where he was in critical condition "fighting hard for his life," said a cousin, Heather Smith Thompson.
York County Sheriff Kevin Tolson said investigators hadn't figured out why Adams carried out the attack.
Tolson said evidence left at the shooting scene led investigators to Adams as a suspect. He said they went to Adams' parents' home, evacuated them and then tried to persuade Adams to come out. Eventually, they found him dead of a single gunshot wound to the head in a bedroom, he said.
A person briefed on the investigation who spoke to The Associated Press on the condition of anonymity because he wasn't authorized to speak publicly said Robert Lesslie had treated Adams, who lived with his parents not far from the Lesslies' home.
Tolson would not confirm that Adams had been the doctor's patient.
It will be months before results are available from the tests for chronic traumatic encephalopathy, or CTE, which can only be diagnosed in an autopsy. The disorder has been found in former members of the military, football players and boxers and others who have been subjected to repeated head trauma. A recent study found signs of the disease in 110 of 111 NFL players whose brains were inspected.
Several years ago, the league agreed to pay $1 billion to retired players who claimed it misled them about the dangers of playing football.
Adams, 32, played in 78 NFL games over six seasons for six teams. He joined the 49ers in 2010 as a seventh-round draft pick out of South Carolina State, and though he rarely started, he went on to play for New England, Seattle, Oakland and the New York Jets before finishing his career with the Atlanta Falcons in 2015.
As a rookie late in the 2010 season, Adams suffered a severe ankle injury, resulting in surgery that included several screws being inserted into his leg. He never played for the 49ers again, released just before the 2011 season began. Later, with the Raiders, he had two concussions over three games in 2012.
Whether he suffered long-lasting concussion-related injuries wasn't immediately clear. Adams wouldn't have been eligible for testing as part of a broad settlement between the league and its former players over such injuries, because he hadn't retired by 2014.
Adams' father told a Charlotte television station that he blamed football for problems his son had, and which might have led him to commit Wednesday's violence.
"I can say he's a good kid – he was a good kid, and I think the football messed him up," Alonzo Adams told WCNC-TV. "He didn't talk much and he didn't bother nobody."
Adams' sister told USA Today that her brother's "mental health degraded fast and terribly bad" in recent years and that the family noticed "extremely concerning" signs of mental illness, including an escalating temper and personal hygiene neglect.
Gerald Dixon, a former NFL linebacker who retired in 2001, said that, when he coached Adams in high school, the young player was a team leader, yet also mild-mannered and humble.
Dixon added that he had spoken to Adams a few months ago, and had noticed no signs of depression or other mental health issues. "Anytime I talked to him, he was always happy and just reminiscing about old things," he said.
Dixon acknowledged that the repeated hits to the head sustained in the game could have affected Adams, as they have negatively affected many of the other NFL players Dixon has known who were later diagnosed with CTE.
"You never know what's going on in a person's mind after they've went through these concussions," Dixon said.
Agent Scott Casterline told the AP that Adams did not participate in the physical and mental health programs that are easily accessible for ex-players.
"We encouraged him to explore all of his disability options and he wouldn't do it," Casterline said, noting that Adams' career was undercut by the 2010 ankle injury. "I knew he was hurting and missing football but he wouldn't take health tips offered to him. He said he would, but he wouldn't."