This is not a time on the NFL calendar that lends itself to confidence. Oh, some teams have it, for sure, but February and early March are times of significant uncertainty for many others. Teams have high hopes for what they can find in the draft and what free agency might bring them, but at this point, it's still tough to have confidence in those things. Mystery reigns.
Which is why it's a fun and volatile time to trot out the occasional feature we like to call our "QB Confidence Index."
The disclaimer that no one will read: This is not a ranking of quarterbacks. So if your team is listed behind a team whose starter you don't think is better, don't assume it's because I'm an idiot. It may well be, but I'd ask that you do your research before jumping to that assumption. Otherwise, I might as well be listening to my kids.
Rather, this is a ranking of NFL teams in order of their current degree of confidence in their overall quarterback situation. That means starter, backup, age, health … heck, at this point in the year we can even factor in cap space and where they're picking in the draft. We aren't just ranking starters here. We're ranking situations, and the criterion is confidence.
With all of that in mind, and with a heavy sigh in acknowledgement that you probably haven't read anything until this point, here's the pre-combine edition of the QB Confidence Index.
Click on the links below to go directly to your team:
ARI | ATL | BAL | BUF | CAR | CHI | CIN | CLE | DAL | DEN | DET | GB | HOU | IND | JAC | KC | LAC | LAR | MIA | MIN | NE | NO | NYG | NYJ | OAK | PHI | PIT | SF | SEA | TB | TEN | WAS
QBs under contract: Tom Brady, Brian Hoyer
Brady turns 41 in August, which is the only reason for confidence to waver here. But his age-40 MVP season offered no evidence that his performance was slipping, and he remains one of the two or three very best quarterbacks in the league. There was more reason for confidence a year ago, when Jimmy Garoppolo was the backup. And I expect the Patriots to look for a quarterback in the draft as they make their long-term plans. But in the meantime, they believe Hoyer could manage in a pinch, and Brady's all-time greatness elevates this situation above the others.
QBs under contract: Carson Wentz, Nick Foles, Nate Sudfeld
It's certainly possible that Wentz isn't ready to start the season, coming off ACL surgery he had in December. But when your backup option just won Super Bowl MVP, confidence isn't a problem. Once Wentz is healthy, this quarterback situation becomes the envy of the league, both in the short term and the long.
QBs under contract: Aaron Rodgers, Brett Hundley
Rodgers is expected back at full strength off last year's shoulder injury, and he's better than anyone when he's right. He's also 34 (not old for a player at this position) and due a big contract extension this offseason that will underline the team's confidence in him. The Packers managed to win games with Hundley and stay in the playoff race while Rodgers was out. So unless they trade Hundley, they enter the season with a fair bit of confidence in their backup situation.
The NFL Live crew debates if Buffalo will move on from Tyrod Taylor and look to address the QB position in the draft.
QBs under contract: Russell Wilson, Trevone Boykin
Wilson would have been a legitimate MVP candidate if the Seahawks had been a playoff team. That's how brilliant his 2017 was without the help of a running game or reliable pass protection. He was, as we've pointed out a few times, the team's leading rusher in 2017 by 346 yards. Wilson has established himself as one of the game's best, which is why the Seahawks rank here in spite of uncertainty at the backup spot. Assuming Wilson doesn't decide to stick in Yankees camp and make a run at the majors, the Seahawks go into 2018 with more confidence in this position than maybe any other.
QBs under contract: Taysom Hill
This is a pretty stratospheric ranking for Hill, I will grant you that. But the Saints are here because I don't believe there's any chance that starter Drew Brees — whose contract voids on March 14 — will be playing anywhere else next season. Assuming that, and coming off another quietly brilliant season that has him just 1,495 yards behind Peyton Manning for the career passing record, Brees carries the Saints into the top five on our list. If something crazy happened and he didn't re-sign in New Orleans … well, let's just say the Saints would tumble a bit in the next one.
QBs under contract: Matt Ryan, Matt Schaub, Garrett Grayson
No, Ryan's 2017 season didn't come close to measuring up to his 2016 MVP campaign. But chalking that up to a Super Bowl hangover and offensive coordinator change, while factoring in Ryan's durability and the team's faith in Schaub as the backup, the Falcons belong here. Just because Ryan wasn't a top quarterback in 2017 doesn't mean he can't get back close to what he did the year before.
QBs under contract: Matthew Stafford, Alek Torgersen
New head coach, sure, but the Lions kept the same offensive coordinator — Jim Bob Cooter — under whom Stafford has thrived the past couple of years. Stafford hasn't missed a game since 2010 and has completed more than 65 percent of his passes in each of the past three seasons. The backup situation is a little shaky — sixth-round pick Jake Rudock is an exclusive rights free agent and is almost certain to return — but Stafford's durability and history of playing (and producing) through pain mitigate that.

QBs under contract: Philip Rivers, Cardale Jones
Rivers finished second in the NFL behind Brady in passing yards in 2017 (4,515). His 10 interceptions were his lowest single-season total since 2009. He's 36, and Jones is unproven, but Rivers hasn't missed a game since becoming the Chargers' full-time starter in 2006. They need to be thinking about what comes next, but that's not an urgent issue just yet.

QBs under contract: Ben Roethlisberger, Landry Jones, Joshua Dobbs
No will-he-or-won't-he retirement dance this offseason for Big Ben, who made it through a full season healthy for the first time since 2014 and says he'll be back for his age-36 season. Surrounded by some of the best offensive playmakers in the game, protected by a good and stable offensive line, Roethlisberger continues to deliver at a high level. Jones has had enough fill-in experience that the Steelers at least know what they've got, and Dobbs is a fourth-round pick from a year ago.
QBs under contract: Dak Prescott, Cooper Rush
You know, when we were doing this last offseason, the thing for which I took the most heat was the ranking of the Cowboys. (Most people thought it was too low.) The point was that Prescott had played only one year, as brilliant as it might have been, and confidence requires more proof. This time around, I wonder if people will say this is too high, as Prescott's second season didn't live up to his first. The way I look at it, if 3,324 yards, 22 touchdowns, 13 interceptions and a 62.9 completion percentage at age 24 is a down season, count me in. Assuming a full 2018 season from Ezekiel Elliott, there's no reason for the Cowboys not to go forward with confidence in what they have at quarterback.
QBs under contract: Derek Carr, Connor Cook
The whole Raiders offense sagged badly last season, which is a reason all the coaches are new. The expectation is that Jon Gruden & Co. will be great for Carr, who was an MVP candidate in 2016 and should be able to make his way back to that level. With EJ Manuel a free agent, the Raiders might need an upgrade at the backup position. Cook struggled in his lone NFL start, replacing an injured Carr for the 2016 wild-card round and completing only 40 percent of his passes with three interceptions.
QBs under contract: Cam Newton, Garrett Gilbert
Reliable backup Derek Anderson is a free agent but could be brought back. Newton's passing numbers might never again see their 2015 MVP levels, but the manner in which he wins games is obviously unique. Add a receiver or two, and things should improve. The offensive coordinator change to Norv Turner also could kick-start the Panthers, as Newton had worked with Mike Shula since 2011.

QBs under contract: Eli Manning, Davis Webb
At this time, it's unclear what the Giants plan to do with the No. 2 pick in the draft. But even if they use that pick to select Manning's eventual replacement, Manning is in line to start for the Giants in 2018 and possibly beyond. The only game he has missed since 2004 was the goofy Geno Smith game in 2017 that got everyone fired. It appears most of the decision-makers who thought Manning might not have it anymore are gone from the building, and that those who remain have confidence in him. The 2017 third-round pick Webb is trying to convince coaches that he should replace Manning.
QBs under contract: Alex Smith, Colt McCoy, Stephen Morris
Smith's contract won't be official until March 14, when the trade that's bringing him to Washington from Kansas City can finally be made official. But with Kirk Cousins set to hit the market, Smith will be his replacement in D.C. He's coming off a monster statistical season, almost never turns the ball over, and assuming the team can get some things figured out at wide receiver, there's no reason to think Smith shouldn't thrive under Jay Gruden.
QBs under contract: Marcus Mariota, Matt Cassel, Taywan Taylor, Tyler Ferguson
New offensive coordinator Matt LaFleur was in Atlanta two years ago when Matt Ryan won MVP and in Los Angeles last season when Jared Goff started clicking. His presence should help Mariota's development. While the former No. 2 overall pick didn't have the 2017 season a lot of people were hoping he'd have — he threw more interceptions (15) than touchdown passes (13) — the fact that he has now played two playoff games and won one is promising.
QBs under contract: Jameis Winston, Ryan Griffin
The Buccaneers had higher hopes for Winston in 2017 than what he delivered, but he was playing hurt for a chunk of the season and ultimately missed time with an injury. After his return, he played at a very high level, and the team retains confidence in him as its long-term solution. The Bucs' decision to keep their coaching staff in place also indicates some confidence in Winston's direction. Veteran backup Ryan Fitzpatrick could be re-signed, or the team could look elsewhere for a backup with experience.
QBs under contract: Andy Dalton, Jeff Driskel
Dalton in 2017 saw his completion percentage dip (barely) under 60 for the first time since his rookie season, and his Total QBR of 42.0 was the lowest of his career. He's only 30, so there's no reason to think he's in decline, but at his best he has been the king of the NFL's "just fine" quarterback tier. Backup AJ McCarron was recently declared an unrestricted free agent, so the team might have to do some work on that front.
QBs under contract: Jared Goff, Sean Mannion, Brandon Allen
Goff had a stunner of a second season, with 3,804 passing yards, 28 touchdowns and just seven interceptions. The arrow points unquestionably up for the 2016 No. 1 pick. As was the case with Prescott this time last year, the slim body of work is the reason not to have more confidence just yet. Another year of development with Sean McVay as his coach could boost Goff and the Rams way up this list. Watch out for Allen, a sixth-round pick by Jacksonville in 2016, as a guy who can win that backup job.

QBs under contract: Jimmy Garoppolo, C.J. Beathard, Nick Mullens
This is one of those cases in which it's important to distinguish between optimism and confidence. The former is sky-high in San Francisco after the way Garoppolo finished the season, winning five games in a row, completing more than 67 percent of his passes and posting a 78.2 QBR. The contract the Niners just gave him indicates a high level of confidence that he can be their franchise quarterback (though it also allows them escape clauses over the next couple of years in case he's not). If he can play all season the way he did in December, the Niners will be rapid risers on this list. Beathard started five games as a rookie in 2017, posting a QBR of just 32.0.

QBs under contract: Joe Flacco, Josh Woodrum
What's left to say here? Sure, the Ravens' offense in general has stagnated in recent years as drafts have failed to bear fruit. But Flacco just has never been anything like the guy he was during his Super Bowl XLVII run, which was five years ago. If he weren't still being paid off of that, we'd look at him the way we do Dalton. Since he is, he feels somewhat more disappointing. The Ravens can have a high degree of confidence that they know what they're getting from Flacco. It's just not all that exciting. He has 98 touchdown passes and 74 interceptions over the past five years — an average of 20 and 15 per season. Blah.
Dan Graziano and Tedy Bruschi weigh in on the likelihood that QB Carson Wentz will be ready to start Week 1 of the 2018 season after tearing his ACL and LCL.

QBs under contract: Andrew Luck, Jacoby Brissett, Brad Kaaya, Phillip Walker
I hear Clint Eastwood's Dirty Harry voice in my head as I try to predict what the Colts can count on from their star quarterback this season. "Do you feel lucky?" Luck missed all of 2017 with a shoulder injury that's still carrying a fair bit of mystery with it. Until we see Luck on the field, new coach Frank Reich & Co. can't possibly have any confidence here. The only thing keeping the Colts this high is the way Brissett played in Luck's absence — 15 starts after being traded from New England — and the fact that many of the teams still to come have literally no idea who their quarterback will be.
QBs under contract: Blake Bortles
The contract extension the Jags just gave Bortles doesn't scream long-term confidence, but it does indicate at least that they know who their quarterback will be this season. Bortles had some truly great stretches in 2017, but his career hasn't featured a ton of consistency. So, while this is a young team whose stellar defense and running game would have made it appealing to the best of this year's free-agent options, the Jaguars head into the future with their quarterback situation relatively unchanged. Don't be surprised if Jacksonville looks for a quarterback in the draft just to cover those long-term bases.
QBs under contract: Deshaun Watson, Taylor Heinicke
Watson was league-rattlingly brilliant during the brief portion of the 2017 season that preceded his torn ACL. But that sample size was small (seven games), and the ACL tear happened in November, which means we don't know what kind of an offseason he's going to have or whether to expect him for Week 1. Backup-wise, it wouldn't be too surprising to see the Texans bring back free agent Tom Savage, though he comes with his own issues. If nothing else, there are high hopes here for the future, and that future could start very soon if Watson's recovery is quick.
QBs under contract: Mitchell Trubisky, Mike Glennon
Trubisky's rookie-season sample was larger than Watson's (12 games) but not nearly as impressive. He showed some positive signs, his feet are now wet and new coach Matt Nagy should be good for him. He also could use some help from the front office in the form of new receivers. Glennon is almost certain to be cut, which leaves the backup situation in question. Free agent Mark Sanchez has earned some quiet, behind-the-scenes praise for his help with Trubisky in 2017 and Dak Prescott in 2016, and could be brought back to continue in that role.
QBs under contract: Patrick Mahomes
It's likely to be a wild ride as the Chiefs make the switch from super-safe Alex Smith to the 22-year-old Mahomes. Especially because the youngster started only one game last season. But Mahomes' physical talents are not in dispute, nor is coach Andy Reid's ability to develop and get the most out of his quarterbacks. The Chiefs would do well to bring in a veteran backup, both to help Mahomes' development and to play in case he can't handle it.
QBs under contract: Ryan Tannehill, Brandon Doughty
Jay Cutler filled in after Tannehill suffered a season-ending knee injury in camp, but the Dolphins plan to go with Tannehill in 2018 and likely let Cutler head off to the broadcast booth. Miami was expressing a high level of confidence in Tannehill before his injury, and the coaching staff might turn out to be correct. But it's hard to feel great about the way things set up, especially with backup Matt Moore out on the free-agent market.
The NFL Live crew examines the bright futures of Marcus Mariota, Deshaun Watson and Andrew Luck – all of whom are looking to bounce back from injury.

QBs under contract: Tyrod Taylor (for now), Nathan Peterman
The Bills appear certain to move on from Taylor and get out of his contract before the league year starts. What's less certain is what they do after that. They could go with last year's fifth-round pick Peterman, whom the coaching staff likes, but they're more likely to bring in a veteran. The fact that we don't know which one is a reason for the low confidence level.
QBs under contract: DeShone Kizer, Cody Kessler
With the Nos. 1 and 4 picks in the draft and an absolute ton of projected cap space, the Browns can attack their seemingly eternal quarterback problem almost any way they want to attack it. A run at Kirk Cousins? A QB at No. 1 overall? A veteran bridge guy like Josh McCown in the meantime? Bring in Hue Jackson favorite AJ McCarron? Lots of options here, but it's tough to have much confidence in (a) the current group and (b) how it will all turn out.

QBs under contract: Bryce Petty, Christian Hackenberg, Joel Stave
The Jets are similar to the Browns, though they don't pick until No. 6. They have the cap space for a Cousins run and likely will make one, but if they don't get him they don't have much on the current roster and will need to address the position somehow. Josh McCown played well for them last year and could return on a one-year deal while they get things figured out.

QBs under contract: Trevor Siemian, Paxton Lynch, Chad Kelly
After the group above (plus Brock Osweiler) failed to get the Broncos through 2017, they'll likely turn elsewhere in 2018. They pick fifth overall and can probably get a guy there if they like one. And while they'll have to clear cap room to do it, it seems they'll kick the tires on Cousins. Siemian has some experience, Lynch the first-round pedigree and Kelly a ton of physical talent, but there are too many question marks with all three of them for the Broncos to feel confident about what they have.
QBs under contract: Kyle Sloter, possibly Teddy Bridgewater
Again, there's no reason to think the Vikings can't or won't find a solution here. And new offensive coordinator John DeFilippo is well-regarded thanks to his work with Wentz and Foles in Philadelphia. But right now, Minnesota can't know who will be its quarterback in 2018. The Vikings could bring back Case Keenum, Sam Bradford or Bridgewater (who may or may not be a free agent depending on what the league decides about his contract "tolling" due to injury). They could make a run at Cousins, and surely sell themselves as his top choice coming off a 13-3 season and an NFC Championship Game appearance. This will be less cloudy in the coming weeks, but for now it's a total mystery.

QBs under contract: None
Yeah, that means nobody. Not a guy whose last name is "None." The Cardinals' quarterback depth chart has no names on it right now, with Carson Palmer having retired and Drew Stanton, Matt Barkley and Blaine Gabbert all headed for free agency. Moreover, the Cardinals feel farther from contention than some of the teams (Minnesota, Denver, Buffalo) in similar situations. And they don't pick until No. 15. Arizona will have somebody, but do you have any confidence in who it will be?
Rusty Hardin – Deshaun Watson never engaged in acts with plaintiffs that weren't 'mutually desired'
HOUSTON — Deshaun Watson's lawyer, Rusty Hardin, acknowledged during a Friday news conference that there were some "consensual encounters" between the Houston Texans quarterback and some of the 22 women who have filed lawsuits against him, but said at no point did Watson engage in any acts that were not "mutually desired."
"In some of these massages there's going to be no question," Hardin said when asked to clarify his comments about Watson taking part in sex acts with some of the women who have filed lawsuits against him alleging inappropriate behavior and sexual assault. "We've never run from it."
Watson has publicly denied any wrongdoing, and Hardin has emphasized since he began representing the quarterback last month that he believes "any allegation that Deshaun forced a woman to commit a sexual act is completely false."
"I'm not going to go into what it is or the nature or the numbers or with whom," Hardin said Friday regarding any consensual encounters between Watson and some of the plaintiffs. "But I think you can rightfully assume that. The question always that we have always been emphasizing: Never at any time, under any circumstances … did this young man ever engage in anything that was not mutually desired by the other party."
Earlier Friday, two judges ruled that most of the plaintiffs suing Watson must identify themselves. The rulings from two hearings Friday cover 13 of the 22 lawsuits filed against Watson alleging sexual assault and inappropriate conduct, while the attorneys also agreed to release a 14th name later in the day.
Court records show Hardin has filed motions asking that the remaining women who have not revealed their names also make their identities public.
Prior to Friday, only two women had been publicly identified.
During Friday's first hearing, in the 270th District Court, Hardin had accused the plaintiffs' lawyer, Tony Buzbee, of using the women's anonymity to "kill the reputation of our client."
Buzbee argued that allowing anonymity is common in cases dealing with allegations of sexual assault. Buzbee said Ashley Solis, who publicly identified herself earlier this week, had received death threats, and during the second hearing he shared an example of a threatening message sent to Solis.
After the hearings, Buzbee released a statement saying the other women suing Watson have been "emboldened" by Solis going public with her experience.
"They are ready to be identified," Buzbee said. "In lawsuits sometimes we push hard for something that may turn out to not be helpful. As I said in Court, 'be careful what you ask for.' Identifying these women at this point adds even more credibility to the allegations being made, and I am proud to stand with these brave and courageous women."
Buzbee and Hardin also agreed that the 22 lawsuits could be consolidated in the 113th District Court for any pretrial matters.
In a statement Tuesday, NFL spokesperson Brian McCarthy called the allegations against Watson "deeply disturbing," noting, "We take these issues very seriously."
McCarthy said the league launched an investigation under its personal conduct policy last month after the first allegations and that the NFL is "continuing to closely monitor all developments in the matter."
DMX tributes pour in from LeBron James and others in the sports world
Earl Simmons, the rapper, songwriter and actor known as DMX, died Friday at the age of 50.
DMX, who rose to fame in the early 1990s, died after having a heart attack earlier last week.
"We are deeply saddened to announce today that our loved one, DMX, birth name of Earl Simmons, passed away at 50-years-old at White Plains Hospital with his family by his side after being placed on life support for the past few days," his family said in a statement. "Earl was a warrior who fought till the very end."
DMX's songs were often used by teams, athletes, stadiums and arenas, and were known for their deep-cutting, aggressive lyrics and catchy bass-filled beats. His signature raspy voice was instantly recognizable on his hit songs "Ruff Ryders' Anthem" and "Party Up (Up in Here)."
Athletes took to social media to express their condolences about DMX's death, including LeBron James and former NFL star Torrey Smith.
❌4L!! Rest In Paradise LEGEND!! 🐕🐕 pic.twitter.com/Y0m0DVl5Up

— LeBron James (@KingJames) April 9, 2021
RIP DMX! My love for dogs was influenced by him. His lyrics also made me feel like I could get through anything! I'm glad that he was able to receive his roses recently. His mental health struggle was documented for all of us to see and learn from. Prayers up for his family 🙏🏿

— Torrey Smith (@TorreySmithWR) April 9, 2021
Icon.
RIP DMX😔 pic.twitter.com/xYiBdqjLQl

— Trae Young (@TheTraeYoung) April 9, 2021
All Dawgs go to Heaven!! 🕊RIP DMX 🐐

— AJ Brown (@1kalwaysopen_) April 9, 2021
Damn man RIP DMX 😔

— Trending Topic 🤫 (@BigTicket73) April 9, 2021
Forever DAWG pic.twitter.com/1nJgZwNpNJ

— Tyrann Mathieu (@Mathieu_Era) April 9, 2021
Rest easy king!!! https://t.co/CIK2d9Nw0d

— Darius Slay (@bigplay24slay) April 9, 2021
A Hip hop icon like no other

RIP 🖤 https://t.co/RChXorTzq7

— Adrian Peterson (@AdrianPeterson) April 9, 2021
dmx all day today. rip, legend

— feeno (@ArianFoster) April 9, 2021
DMX gave hope to the hopeless.. RIP legend 🙏🏾

— 🏁 Jamal Crawford (@JCrossover) April 9, 2021
RIP DMX 🙏🏾

— Isaiah Thomas (@isaiahthomas) April 9, 2021
RIP DMX! My love for dogs was influenced by him. His lyrics also made me feel like I could get through anything! I'm glad that he was able to receive his roses recently. His mental health struggle was documented for all of us to see and learn from. Prayers up for his family 🙏🏿

— Torrey Smith (@TorreySmithWR) April 9, 2021
Wow. RIP DMX 💔

— Danielle Robinson (@justDROB) April 9, 2021
RT for the GOAT pic.twitter.com/uxP2yJ0neV

— 7⃣ Leonard Fournette (@_fournette) April 9, 2021
🙏🏽 damn https://t.co/EiqWzy8Zfu

— Ja Morant (@JaMorant) April 9, 2021
Goon to soon, RIP DMX

— Robert Griffin III (@RGIII) April 9, 2021
Brain of Phillip Adams, former NFL player who killed five, to be examined for CTE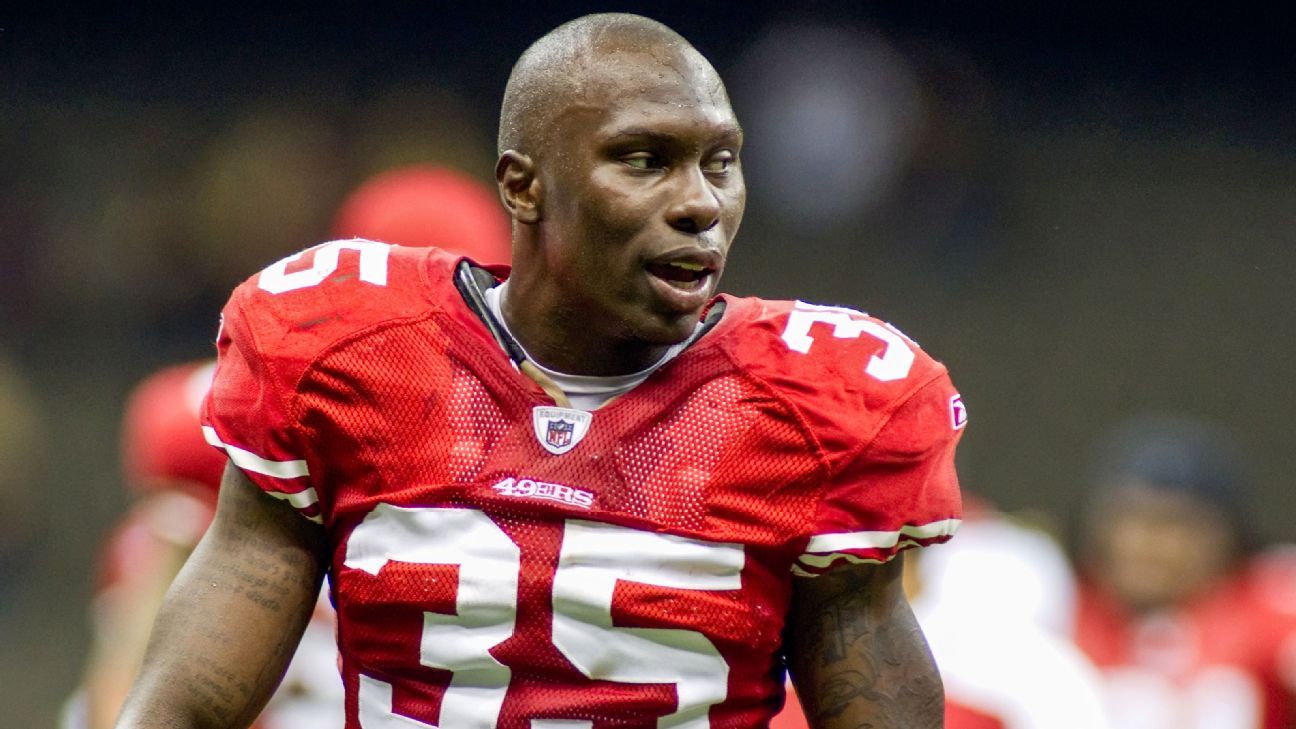 COLUMBIA, S.C. — The brain of Phillip Adams – the former NFL player who killed a South Carolina physician, three family members and a repairman before fatally shooting himself – will be tested for a degenerative disease that has affected a number of pro athletes and has been shown to cause violent mood swings and other cognitive disorders, according to a news report.
York County Coroner Sabrina Gast told McClatchy Newspapers on Friday that she had gotten approval from Adams' family for the procedure to be included as part of his autopsy, which will be performed at the Medical University of South Carolina. The hospital will be working with Boston University, whose chronic traumatic encephalopathy center conducts research on the long-term effects of repetitive brain trauma in athletes and military personnel, according to its website.
Gast did not immediately return phone calls and emails from The Associated Press or respond to a message left in person at her office.
According to police, Adams went to the home of Robert and Barbara Lesslie on Wednesday and and shot and killed them, two of their grandchildren, 9-year-old Adah Lesslie and 5-year-old Noah Lesslie, and James Lewis, a 38-year-old air conditioning technician from Gaston who was doing work there. He also shot Lewis' colleague, 38-year-old Robert Shook, of Cherryville, North Carolina, who was flown to a Charlotte hospital, where he was in critical condition "fighting hard for his life," said a cousin, Heather Smith Thompson.
York County Sheriff Kevin Tolson said investigators hadn't figured out why Adams carried out the attack.
Tolson said evidence left at the shooting scene led investigators to Adams as a suspect. He said they went to Adams' parents' home, evacuated them and then tried to persuade Adams to come out. Eventually, they found him dead of a single gunshot wound to the head in a bedroom, he said.
A person briefed on the investigation who spoke to The Associated Press on the condition of anonymity because he wasn't authorized to speak publicly said Robert Lesslie had treated Adams, who lived with his parents not far from the Lesslies' home.
Tolson would not confirm that Adams had been the doctor's patient.
It will be months before results are available from the tests for chronic traumatic encephalopathy, or CTE, which can only be diagnosed in an autopsy. The disorder has been found in former members of the military, football players and boxers and others who have been subjected to repeated head trauma. A recent study found signs of the disease in 110 of 111 NFL players whose brains were inspected.
Several years ago, the league agreed to pay $1 billion to retired players who claimed it misled them about the dangers of playing football.
Adams, 32, played in 78 NFL games over six seasons for six teams. He joined the 49ers in 2010 as a seventh-round draft pick out of South Carolina State, and though he rarely started, he went on to play for New England, Seattle, Oakland and the New York Jets before finishing his career with the Atlanta Falcons in 2015.
As a rookie late in the 2010 season, Adams suffered a severe ankle injury, resulting in surgery that included several screws being inserted into his leg. He never played for the 49ers again, released just before the 2011 season began. Later, with the Raiders, he had two concussions over three games in 2012.
Whether he suffered long-lasting concussion-related injuries wasn't immediately clear. Adams wouldn't have been eligible for testing as part of a broad settlement between the league and its former players over such injuries, because he hadn't retired by 2014.
Adams' father told a Charlotte television station that he blamed football for problems his son had, and which might have led him to commit Wednesday's violence.
"I can say he's a good kid – he was a good kid, and I think the football messed him up," Alonzo Adams told WCNC-TV. "He didn't talk much and he didn't bother nobody."
Adams' sister told USA Today that her brother's "mental health degraded fast and terribly bad" in recent years and that the family noticed "extremely concerning" signs of mental illness, including an escalating temper and personal hygiene neglect.
Gerald Dixon, a former NFL linebacker who retired in 2001, said that, when he coached Adams in high school, the young player was a team leader, yet also mild-mannered and humble.
Dixon added that he had spoken to Adams a few months ago, and had noticed no signs of depression or other mental health issues. "Anytime I talked to him, he was always happy and just reminiscing about old things," he said.
Dixon acknowledged that the repeated hits to the head sustained in the game could have affected Adams, as they have negatively affected many of the other NFL players Dixon has known who were later diagnosed with CTE.
"You never know what's going on in a person's mind after they've went through these concussions," Dixon said.
Agent Scott Casterline told the AP that Adams did not participate in the physical and mental health programs that are easily accessible for ex-players.
"We encouraged him to explore all of his disability options and he wouldn't do it," Casterline said, noting that Adams' career was undercut by the 2010 ankle injury. "I knew he was hurting and missing football but he wouldn't take health tips offered to him. He said he would, but he wouldn't."