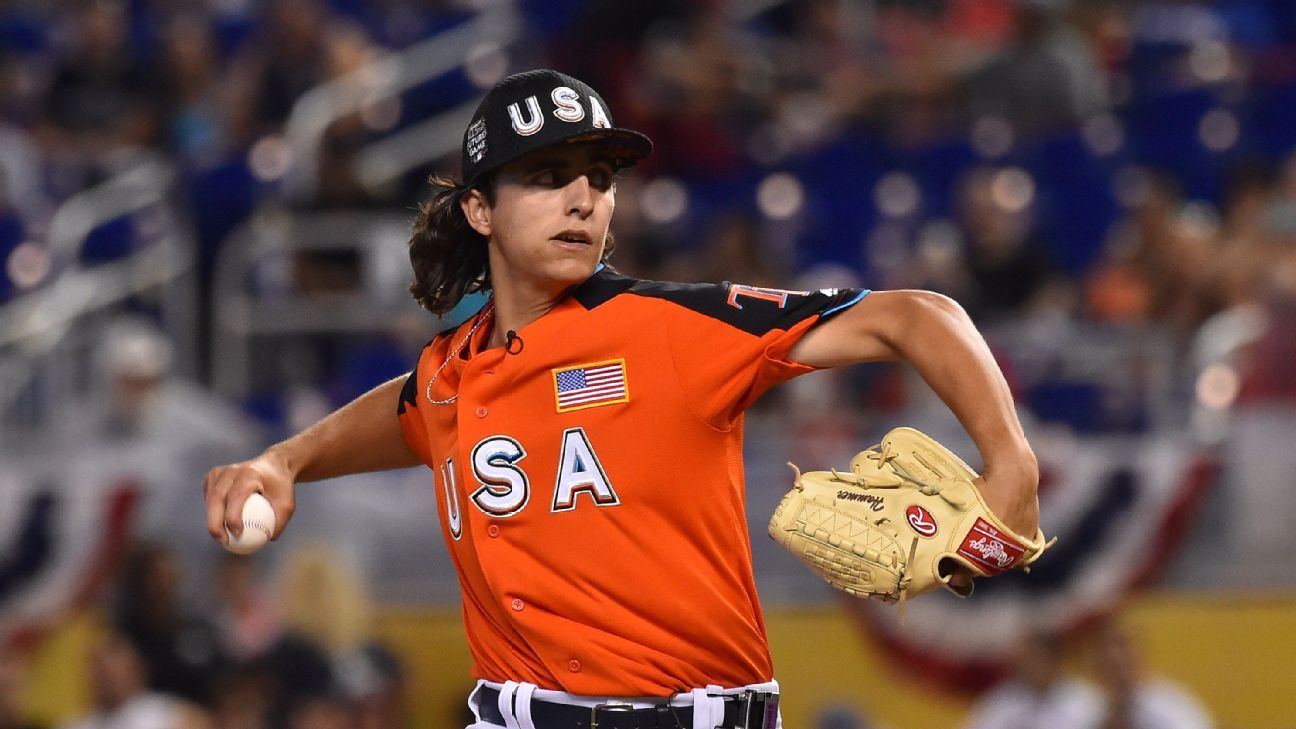 PORT CHARLOTTE, Fla. — Brent Honeywell, the top pitching prospect for the Tampa Bay Rays, has a torn ulnar collateral ligament in his right arm and will have Tommy John surgery, sidelining him for the entire season.
The 22-year-old right-hander was hurt during a live batting practice session Thursday at spring training.
He was diagnosed with a strained forearm before further tests confirmed the severity of the injury. Honeywell says he will seek a second opinion from Dr. James Andrews even though he intends to have the operation.
One of the top young prospects in baseball, Honeywell was 12-8 with a 3.64 ERA in 24 starts for Triple-A Durham last season. He also was MVP of last year's All-Star Futures Game.
He wasn't expected to make Tampa Bay's starting rotation coming out of spring training. The team, however, was confident he would be ready to contribute on the major league level this summer.
Los Angeles Angels manager Joe Maddon says star Shohei Ohtani should win the AL MVP award — 'It's not even close'
Shohei Ohtani's 99th pitch in Monday night's win against the Colorado Rockies was clocked at 100 mph. It ended the top of the seventh inning and registered as his 100th strikeout of 2021, a year when he has also accumulated a major league-leading 35 home runs before the end of July.
No pitcher who ever recorded triple-digit strikeouts added more than nine home runs in the same season.
It was merely the latest example of Ohtani's unprecedented greatness — and yet another reason why Los Angeles Angels manager Joe Maddon sees him as an easy choice for the American League's Most Valuable Player Award.
"To me, it's not even close," Maddon said after a 6-2 victory from Angel Stadium. "When people talk about it being close — it's not. It's not. What he's doing is so unique. It's just so different compared to anybody else right now."
Ohtani pitched seven innings of one-run ball in the opener of a three-game series against the worst road team in the majors, even though he only recorded five strikeouts. He relied heavily on his slider as his secondary pitch but went more frequently to his devastating splitter as he navigated through the Rockies' lineup a third time. He departed the game with a 2-1 lead — and one of the Angels' run was manufactured by Ohtani himself, who produced a run-scoring single and then stole his 14th base in the first inning.
The list of players with at least 35 home runs and 14 stolen bases before August is short — Christian Yelich (2019), Sammy Sosa (1999), Ken Griffey Jr. (1998), Jeff Bagwell (1994 and '99) and Ohtani. Only Ohtani, of course, has combined that with any pitching prowess. His major league-leading 6.2 FanGraphs wins above replacement make him a favorite for the AL MVP, but the Angels' record — 50-49, five games out of the final postseason spot — might hinder him.
"I'm really happy to hear the MVP talks around me," Ohtani said through his interpreter, "but right now I haven't been able to finish both as a hitter and a pitcher in the same season, so that's my main focus — staying healthy, finishing the season strong. If the award comes with it at the end, then I think that's the best-case scenario."
With four of six regular-season months nearly complete, Ohtani has combined a .277/.361/.679 slash line in 382 plate appearances with a 3.04 ERA, 1.13 WHIP and 30.1 strikeout percentage in 80 innings. His offense has declined a bit since the All-Star break, but his pitching has significantly improved in the month of July.
Over his last three starts — since a dreadful first inning at Yankee Stadium in late June — Ohtani has allowed only three runs in 20 innings, issuing only one walk in that stretch.
"He's so motivated, obviously," Maddon said. "I mean nobody's doing what he's doing, and nobody's done what he's doing, if that makes any sense. He is so motivated."
Vlad Guerrero Jr. rocks custom-made Toronto Blue Jays Jordan 1's
Toronto Blue Jays third basemen, Vladimir Guerrero Jr. aka "Vlad Jr." and "Vladdy Jr." sported a pair of custom-made Jordan 1 sneakers during Monday's game against the Boston Red Sox at Fenway Park.
The sneaker reads "Dominican Slugger" across the Nike check and also features a Blue Jays logo and print of a baseball on the side.
Vlad Guerrero Jr. sporting some very cool kicks today. https://t.co/azDKmQjQ5c pic.twitter.com/FPivhr9VzS

— Marly Rivera (@MarlyRiveraESPN) July 26, 2021
Guerrero is also the first Blue Jays player with 80 RBIs before August since Edwin Encarnción had 89 through July of 2016 and the youngest player in franchise history to do it.
The only other Blue Jays to do it before turning 25 were John Olerud in 1993 and Vernon Wells in 2003. Guerrero finished with two hits and an RBI in Monday's game.
Chicago Cubs poised to send Andrew Chafin to Oakland Athletics for prospects, sources say
CHICAGO — The Oakland Athletics are finalizing a trade for Chicago Cubs left-handed reliever Andrew Chafin, sources confirmed to ESPN's Jeff Passan on Monday night.
The trade is pending the review of medical records. Once finalized, the Cubs are expected to get two prospects from the Athletics in return.
Chafin, 31, is having a stellar season. In 43 appearances, he has given up nine runs, including just one home run; and overall, he is 0-2 with a 2.06 ERA and a 0.839 WHIP.
Chafin, though, has struggled recently, failing to record an out while giving up three runs on two hits and two walks in his last outing, on Saturday, against the Arizona Diamondbacks. It snapped a 24⅓-inning scoreless streak for the veteran.
MLB.com first reported that the trade was being finalized.