PITTSBURGH — The Steelers are negotiating with the game's best running back on a long-term contract and managing a tight salary cap that will likely require the release of multiple veterans.
Yet one of the biggest stories surrounding the team this week was the growing chatter involving Martavis Bryant, who wanted out of Pittsburgh at midseason only to reverse course with expressed optimism for 2018 after the playoff loss to Jacksonville.
After talking with several people around the league, there's minimal buzz that the Steelers are actively shopping Bryant. But that doesn't mean they aren't at least listening, as NFL Network reports. The Steelers are smart enough to field calls on the talented receiver.
It's important to prioritize this reality: Bryant and the Steelers have not had any discussions about a contract extension. Bryant is a free agent in 2019, and if both parties were in an ideal spot, the possibility of a short re-up or long-term pact could have been broached by now, even if the Steelers typically wait until the summer to finalize business.
Pittsburgh hasn't made any overtures on a modest bridge contract, in part because they aren't sure what they'll get from him and also because Bryant doesn't have plans to sign. He's made clear he wants to be a No. 1 receiver, and that has to happen elsewhere. If you're looking for a potential trade catalyst, that's it.
The Steelers don't want Bryant causing any problems in 2018.
It wouldn't be a surprise if Bryant sat out offseason workouts to crystallize his frustration.
This awkward dynamic makes a trade plausible. Even if motivated to deal, though, the Steelers likely wouldn't budge without a hefty draft-pick haul. The message Bryant received at the October trade deadline was that the team felt fair compensation in exchange for Bryant's skill set was not available. The Steelers likely got offers for a fourth-round pick. That wasn't enough.
A late-second-rounder or low-third could help the Steelers — who have been brilliant drafting receivers for much of the past decade — identify a new vertical threat. Perhaps the Buffalo Bills, who were trying to get involved last year, could oblige.
Since that's no guarantee, trading Bryant breaks up a potent receiver triumvirate with clear roles defined: Antonio Brown the do-it-all superstar, Bryant the lanky deep threat and JuJu Smith-Schuster the inside-out option.
Smith-Schuster's historic rookie year does give the Steelers draft flexibility. He looks ready to be a No. 2 receiver. Ben Roethlisberger averaged a 134.0 passer rating when targeting Smith-Schuster last season, according to Pro Football Focus. But how would Smith-Schuster respond to a full-time transition to the outside with Bryant gone? He looks up to the challenge, but the Steelers must ask and answer that question. With Eli Rogers recovering from a torn ACL, the Steelers could run dangerously thin at a crucial position.
The Steelers' best course of action is likely to give Bryant the chance to maximize his potential in a motivating contract year. Bryant signing elsewhere in free agency would be a plus in the Steelers' compensatory pick formula for the 2019 draft. The switch to coordinator Randy Fichtner could help free up Bryant with more targets.
Either way, Bryant will be performing with a different jersey for 2019 in mind, and the Steelers pretty much know it.
Washington Football Team coach Ron Rivera warns team after two more players go on COVID-19 list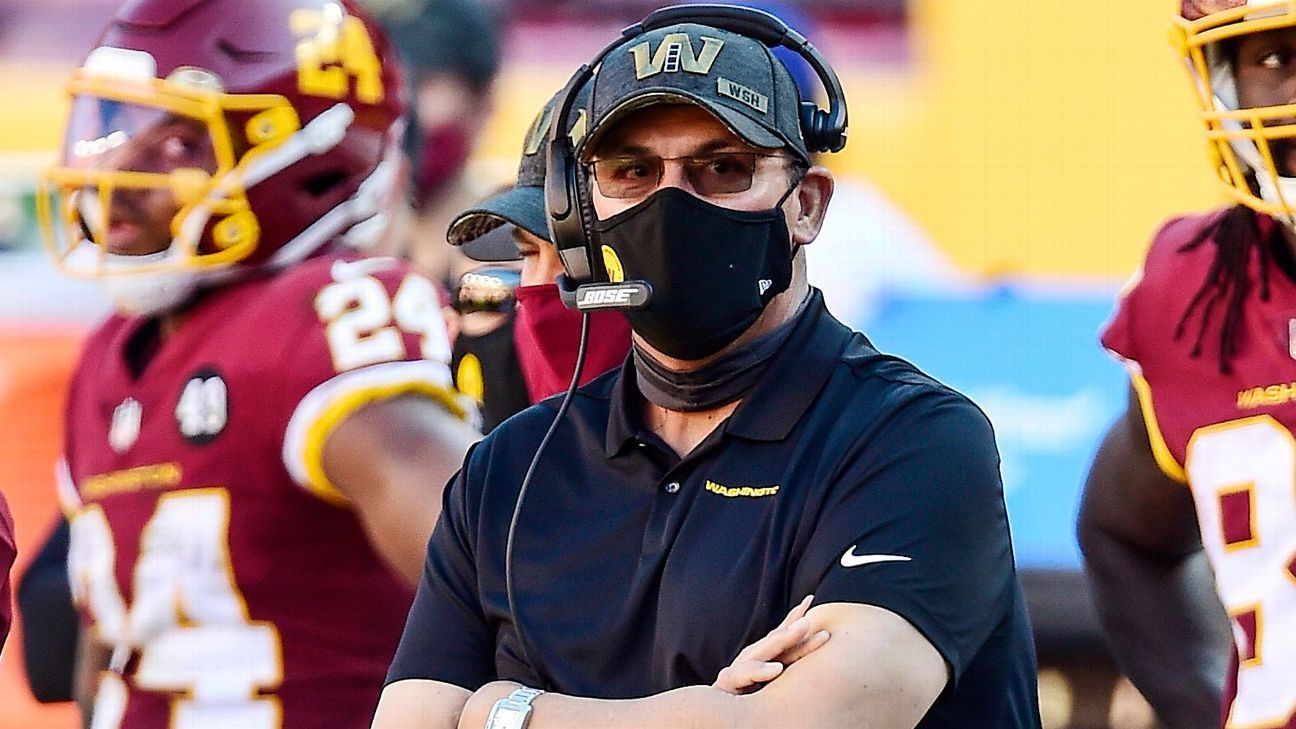 RICHMOND, Va. — Washington Football Team coach Ron Rivera issued a warning to his team after two more players were placed on the reserve/COVID-19 list, giving his players a what-if scenario: If this had happened the day before their season opener, it would impact their first two games.
Washington now has six players on the reserve/COVID-19 list, including All-Pro guard Brandon Scherff, who was placed on it Saturday along with reserve tackle David Sharpe. Receiver Curtis Samuel is another starter who already was on the list, as is key reserve defensive tackle Matt Ioannidis.
Washington ranks next-to-last in terms of vaccination rate, having just climbed above 70% of players having at least one shot. One team remains below 70%. The overall player percentage in the NFL is 89.4, with 22 clubs over 90% and nine above 95%.
As of Saturday morning, only Arizona has more players on the reserve/COVID list with nine. Being on the COVID list does not mean a player has the virus. It could be based on contact tracing. But even that would cost a player five days.
As Rivera told his players after practice Saturday, if this had been the day before the opener vs. the Los Angeles Chargers, then Scherff and Sharpe would also have missed the second game because it occurs on Thursday.
"Those guys would not be eligible, so, to me, it brings the reality of what the rules are," Rivera said, "and I hope it helps. But these young men have to make their decisions."
For now, Rivera said, it makes it hard to fully evaluate various players or units with players missing. Washington has wanted to use second-year lineman Saahdiq Charles at guard, for example, but with both Sharpe and fellow tackle Cornelius Lucas on the list, the team has mostly kept him outside.
"That's part of the problem, to be very honest," Rivera said. "That's going to make things difficult, and that's the thing we have to be aware of. It'll make it difficult in terms of everybody working together, difficult on us as coaches with our evaluations and scouts, and it'll be difficult on the player because having time off, not really getting an opportunity to work and develop and grow and learning. That's the downfall and that's the downside."
Rivera said they've set up appointments for some players to get a shot Sunday, which is their day off. He said he has talked to a number of his players about their hesitation over getting the vaccine. Rivera said he tries to provide them with information about how the vaccine was developed.
"There is some deep thought going on from some of these guys," Rivera said. "It's a matter of these guys being educated and understanding because it's fair when you sit down and talk to these guys and listen to them and listen to their true concerns. Some guys just don't know and I've gotten a sense that there are a few who are dug in so hard, so much that they're not going to back down. That's the part to me that's concerning because I care about all these guys. You do worry that somebody might catch it and go home and pass it on to a family member."
On Friday, Scherff, wearing a mask and 12 feet from the media, spoke about the vaccine.
"It's a personal decision for me; it's a personal decision for everybody," he said. "Nobody's made a deal of it. You know, we're all here to play football and that's what we're doing."
On Tuesday, Rivera said he was "beyond frustrated" with the team's slow pace of vaccinations. He also said he was immune deficient because of cancer last fall.
"I think just making the statement that I'm immune deficient hopefully is part of their conversation, part of their thought process," Rivera said.
"It's a personal thing, but we can sway them hopefully."
Washington had no players on its 53-man roster go on the COVID list last regular season. Two players, Ioannidis and running back Javon Leake, both went on the list but Ioannidis was on injured reserve and Leake was on the practice squad.
Tunch Ilkin among four to enter Pittsburgh Steelers Hall of Honor
PITTSBURGH — Longtime team broadcaster and former offensive tackle Tunch Ilkin is a member of the Pittsburgh Steelers 2021 Hall of Honor class, the team announced Saturday.
Ilkin, who played for the Steelers from 1980-92, was diagnosed with ALS in December and retired from his role as an analyst with the team broadcast in June to focus on the disease.
"Obviously, we're all thinking and praying for Tunch every day," team president and owner Art Rooney II said. "And so to have him part of the class this year, it makes it even more special."
Offensive lineman Jon Kolb, a close friend of Ilkin, is also a member of the four-man class along with safety Carnell Lake and wide receiver Louis Lipps.
"It's great, they played together and Tunch had such great respect for Jon, still does," Rooney said. "They have a great respect for each other. I'm sure they're happy to be going in there together."
The announcement of the 2021 class kicks off a stretch of celebrations for standout former Steelers. Next week, five Steelers will be inducted into the Pro Football Hall of Fame in Canton, Ohio.
"It's an awful special time in Steeler football history," Rooney said. "Having the announcement this weekend of our Hall of Honor class and obviously the five great Steelers going into Canton next weekend. Little unusual to be able to recognize this many people in this short a period of time. It's going to be a special time, that's for sure."
Atlanta Falcons QB Matt Ryan 'moving forward' at camp without Julio Jones
FLOWERY BRANCH, Ga. — For the past three days, it has been different for Matt Ryan during Atlanta Falcons training camp. Yes, it's a new coach and a new offensive scheme, but the player he has been so accustomed to over the past decade isn't here either.
Julio Jones is in Tennessee, traded to the Titans in June. So while Ryan worked without Jones during minicamp and organized team activities, this has been the first time since 2010 he would be going into a season without the future Hall of Fame receiver.
"That's always the hard part of our business, when things like this happen," Ryan said. "I was fortunate to play with him for a long time and have tons of great memories from his time here. I've said it before. He probably has impacted my career as significantly as anybody that I've ever played with so I love him and I wish him the best moving forward.
"I know he wanted to move on and I hope he has a lot of success in Tennessee because he's a good friend. At the same time, part of the deal is that you have to keep moving forward and you have to work with the guys that are here."
Ryan targeted Jones 1,291 times during their tenure together, with Jones catching 833 passes for 12,628 yards and 59 touchdowns from Ryan — all best among pass-catchers from Ryan during his career. Ryan had targeted Jones 258 more times than any other player in his Falcons career.
Only Roddy White (52) and Tony Gonzalez (35) had nearly as many touchdown receptions from Ryan as Jones did. Ryan said he found out the deal was done a few hours before it became public knowledge, and that even though he knew Jones wanted a trade, he wasn't sure if it would get done.
"You never know with these things," Ryan said. "Even when guys sometimes want to move on, circumstances change and they are not able to so you never really know. The private conversations I have with Julio and with our front office remain that way, but you never are 100 percent certain about how things are going to shake out."
It shook out with Jones in Tennessee — he'll return to Atlanta, potentially, for the preseason opener next month at Mercedes Benz Stadium — and Ryan at his team's practice facility working with a receiving corps led by Calvin Ridley and Russell Gage, new situations for both the star receiver and his old quarterback.