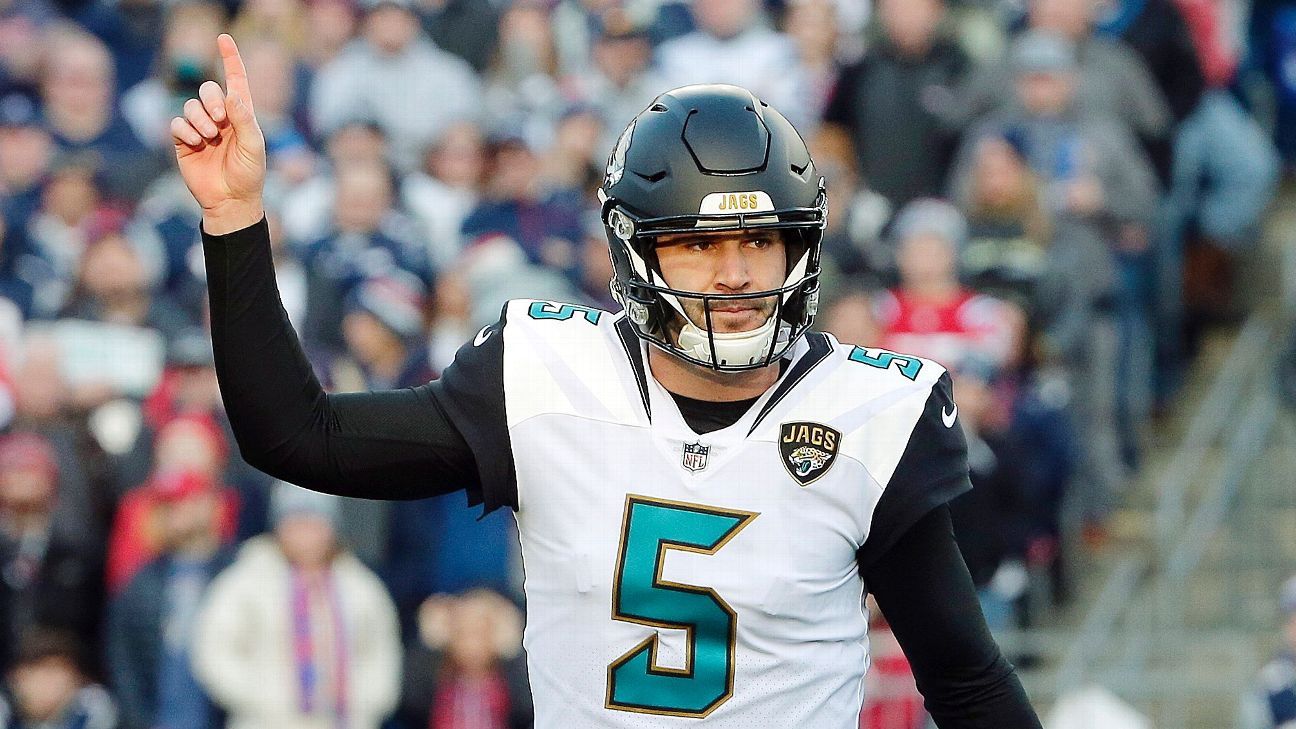 JACKSONVILLE, Fla. — The Jacksonville Jaguars have re-signed quarterback Blake Bortles to a three-year contract extension through the 2020 season, the team announced Saturday.
The deal is for $54 million and could be worth up to $66.5 million with incentives, a source told ESPN's Adam Schefter. The deal also includes $26.5 million in guaranteed money, according to the source.
Bortles was due to make $19.053 million in 2018 after the team picked up his fifth-year option last May.
"I told Ryan [Tollner], my agent, let's just get it done so I can just go play football. I really would love to just know and have confirmation that this is where I'm going to be, and now let's go work and continue to build on what we did last year and go play," Bortles said. "So, happy and relieved. Obviously extremely excited. It's a dream come true to be able to sign a second contract by the team that drafted me. That was one of my goals from the start so excited to get it all done and get rolling now."
Bortles had a rough start to the 2017 season — he had a five-interception practice in training camp and coach Doug Marrone opened up the quarterback competition during the preseason — but he rebounded and put together the best year of his career. Bortles completed 60.2 percent of his passes (the first time he surpassed the 60 percent mark) for 3,687 yards and 21 touchdowns with 13 interceptions.
"I've been around Blake for the past three seasons, only one as the head coach, but I have seen him grow considerably in all facets: the way he prepares, the way he takes care of his body, the way he leads the team, the way he holds himself and his teammates accountable," Marrone said.
"I have said it all along — I think Blake is one of the toughest people I have ever met, and I'm talking about his mental and physical toughness. He never lets the outside noise get him away from where his focus is, which is always on being a great teammate and being a great leader for our organization."
The Jaguars went 10-6 and won the AFC South — the franchise's first division title since 1999 — and made the playoffs for the first time since the 2007 season. The Jaguars beat the Buffalo Bills at home and Pittsburgh Steelers on the road to reach the AFC Championship Game against New England at Gillette Stadium.
The Jaguars held a 10-point fourth-quarter lead before the Patriots rallied for a 24-20 victory.
Bortles completed 58 percent of his passes for 598 yards and three touchdowns with no interceptions in the postseason. He also ran 17 times for 121 yards, including 88 yards in the victory over Buffalo. He led a pair of fourth-quarter touchdown drives to help the Jaguars beat the Steelers 45-42.
Bortles didn't exactly have a full complement of receivers, either. Allen Robinson suffered a torn left ACL on the third play of the season, and veterans Allen Hurns and Marqise Lee combined to miss eight games. Undrafted rookie Keelan Cole and fourth-round pick Dede Westbrook, who missed the first nine games of the season recovering from sports hernia surgery, were Bortles' main options during a late-season stretch.
"Blake's growth and development last season was a key to the success we had as a team," said Tom Coughlin, the Jaguars' executive vice president of football operations. "Blake has proven, with toughness and dependability, that he can be the leader this team needs going forward. Along with this contract come high expectations that he will continue to improve and help our team accomplish its ultimate goal."
The Jaguars drafted Bortles third overall in 2014. After a rough rookie year he seemed to have a breakout season in 2015, when he set single-season franchise records in passing yards (4,428) and passing touchdowns (35).
However, he also threw 18 interceptions that season. The former UCF standout led the NFL in turnovers from 2014 to 2016 (63), and his 51 interceptions during that span were second only to Philip Rivers' 52.
Bortles regressed in 2016, and Coughlin, who was hired in January 2017, put him on notice to cut down on turnovers. Bortles averaged 21 turnovers in each of his first three seasons but turned the ball over 16 times in 2017, including an interception that was ripped away from tight end James O'Shaughnessy.
Bortles has completed 59.1 percent of his passes for 14,928 yards and 90 touchdowns with 64 interceptions in four seasons with the Jaguars. He has run for 1,410 yards and seven touchdowns and is 21-40 as a starter.
Bortles ranks second in franchise history in touchdown passes and interceptions and third in passing yards, attempts and completions.
Cowboys QB Dak Prescott expects to throw 'in couple of days,' says he's 'not worried' about shoulder strain
OXNARD, Calif. — Dallas Cowboys quarterback Dak Prescott is not worried the right latissimus strain that has kept him off the practice field the last two days is anything that will linger into the regular season.
In fact, if this were the regular season, Prescott said he would practice and play.
"I think I'd do whatever is necessary and take the steps that were needed to make sure I was ready for Sunday if that's when it was or Monday or whenever the game would be," Prescott said. "I know I'd get myself there one way or the other and be able to perform the way I want to."
Prescott pulled himself from Wednesday's practice after feeling soreness in his right throwing shoulder, undergoing an MRI that revealed the strain. He said he likely did not warm up properly going into that practice and when one-on-one drills started, Prescott told backup Garrett Gilbert to take over.
"I didn't want to work through and making something small worse and bigger than it has to be," Prescott said.
Prescott said he expects to resume throwing in a "couple of days," but perhaps be on a pitch count early.
"It's making a deep throw or an aggressive throw right now that I don't want risk," he said. He will not practice Saturday or Sunday. The Cowboys are off on Monday and will practice Tuesday before departing for Canton, Ohio, and the Hall of Fame Game against the Pittsburgh Steelers.
Coach Mike McCarthy said Prescott will be reassessed on Monday.
"Honestly I'm just going to let the rehab process answer that question," McCarthy said. "I'm really focused on him getting back. It's not an issue but you would definitely bring him back later than sooner mindset as far as the way we look at it."
After missing so much time because of the compound fracture and dislocation of his right ankle he suffered last October, Prescott admitted some disappointment.
"I am a little bummed about it, but still being active and still seeing the defense and still being a part of everything," Prescott said. "So it's not like anything that the ankle was. So I know I will be fine. I know I am doing the treatment. I am doing everything necessary to make sure I will be just fine. I am not worried about that. It's not anything I worry about lingering or causing problems. Not even near the same aspect of the ankle and the time I had to take from that."
Houston Texans QB Tyrod Taylor says Deshaun Watson 'absolutely' a resource, not a distraction at training camp
HOUSTON — For the third straight day of training camp, Deshaun Watson did not take part in team drills. Although the Houston Texans' quarterback stood off to the side for most of practice, newly acquired QB Tyrod Taylor said Watson's presence has not been a distraction.
Taylor said Watson has "absolutely" been a resource for him as he learns this new team and offense in Houston.
"Me and Deshaun are friends," Taylor said. "We've known each other for a number of years now. We've had conversations on the field, off the field. Non-football, about life. Everything has been positive conversations and they'll continue to be that way."
Watson reported to training camp Sunday after requesting a trade from the Texans in January. Less than two months later, the first of 23 lawsuits was filed accusing Watson of sexual assault and inappropriate behavior. He faces 22 active lawsuits after one was dropped.
Taylor, who signed with the Texans just hours before the first lawsuit was filed against Watson in March, said his mindset hasn't changed from when he signed in Houston to the start of training camp.
"My mindset has been the same since I was drafted back in 2011," Taylor said. "To walk in every day with your best attitude, compete, prepare like a starter and go out and make plays.
Taylor was named the starting quarterback for the Los Angeles Chargers last season, but started only one game before a team doctor accidentally punctured his lung with a pain-killing shot while attempting to treat a rib injury. He was replaced in that game by quarterback Justin Herbert, who kept the starting job and went on to be named the NFL's Rookie of the Year.
Coach David Culley praised Taylor for being "first guy in this building every morning" and often being "the last guy to leave."
"And that's every day," Culley said. "And that's just who he is. You won't ever hear him a whole bunch talking about this or talking about that. He just goes about his business."
Culley announced that the Texans' first padded practice will be on Tuesday, but declined to say whether Watson would be in pads for that practice.
New England Patriots QB Cam Newton says Mac Jones makes good first impression
FOXBOROUGH, Mass. — Cam Newton said he is still getting to know rookie Mac Jones as they compete for the New England Patriots starting quarterback job, but in sharing his first impression, he cited a phrase made famous by late ESPN SportsCenter anchor Stuart Scott.
"Cool, like the other side of the pillow," Newton said Friday. "You never know when he's really down on himself. You don't really necessarily know when he's up, either. He's real cool."
Newton, 32, said that Jones has even surprised him with his knowledge of hip-hop.
All of which had Jones, 22, laughing after practice.
"That's a nice compliment. I'd say the same about Cam," said Jones, the Patriots' first-round draft pick from the University of Alabama (15th overall). "Obviously, with any relationship and meeting someone new, you have to form the bond and trust. He's helped me and made it a lot of fun. Your first couple practices as a rookie are going to be hard, so he just tries to stay positive with me. That's just who Cam is."
A notable example of that came in Thursday's practice after Jones had finished a series that didn't produce the desired results. Newton approached him on the sideline and the two talked it over.
"Hopefully, I can learn from him and try to be like him in some ways and have fun with it," Jones said. "We're going to grow together, and we're going to help each other win games, hopefully."
At the same time, they're also in a competition for the top spot on the depth chart, with coach Bill Belichick previously saying that Newton is No. 1 while leaving open the possibility that Jones could make a charge for the job in time.
That's how Newton has approached things this year, and even before that.
"Ever since I've been here, there's been a quarterback competition," he said. "I think in essence, that's the underlying Patriot Way. Every position has a competition there, and the quarterback position is no different."
Newton said one thing that has helped him this year is that he didn't have any surgeries in the offseason, which allowed him to spend more time with his family and also on his physical and mental well-being. The result, he said, is that "you feel a little different. More confident."
Along those lines, Newton said he plans to be judicious when he takes off and runs, in hopes of protecting his 6-foot-5, 245-pound frame.
"I'm getting older. You know, you just have to move a little differently," he said. "It's not about proving certain things. We all know what I can do running the football. And if it needs to come to those things, I'm willing to risk it all.
"But yet, if it doesn't require that, then of course you have to be a little more mental. Because a nick and a bruise where I'm at, it sticks a little longer than just a day and then going about your business."
Jones has taken off to run a couple of times in practice, but he's more of a traditional pocket passer. The ball is often out of his hands quickly.
As for what he has learned about Newton, he kept his response lighthearted.
"I like his outfits, for sure," he said. "I can't pull off his swag."