WEST HARTFORD, Conn. — If declining TV ratings are a problem for the NFL, its players would like to know what can be done about them.
NFL Players Association executive director DeMaurice Smith told ESPN on Saturday that he has recently met with executives at several of the league's broadcast partners, including CBS, NBC and Fox, to discuss issues related to the game. Entering his 10th year as leader of the players' union, Smith is looking ahead to the next round of collective bargaining negotiations and wants the players to have a greater voice in what he describes as the league's "macroeconomic" issues, including the way it presents itself to the public.
"I think that the ratings information is significant and important. If we don't pay attention to it, I think that we do so at our own peril, from a macroeconomic standpoint," Smith said Saturday in an interview before his son Alex's lacrosse game at the University of Hartford. "Certainly, I recognize that we're lucky that over 30 of the top 50 shows were NFL broadcasts. But I think that you ignore at your own peril not so much just the decline in football, but the overall decline in ratings for most television shows and particularly sports broadcasts."
Smith pointed to the success the NBA is having right now and a desire to find out more about what's behind it.
"I think that it's important to take a look at what's going on in basketball, because for the most part, I think they are the only sport that more and more people are watching," Smith said. "And my hat's off to what they do and how they do it in the NBA. I think that you could make the argument that a lot of their programming is fresher, hipper. They do, I think, a great job of marketing their individual players, sometimes at a time when the [NFL] looks for ways to take their star players off the field. I would be interested in better understanding the relationship between the broadcast partners and the NBA, what that relationship is like, how they do their TV deals, their rights deals.
"But I think that, given the year-over-year ratings issue in football, it begs the question, 'Should we be doing something different?' And that might mean the restructuring of the season in a way to make it more fan-friendly."
Pressed on specific ideas to restructure the NFL season, Smith said he would like to find ways to better feature the best games and maybe even eliminate some that don't hold the public's interest.
"You look at the ratings, and you see that marquee matchups buck the trend on declining ratings," Smith said. "And you also know that there's groups of games, and let's just say preseason games to start with. … It's hard to find a fan that wants to buy a preseason ticket or wants to watch a preseason game. So to me, you're being intellectually dishonest if you don't want to look at both of those issues.
"When you do look at playoff games, when you do look at whether they're division rivalries or games that have a level of significance, those games are not only exciting and people still want to watch them, but those marquee games are still big-time, high-viewership games."
He suggested a model with fewer regular-season games and another round of playoff games.
"It doesn't mean that that's necessarily what you're going to do, but we are at a point where we the union aren't going to be this sort of silent other third party out there who's not involved in the business of football from a stadium, media, Sunday, offseason standpoint," Smith said. "We're just not going to do it anymore."
Smith's point in meeting with broadcast executives is to establish the NFLPA as demanding a say in vital underlying issues central to the future of the game. He has yet to engage ownership in talks regarding the next CBA but seems to be announcing that, once those talks do start, he would like to be addressing issues more fundamental to the game's structure and future than the players may have been invited to discuss in the past.
"The reason I've reached out is because I'm interested in finding out what our broadcast partners think about our game," Smith said. "And I want to make sure that we have an environment where not only they are providing important input but so are we, and that we're all thinking about long-term viability rather than just short-term impacts on revenue."
"I think that it's important to take a look at what's going on in basketball, because for the most part, I think they are the only sport that more and more people are watching. And my hat's off to what they do and how they do it in the NBA."

NFLPA executive director DeMaurice Smith
Smith held forth on a number of topics during a roughly 45-minute interview.
• On player health and safety, Smith said he wants to continue to looking at ways to incentivize coaches and teams. Smith said the NFL is very good at establishing punishment structures for players who violate rules, but less willing to look at the extent to which coaches and teams might be complicit.
"For example, if at the end of the year you have a team that's got the largest number of penalties for X, Y and Z — unnecessary roughness, unsportsmanlike conduct — should we start considering what's the impact on the coach stakeholder or the franchise stakeholder?" Smith said. "And that might include what impact that might have with them on draft order. Then you have a regime where everybody's incentivized.
"Take a defensive player who's coached or taught repeatedly that, if you can't break up the pass, separate the receiver from the ball — and we know they're being coached that way. When the incident happens on the field, if it's too early, too hard or too high, there's going to be a penalty and the player's going to get fined and blah blah blah, blah blah blah. But at the end of the day, it seems to me that you're still leaving out two other stakeholders, right? The coach that taught him to do it and the team that wants him to do it. And you don't necessarily take into consideration that the player has not only been told to do it, but he knows if he doesn't do it, he may not be playing and somebody else who is willing to do it might take his place. That's a lack of aligned incentives."
• On the investigation into and pending sale of the Carolina Panthers, Smith said he wants the league to be transparent about the investigation and its conclusions as they pertain to the allegations of harassment against owner Jerry Richardson.
He also took the opportunity to take some further shots at NFL investigators who, he believes, have performed poorly in past disciplinary situations involving players.
"If it's true that Mary Jo White is involved in the current investigation of the Panthers, I have a question because I know that she falsely accused players in Bounty[gate]," Smith said. "And things that she said to the press were either knowingly untrue or there came a time when we all knew they weren't true. If it's true that Lisa Friel is involved in the investigation of the Panthers, then I know for a fact that someone who ignored the conclusions of her own investigator [in the Ezekiel Elliott case] is involved in the investigation of an owner. Neither of those two things should give anyone a level of confidence in the integrity of the investigation.
"So at the very least, it seems to me that the league as a whole and their partners, the players, deserve to have the results of the investigation of the Panthers released publicly before the sale. And that's simply because, if the premise of the personal conduct policy is the integrity of the league, why shouldn't we have the same level of transparency that occurs in player investigations occur here?"
• On free agency, which begins in a couple of weeks, Smith said he has his eye on certain high-profile situations like that of quarterback and union rep Kirk Cousins but is also casting a wary eye at what has happened with Major League Baseball's slow free-agent market this offseason.
"What is happening there can most charitably be described as an anomaly," Smith said of MLB. "And so, have I been talking with agents in baseball and with our brother/sister union MLPBA to look at what's going on there? Absolutely. Because anomalies like that in a quote-unquote free-agent market are disturbing.
"We have economic mechanisms like the [spending] minimums. But hypothetically, if the anomaly that is occurring in baseball is motivated by the desire of some owners and some teams, it doesn't really matter whether or not you've got an economic mechanism to prevent it. No economic mechanism is going to prevent a deliberate decision to affect the market. So my takeaway from what's happening in baseball is that it reminds you at that times, people can make decisions or might want to make decisions that are, in the short term, somewhat self-centered but might end up negatively impacting their sport in a significant way."
How the Falcons use Bill Walsh fellowship to emphasize coaching diversity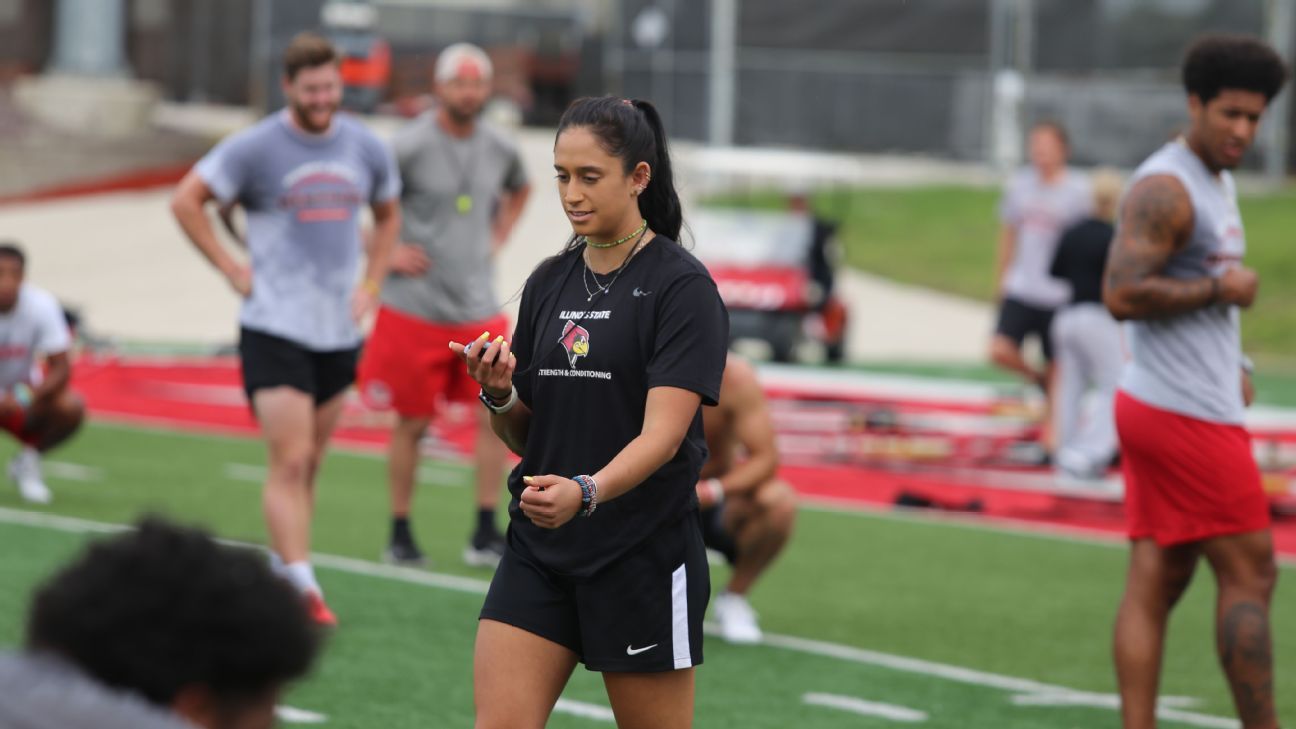 Tessa Grossman was about to get into her mother's white Mazda on May 3 when a notification popped up on her cell phone. Home in California for a couple of weeks after the spring semester of grad school at Illinois State, she saw whom the email was from and started getting nervous before she even opened it.
Five days earlier, she completed a first interview with the Atlanta Falcons for a Bill Walsh Diversity Coaching Fellowship during training camp. Her interviewers said they'd be in touch. This email from Sarah Hogan, Atlanta's assistant director of coaching operations, could be good news. Or bad.
It was good. Atlanta wanted a second interview.
"I remember sitting down in the car and going, 'Oh my god, the Falcons just emailed me for a second interview,'" Grossman said. "Basically, like, holy s—, this is crazy."
She took a deep breath. She had to plan to impress one more time. The email said to pick an interview time and Marquice Williams, Atlanta's special teams coordinator, would reach out with details.
What started as a cold email to Hogan on April 10 introducing herself and informing Hogan she had applied for the fellowship led to Grossman's selection as one of eight finalists for four internship spots in a program designed to increase the number of NFL minority coaches.
Processes differ from team to team, but all across the country calls and emails like this occurred for candidates for the introduction to the NFL through participation in training camps or offseason workouts.
It's a competitive gig — often, like Grossman, potential fellows have full-time or graduate assistant jobs in college or high school. Venessa Hutchinson, who helps run the program for the NFL, said approximately 1,000 people applied this year.
Most years, the NFL has full participation. In Atlanta, this meant a comprehensive interview process run by Hogan and Williams, which whittled the Falcons' in-house database of 50 applicants to the four they selected: Grossman (strength and conditioning), Erick Capetillo (tight ends/running backs), Darryl Jackson (special teams) and Cliff Matthews (outside linebackers), a former Falcons player.
"The Falcons have been a team that has always been at the forefront," Hutchinson said. "Even when the old regime was there, they were bringing in female coaches and things like that, a lot earlier than a lot of the other clubs.
"They were always trying to be more progressive."
---
In one of her first conversations after head coach Arthur Smith was hired by the Falcons this offseason, Hogan brought up the Bill Walsh program. She had been instrumental in its implementation under former coach Dan Quinn and wanted to continue.
She'd represented the Falcons at league meetings about the fellowship. She had plans. Smith agreed. The process became hers.
Then she met with special team coordinator Williams, who received his NFL start with Bill Walsh fellowships in Chicago and Detroit. Hogan happened to have her database of potential candidates open. Williams asked about it. They discussed his experiences and how it helped his coaching growth.
"Right after that conversation [I told him] that, 'Hey, I talked to Coach [Smith] and I'm spearheading this thing. I'd love for me and you to do it together,'" Hogan said. "He was all for it. It made it so much better."
In years past, Hogan had worked with a member of the scouting department. Now, she'd be working with an assistant coach. She also implemented changes. Hogan had suggestions from her prior experience running the program. Williams had ideas from his own Bill Walsh experience.
Together they streamlined the process of name collection and took candidate suggestions from their coaching staff. They scoured the NFL database and did their own research. If someone — like Grossman — reached out cold and showed initiative beyond clicking the Falcons box on the NFL application, they received consideration.
Due to the timing of the program with FBS training camps and wanting fellows to receive the full experience, they decided they wanted one high school coach, one small-college coach, an Ivy League coach and a fourth wild-card spot. They wanted a woman to fill at least one role. Each candidate was logged into Hogan's tabbed-out, color-coded database containing information for this year and future seasons.
Williams and Hogan communicated regularly through email, text, phone calls and in-person meetings. Any time an idea came up, they fired off a note, working a handful of hours each week for about a month outside of interviews on the program.
Using their metrics, they narrowed down their database to 16 candidates who would receive 25-minute first interviews by phone. From there, they selected eight candidates to participate in Zoom interviews with Hogan and Williams. If he could, Smith would sit in. Otherwise, he'd watch recordings later.
"We wanted someone who is a total go-getter, who would do anything and everything," Hogan said. "They would wash jerseys. They would pick up equipment. It had to be someone who was really enthusiastic about the whole program and the idea of it and learning.
"Someone who could take what we were teaching them and take it back to their current job. We weren't necessarily looking for someone just to take the internship to put on their résumé to say that they did it."
That was important to Hogan and Williams because of how they came up through the NFL.
---
Hogan grew up around football. Her formative years were spent in Merrick, New York, where her father, Greg Gigantino, was Hofstra's defensive coordinator. The closest she came to playing or coaching was in eighth grade at Merrick Avenue Middle School, where she and her best friend considered trying out for football after their track season was moved to spring. But they decided not to.
In college at James Madison, she had no intention of working in football. Her father told her he helped land her a job in the football office. She didn't think anything of it, just that she'd be going to help people they'd known over the years.
At the time, she didn't know anything about football operations. She thought the only gig for women in sports was athletic training.
"And then I just kind of really liked doing it," Hogan said.
Hogan interned with the Jets — the team held training camp at Hofstra — and changed her major to sports management and kinesiology. She went to grad school at Georgia State for sports administration and became the director of football operations at Northeastern and then Georgia State.
In 2015, she landed with the Falcons as the coordinator of scouting administration. Eight months later, Quinn made her the coordinator of head coach operations and she's now essentially the deputy chief of staff assisting Smith and director of coaching operations Brian Griffin.
She works with various staff members to coordinate logistics and put everything together — from rookie travel to the Bill Walsh program.
"We just carry out the head coach's wishes and make it easy for him to get his agenda and get the team ready to win games," Hogan said. "That's my bottom line."
In working on the fellowship, she was also able to fulfill an objective she adopted from her father: taking interest in younger coaches and trying to match jobs with candidates. It's what she wanted to do: make a difference behind the scenes, ever since she moved from college to the NFL.
---
Williams could relate. Had it not been for the Bill Walsh program, he might not be where he is now.
Williams was a defensive line coach at South Dakota in 2013 when he wrote 32 letters — one to each NFL head coach — and mailed them along with a copy of his résumé and his business card.
A Fresno, California, native and former defensive back at the University of Mary in North Dakota, he had few connections to the league. He'd spent time in small colleges — Winona State, Central Oklahoma before South Dakota — when he decided to apply for the fellowship program.
He figured the personal touch could stand out, perhaps catch the eye of application collectors. The extra effort worked. He landed with the Bears in 2013 and 2014 and then in 2015 with the Lions under Jim Caldwell.
Working with the Bears gave him his first exposure to special teams under coordinator Joe DeCamillis. With Caldwell he gained insight into almost everything.
"I learned more about different ways on teaching the values and different ways to practice on presenting certain topics," Williams said. "Concepts and how to structure a practice, how to structure meetings. And Coach Caldwell did a great job of exposing us to the overall big picture of becoming a servant-leader."
Before Williams' Lions internship, Caldwell brought him for a two-hour interview. One hour was to interview as a linebackers coach and the other as a special teams coordinator. Williams thought it was for the internship, but Caldwell treated it like it was for a full-time job.
Essentially, his internship began during the interview, where Caldwell asked about Williams' approach as a teacher and communicator, quizzed him about his personality, asked how he installed plays and ran practice. He inquired about special teams philosophy and how special teams complements offense and defense.
"That helped me and to this day I still use a lot of the tools that I learned from that interview and then the feedback I got from that interview," Williams said. "When I interviewed with Coach Smith or whatever organization it may be, my base foundation came from that mock interview with Coach Caldwell."
In 2016, Williams became the assistant special teams coach with the Chargers and in 2018 was moved to a defensive assistant role. Then he spent two seasons back in Detroit under Matt Patricia as the assistant special teams coach before Smith hired him as his coordinator this year.
It started with the fellowship.
"It was a platform to show who I am as an individual and show what I could bring to the table, but the bigger thing was it gave me the opportunity to learn the game of football," Williams said. "That's first and foremost."
---
When Williams spoke with Grossman on May 5 to set up final interview parameters, he said half of the 20-minute final interview would be a presentation on anything she wanted. Drawing from a lesson learned from his interview with Caldwell, Williams wanted the candidates to teach him and Hogan something.
"They wanted you to install a play or something that I run in my offense," Capetillo said. "And that was a little bit exciting, but also nerve-racking."
Capetillo explained an inside run play his Las Vegas High team uses frequently with him as the head coach. Matthews, the defensive line coach at Reinhardt College, presented on the concepts of blocks defensive linemen might face and how to counter them.
Jackson, the special teams coordinator and defensive backs coach at Brown, did a brief introduction of himself followed by a replica of a directional punt coverage presentation he'd use at a meeting with his players.
Grossman, an Illinois State strength and conditioning graduate assistant, practiced her presentation six times the morning of her May 6 interview. She talked about the concept of cognitive restructuring and the importance of positive self-talk over negative self-talk.
While Capetillo, Matthews and Jackson had years of playing and coaching experience, Grossman had never held a full-time job. She graduated from Dartmouth a year ago, her senior softball season wiped out by the COVID-19 pandemic. She used material from her final presentation for Motivation and Sports last semester — a presentation she got an A for — in her interview with Hogan and Williams.
The four candidates were Hogan and Williams' first choices, and all four aced their final interviews.
The process worked. Hogan and Williams had their fellows. Williams and Hogan divided the calls to the candidates they chose not to hire — but encouraged them to stay in touch and to apply again next year — and the congratulatory calls.
There were reasons they chose to call the candidates they did: Capetillo was Williams' college teammate. Matthews had been to Flowery Branch before and Hogan was his liaison when he'd come to watch film. Jackson coached with Hogan's father. Only Grossman, who reached out to Hutchinson for preparation tips throughout the process, had been unknown to Hogan or Williams prior to the process.
---
Capetillo, 32, was at his high school's track practice when Williams called. He stepped aside for a minute and had to contain his excitement. He'd applied for the program before, but this was the furthest he'd gotten in the process.
He already had spoken to his wife — they were high school sweethearts — about the possibility of being away from home for three weeks. His goal, his dream, has been to work for an NFL team. This would be the first step on his path.
After he got off the phone, he quickly called his wife and went back to coaching track to unsuspecting kids who had no idea what just happened to their coach.
Jackson, 52, applied only to the Falcons. His connection with Hogan and his brother living in the Atlanta area made the Falcons an attractive possibility. He'd been part of the internship program before — in 2007 with Jacksonville, 2003 with Detroit and 1999 with Philadelphia. He applied again not because he was looking for a way to the NFL, but to increase his knowledge base. He found out he got the job sitting in his office at Brown.
"It was time for me to branch back out," Jackson said. "Re-network and learn at the highest level and have an opportunity to listen and work with coaches and players at that level."
Matthews, 31, was in his suburban Georgia home working on his other passion: cooking. He was in the middle of making collard greens — one of his specialties — when Hogan called. Fancying himself a master chef, he kept cooking. When he hung up, he sat down, told his wife the news and called his head coach at Limestone to tell him.
Grossman, 23, had been told after the interview to expect a call from Thomas Stallworth, Atlanta's head strength and conditioning coach. They spoke for an hour while Grossman, still on Pacific time, was in her bedroom. At the end, Stallworth let it slip the Falcons were offering her the fellowship — followed by a call five minutes later from Williams making it official.
"It was just really shock at first," Grossman said. "The whole experience felt like a bit of a fairy tale to be honest."
She had not expected this in her first attempt at applying, even though she interned with the Rams. Matthews and Capetillo had hoped for this since they entered coaching. For Jackson, it's a way to keep learning. It's an opportunity, a chance. All they need to do is look at Williams to understand where it could lead.
New England Patriots rookie Mac Jones earning teammates' respect – New England Patriots Blog
FOXBOROUGH, Mass. — Quick-hit thoughts/notes around the New England Patriots and NFL:
1. Mac's work ethic: Rookies are supposed to be seen more than heard with the Patriots, but that can be hard to do when it's a first-round quarterback such as Mac Jones.
Through the first four days of training camp, Jones is striking that delicate balance and earning the respect of his teammates.
"It's not easy to play quarterback in the NFL, it's not easy to play it here. He works his butt off and he cares a lot. I get text messages from him at 6 a.m.," Patriots veteran quarterback Brian Hoyer said.
Jones, who has exclusively taken No. 2 reps behind Cam Newton through the first stretch of practices, has shown promise when it comes to processing information and releasing the ball on time.
He also has experienced predictable growing pains, and it has been commonplace to see him going over unsuccessful plays with teammates on the field after they unfold — such as what he did Friday after a missed long connection to wide receiver Nelson Agholor, or on an incomplete pass in the flat to running back J.J. Taylor on Thursday that could have been an easier pitch-and-catch.
Jones is notably hard on himself at times, and Newton said he is still learning how best to approach him in those situations. In the Patriots' second practice, Newton saddled up next to him for a chat after a rough patch.
"I told Mac this, he doesn't know me yet and I don't know him yet, as far as comfort," Newton said. "A couple months with Mac, he's a person that over time you'll get to know. He may be a guy you have to [fire up], or he may be a guy you leave alone and let him come back to himself. Everybody is just trying to learn each other and be the best teammates we can."
Along those lines, teammates have taken notice of Jones' accountability on the field, and how much he's investing in them in the locker room.
"He's a great guy off the field, so it makes it easy to play with him on the field," wide receiver Jakobi Meyers said. "Guys who want to get better, it makes it really easy to play football with them."
2. Gilmore's status: Cornerback Stephon Gilmore's desire to have his contract addressed by the team remains in the same spot it was at the start of training camp — no resolution. Gilmore, who is coming back from surgery on his partially torn quad, has been working on the lower practice field with rehabbing players, and at one point last week he walked up with others to watch the final stretch of the regular practice. The dynamic is such that Gilmore can slow-play his potential return to practice, if he so desires, until the business side is resolved. In his absence, big-money free-agent signing Jalen Mills has been taking cornerback reps opposite J.C. Jackson.
3. Harris as RB1: Coach Bill Belichick said last week that running back Damien Harris has "been here since the day after the season was over," a level of dedication that made a positive impression on him. The coach doesn't often talk about expectations with roles, but with Harris, he allowed: "He has an opportunity to compete for a lead spot and has embraced that. … I've been impressed by the commitment he has shown." Harris' primary competition is 2018 first-round pick Sony Michel, who wasn't present during voluntary spring workouts, with fourth-round pick Rhamondre Stevenson joining the mix after being removed from the active/non-football injury list on Friday. Taylor, Brandon Bolden and Tyler Gaffney round out the depth chart.
4. Stidham's standing: Belichick broke from his usual stance of not addressing injuries and timelines when he shared that quarterback Jarrett Stidham "will miss a little time," which led to the team's waiver claim of Jake Dolegala. After undergoing surgery on his back Wednesday, Stidham will now land on the reserve/physically unable to perform list to start the season and he would be eligible to return by late October. The scenario could be a win-win for Stidham and the team: He gets himself right physically, doesn't count against the initial roster, and could provide depth later in the season depending on how things unfold with Newton and Jones.
5. Judon's sprint: When Patriots players retreat to the conditioning hill at the end of practice, outside linebacker Matt Judon has been running with the wide receivers, his blue No. 9 jersey standing out among all the white jerseys. Judon's immersion into the Patriots' culture is in its early stages — he wasn't around for the majority of the spring — but he talked about already developing a connection with fellow linebackers Dont'a Hightower, Kyle Van Noy, Ja'Whaun Bentley, Raekwon McMillan, Josh Uche and others. Summing up his transition from the Baltimore Ravens, he said: "Now, I'm not in enemy territory."
6. Red zone blues: The Patriots had 26 touchdowns in 48 trips inside the opponents' 20-yard line last season, a 54.2% success rate that ranked them 24th in the NFL. Not ideal, and one might say perhaps that is a driving factor as to why the first four days of 2021 training camp were spent almost exclusively in the red zone. But as Belichick pointed out, the Patriots always have a heavy emphasis on that area early in training camp — a reminder of its importance to any team's success.
7. McCourty's future: Longtime Patriots captain Devin McCourty turns 34 on Aug. 13, enters his 12th season with the team, and is in the final year of his contract. So could this be his final NFL season? McCourty said last week he hasn't had time to think along those lines, but acknowledged he has entered the past couple of years with the mentality that any season could be his last. "I will say I feel great going into the season. I had a good offseason training," McCourty relayed, before joking that training camp would be a relief with kids aged 4, 3 and one month at home. In that case, McCourty might want to play until he's 40.
8. Mac's courtesy: It was a small gesture, but one that was hard to miss. Newton had just started his post-practice news conference Friday, which drew a large crowd of reporters, when Jones arrived for his. At that point, Jones could have stepped up to one of the open microphones and started his news conference, but he elected to wait for Newton's 15-minute session to finish, presumably out of respect to Newton and (possibly) the media.
9. Tuesday's checkmark: The Patriots have had their first four practices of training camp, although Belichick essentially said camp begins Tuesday in his view. That's when the team can first wear full pads and the tempo ramps up. So any pure evaluations are on hold, which explains his answer when asked how Jones is doing retaining information in the playbook. "We'll see," Belichick said. "We haven't really got to that yet in training camp. That'll be coming. So I don't know. We'll find out."
10. Did You Know: The Patriots of 2003 and 2004 were the last teams to repeat as Super Bowl champions, and the current stretch of 16 consecutive seasons without a repeat champion is the longest in history.
Young leading young in Jets' QB room; how will it impact Zach Wilson? – New York Jets Blog
FLORHAM PARK, N.J. — A look at what's happening around the New York Jets:
1. Lots of green: The Jets probably have the youngest quarterback room in the NFL. How young? Let's put it this way: No one can tell first-hand stories about the days of the rotary phone, and that includes the coaches.
The tragic death of assistant Greg Knapp, 58, the resident sage, has left the Jets without an experienced quarterback coach. It's noteworthy because, as everybody knows, the development of prized rookie Zach Wilson is priority No. 1 for the organization.
The group is led by Mike LaFleur, 34, a first-time offensive coordinator and playcaller. The Jets' quarterbacks coach is Rob Calabrese, 31, a first-time position coach.
Coach Robert Saleh, whose expertise is on the other side of the ball, was counting on Knapp to groom Wilson, Mike White and James Morgan, none of whom has regular-season experience. Their average age is 23.7. Knapp brought 25 years of experience to the room, having coached an impressive group of quarterbacks that includes Pro Football Hall of Famers Steve Young and Peyton Manning.
Former NFL quarterback and ESPN analyst Dan Orlovsky believes the lack of experience could affect Wilson.
"Imagine having to learn how to ride a bike with no one who knows how to do it, how to teach you, nor anyone to show you how to do it," Orlovsky said.
NFL Nation reporters break down every division to get your ready for the season.
• NFC East | AFC East
• NFC North | AFC North
• NFC South | AFC South
• NFC West | AFC West
The Jets aren't going to replace Knapp, per se, but they will re-distribute the workload for the coaches. Saleh said they will revert to a traditional set-up, with the coordinator and position coach working with the quarterbacks. Knapp's position, passing-game specialist, was a "bonus" on the staff, according to Saleh. Perhaps, but Knapp was the primary voice in the room.
Saleh is leaning on LaFleur, the younger brother of Green Bay Packers coach Matt LaFleur, to coach beyond his years. After seven years at the side of San Francisco 49ers coach Kyle Shanahan, LaFleur is on his own, with no veteran sounding board.
"I know he's a very young coach, but he's advanced in terms of what he's learned and the people he's been around since he started coaching," Saleh said.
2. Silver lining playbook: White and Morgan split the reps during Wilson's absence, giving the coaches and front office an extended look at the two young quarterbacks. White wasn't great, but he outperformed Morgan, and it wasn't close. Unless they import a veteran — Saleh seems opposed to that idea — White is the favorite to be the regular season QB2.
That would set up an interesting decision: Would they cut Morgan with the idea of bringing him back for the practice squad? He'd be exposed to waivers, and general manager Joe Douglas might not want to risk one of his draft choices. The alternative is to carry three QBs on the 53-man roster, but that seems like a waste of a spot.
Morgan, a 2020 fourth-round pick from Florida International, was a curious pick at the time. And it hasn't aged well.
3. Money matters: In case you're wondering, Wilson's $35 million guarantee (his entire contract) is the fourth-highest in franchise history, behind C.J. Mosley ($43 million), Darrelle Revis ($39 million) and Muhammad Wilkerson ($37 million). These were the amounts that were guaranteed at signing.
Wilson landed the richest rookie deal, surpassing defensive tackle Quinnen Williams ($32.5 million).
4. Incredible shrinking linebacker: Mosley, listed at 250 pounds when he last played in 2019, reported to training camp at 231, his college weight at Alabama. He looks like a different person.
After opting out in 2020 and missing 14 games in 2019, Mosley has a lot to prove and he sounds highly motivated to show he's still the player who made four Pro Bowls with the Baltimore Ravens. Whenever he sees highlights of himself on TV, it's always the same game — his impressive Jets debut in the 2019 opener against the Buffalo Bills. That seems so long ago.
"Honestly, I'm tired of seeing the same highlights for the past two years, so I'm ready to put new highlights on tape," he said. "Different body type, different body feeling, different defense, different mentality, different mindset. Everyone saw that game, it's going to be way better this year and years to come."
Mosley has made a lot of money ($29 million) while accumulating a lot of rust over the past two years. It might take him a few weeks to chip it off, but he will surprise some folks in 2021.
5. Musical kickers: It wouldn't be Jets training camp without a story about the search for a place-kicker. They've gone through four regular-season kickers in the past two seasons — Kaare Vedvik, Sam Ficken, Sergio Castillo and Chase McLaughlin. There will be a new kicker this season now that Ficken, erratic in camp, is gone. The current competition is between rookie Chris Naggar and newcomer Matt Ammendola, who spent a couple of months with the Carolina Panthers earlier this spring
The Jets haven't had a good kicker since Jason Myers made the Pro Bowl in 2018. They let him walk as a free agent, and they haven't recovered.
6. Carter country: After four padless practices, the Jets will put on the full equipment Monday — the true start to training camp, according to purists. The player I'm most eager to see is rookie running back Michael Carter, who looked terrific over the first few days. He displayed a knack for finding daylight, with an ability to slide through holes and get vertical with a nice burst.
Let's hold the applause, though. It's hard to evaluate running backs when there's no real hitting. The intensity will be raised on Monday, and it will go higher in the preseason games. The fourth-round pick from North Carolina, who could have a prominent role, is one to watch.
7. Big Blue in '22? The Jets are having joint practices with two of their preseason opponents, the Packers and Philadelphia Eagles. Why not the New York Giants, too? Actually, they had talks with the Giants about practicing together. Saleh said he hopes they can make it happen next year.
Longtime fans will remember the last Jets-Giants practice. It was 2005, in Albany, New York, a day marked by several fights and a shouting match between Jets defensive coordinator Donnie Henderson and Giants coach Tom Coughlin. I was there and witnessed the entire mess; it was as if the Jets were hellbent of playing the role of neighborhood bully. Ah, memories.
The Jets open the preseason Aug. 14 against the Giants.
8. Motown to Big Apple: Linebacker Jarrad Davis is the classic "change-of-scenery" player. The 2017 first-round pick had a tough time with the Detroit Lions for four seasons, so tough that he revealed, "I contemplated walking away, I really did, man."
He got benched and "burned out," saying he let football overtake his life. It couldn't have been much fun playing for coach Matt Patricia, a gruff, Bill Belichick wannabe who was in over his head. In short, Davis was miserable. Players have talked that way about the Jets, most recently quarterback Ryan Fitzpatrick, who said his second season with the Jets (2016) nearly destroyed his love of football.
Davis, who saw a therapist to help him deal with some emotional issues, said he feels revitalized under the charismatic Saleh, also noting the Jets' 4-3 scheme is ideally suited to his skill set. Culture and scheme fit are so important in the NFL. Davis, the Jets' starting strong-side linebacker, has a fresh start. A career turnaround would certainly help the Jets' reputation, which has been Lions-like in recent years.
9. Crystal ball: Denzel Mims is no better than fifth in the pecking order at wide receiver. He was a 2020 second-round pick. This is a storyline worth following this summer.
10. The last word: "He had this light that he let shine, that attracted people to him. Just in the short time we were together in OTAs, he never had a bad day. I wish I had more time with him. I think everybody does." — guard Greg Van Roten on Knapp.