NASHVILLE, Tenn. — Mike Vrabel kicks his feet up on his desk and leans back in his chair. He still looks like an NFL linebacker, but he has the Tennessee Titans' big office now. He's breaking it in his way.
A melodious country music playlist, ranging from Garth Brooks to Blake Shelton, plays slightly softer than speaking voice in his office. Vrabel's Boston College-bound son, Tyler, makes a tepid entrance. He's up at the Titans facility at 8:30 a.m. on a Friday for a workout with Titans strength and conditioning coach Steve Watterson.
Vrabel switches into dad mode.
"You don't seem too excited about this. You tired? Couldn't go to bed last night," Vrabel says before giving his son speed-training instructions. "Go work out. I'll come find you. See you, brother."
Tyler, a high school senior who has his dad matched in body measurables (6-foot-4, 260 pounds), exits. Vrabel smiles proudly, "He's big, huh? They're doing a great job with him."
It has been only a month, but Vrabel is already at home here.
Vrabel, 42, has a unique and challenging job. He's a first-time head coach tasked with being the ground-level CEO for the Titans, an up-and-coming playoff team that isn't broken, has a strong locker room and a franchise quarterback.
"Everybody is going to tell us to win the f—ing Super Bowl and it's f—ing February," Vrabel said. "We all have to manage expectations, positively and negatively."
There were grumbles from NFL assistant coaches at the Senior Bowl, expressing frustration that Vrabel was able to reach the head coach mantle so quickly.
It's no secret that Vrabel's 14-year NFL playing career, in which he won three Super Bowls and embodied the Patriots Way, helped expedite his path. His relationship with Titans general manager Jon Robinson, a former Patriots scout, worked in his favor too.
But Vrabel isn't about to apologize for his connections. He says he believes he's ready for the job. Those who know Vrabel well say his presence, intelligence, ability to relate to players and unrelenting competitiveness will make him successful and worth the risk for the Titans.
"I love his passion for the game, his passion for players. Mike is one of the smartest guys that I've ever met. That's why I'm here," said Titans defensive backs coach Kerry Coombs, who coached alongside Vrabel at Ohio State for two years. "Mike understood players better than anybody I've ever coached with. He has a great handle on how to teach and communicate. There are people you encounter in your life that have that 'it' factor. He's one of those guys."
Presence, confrontations, brutal honesty
The Eddie George-Vrabel Ohio State practice battles were legendary. From 1993 to 1995, they competed at everything from wind sprints to 10-yard shuttles.
George recalls many practices having Vrabel as his blitz-pickup responsibility. Vrabel was trying to knock him into next week. It was physical, and they let each other know who won each battle.
"His motor was nonstop. He was hell off the edge. He was one of the great defensive players to come through Ohio State," said George, the 1995 Heisman Trophy winner and leading rusher in Titans/Oilers franchise history. "Mike doesn't back down from a challenge. He's not afraid of being confrontational. He would call you out in a heartbeat — coaches, teammates. It didn't matter."
Vrabel figured he wasn't the fastest, strongest or best player, but he could be the toughest. He learned that from his dad, Chuck, a longtime Ohio high school basketball coach.
"He embodied that Patriots culture. He's a natural leader," said 49ers general manager John Lynch, who briefly was a teammate of Vrabel's during training camp with the Patriots in 2008. "Just because he was a great player doesn't mean he's going to be a great coach. But it's important to Mike. He's reflected that with the way he works. Knowing Mike and what he stands for, I think they found a good one."
Former Patriots and Texans nose tackle Vince Wilfork said Vrabel was Houston's best coach. Two others who played for Vrabel said he demands a lot, but he gets it from a player's perspective.
"He's willing to put his arm around you," George said. "He's not so insensitive that he forgets you're a human being."
That brings us back to Vrabel's presence, sort of a fluffy buzzword.
"I don't know what it is or means. I don't try to pretend, I don't try to be fake," Vrabel interjected as if he had heard the word "presence" one too many times. "I can be an a–h— Monday to Saturday. I let them play on Sunday. That 3 1/2 hours is your time."
University of Cincinnati head coach Luke Fickell, Vrabel's best friend and former Ohio State teammate, predicts people might struggle adjusting to Vrabel's brutally honest approach to football and life.
"Some people would say it's brash. Some people would say it's arrogant," Fickell said. "No, this is the standard he's going to set. He's going to set it for himself, and he's going to hold people to it."
Fickell saw people grapple with Vrabel's tough method of leadership, like when he wasn't voted a captain at Ohio State.
"Mike was the best leader we had on the team. But it wasn't a popular thing," said Fickell, who also gave Vrabel his first coaching job at Ohio State. "He says things that people don't want to hear. Some people didn't like it. He found out at an early age that he didn't care."
Vrabel went on to become a multiyear captain and all-pro player with the Patriots.
"[Patriots head coach] Bill Belichick was brutally honest. [Ohio State head coach] Urban Meyer taught me to be brutally honest," Vrabel said. "He was clear, clean, concise and direct. Sooner or later, you got to be honest. It might as well be sooner. In the end, players and people want to know you're not bulls—-ing them."
'Vrabel was the smartest'
Vrabel doesn't have much patience when it comes to his family. He used to get angry when Tyler's high school football coaches repeatedly called out his last name as if he were his dad.
"He's got a f—ing name," Vrabel told the coaches. "I swear to God if you yell Tyler, he'll turn around."
Vrabel was trying to protect his son from the unnecessary expectations. He figures it's not easy playing the same sport as your famous former NFL star dad. Tyler plays offensive line, which Mike hopes will make things easier. His younger son, Carter, plays baseball. His wife, Jen, loves sports and plays gatekeeper in determining who enters their lives.
Sitting on the back wall of Vrabel's office is a collection of children books. Next year will be the 20th anniversary of 2nd & 7, a foundation Vrabel and his friend Ryan Miller started to promote childhood reading comprehension in Ohio. It started buying books for second-graders and reading to them. Then Vrabel and Miller decided to write books. Vrabel has plans to expand the program to Nashville by this fall.
Education was important for Vrabel, an only child, with a mother and father who were both school principals.
Vrabel wanted to play football long enough so his kids could experience it. Tyler and Carter have memories of carrying Tom Brady's pads off the practice field and playing catch with former Patriots linebackers Willie McGinest and Tedy Bruschi.
Once Vrabel retired from the NFL in 2011, at 36, he accepted a job from Fickell to be the defensive line coach at Ohio State the next day. He didn't plan to leave Columbus. He built a home there that "I thought they would bury me in."
Vrabel loved recruiting, and he was good at it — proving Meyer's initial doubts wrong — but he grew tired of spending his springs in the homes of 17-year-olds while hearing Jen describe the awesome sports moments he missed with his own teenager and preteen.
"Some people would say it's brash. Some people would say it's arrogant. No, this is the standard he's going to set. He's going to set it for himself, and he's going to hold people to it."

Cincinnati coach Luke Fickell on Vrabel
So his coaching dream moved to Houston as linebackers coach from 2014 to 2016 followed by one season as defensive coordinator in 2017, and now Tennessee, where his family has a front-row seat. Vrabel thought back to when the Titans told him he'd be their head coach.
"I've won a Super Bowl. I've been on the podium with my son when he was 3 years old. Caught a TD in the Super Bowl. Strip sacks in the Super Bowl," Vrabel said. "To me, it's right up there with all those moments and probably a little higher."
This opportunity is special because Vrabel wanted to be a coach before he was a player. Those who know Vrabel well laugh when they see people miscategorize him as a "football meathead."
"Vrabes was always the guy who saw more than just what was on the handout. He would understand why," said Bruschi, now an ESPN analyst. "All of us were smart players, but I always thought Vrabel was the smartest. Before I went to a coach with a question, I would check with Vrabes first."
Bruschi remembers Vrabel as the only guy who could naturally joke about him coming back from a stroke while still matching his intensity on the field.
"Toughness and humor, a lot of guys can't mix the two," Bruschi said. "Vrabes mastered that."
Managing expectations
The Vrabel-Fickell college dorm consisted of drinking, little sleep and wrestling until 2 a.m.
Fickell was a wrestler, but Vrabel wanted to win. So they fought and fought, often drawing blood and leaving bruises.
"I whooped his ass. He would never admit it. But he would never stop. You would have to knock him out," Fickell said. "He's probably the most competitive son of a b—- I've ever met. It doesn't matter if it's football, recruiting, playing cards for money, shooting baskets or in some business endeavor. He's in it to win."
That competitiveness is part of what attracted Robinson to Vrabel. Robinson wasn't satisfied with being a "decent" team, and he says he believes Vrabel can push them toward "great."
The Titans went 9-7 in 2016 and 2017, and last season won their first playoff game since 2003. Marcus Mariota is the present and future. This team isn't broken. But it's a lot harder to go from decent to great, with further to fall than to climb. The realistic goal is a championship.
"You can look at the Rams. Yeah, they had a QB, but they weren't a playoff team," Vrabel said. "This is a very unique situation.
"We're going to have to manage expectations. We talk about winning the division, something that we haven't done since 2008 here, hosting a playoff game, then seeing what happens."
Before winning, Vrabel will have to teach his culture and sell his program. Many Titans players loved former head coach Mike Mularkey.
"His biggest challenge is going to be winning that locker room over," George said. "You have to be careful with friction at the beginning. It can be a distraction."
Vrabel's experiences as a player — being an underachieving draft pick, a backup, a special-teams player, a captain, an all-pro player, a champion, a traded player and a grizzled veteran trying to hold on — will help him relate to his players.
His coaching experiences — swimming in his first year from player to coach, bombing his initial interview with Meyer in 2012, and becoming a hot coaching candidate over the past two years — have shaped him, too.
Vrabel's dad taught him the importance of teamwork and toughness. Meyer taught him the importance of teaching a player. Belichick taught him the importance of preparation. Former Steelers coach Bill Cowher taught him the importance of special teams. Vrabel will take from them and add his own style.
"I'm going to treat each individual player exactly how they treat the team," Vrabel said. "If they treat the team or teammates like s—, I'm going to have a tough time having a relationship with that player, and that player probably won't be here very long."
Vrabel's first training camp might make some players puke. He's that type of coach. But winning could make everything better.
One month in, Vrabel looks content with the challenge, comfortable in his new home and confident in his ability to make it work. One thing is certain: He'll do it his way.
Tony Finau gets surprise FaceTime call from Tampa Bay Buccaneers' Tom Brady during Masters rain delay
AUGUSTA, Georgia — Tony Finau got quite the surprise during Saturday's lengthy weather delay in the third round of the Masters Tournament.
While Finau was waiting for the rain to stop, he hung out in the caddie house at Augusta National Golf Club. Jimmy Dunne, a member of the club, handed Finau his cell phone.
Tampa Bay Buccaneers quarterback Tom Brady, a six-time Super Bowl champion, was on FaceTime on the phone.
"That was a pleasant surprise," Finau said. "He said, 'Great playing,' and he was following. He was surprised we stopped. He said in the NFL when it rains you don't stop. I let him know, 'Yeah, maybe we're not as tough as you guys,' but he said, 'No, that's not the case.' We had a good laugh about that."
Finau said he had met Brady once before in 2017, when Brady was still playing for the New England Patriots. Finau said he grew up a Dallas Cowboys fan, but now mostly cheers for individual NFL players.
Finau didn't say whether Brady gave him a pep talk during the weather delay, which lasted more than an hour.
He shot 1-over 73 in the third round and is 8 shots behind leader Hideki Matsuyama going into Sunday.
Texas A&M Aggies QB Kellen Mond has 'upside' as intriguing Day 2 NFL draft option, scouts say
Texas A&M quarterback Kellen Mond is considered an intriguing Day 2 option for teams out of reach of the top quarterbacks in April's draft.
"There's upside there," said one longtime NFC scout. "If anything I would have liked to see him let loose a little more."
And teams are doing their research on the four-year starter. Texas A&M coach Jimbo Fisher tells ESPN that he's had extensive talks with about 10-to-15 teams about Mond. Those teams value his experience, ability to lead and win games, Fisher said. Mond helped A&M win 32 games on his way to a school-record 9,661 passing yards with 71 touchdowns and 27 interceptions.
Experience could be especially important to teams who saw Mitch Trubisky and Dwayne Haskins struggle after starting one season in college.
"He does all of the things you need to judge a first-round player," said Fisher, who has coached Mond since 2018. "He helped change the culture — winning more games, taking a stand, showing he's a guy who can fight through adversity, took criticism, eliminated any distractions and continued to get better."
Scouts say Mond has plenty of arm and athleticism but probably looked for the check down too often. They believe he can go vertical and play less conservative. Fisher said Mond's biggest area for improvement is timing on intermediate throws, but he's come a long way there. Fisher adds he gave Mond all the responsibility a quarterback could handle, from setting protections to audibles to deciphering third and fourth reads post-snap.
As a senior, Mond completed 188-of-297 passes (63.3 percent) for 2,282 yards and 19 touchdowns and three interceptions. Mond, Florida's Kyle Trask and Stanford's Davis Mills are part of the second tier outside the five surefire first-round quarterbacks.
"He's vastly improved every year," Fisher said. "Look at the body of work, the competition he's played against. He really worked his mechanics, has done a great job with his body, his core footwork and balance – that allows him to be so much more efficient. He studies the game, learns very well – an intelligent young man, understands concepts and attacks coverage. He started having fun with it once he grabbed a hold of the offense, where he was the first one on the plane breaking down film with me after a game."
If Jaguars want an impact tight end, they'd better act quickly in the draft – Jacksonville Jaguars Blog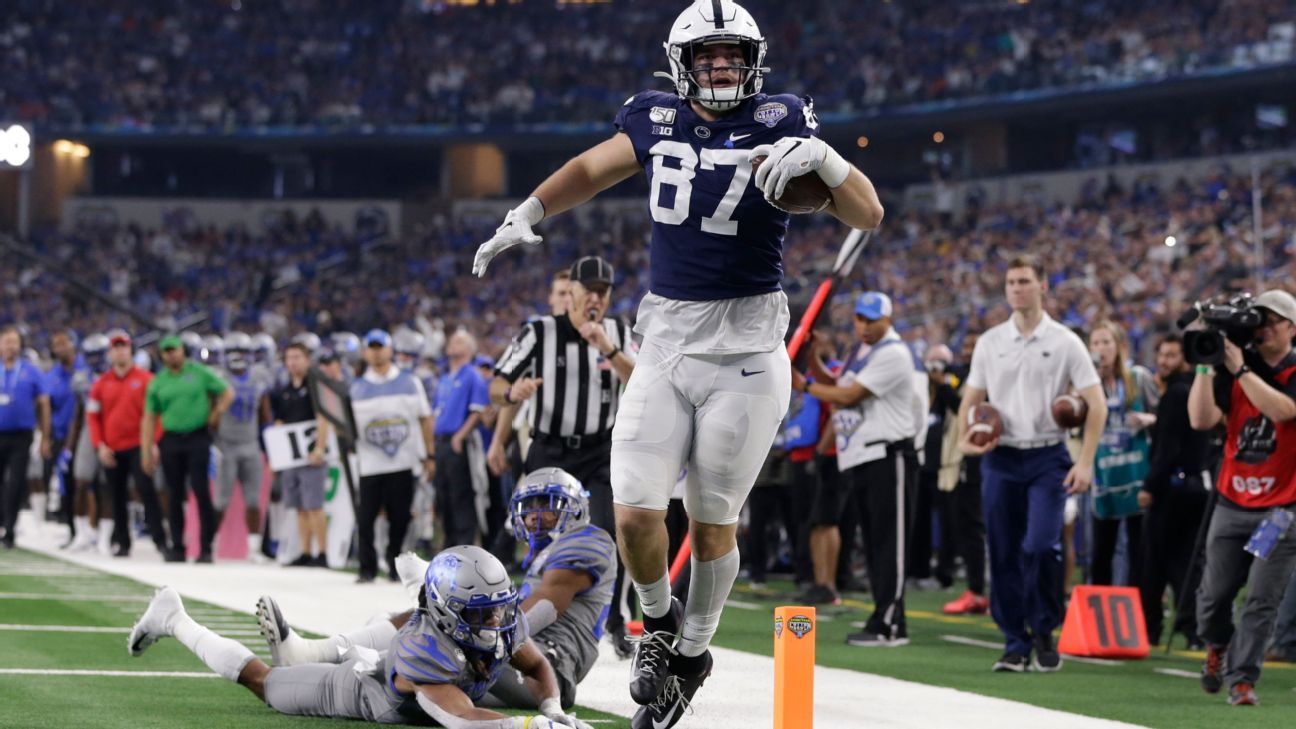 JACKSONVILLE, Fla. — Coach Urban Meyer was pretty clear the Jacksonville Jaguars needed a pass-catching tight end, and since they didn't sign one in free agency it's equally clear it will be a priority in the draft.
The Jaguars had better pick one in the first three rounds, though, because recent history shows that it's hard to find an impact tight end after that. It's not impossible — Antonio Gates was undrafted, Delanie Walker was a sixth-round pick, and George Kittle was a fifth-round pick, for example — but drafting one early is a much better option.
In looking at the highest-producing tight ends over the past 20 years, 13 of the top 20 in terms of receptions were first- or second-round picks. Tony Gonzalez, the NFL's all-time receptions leader among tight ends (and third overall), was a first-round pick. Rob Gronkowski, who has the third-most TD catches among tight ends since 2001 with 86, was a second-round pick. Zach Ertz, who holds the single-season record for most receptions by a tight end (116 in 2018), was a second-round pick.
Four more of the top 20 were third-round picks, including Jason Witten, whose 1,228 receptions are second only to Gonzalez among tight ends and rank fourth overall in NFL history, and Travis Kelce, who surpassed 100 catches twice in the past three seasons. Jimmy Graham and Jared Cook also were third-round picks.
• Answering offseason fantasy questions
• How narrative around Texans' Watson flipped
• Do Packers need to recommit to Rodgers?
• Why WFT's priority in draft could be LT
• How Malcolm Butler fits with Cardinals
Only three of the top 20 players were taken after the third round: Gates, Walker and Owen Daniels (fourth round).
So the Jaguars' best chance of landing a tight end that can be a major part of the passing game — something that hasn't happened much around here, and certainly never to the extent of what the players mentioned above have done — is to find one by the end of Day 2 of the draft. The Jaguars have five picks in the first three rounds (two each in the first and second rounds) and are likely taking quarterback Trevor Lawrence first overall.
Florida's Kyle Pitts will almost assuredly be long gone by the time the Jaguars pick 25th, but there are some other intriguing prospects — such as Penn State's Pat Freiermuth, Boston College's Hunter Long and Miami's Brevin Jordan — that the Jaguars could target in the second or third round. Freiermuth could be the pick to start the second round.
There's no guarantee about any of those players and the Jaguars shouldn't force the pick, but if they do have good evaluations on any of them and believe they can be impact players, then it's better to take them in the second or third rather than waiting at the position or hoping they slide.
The Jaguars' draft history with tight ends is … not good. They've drafted nine since the team's inception (including Derek Brown in the 1995 expansion draft), but just two earlier than the fourth round: Marcedes Lewis (28th overall in 2006) and Josh Oliver (third round in 2019). Lewis is the franchise's all-time leader among tight ends in receptions (375), receiving yards (4,502) and TD catches (33), and he's third overall in the first two categories and second only to wide receiver Jimmy Smith in touchdown catches.
Oliver played in four games and had just three catches in his first two seasons because of injuries, and the Jaguars traded him to Baltimore last month for a conditional seventh-round draft pick in 2022.
Of the remaining nine players in the franchise's top 10 in terms of tight end receptions, six were either free-agent signees, signed off the street, or acquired via trade: Kyle Brady, Pete Mitchell, James O'Shaughnessy, Julius Thomas, Clay Harbor and Tyler Eifert.
After Lewis, the best tight end the Jaguars have drafted is George Wrighster, a fourth-round pick in 1990 who went on to catch 94 passes for 850 yards and nine touchdowns in his six-year career.
Jaguars tight ends have rarely been prominent parts of the passing game. Only three in franchise history have caught 48 or more passes — an average of just three per game over 16 games — in a single season: Mitchell (52 in 1996), Brady (64 in 2000) and Lewis (58 in 2010 and 52 in 2012).
Three catches per game, even for a run-oriented team, isn't asking too much. Especially since the Jaguars haven't exactly had dynamic receivers since Jimmy Smith retired after the 2005 season. They've had only three receivers record 1,000-yard seasons since then (Allen Robinson and Allen Hurns in 2015 and DJ Chark Jr. in 2019) and have had only two players with 70 or more catches in a season (Robinson in 2015-16 and Chark in 2019).
Tight end is a priority in the NFL today more than ever and the Jaguars should treat it as such.