FRISCO, Texas — Kellen Moore is the new quarterbacks coach for the Dallas Cowboys after spending the previous three seasons as the backup to Tony Romo and then Dak Prescott.
Moore's move is part of a significant overhaul of coach Jason Garrett's staff. Although offensive coordinator Scott Linehan and defensive coordinator Rod Marinelli are returning, eight new coaches and two promotions were announced Friday.
Sanjay Lal, who has worked with receivers for four NFL teams over the past 11 seasons, is the new receivers coach in what could be a crucial year for 2014 All-Pro Dez Bryant's future in Dallas. Lal replaces Derek Dooley, who left to become offensive coordinator at Missouri.
The other newcomers are Paul Alexander (offensive line), Ken Amato (defensive assistant), Doug Colman (assistant special teams), Doug Nussmeier (tight ends), Markus Paul (assistant strength) and Kris Richard (passing game coordinator/defensive backs).
Ben Bloom was promoted to linebackers coach, and former special teams assistant Keith O'Quinn will take over that unit.
Dallas Cowboys LB Jaylon Smith set for wrist surgery, sources say
Dallas Cowboys linebacker Jaylon Smith will undergo left wrist surgery Thursday, multiple sources told ESPN's Todd Archer.
Smith did not miss a game in 2020, leading the Cowboys with 154 tackles. He was on the injury report in Week 16 with a wrist injury but was a full practice participant.
Smith should be ready for the beginning of the offseason program, the sources told Archer.
Although Smith led the Cowboys in tackles, there is some question about his future with the team because of potential salary-cap problems.
Smith is scheduled to make a base salary of $7.2 million in 2021, which becomes fully guaranteed on the fifth day of the new league year, and carries a $9.8 million cap figure. He is signed through the 2025 season after signing a six-year, $68.4 million contract in 2019.
Smith has posted at least 120 tackles in three of his four seasons and has 498 tackles and 9 sacks in 64 career games.
Detroit Lions to make Los Angeles Rams scouting director Brad Holmes GM
The Detroit Lions are expected to hire Los Angeles Rams director of college scouting Brad Holmes as the team's new general manager, a source told ESPN's Adam Schefter.
Holmes becomes the second Black general manager in team history, following Martin Mayhew, who was the team's general manager from 2009-15.
The Rams will become the first team to receive two third-round compensatory draft picks as part of the NFL's new hiring initiatives.
Holmes initially interviewed with Detroit virtually on Jan. 6 and then in person Wednesday. The North Carolina A&T grad — he majored in journalism and mass communication — has spent his entire professional career with the Rams.
He began as a public relations intern in 2003 before moving over to the scouting side and working his way up to his role as the director of college scouting. Now, he'll be replacing Bob Quinn, who was fired by the Lions in November after almost five years in the gig.
Among the players taken during his tenure as the Rams' director of college scouting were two-time NFL Defensive Player of the Year Aaron Donald, wide receiver Cooper Kupp, safety John Johnson III, linebacker Samson Ebukam, tight ends Tyler Higbee and Gerald Everett, running back Todd Gurley and quarterback Jared Goff.
"The standard is first of all, we get passionate players," Holmes told the team's website in 2019. "We talk about being good teammates, being a connected team. We talk about being relentless. We want smart players, instinctive players, explosive players.
"Those are the kind of pillars that we look for in football players for the Rams. You're smart. You're instinctive. You're explosive. Those are the core components, critical factors that we look for."
The 41-year-old Holmes could alter his vision now that he's in the general manager seat since he does have experience under five head coaches and four general managers during his time with the Rams, but Holmes hit a lot of the things Detroit searched for in the process.
"We think in some cases very unique to our situation," Lions team president Rod Wood said recently. "I won't share all of them with you, but I would say they focus on leadership, culture, teamwork, awareness of each other's strengths and weaknesses and what we're really looking for is a culture that is open, inclusive, where everybody is pulling together as a team, and in one word, communication is paramount and everybody is doing the right thing for the Detroit Lions.
"So, the people that we're looking for and the people that we're bringing in to interview, I think, exhibit those traits."
Rams general manager Les Snead told ESPN's Lindsey Thiry that Holmes has "dynamic intelligence" and respected his ability to evaluate football players. The team's chief operating officer, Kevin Demoff, told Thiry he also was able to be a leader away from the machinations of football.
That is something Wood harped on when he described what the team was looking for — someone to lead and unify the organization across all levels. Holmes is the nephew of Luther Bradley, Detroit's first round pick in 1978, and the son of former Pittsburgh offensive lineman Mel Holmes.
"He's become a valued voice in our organization as part of our leadership team on social justice and diversity issues, helping us lead a diverse group of people," Demoff told Thiry. "Brad is one of the more valued voices we have in our building."
The Lions had been at the forefront of diversity issues in the NFL over the past year. They were the first team to protest the shooting of Jacob Blake in August by canceling practice the day before the Milwaukee Bucks refused to play a playoff game in protest of Blake's shooting.
Lions owner Sheila Ford Hamp also had her Yale classmate, Dr. Henry Louis Gates Jr., speak to her team virtually in August. Gates Jr. is the director of the Hutchins Center for African and African American Research at Harvard and the host of the PBS show 'Finding Your Roots.'
The Lions interviewed at least 12 people for the vacant position, including their three internal candidates and former general managers Rick Smith (Houston), Thomas Dimitroff (Atlanta) and Jeff Ireland (Miami).
Pittsburgh Steelers not bringing back offensive coordinator Randy Fichtner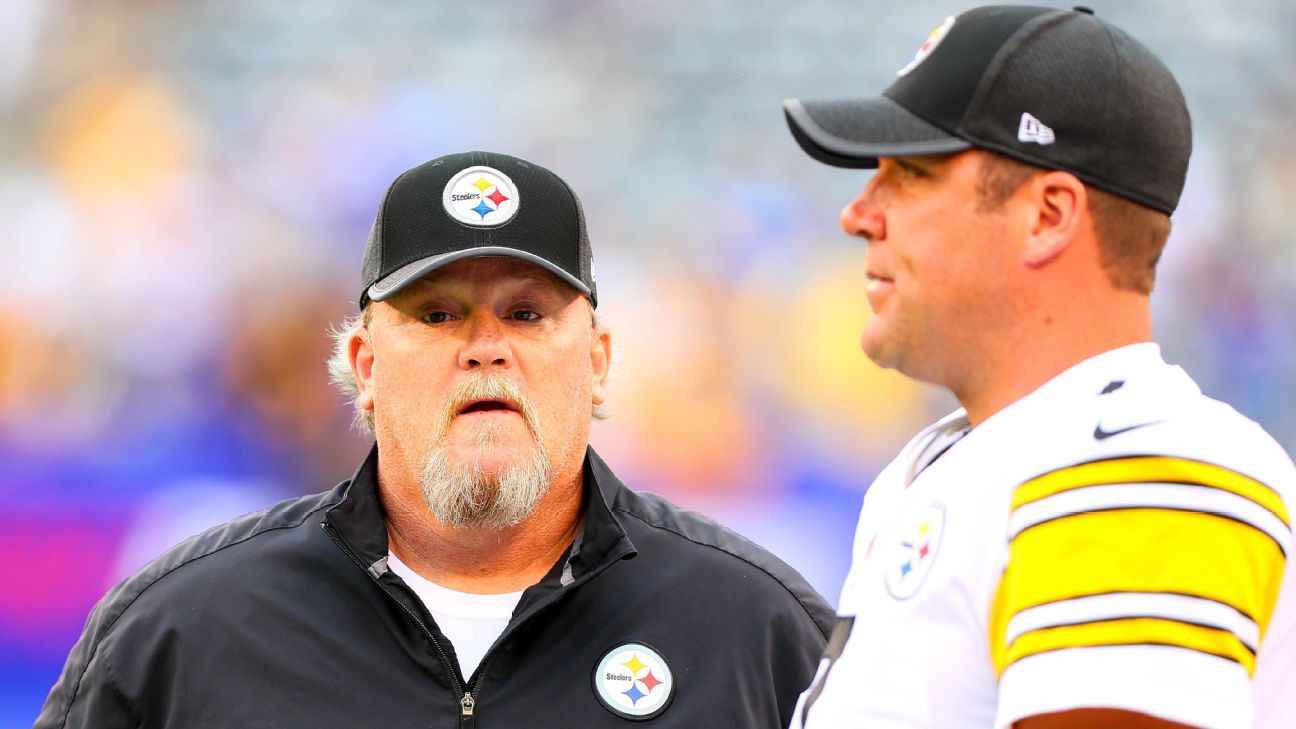 PITTSBURGH — Following through on Mike Tomlin's promise to make changes after a first-round exit in the playoffs, the Steelers announced Thursday that offensive coordinator Randy Fichtner is out.
The Steelers will not renew his contract or the contracts of offensive line coach Shaun Sarrett and defensive backs coach Tom Bradley.
The organization is discussing a new contract with defensive coordinator Keith Butler, who, at 64, plans to go year-to-year before eventually retiring, a source told ESPN's Jeremy Fowler.
"I didn't anticipate being here in this position," Tomlin said in his end-of-season news conference Wednesday. "Disappointed by it. Understand that we better make some changes in terms of the things we do. We better look at every aspect of it. Schematics, personnel, approach to business. I am committed to that. I am also committed to not sitting in this position and feeling the way we feel right now moving forward."
Fichtner, a long-time quarterbacks coach for the organization, drew ire in the last two seasons for the sluggish offense. The Steelers finished last in the league with 1,351 rushing yards, down from the year before when they finished 29th with 1,447 yards.
"We will not accept our current position in that area," Tomlin said of the run game. "We cannot. We have to attack that and we will."
Fichtner took over for Todd Haley as the offensive coordinator beginning with the 2018 season, but he's been in Pittsburgh since 2007, when he began his tenure as the wide receivers coach in Tomlin's first year as head coach.
Sarrett was initially promoted to offensive line coach in January 2019 after a season as the assistant offensive line coach under Mike Munchak. Sarrett joined the Steelers in 2012 as an offensive assistant.
Bradley was hired in February 2018 and coached the group for three seasons. Prior to that, he was the UCLA defensive coordinator and was a long time Penn State defensive coach.