WEST PALM BEACH, Fla. — At just 23, Carlos Correa is already considered one of baseball's best shortstops. He thinks he can get better, too.
The Houston star is far from satisfied.
"I still have some holes in my game that people might not notice, but I do," he said Thursday. "I want to get better at that to have an even better season than last year. Last year was my best year yet by far, it was a great year, but I think I can do so many things better."
He is reticent to share details about exactly what he is working on, saying he doesn't want to give his opponents any inside information. From the outside looking in, it's hard to pinpoint any deficiencies in Correa's game.
He hit a career-best .315 with 24 homers and 84 RBIs last year despite being slowed by a thumb injury that kept him out from mid-July to September. He returned to form by the postseason and hit five homers and drove in 14 runs in the playoffs to help the Astros to their first World Series title.
The first overall pick in the 2012 amateur draft has always been a solid defender, but he is looking to take that part of his game to the next level.
"I want to be able to save more runs and be an elite defender, and I think if I can do that with the way I hit it's just going to be something special," he said.
Manager A.J. Hinch loves to hear how Correa and the rest of his young players want to keep improving. He also thinks attitudes like Correa's mindset will be the key to more success for the team this year.
"It's pretty nice," he said. "It shows how special the season was, but it also shows that you're still vulnerable when you show up the next season if you haven't taken a step forward, and that's the part that I'll demand out of them."
Along with his success on the field, Correa is also thrilled about what's going on in his personal life. When he proposed to girlfriend Daniella Rodriguez on the field not long after Houston's Game 7 win in the World Series, the couple became internet darlings, with video of the proposal being shared thousands of times.
Several months after that moment, Correa still beams when it's brought up and raves about his relationship with the former Miss Texas.
"It's beautiful," he said. "I'm a happy man. I get off the field and I look forward to seeing my fiancee and my dog and spending time with them. That's just who I am. I don't like to go out. I like to just eat, sleep, play baseball and spend time with my family."
They haven't set a date for the wedding but want to have plenty of time to plan the ceremony. They are aiming for some time in December 2019.
But before then, Correa has plenty of work to do, namely, helping the Astros repeat as champions this year.
"On paper we're better than last year, it's all about us putting in the work and showing it on the field," he said. "What inspires me and drives me right now is … that nobody's settling, nobody is laying back, everybody is working to try to be better this year. If everybody's trying to do that, the team's only going to get better."
Chicago White Sox agree to trade with Chicago Cubs for closer Craig Kimbrel
The Chicago White Sox have agreed to acquire All-Star closer Craig Kimbrel from the Chicago Cubs before the trade deadline, the team announced Friday.
In return, the Cubs are getting second baseman Nick Madrigal and right-hander Codi Heuer.
The White Sox, who lead the AL Central, were looking for bullpen help, and they now have it with Kimbrel and Liam Hendriks.
Kimbrel, 33, has 23 saves this season for the Cubs with an 0.49 ERA and 64 strikeouts in 36⅔ innings. Overall, he has 371 career saves with the Cubs, Red Sox, Padres and Braves over his 12 major league seasons.
"We viewed Craig as the premier relief pitcher available at this trade deadline, and so we knew the cost would be steep in terms of parting with young talent," White Sox general manager Rick Hahn said in a statement. "But we recognize the special opportunity that currently exists and our team, our clubhouse and our fans deserve to know we will do everything we can to reach the postseason and win meaningful games in October."
Madrigal tore his right hamstring and early June and is out for the season following surgery. He's targeted to be the Cubs' starting second baseman next season. He was hitting .305 when he was injured. Madrigal also won a minor league Gold Glove award in 2019.
Heuer, a 25-year-old right-hander, is 4-1 this season for the White Sox out of the bullpen. He's appeared in 40 games. Last season, his first in the big leagues, he was 3-0 with a save and a 1.52 ERA in 21 appearances.
The White Sox entered Friday with an eight-game lead over division rival Cleveland. The Cubs are fourth in the NL Central and entering a rebuild.
The White Sox had already addressed the loss of Madrigal by acquiring slugging second baseman Cesar Hernandez from the Cleveland Indians on Thursday.
Information from The Associated Press is included in this report.
New York Yankees acquire LHP Andrew Heaney from Los Angeles Angels for minor leaguers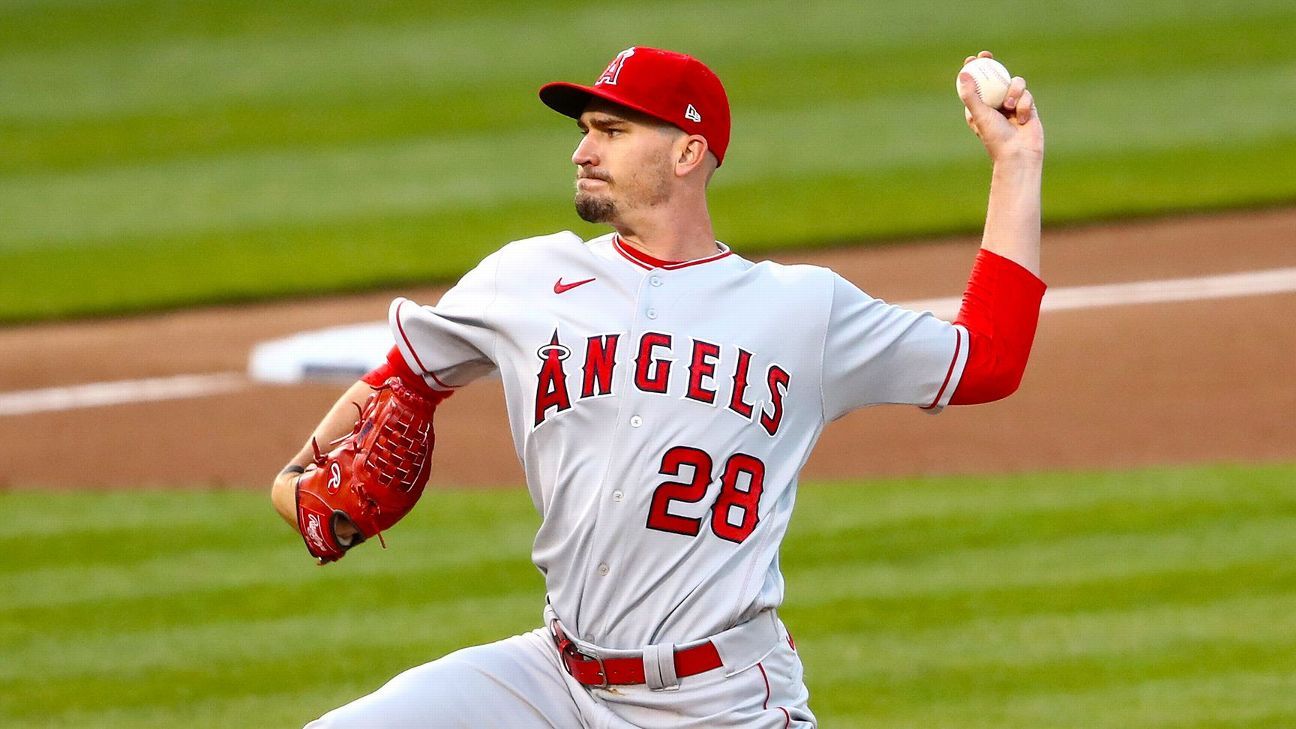 The New York Yankees acquired left-handed pitcher Andrew Heaney and cash considerations from the Los Angeles Angels on Friday in exchange for minor league right-handers Janson Junk and Elvis Peguero.
Heaney is 6-7 with a 5.27 ERA this season.
The moves comes after the Yankees previously added left-handed power bats Joey Gallo and Anthony Rizzo.
Braves further bolster outfield, acquire slugger Jorge Soler from Royals
The Atlanta Braves have bolstered their lineup by acquiring slugger Jorge Soler from Kansas City in exchange for right-hander Kasey Kalich, the team announced Friday.
The deal comes hours after the Braves added fellow outfielder Adam Duvall in a trade with the Miami Marlins for catcher Alex Jackson.
Soler, 29, is batting .201 with seven home runs and 18 RBIs. He has failed in the past two seasons to match his breakout 2019 season, when he played all 162 games and hit a Royals club-record 48 homers, but will still provide a strong right-handed power bat to the Braves' lineup.
The Braves needed to revamp their outfield as they attempt to remain in the hunt for a fourth consecutive NL East title. Atlanta suffered a severe blow to its playoff hopes when it lost Ronald Acuna Jr. to a season-ending knee injury on July 10.
In a separate trade, Atlanta also acquired pitcher Richard Rodriguez from the Pittsburgh Pirates for two minor leaguers.