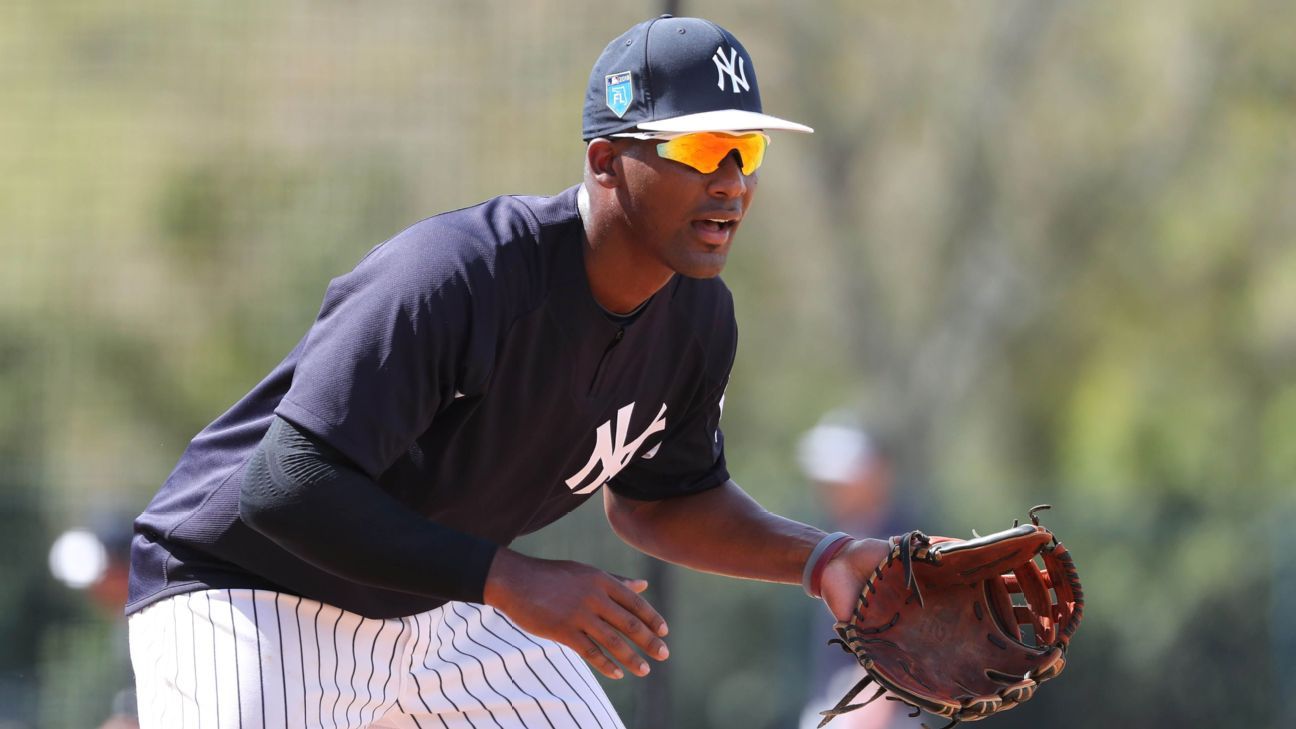 TAMPA, Fla. — Not so fast, Gleyber Torres and Miguel Andujar.
The New York Yankees, Tampa Bay Rays and Arizona Diamondbacks made an intriguing, three-team deal that means the two Yankees rookies aren't going to be handed Opening Day starting jobs at second and third base.
First, the deal:
• The Yankees get infielder Brandon Drury from the Diamondbacks
• The Diamondbacks get outfielder Steven Souza from the Rays and minor league pitcher Taylor Widener from the Yankees
• The Rays get pitcher Anthony Banda from the Diamondbacks and minor league second baseman Nick Solak from the Yankees (plus two players to be named from Arizona)
What does it mean for the Yankees' infield? General manager Brian Cashman said Wednesday that Drury was brought in with the intention of playing third base. "We like that he has experience. His best position is third base, his versatility is attractive. … Our primary interest here is third base. He's going to join the competition now and we believe there's more gas in the tank. Our pro scouts are really high on his potential. They dream on him a little bit so we're going to dream on him a little bit too." Drury hit .267/.317/.447 for Arizona in 2017 while playing mostly second base, but he has started 34 games at third in the majors and came up through the minors as a third baseman (he also started 79 games in the outfield in 2016). Cashman said the team isn't handing him the starting job ahead of Andujar, but believes his experience gives him the leg up over the rookie.
Look, there's no doubt that the Yankees love both Torres (Keith Law's No. 5 overall prospect) and Andujar (Law's No. 54 prospect). Earlier on Tuesday, manager Aaron Boone raved about both players.
"I think they're both going to be tremendous players," Boone said. "I love who they are. You can tell they enjoy being on the baseball field. You can tell they're confident in their ability, the way they move around, yet there's a humility about them."
But Torres missed the second half of last season after having Tommy John surgery on his non-throwing elbow. He's completely healthy and not limited at all in spring training, but he hasn't played since June 17 and has just 55 games above Class A. While everyone believes in his long-term impact, some time in Triple-A makes sense.
Andujar had a brief cameo in the majors last year after a breakout season of sorts in Double-A and Triple-A, adding a little more power as he filled out and added strength. He hit .315/.352/.498 with 16 home runs while striking out just 71 times in 522 plate appearances. Andujar told reporters that he spent the offseason working on his defensive consistency, especially on making throws from different angles.
The contact ability bodes well for a transition to the majors, and he hit several bombs in batting practice on Thursday. He and Drury have similar projections for 2018, via FanGraphs: a 95 wRC+ for Andujar and 91 for Drury. (Remember, Drury's numbers came in a good hitter's park in Arizona).
The Yankees' options at second and third don't end here (though this should end any speculation that the team will sign Mike Moustakas). Ronald Torreyes had a serviceable 2017 as the utility infielder, hitting .292/.314/.375. Tyler Wade struggled in his few big league at-bats after hitting .310/.382/.460 at Triple-A. Veteran Danny Espinosa also is in camp as a non-roster invite.
Of course, the trade gives the Yankees the ability to play with the service time of Torres and Andujar by starting them in the minors, though GM Brian Cashman has said that wouldn't be a factor. "It's not part of my evaluation process," he told Newsday's David Lennon a few days ago. "We're trying to win. If we feel that somebody could benefit from more time in the minors, we'll make that decision at the end of camp."
Either way, the Yankees have plenty of flexibility with their ultimate decision. Boone has said that Torres, a natural shortstop, will get action at all three infield spots, so if he tears the cover off the ball in spring, he could end up at second or third if Andujar struggles, or Andujar could end up at third and Drury at second. Or maybe Torres and Andujar will both make the team. An Opening Day roster of 13 position players could look like this:
Catchers: Gary Sanchez, Austin Romine
Infielders: Greg Bird, Gleyber Torres, Didi Gregorius, Miguel Andujar, Brandon Drury, Ronald Torreyes
Outfielders: Aaron Judge, Giancarlo Stanton, Brett Gardner, Aaron Hicks, Jacoby Ellsbury
Tyler Austin is another possibility as a backup outfielder/first baseman, and Wade is being groomed as a super-utility player who can play infield and outfield.
Asked Thursday what it would take for Torres and Andujar to make the Opening Day roster, Boone said, "I trust our eyes in what we'll see out of them. Performance matters to a degree, but it's a super small sample size … so I feel like if either one of those guys were to make our Opening Day roster, it would be clear in our eyes and probably somewhat of a consensus that there's no denying these guys belong on the club."
Now it's up to the kids to live up to their billing. For some players on the Yankees, spring training will be about winning a job.
Slumping New York Yankees shake up lineup against Atlanta Braves
NEW YORK — New York Yankees manager Aaron Boone made three changes to the starting lineup of his slumping team against Atlanta on Tuesday night, inserting first baseman Mike Ford and left fielder Mike Tauchman and giving Brett Gardner his second start this season in center field.
DJ LeMahieu moved back to second base from first, and center fielder Aaron Hicks, left fielder Clint Frazier and second baseman Rougned Odor moved to the bench.
New York has lost five straight games, dropping to 5-10 for its worst start since 1997.
The switch-hitting Hicks was batting .160, including 3 for 32 vs. right-handers, Frazier was hitting .167 with no RBI and Odor was batting .125.
Ford was to make his season debut. He was recalled from the alternate training site and took the roster spot of Jay Bruce, who hit .118 and retired Sunday.
Jameson Taillon started for the Yankees, who were starting a stretch of games on 13 consecutive days. Charlie Morton started for Atlanta.
Boone said he might give Hicks another day off Wednesday.
Infielder Neil Walker retires after 12 MLB seasons
Veteran infielder Neil Walker announced his retirement Tuesday after 12 major league seasons.
Born in Pittsburgh, he played his first seven seasons for the Pittsburgh Pirates before playing for the New York Mets, Milwaukee Brewers, New York Yankees, Miami Marlins and Philadelphia Phillies over his final five seasons.
Walker, 35, made his announcement on Twitter, writing, "thank you to everyone that helped me in my journey to live out my childhood dream of being a Major Leaguer, I loved & cherished every day."
Officially retired, thank you to everyone that helped me in my journey to live out my childhood dream of being a Major Leaguer, I loved & cherished every day. From Pittsburgh, NY Mets & Yankees, Milwaukee, Miami, and Philly, nothing but love to those Organizations, Cities & Fans! pic.twitter.com/mvl3cg9k80

— Neil Walker (@NeilWalker18) April 20, 2021
The Pirates selected Walker with the 11th-overall pick of the 2004 draft and he went on to hit 93 home runs with 418 RBIs while slashing .272/.338/.431 in 836 games. His best major league season came in 2014 when he hit .271 and set career bests with 23 home runs and 76 RBIs, earning a Silver Slugger award. His 23 home runs broke Bill Mazeroski's franchise record for home runs in a season by a second baseman.
Walker played for the Phillies during the 2020 pandemic shortened season, appearing in 18 games.
Overall, Walker finishes his major league career with 149 home runs and 609 RBIs and a slash line of .267/.338/.426.
Mookie Betts out of Los Angeles Dodgers lineup after getting hit on forearm, but not expected to miss time
SEATTLE — Mookie Betts was out of the Los Angeles Dodgers lineup on Tuesday after getting hit on the right forearm a night earlier, but manager Dave Roberts doesn't expect it to be a long-term issue.
Roberts said X-rays on Betts' arm were negative after the former MVP took a fastball from Seattle closer Rafael Montero off the inside of his right forearm in the ninth inning of Monday's 4-3 Mariners victory. Betts remained in the game after getting hit.
Roberts said Betts was receiving treatment and that he was hoping to avoid using him in Tuesday's game with the Dodgers having a day off on Wednesday before opening a four-game series with division rival San Diego on Thursday at Dodger Stadium.
"I was hoping that it would be something soft tissue, as opposed to you know the wrist or the elbow or something like that," Roberts said. "I guess best case scenario. There was an exhale once he wanted to stay in there. So that's part of it, the soreness, but I think that we dodged a bullet there."
Betts is hitting .292 early in the season and already had one of the signature defensive moments of the season with his game-ending catch in the ninth inning last Saturday in a win over San Diego.
Chris Taylor started in center field for the Dodgers.