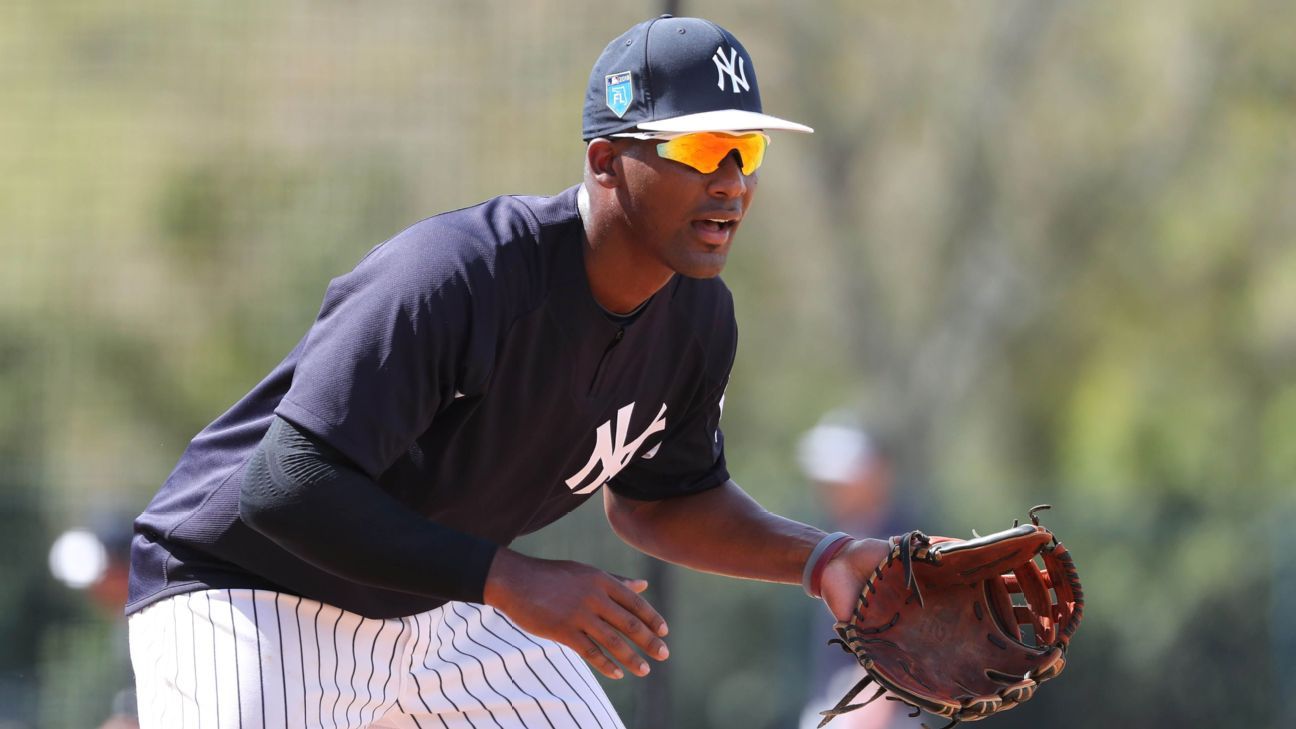 TAMPA, Fla. — Not so fast, Gleyber Torres and Miguel Andujar.
The New York Yankees, Tampa Bay Rays and Arizona Diamondbacks made an intriguing, three-team deal that means the two Yankees rookies aren't going to be handed Opening Day starting jobs at second and third base.
First, the deal:
• The Yankees get infielder Brandon Drury from the Diamondbacks
• The Diamondbacks get outfielder Steven Souza from the Rays and minor league pitcher Taylor Widener from the Yankees
• The Rays get pitcher Anthony Banda from the Diamondbacks and minor league second baseman Nick Solak from the Yankees (plus two players to be named from Arizona)
What does it mean for the Yankees' infield? General manager Brian Cashman said Wednesday that Drury was brought in with the intention of playing third base. "We like that he has experience. His best position is third base, his versatility is attractive. … Our primary interest here is third base. He's going to join the competition now and we believe there's more gas in the tank. Our pro scouts are really high on his potential. They dream on him a little bit so we're going to dream on him a little bit too." Drury hit .267/.317/.447 for Arizona in 2017 while playing mostly second base, but he has started 34 games at third in the majors and came up through the minors as a third baseman (he also started 79 games in the outfield in 2016). Cashman said the team isn't handing him the starting job ahead of Andujar, but believes his experience gives him the leg up over the rookie.
Look, there's no doubt that the Yankees love both Torres (Keith Law's No. 5 overall prospect) and Andujar (Law's No. 54 prospect). Earlier on Tuesday, manager Aaron Boone raved about both players.
"I think they're both going to be tremendous players," Boone said. "I love who they are. You can tell they enjoy being on the baseball field. You can tell they're confident in their ability, the way they move around, yet there's a humility about them."
But Torres missed the second half of last season after having Tommy John surgery on his non-throwing elbow. He's completely healthy and not limited at all in spring training, but he hasn't played since June 17 and has just 55 games above Class A. While everyone believes in his long-term impact, some time in Triple-A makes sense.
Andujar had a brief cameo in the majors last year after a breakout season of sorts in Double-A and Triple-A, adding a little more power as he filled out and added strength. He hit .315/.352/.498 with 16 home runs while striking out just 71 times in 522 plate appearances. Andujar told reporters that he spent the offseason working on his defensive consistency, especially on making throws from different angles.
The contact ability bodes well for a transition to the majors, and he hit several bombs in batting practice on Thursday. He and Drury have similar projections for 2018, via FanGraphs: a 95 wRC+ for Andujar and 91 for Drury. (Remember, Drury's numbers came in a good hitter's park in Arizona).
The Yankees' options at second and third don't end here (though this should end any speculation that the team will sign Mike Moustakas). Ronald Torreyes had a serviceable 2017 as the utility infielder, hitting .292/.314/.375. Tyler Wade struggled in his few big league at-bats after hitting .310/.382/.460 at Triple-A. Veteran Danny Espinosa also is in camp as a non-roster invite.
Of course, the trade gives the Yankees the ability to play with the service time of Torres and Andujar by starting them in the minors, though GM Brian Cashman has said that wouldn't be a factor. "It's not part of my evaluation process," he told Newsday's David Lennon a few days ago. "We're trying to win. If we feel that somebody could benefit from more time in the minors, we'll make that decision at the end of camp."
Either way, the Yankees have plenty of flexibility with their ultimate decision. Boone has said that Torres, a natural shortstop, will get action at all three infield spots, so if he tears the cover off the ball in spring, he could end up at second or third if Andujar struggles, or Andujar could end up at third and Drury at second. Or maybe Torres and Andujar will both make the team. An Opening Day roster of 13 position players could look like this:
Catchers: Gary Sanchez, Austin Romine
Infielders: Greg Bird, Gleyber Torres, Didi Gregorius, Miguel Andujar, Brandon Drury, Ronald Torreyes
Outfielders: Aaron Judge, Giancarlo Stanton, Brett Gardner, Aaron Hicks, Jacoby Ellsbury
Tyler Austin is another possibility as a backup outfielder/first baseman, and Wade is being groomed as a super-utility player who can play infield and outfield.
Asked Thursday what it would take for Torres and Andujar to make the Opening Day roster, Boone said, "I trust our eyes in what we'll see out of them. Performance matters to a degree, but it's a super small sample size … so I feel like if either one of those guys were to make our Opening Day roster, it would be clear in our eyes and probably somewhat of a consensus that there's no denying these guys belong on the club."
Now it's up to the kids to live up to their billing. For some players on the Yankees, spring training will be about winning a job.
Washington Nationals re-signing Ryan Zimmerman to one-year, $1M deal, source says
The Washington Nationals are re-signing Ryan Zimmerman to a one-year, $1 million contract, a source confirmed to ESPN.
Zimmerman opted out of the 2020 season because of concerns about his family's safety amid the coronavirus pandemic but is set to play his 16th major league season, all with the Nationals.
Zimmerman's future in Washington had been uncertain after the Nationals acquired Josh Bell to play first base, but general manager Mike Rizzo said last month that the team was open to bringing the 36-year-old back.
Zimmerman batted .257 with six home runs for the 2019 World Series champions.
USA Today first reported on Zimmerman's return to Washington.
Source — Jurickson Profar, San Diego Padres agree to 3-year, $21 million deal
Jurickson Profar and the San Diego Padres are in agreement on a three-year, $21 million contract, a source familiar with the deal told ESPN's Jeff Passan.
Profar continues to show his versatility as a true utilityman, having played five defensive positions for the Padres last season while seeing most of his action in left field and at second base. He hit a career-high .278 with seven home runs and 25 RBIs in 56 games during the pandemic-shortened season.
The 27-year-old continues to get on track offensively as he gets more playing time, something he didn't have during his first six years after the top prospect was called up by the Texas Rangers in 2012. He got off to a horrible start during the 2020 season but compiled an .879 OPS over the final 43 games, hitting .331.
The Padres acquired Profar in a trade with the Oakland Athletics after the 2019 season, and he beat out Brian Dozier to win the starting job at second base. His slow start, however, led to Jake Cronenworth taking over at the position, but opportunity soon followed as Profar moved to left field after Tommy Pham was injured.
Overall, in seven major league seasons, Profar has a .238 batting average with 59 home runs and 222 RBIs with the Padres, Athletics and Rangers.
Images from Hank Aaron's chase for the career home run record