SCOTTSDALE, Ariz. — Surprised to be traded, Steven Souza Jr. heads to Arizona for what promises to be a key role on a Diamondbacks team that expects to be good.
The 28-year-old outfielder knew the Tampa Bay Rays were making some big changes but felt assured by management that he still figured in their plans.
"As much as people were flying off the shelf, it seemed like I was not going to be one of those people," Souza said Wednesday in a conference call from the airport before boarding a plane to Arizona. "It definitely caught me off-guard a little bit. I was definitely preparing for the role that I had there."
Souza came to the Diamondbacks on Tuesday in a three-team trade that sent infielder Brandon Drury from Arizona to the New York Yankees and left-hander Anthony Banda, a top Arizona pitching prospect, to Tampa Bay.
Souza batted just .239 last season but hit 30 homers, drove in 78 runs and walked 84 times, all three career highs.
He will wear the same No. 28 that J.D. Martinez wore in his torrid half-season in the desert a year ago. Martinez signed a five-year, $110 million deal with the Boston Red Sox this week.
Nobody expects Souza to approach the numbers Martinez put up with Arizona — 29 homers and 65 RBIs in 62 games.
"That's ridiculous," Souza said. "I don't know that anybody's really done those types of things that he did in the second half. So to expect me to come in and say I'm going to fulfill those shoes would be a little far-fetched. But I'll tell you I'm going to come in and play my game, and I'm going to play as hard as I can every single game, and I'm going to help this team win a ballgame."
He will, most likely, be playing the same position as Martinez and be the batter to provide some protection for Paul Goldschmidt in the lineup.
"We haven't sat down with him to finalize the exact thoughts, but this is an impact bat," Diamondbacks manager Torey Lovullo said. "He's going to play as much as he possibly can. … We haven't finalized exactly what's going to happen, but if you want me to speculate right now, he's going to play just about every day and play right field."
That would mean David Peralta would be in left field and A.J. Pollock in center.
Speedy Jarrod Dyson, who finalized a two-year, $7.5 million contract Monday, will be "more than a fourth outfielder," Lovullo said.
Souza said he has connections with several Diamondbacks players — Goldschmidt, Jake Lamb, Robbie Ray and Nick Ahmed.
"There's a lot of guys I know, and great dudes actually," Souza said.
Souza said he met Goldschmidt through a mutual friend and the two took part in a leadership retreat, going hunting together.
"Man, we connected right away," Souza said. "His personality and mine kind of match up, the way we think. What an amazing man he is."
Lovullo wouldn't say what would be done at second base with Drury gone to the Yankees. The Diamondbacks still have plenty of middle infield help.
One possibility would be to shift Ketel Marte from shortstop to second. Ahmed would mostly play at short with Chris Owings filling in all over the infield as well as in the outfield. Daniel Descalso also can play just about anywhere.
Marte said he would not object to the switch.
"I don't care. I just want to be with the team," he said. "I don't care where I play. I can play anywhere. I just have to be ready to play anywhere."
Lovullo watched Souza often when the Arizona manager was Boston's bench coach.
"He was still a young player that was finding his way, but he seemed to improve every time we saw him," Lovullo said. "The athletic ability, the ability to hit for power, the defensive ability — it was obvious to the opposing dugout that he was an exciting player."
Souza credited his improvement last season to a number of factors, including his work with Tampa Bay's coaches and "settling in and trusting my ability more and more."
"I gave everything I had in the offseason to Tampa. I gave everything I had to those guys," he said, "and now I'm ready to give everything I have to the Diamondbacks."
Yasiel Puig denies accusations in sexual assault lawsuit
In a statement released on his Twitter feed Tuesday, free-agent outfielder Yasiel Puig has denied claims in a lawsuit that he sexually assaulted a woman in 2018 and said that the allegations have prevented him from continuing his Major League career.
"I am speaking out now to defend my name against false and malicious allegations by a woman who claims I assaulted her in 2018," Puig wrote. "These allegations are totally false, the evidence proves they are false, and I look forward to all the facts and the truth coming out."
The woman, identified in federal court documents only as Jane Roe, sued Puig last October, saying the former Dodgers outfielder followed her into a Staples Center bathroom after a Lakers game on Oct. 31, 2018, "pinned her with one arm" to prevent her from leaving, groped her and masturbated in front of her.
The woman did not file a police report. Puig has not been charged with any crime and he has previously denied the allegations in a court filing.
In his statement Tuesday, released by his attorneys, Puig said: "The fact is that I had consensual sex with a woman I met at a Lakers game after she propositioned me. Afterward we talked about going out together, but she said she did not want her fiancé to find out."
Attorney Taylor Rayfield, who is representing the woman, said in a statement to ESPN Wednesday, "The simple fact of the matter is that our client never engaged in consensual sexual activity with Mr. Puig — not at the Staples Center Chairman's Club, and not anywhere else."
In her own statement, released through Rayfield, the woman said, "I am an out and proud lesbian and have been during my entire adult life. My female fiancée and I were enjoying a Lakers game at the Staples Center when this attack occurred." She added that the notion that she would leave her fianceé for a sexual encounter in the bathroom with someone she'd just met "is demeaning and ridiculous."
Puig said Tuesday that he and the woman "messaged each other" after their encounter and planned to get together but never did.
Puig's Los Angeles-based attorneys, Alan Jackson and Caleb Mason, also said in their statement Tuesday that text messages between Puig and the woman help to confirm Puig's account of what happened.
"On November 2, 2018, two days after their encounter, when Mr. Puig wrote to ask her when they could see each other again, she replied "I['m] working it out! I didn't forget about you."
Puig's attorneys point out that the woman sent Puig heart emoji messages and that, on November 23, 2018, several weeks after the Lakers game, she messaged Puig asking him when he would be back in town.
ESPN has reviewed text message exchanges between Puig and the woman, which became public through an exhibit filed as part of the woman's federal lawsuit.
She did send the text messages Puig's legal team referenced but only after Puig had sent her several messages in an apparent attempt to meet privately.
Rayfield said the woman only sent those messages because she was "fearful of a further attack or retribution by Puig," and in an attempt "to de-escalate his behavior by providing curt responses."
In their statement Tuesday, Puig's attorneys did not include a text message Puig sent the woman hours after the Lakers game. In that text, Puig wrote: "Private between me and me [sic] everything that happens no one has to know," according to the transcript of text messages that appears in court documents.
Last month, ESPN reported that a number of teams had factored the allegations, as well as Puig's declining play, into their decision making when considering him as a free-agent signing.
"Nobody wants the headache," one front-office source told ESPN.
Puig said Tuesday he initially remained silent about the allegations against him on the advice of his attorneys and is speaking out now because of delays in the legal system and a civil case that has unfairly tarnished his image in baseball circles.
"With a mere unsupported accusation, the sports world has turned against me without ever hearing my side," Puig said in the statement from his attorneys.
"All I ask is that I be given the chance to prove these claims false, and in the meantime, play the game that I love so much."
Jose Altuve, Alex Bregman among Houston Astros players on IL for health and safety protocols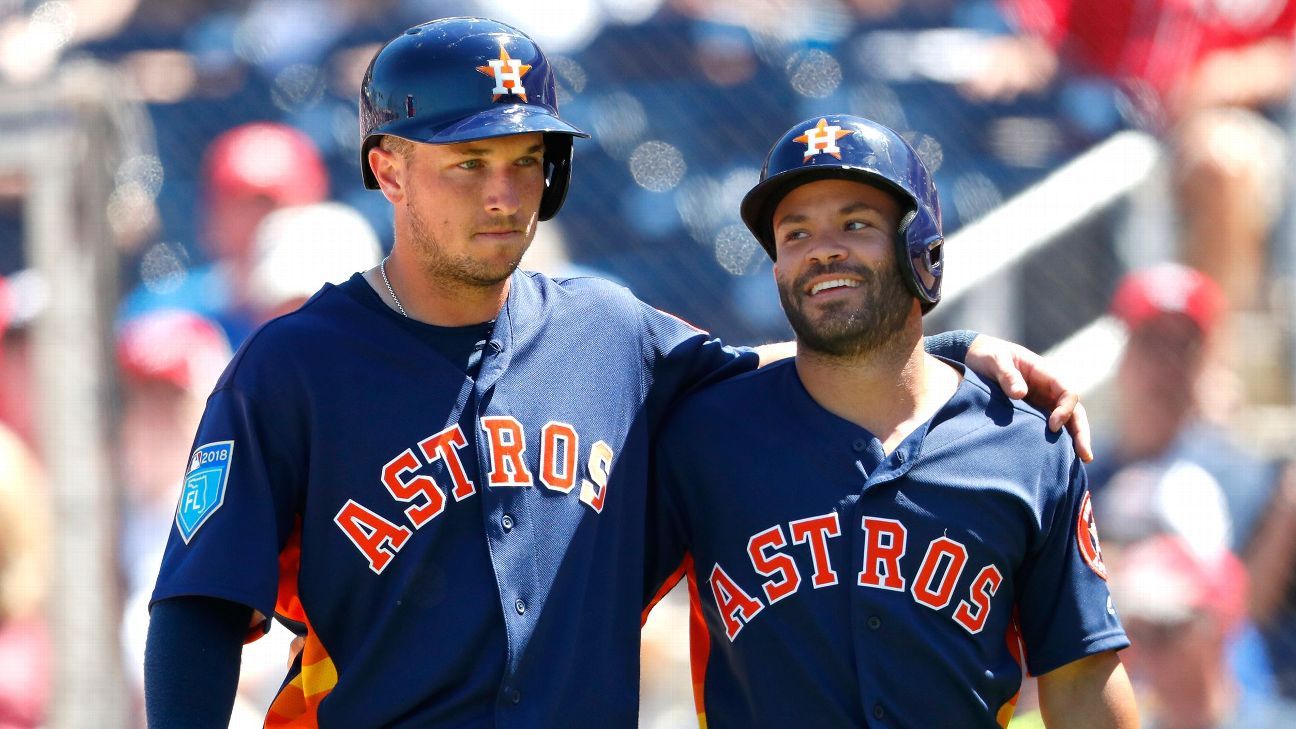 The Houston Astros have placed Yordan Alvarez, Jose Altuve, Alex Bregman, Robel Garcia and Martin Maldonado on the injured list "as a result of health and safety protocols," general manager James Click said Wednesday.
Click said the moves were not a function of the players breaking COVID-19 protocols.
"Absolutely not. The guys have been exceptionally vigilant of making sure that at the ballpark, away from the ballpark, they're following the rules," Click told reporters. "I think this is just another reflection of the situation we're in, not just in baseball but in the country."
The Astros, who are not at the 85% vaccination threshold to loosen the protocols, said they didn't know about having to make these moves until after Tuesday's game. All other players on the team will go through increased testing, and all coaches and staff have been cleared to continue working.
In corresponding moves, the Astros called up infielder Taylor Jones, catcher Garrett Stubbs, infielder Abraham Toro, infielder Alex De Goti and outfielder Ronnie Dawson from the team's alternate training site.
All five players are expected to arrive in time for Wednesday night's game against the Detroit Tigers at Minute Maid Park.
"When it rains it pours," Click said. "It's a difficult situation, but we can't let that take our focus away from winning this game."
Twins SS Andrelton Simmons, who declined vaccine, out after positive COVID-19 test
MINNEAPOLIS — Minnesota Twins shortstop Andrelton Simmons has tested positive for the coronavirus and was placed on the COVID-19 injured list Wednesday before the team's doubleheader against the Boston Red Sox.
Simmons has said he doesn't plan to take the COVID-19 vaccine, which was made available in a single-shot dosage to the team at Target Field on Thursday.
Twins president of baseball operations Derek Falvey said Simmons was experiencing "very mild" symptoms and resting at home. The positive test result was received late Tuesday, after the Twins lost 4-2 to the Red Sox.
After the initial phase of contact tracing, the Twins determined no additional players needed to be quarantined.
Simmons was replaced on the roster by infielder J.T. Riddle, who was summoned from the taxi squad. Third baseman Josh Donaldson, out since the season opener with a strained hamstring, was expected back for the second game of the doubleheader.
The Twins held a meeting to remind players and staff to heed virus protocols, even though a majority of them have gotten vaccinated. The full immunization period isn't in effect yet.
"We're not out of the woods by any means on that front," Falvey said, adding, "Now is the time to be as vigilant as possible."
Simmons tweeted last month that he would not be getting the vaccine or advocating for it for "personal reasons and past experience," on which he declined to elaborate. He confirmed Sunday that he did not participate in the teamwide vaccination. Asked if he planned to get the shot in the future, Simmons said he didn't know.
"We want to continue to educate people in the environment. This is real. This is something that can enter. We know that," Falvey said. "Sometimes no one really knows exactly how it can come at different times. We know that from looking not just across our sport, but across all sports and across the country and the world. Our view of that is constantly reminding people of why we think it's a good idea to get vaccinated. Our docs have recommended that, and so we continue to provide them as resources to players, to learn as much as they can about this."