SCOTTSDALE, Ariz. — Surprised to be traded, Steven Souza Jr. heads to Arizona for what promises to be a key role on a Diamondbacks team that expects to be good.
The 28-year-old outfielder knew the Tampa Bay Rays were making some big changes but felt assured by management that he still figured in their plans.
"As much as people were flying off the shelf, it seemed like I was not going to be one of those people," Souza said Wednesday in a conference call from the airport before boarding a plane to Arizona. "It definitely caught me off-guard a little bit. I was definitely preparing for the role that I had there."
Souza came to the Diamondbacks on Tuesday in a three-team trade that sent infielder Brandon Drury from Arizona to the New York Yankees and left-hander Anthony Banda, a top Arizona pitching prospect, to Tampa Bay.
Souza batted just .239 last season but hit 30 homers, drove in 78 runs and walked 84 times, all three career highs.
He will wear the same No. 28 that J.D. Martinez wore in his torrid half-season in the desert a year ago. Martinez signed a five-year, $110 million deal with the Boston Red Sox this week.
Nobody expects Souza to approach the numbers Martinez put up with Arizona — 29 homers and 65 RBIs in 62 games.
"That's ridiculous," Souza said. "I don't know that anybody's really done those types of things that he did in the second half. So to expect me to come in and say I'm going to fulfill those shoes would be a little far-fetched. But I'll tell you I'm going to come in and play my game, and I'm going to play as hard as I can every single game, and I'm going to help this team win a ballgame."
He will, most likely, be playing the same position as Martinez and be the batter to provide some protection for Paul Goldschmidt in the lineup.
"We haven't sat down with him to finalize the exact thoughts, but this is an impact bat," Diamondbacks manager Torey Lovullo said. "He's going to play as much as he possibly can. … We haven't finalized exactly what's going to happen, but if you want me to speculate right now, he's going to play just about every day and play right field."
That would mean David Peralta would be in left field and A.J. Pollock in center.
Speedy Jarrod Dyson, who finalized a two-year, $7.5 million contract Monday, will be "more than a fourth outfielder," Lovullo said.
Souza said he has connections with several Diamondbacks players — Goldschmidt, Jake Lamb, Robbie Ray and Nick Ahmed.
"There's a lot of guys I know, and great dudes actually," Souza said.
Souza said he met Goldschmidt through a mutual friend and the two took part in a leadership retreat, going hunting together.
"Man, we connected right away," Souza said. "His personality and mine kind of match up, the way we think. What an amazing man he is."
Lovullo wouldn't say what would be done at second base with Drury gone to the Yankees. The Diamondbacks still have plenty of middle infield help.
One possibility would be to shift Ketel Marte from shortstop to second. Ahmed would mostly play at short with Chris Owings filling in all over the infield as well as in the outfield. Daniel Descalso also can play just about anywhere.
Marte said he would not object to the switch.
"I don't care. I just want to be with the team," he said. "I don't care where I play. I can play anywhere. I just have to be ready to play anywhere."
Lovullo watched Souza often when the Arizona manager was Boston's bench coach.
"He was still a young player that was finding his way, but he seemed to improve every time we saw him," Lovullo said. "The athletic ability, the ability to hit for power, the defensive ability — it was obvious to the opposing dugout that he was an exciting player."
Souza credited his improvement last season to a number of factors, including his work with Tampa Bay's coaches and "settling in and trusting my ability more and more."
"I gave everything I had in the offseason to Tampa. I gave everything I had to those guys," he said, "and now I'm ready to give everything I have to the Diamondbacks."
MLB to hold first pre-draft combine from June 20-28 in Cary, North Carolina
Major League Baseball will hold its first-ever pre-draft combine June 20-28 in Cary, North Carolina, at the USA Baseball National Training Complex.
The group of invited players will be chosen in consultation with MLB scouts, and the event will include a tournament involving 88 of those players through the 26th, to give scouts in-game looks of the players in addition to combine testing. There will also be medical, educational and various performance assessments happening at the event.
It will be a unique information-collecting opportunity for teams, timed in the leadup to the 2021 MLB draft, which is July 11-13 in Atlanta around the All-Star Game festivities. The draft will be at least 20 rounds.
This year will also see the return of MLB's PDP (prospect development pipeline) event for 2022-eligible draft prospects on July 22 through Aug. 1, also to be held in Cary. The event was skipped in 2020 due to the coronavirus pandemic and will return to being one of the key early-summer events for 2022 prospects, taking place just after the 2021 draft has concluded.
Both the pre-draft combine and PDP events are voluntary and free of charge for participants.
Jameson Taillon excited to join Yankees, reunite with Gerrit Cole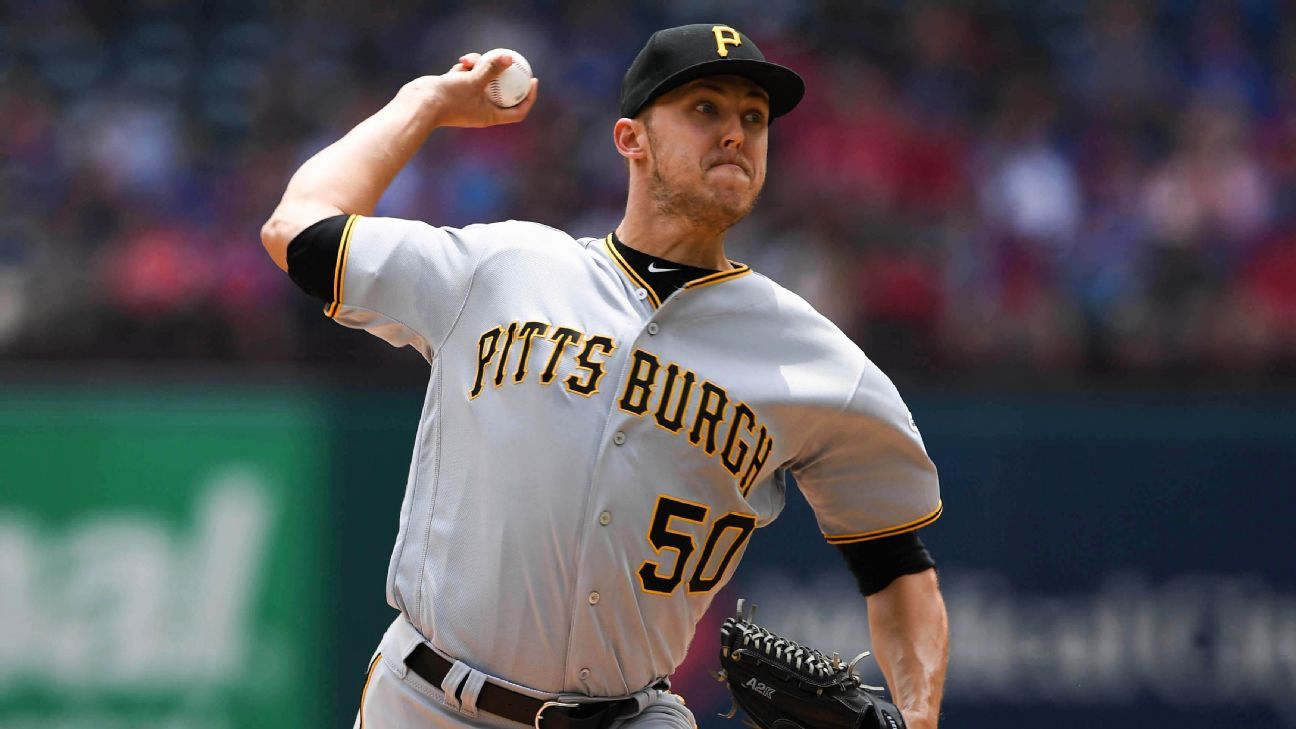 NEW YORK — Jameson Taillon's trade from Pittsburgh to the New York Yankees started to soak in, and he thought about reuniting with former roommate Gerrit Cole.
"Every night you get a five-star cooked meal," Taillon said. "Even if he's cooking for himself, he's going to marinate whatever he's cooking properly. He's going to do everything with the perfect execution. He's going to have a perfect wine pairing for it."
Taillon, recuperating from his second Tommy John surgery, was acquired Sunday for four prospects. He joins a revamped rotation headed by Cole and projected to include Deivi García, Jordan Montgomery and Corey Kluber, whose pending $11 million, one-year deal is expected to be finalized this week.
A 29-year-old right-hander, Taillon has not pitched since May 1, 2019. In addition to the elbow operations with New York Mets medical director Dr. David Altchek on April 9, 2014, and on Aug. 13, 2019, he also had operations for a sports hernia on July 8, 2015, and for testicular cancer on May 8, 2017. He was hit on the head by a 105 mph line drive off the bat of Milwaukee's Hernán Pérez on July 19, 2016, and stayed in the game.
"When you're going through it, it doesn't seem like as much as it sounds. That sounds crazy. But each injury is separate. Each experience is separate," he said.
Taillon felt he didn't fulfill the confidence Pittsburgh showed when he was selected with the second overall pick in the 2010 amateur draft. He was disappointed the Pirates blew up a group that came through the minors together and admitted "seeing all my good friends get traded in Pittsburgh and to see the direction we were headed … didn't necessarily light a fire" and he thought a trade "was necessary."
"I'm jumping into a legendary franchise, a legendary organization," he said. "I overnight went from a rebuilding organization to a team like the Yankees where I'm stepping in and the only thing they care about is to win. So that's kind of lit a fire under me."
When he awoke from his last operation, he decided he needed to relieve pressure on his elbow, putting more work on his legs and shortening his arm motion. He reworked his mechanics with Ben Fairchild, a sports performance manager in Houston who has assisted Andy Pettitte, Mark Melancon, and Anthony Rendon; Pirates director of sports performance A.J. Patrick; Pirates pitching coach Oscar Marin; Pirates bullpen coach Justin Meccage and the Florida Baseball Ranch in Lakeland.
He started throwing bullpen sessions last July and got up to about three innings of batting practice. Taillon thinks his fastball velocity is about 95 mph, where it was before the latest injury, and he gained deception. Taillon plans to leave heavily on his four-seam fastball, alternating curveballs and sliders along with occasional changeups.
"I hate seeing videos of the way I used to throw. It disgusts me," he said. "I kind of had like a coming-to-grips moment where I said, you know what, my current set of mechanics and what I'm doing isn't working. That's just the cold, hard truth. I need to change something or else my career is going to be over. So I stripped it all the way down. With rehab, all you have this time. I had 12, 15, 16 months to strip it down and kind of revamp my mechanics and revamp my career."
Taillon was inspired watching former Pirates teammate Daniel Hudson overcame two Tommy John operations and strike out Houston's Michael Brantley for the final out of the 2019 World Series for Washington. Taillon looks forward to reaching the big league playoffs for the first time with the Yankees.
"New York's one of those organizations where it's all about winning. From what I've heard, nothing else matters in that clubhouse," he said. "It's a group of guys trying to make each other better, trying to push for October. And I mean, seriously, ever since I got the news that the Yankees are where I was headed, I can't stop thinking about that. I've heard Yankee Stadium in October is just absolutely incredible."
Sources — MLBPA rejects universal DH, expanded playoffs
The Major League Baseball Players Association has turned down latest MLB proposal for the universal designated hitter and an expanded playoff format, sources confirmed to ESPN.
The news was first reported by MLB Network.
The union's stance has been all along that it did not want to talk about a trade of the universal DH — which benefits a group of players — in return for expanded playoffs. Nonetheless, MLB included the two items in its proposal, and that concept has been turned down.
The universal DH and expanded playoff format were implemented for 2020 during the 60-game shortened regular season due to the coronavirus pandemic.