MESA, Ariz. — Steve Cishek took the mound for his first live batting practice session with his new team earlier this week. As the reliever stood on the mound against the Chicago Cubs' A-list of hitters — a former MVP (Kris Bryant), a perennial candidate for the award (Anthony Rizzo), a former All-Star starter (Addison Russell) and an emerging star (Willson Contreras) — he realized exactly what he got himself into when he signed as a free agent during the winter.
"It's ridiculous," the righty said later that day. "Our lineup is stacked. I know it's only live batting practice, but game situations can't be fun facing those guys over and over and over again. It can be intimidating. … It's definitely the best team I've been a part of."
It's a notion newcomers to the Cubs' spring clubhouse have repeated upon their arrival in Mesa, just days after the front office added the final piece of a busy offseason in right-hander Yu Darvish.
The Cubs are a force once again, and now they are removed from both their championship and hangover seasons. While the normal rhetoric in the spring is to tamp down expectations, the Cubs are way past that point. Westgate Las Vegas SuperBook has Chicago at 7-1 to win its second World Series in three years, and raising that second trophy is at the forefront of this team's thoughts.
"That's one reason we all signed here, no doubt," another newcomer, pitcher Tyler Chatwood, said. "They are built to win for a while, and I'm glad to be a part of it."
From ownership on down, the Cubs like to remind everyone that they have won the most regular-season and playoff games in baseball over the past three seasons. But even for all of that success — or perhaps because of it — 2017 almost felt like a disappointment after the Cubs got off to a slow start and bowed out of the National League Championship Series in five games.
"I feel like we're all ahead of where we were last year, for sure," Bryant said. "It will be our fourth year together. The same core. It's nice to go out there with the same guys that have been with you for three, four years."
The Cubs overhauled their pitching staff but kept their position-player base intact, bringing back the same offense that ranked second in the NL in runs scored in each of the past two seasons yet still hasn't reached its potential. The Cubs were awful in situational hitting, so they brought in veteran coach Chili Davis to address that shortcoming. An improvement in that one area could translate to a monster season for a lineup stacked with former first-round picks.
"You sure do hope you figure out the game a little bit more each year and you can apply that," the 26-year-old Bryant said. "I feel that. All of us here are ready to take that next step."
It's a group just entering its prime, with plenty of big-game experience already under its belt, but the offense might not even be the biggest reason for optimism.
The addition of Darvish has people in the game thinking about 2016 all over again. The Cubs' rotation was so dominant that season that 15-game winner Jason Hammel couldn't sniff the playoffs, and this year's starting staff could be just as good. Chatwood and Darvish join holdovers Jon Lester, Kyle Hendricks and Jose Quintana to form arguably the most talented fivesome in the National League.
"I don't like to talk about other teams," Indians manager Terry Francona said recently. "But those guys [the Cubs' front office] always get what they need. That is a good five-man rotation. I would love to face them in the World Series again."
Cubs ownership isn't backing away from high expectations. They signed off on the $126 million commitment to Darvish and expect a return on the investment.
"On paper it might be the strongest rotation we've ever had," usually understated owner Tom Ricketts declared as camp opened. "We have a great team."
Ricketts stopped short of calling anything short of a World Series a failure, but he did nothing to dissuade fans from lofty aspirations.
"At this point, with this team, that's our goal," he said. "I don't blame them. They should have high expectations."
Are these Cubs a 103-win squad, as they were in 2016? Could they be even better? A lot of that will be decided by the rotation and a revamped bullpen that includes new closer Brandon Morrow. There's an added bonus in that Morrow and Darvish were both plucked from a Los Angeles Dodgers team the Cubs faced in each of the past two NLCS.
"Both Yu and Morrow were key to our success, and we wish them well," Dodgers manager Dave Roberts said. "It's going to be a good battle with those guys. Six times in the regular season and maybe another time in the postseason. Who knows?"
Although another playoff meeting with the Dodgers is still months from taking shape, the Cubs know what they have: a very talented group with new motivation — if perhaps not 108-year-drought motivation — and a renewed hunger.
"Nobody in this room is saying, 'We were division winners last year,'" veteran Ben Zobrist said. "No one really cares about that at this point. We want to be World Series champions again."
If the reaction of the newcomers is any indication, there is enough talent in the clubhouse to make it happen.
"It's easy to say because I'm here now, but it's the truth," Cishek said. "Up and down our lineup, bullpen and starting staff, it's an incredible, incredible team."
San Francisco Giants sign LHP Alex Wood to one-year, $3 million contract
SAN FRANCISCO — Left-hander Alex Wood agreed to a $3 million, one-year contract with the San Francisco Giants on Thursday.
Wood, who turned 30 on Tuesday, can make up to an additional $3 million in performance bonuses for the number of games in which he gets 10 or more outs: $125,000 each for 12 and 14 games, $250,000 apiece for 16, 18, 20, 22 and 24, and $500,000 each for 26, 28 and 30.
An All-Star in 2017, Wood went 0-1 with a 6.39 ERA in two starts and seven relief appearances last year with National League West rival Los Angeles, striking out 15 in 12 2/3 innings. He earned $1,481,481 in prorated pay from a $4 million salary. He pitched two perfect innings in the Dodgers' title-winning Game 6 World Series victory over Tampa Bay.
Wood is 53-44 with a 3.45 ERA in 138 starts and 50 relief appearances over eight seasons with the Atlanta Braves (2013-15), the Dodgers (2015-18, 2020) and Cincinnati Reds (2019).
Right-handed reliever Mychal Givens, Colorado Rockies agree to 1-year, $4.05M contract
DENVER — Right-handed reliever Mychal Givens and the Colorado Rockies agreed Thursday to a $4.05 million, one-year contract.
Colorado acquired Givens in a deal with Baltimore on Aug. 30. He allowed at least a run in five of 10 appearances for the Rockies.
Givens appeared in 12 games for the Orioles before the trade and allowed two runs over 13 innings. Combined, he was 1-1 with a 3.61 ERA with Colorado and Baltimore.
He turns 31 on May 13.
Givens was selected by the Orioles in the second round of the 2009 amateur draft. He is 21-17 with a 3.41 ERA and 21 saves over 345⅓ innings during his career. Givens was due to make $3,225,000 in 2020 and his prorated salary wound up at $1,194,444.
Six Rockies remain eligible to exchange proposed arbitration salaries on Friday: right-handers Carlos Estevez, Jon Gray and Robert Stephenson, left-hander Kyle Freeland, second baseman Ryan McMahon and outfielder Raimel Tapia.
Reliever Archie Bradley reaches one-year deal with Philadelphia Phillies, sources say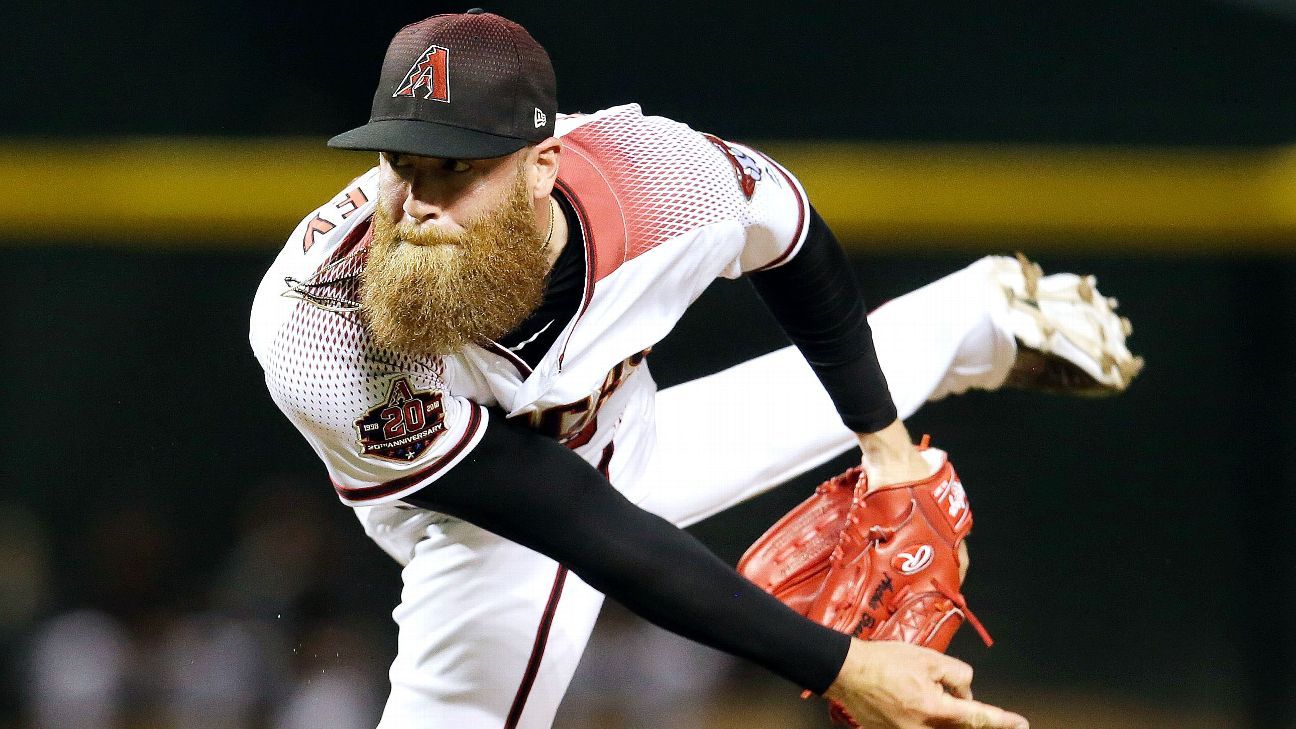 Relief pitcher Archie Bradley has reached a one-year, $6 million deal with the Philadelphia Phillies, sources confirmed to ESPN on Thursday.
Bradley was not re-signed by the Cincinnati Reds after he was acquired in a midseason trade with the Arizona Diamondbacks. The right-hander pitched well in his six regular-season appearances with Cincinnati, giving up just one run over 7⅔ innings. He allowed the deciding run in Game 1 of the team's National League wild-card series against the Braves, which Atlanta won 1-0 in 13 innings.
Overall, he was 2-0 with a 2.95 ERA with 18 strikeouts in 16 appearances between the two teams. He entered the majors as a starter with the Diamondbacks, starting 26 games in 2016, before moving to the bullpen the following seasons. He has 28 career saves and a 3.91 ERA in 255 appearances since entering the majors in 2015.
The agreement between the Phillies and Bradley was first reported by Sportsnet.