Sure, it's still technically the offseason, but as of last week, spring training is underway. Traditionally, that means one thing: It's time to hope. It's time for fans of the best teams to hope for a championship. And it's time for fans of the worst teams to hope for a surprise — a Cinderella run toward relevance. The regular season can slam shut doors of possibility, but right now, all doors remain open.
Hope is different everywhere, and it's partly informed and moderated by preseason projections. Teams and fans aren't going into spring training blind. Once rosters get more or less set, different analytical services use prior data to project what's likely to happen. Here are the current projected 2018 standings at FanGraphs. There will be shifts between now and Opening Day, but they probably won't be dramatic. Right there, you can get an informed idea of which teams look solid and which teams look weak.
From the fan perspective, maybe mathematical projections rob us of the fun of the unknowable. It's clear the White Sox are rebuilding, but the projections also make it clear how far they still have to go. Without the math, it might be easier to dream. But allow me to let you in on a little secret: Projections aren't destiny. Projections don't work against hope. They just make clearer what's being hoped for.
I'm going to talk about three teams I think could be major surprises — in a good way, relative to the projections. Before I get there, I'd like to provide some prior examples. I have a sheet of preseason team projections stretching all the way back to 2005. Over 13 years, several teams, of course, have been projected to be below average or worse. Many of those teams were below average. But some were very successful. Among my favorites:
• The 2005 White Sox were projected to win 79 games. They won 99 games — and the World Series.
• The 2015 Royals were projected to win 79 games. They won 95 games and the World Series.
• The 2012 Orioles were projected to win 70 games. They won 93 games and lost in the American League Division Series.
• And the 2017 Diamondbacks were projected to win 77 games. They won 93 games and lost in the National League Division Series.
Those aren't the only overachievers. They're just, shall we say, inspiring ones. Who might overachieve this year among the current below-average ballclubs?
Reliever Archie Bradley reaches one-year deal with Philadelphia Phillies, sources say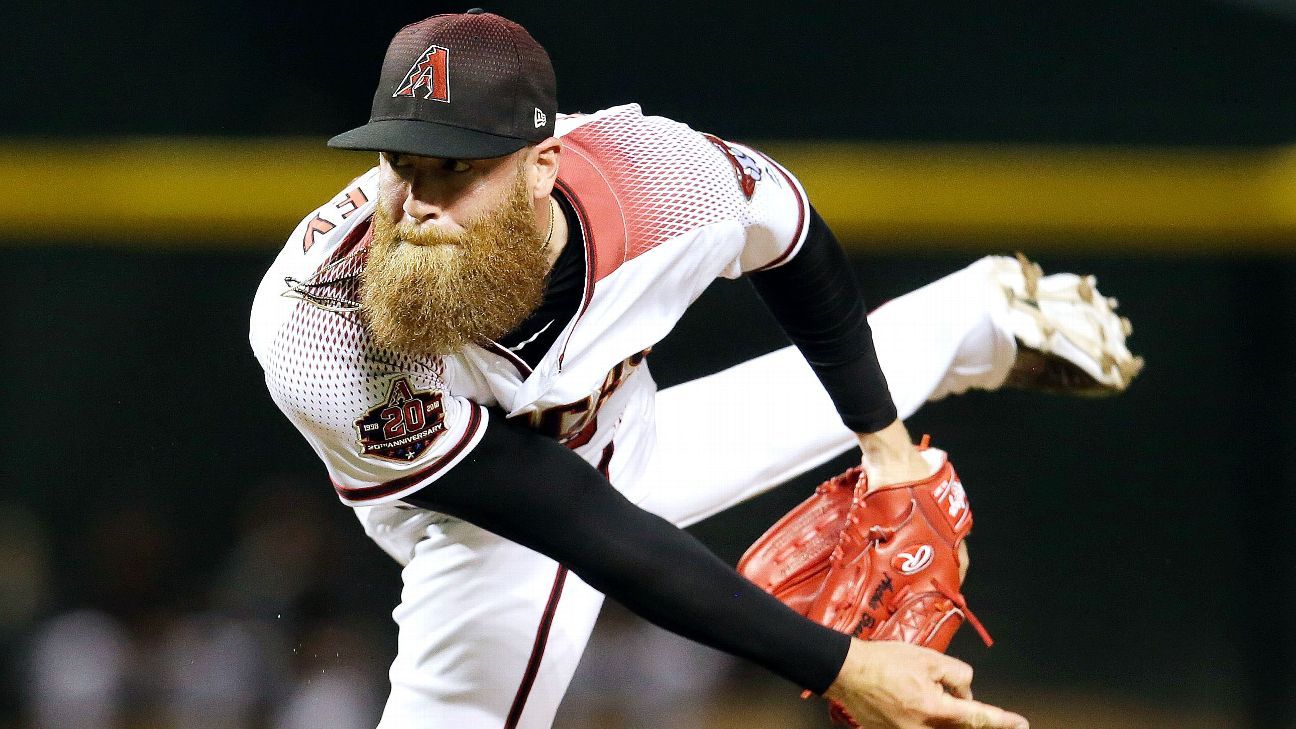 Relief pitcher Archie Bradley has reached a one-year, $6 million deal with the Philadelphia Phillies, sources confirmed to ESPN on Thursday.
Bradley was not re-signed by the Cincinnati Reds after he was acquired in a midseason trade with the Arizona Diamondbacks. The right-hander pitched well in his six regular-season appearances with Cincinnati, giving up just one run over 7⅔ innings. He allowed the deciding run in Game 1 of the team's National League wild-card series against the Braves, which Atlanta won 1-0 in 13 innings.
Overall, he was 2-0 with a 2.95 ERA with 18 strikeouts in 16 appearances between the two teams. He entered the majors as a starter with the Diamondbacks, starting 26 games in 2016, before moving to the bullpen the following seasons. He has 28 career saves and a 3.91 ERA in 255 appearances since entering the majors in 2015.
The agreement between the Phillies and Bradley was first reported by Sportsnet.
Oakland Athletics acquire reliever Nik Turley from Pittsburgh Pirates for cash
OAKLAND, Calif. — Left-hander Nik Turley was traded to the Athletics on Thursday from the Pittsburgh Pirates for $60,000, giving Oakland a reliable reliever for late in games after losing closer Liam Hendriks in free agency.
Turley went 0-3 with a 4.98 ERA and one save over 25 relief outings — the most by any big league rookie — spanning 21 2/3 innings for the Pirates in the coronavirus-shortened 2020 season.
The 31-year-old Turley made his major league debut with the Minnesota Twins in 2017 then didn't pitch the next two years after working back from Tommy John surgery.
Oakland won the American League West at 36-24 for its third straight playoff berth then beat the Chicago White Sox in the wild-card round before losing in a four-game AL Division Series to rival Houston last fall.
Corey Knebel, Los Angeles Dodgers agree to $5.25 million contract to avoid arbitration
LOS ANGELES — New Dodgers reliever Corey Knebel agreed to a one-year, $5.25 million contract on Thursday to avoid salary arbitration.
The 29-year-old was acquired from the Milwaukee Brewers on Dec. 2 ahead of the deadline for teams to offer 2021 contracts to unsigned players on their 40-man rosters. He earned $1,898,148 in prorated pay last year from a $5,125,000 salary.
Knebel was an All-Star in 2017 and a key part of the Brewers' bullpen during their run to the 2018 National League Championship Series. The right-hander missed the 2019 season with a torn ulnar collateral ligament in his pitching elbow and struggled after returning last season.
Knebel's best season came in 2017, when he went 1-4 with 39 saves and a 1.78 ERA in 76 appearances. He had a 6.08 ERA in 15 games last season.
The 2013 first-round draft pick has a career ERA of 3.31 with 57 saves in 239 relief appearances. He pitched eight games for the Detroit Tigers in 2014 and had been with Milwaukee ever since.
Six players remain eligible to exchange proposed arbitration salaries with the World Series champion Dodgers on Friday: outfielder/first baseman Cody Bellinger, shortstop Corey Seager, right-hander Walker Buehler, catcher Austin Barnes, right-hander Dylan Floro and left-hander Julio Urias.