No matter where quarterback Kirk Cousins signs, and given the attention his contract situation has received, there's a clear directive: He'd better win. He knows that as well as anyone. And in every interview, Cousins has repeated how important winning will be to his choice.
If that's the case, then some teams make a lot of sense and a handful of teams do not.
Minnesota tops the list of the teams that make the most sense — if it decides not to keep any of the three unrestricted free agents from its 2017 roster at the position. Thing is, the Vikings reached the NFC Championship Game (with a much less expensive Case Keenum), so the expectations would be set awfully high for Cousins. Still, if it's about long-term success and the Vikings are interested, then they're the easy choice — even if it means rejecting bigger deals elsewhere.
The Redskins didn't want to pay Cousins a certain amount because they believed it would be harder to build around him. Minnesota's roster is already built. The Vikings could afford to overpay a guy if they view him as the final piece, one who could help them now and for a few years while in that Super Bowl window.
Jacksonville makes sense too, depending on what the Jaguars decide to do with Blake Bortles.
But there are some teams for which, if he signs, he'll need help and hope the organization can provide what's necessary.
Arizona Cardinals: The Cardinals have a new coach in Steve Wilks. But they also need a lot of help and don't have much cap room (approximately $23 million). There's another potential problem: They play in the NFC West, the same division as two of Cousins' former coaches — the Los Angeles Rams' Sean McVay and San Francisco's Kyle Shanahan. That doesn't mean Cousins couldn't play in Arizona and win, but he'd also enter four games each year facing two coaches who know him as well as anyone, especially what makes him uncomfortable. Cousins did play well enough in a victory over the Rams last season and he threw for 330 yards in beating the 49ers (winless at the time). But it makes winning harder.
New York Jets: With approximately $75 million in cap space, they can pay quite a bit for Cousins if they want; they can free up another $15 million or so with cuts. But signing Cousins doesn't solve all their issues. Quarterback Josh McCown wasn't the problem in the 13 games he played last season, throwing 18 touchdowns to nine interceptions with a passer rating of 94.5. He wasn't a Pro Bowl player, but he played well and the Jets were 5-8 in games he started. New York lacks offensive playmakers; finding one with the sixth overall pick won't be enough. They need a running back, tight end and offensive line help. They need to fix their defense, which ranked 22nd in points allowed and 25th in yards allowed.
Money alone has never solved problems in the NFL. Still, the Jets could always structure Cousins' contract so it's front-loaded, allowing them to build for the next several years. Then the question becomes: Can they? If Cousins signs here, it will test the belief that he wants to win. Sometimes a team offers so much money, it convinces players to believe that, yeah, they can win here (see: Redskins, 2000s). Having a coordinator in Jeremy Bates who has a reputation for being highly detailed — and who coached with Mike Shanahan, Cousins' first coach — helps. Cousins met him once and he knows the system he runs. Winning in New York could make Cousins a king; losing there after signing a huge deal would do the opposite. Cousins would be betting on himself again, this time that he could elevate a franchise. He'd also be betting on the Jets to get him what he needs. Those are big bets.
Denver Broncos: If the Vikings and Jaguars don't bid, then it could come down to the Broncos or the Jets. Denver has shown it can build a winner. The Broncos also have a good running game, ranking 12th in yards per game last season. They have a defense that ranked third in yards (but 22nd in points allowed). There's a base to build around, plus they have the fifth overall pick. The problem for Denver will be creating necessary cap space. The Broncos not only don't have a lot of room now — $25 million – they're also in tough shape for 2019 (currently 29th in available space). Denver could release or trade players to create more room, but one of them would be receiver Emmanuel Sanders. Also, coach Vance Joseph ended his first season with rumors he could get fired. It's a storied franchise, but it's another gamble. And both sides will have to wonder the same thing: Given their cap situation, would signing Cousins prevent them from building for long-term success?
Cleveland Browns: This has never made sense for either side and there's a good chance the Browns won't even bid on Cousins. They have a chance to grab the best quarterback in a draft with several good prospects who, in a couple of years, could surpass Cousins. And they'd be much cheaper. From Cousins' perspective: The Browns are a combined 1-31 and have the same head coach. End of story.
Suspended WR Martavis Bryant joins CFL's Toronto Argonauts
Wide receiver Martavis Bryant, who has not played in the NFL since 2018 because of an indefinite suspension for multiple drug policy violations, has signed with the Toronto Argonauts of the Canadian Football League.
Terms of the contract were not disclosed.
Bryant's last season in the NFL was with the then-Oakland Raiders in 2018 when he had 19 receptions for 266 yards in 12 games. He played that season while a year-long suspension for violating the NFL's substance-abuse policy was under appeal and then was suspended indefinitely by the NFL in December of 2018.
Bryant applied for reinstatement in 2019 but has not been reinstated by the league.
He played for the Pittsburgh Steelers from 2014-17 but was suspended for the entire 2016 season for violating the league's substance-abuse policy. The Steelers traded Bryant to the Raiders before the 2018 season.
Bryant, 29, was a fourth-round pick by the Steelers in 2014 but missed 36 of a possible 80 regular-season games in his career because of suspensions.
He has 145 catches for 2,183 yards and 17 touchdowns in 44 career NFL games.
Notable Super Bowl betting trends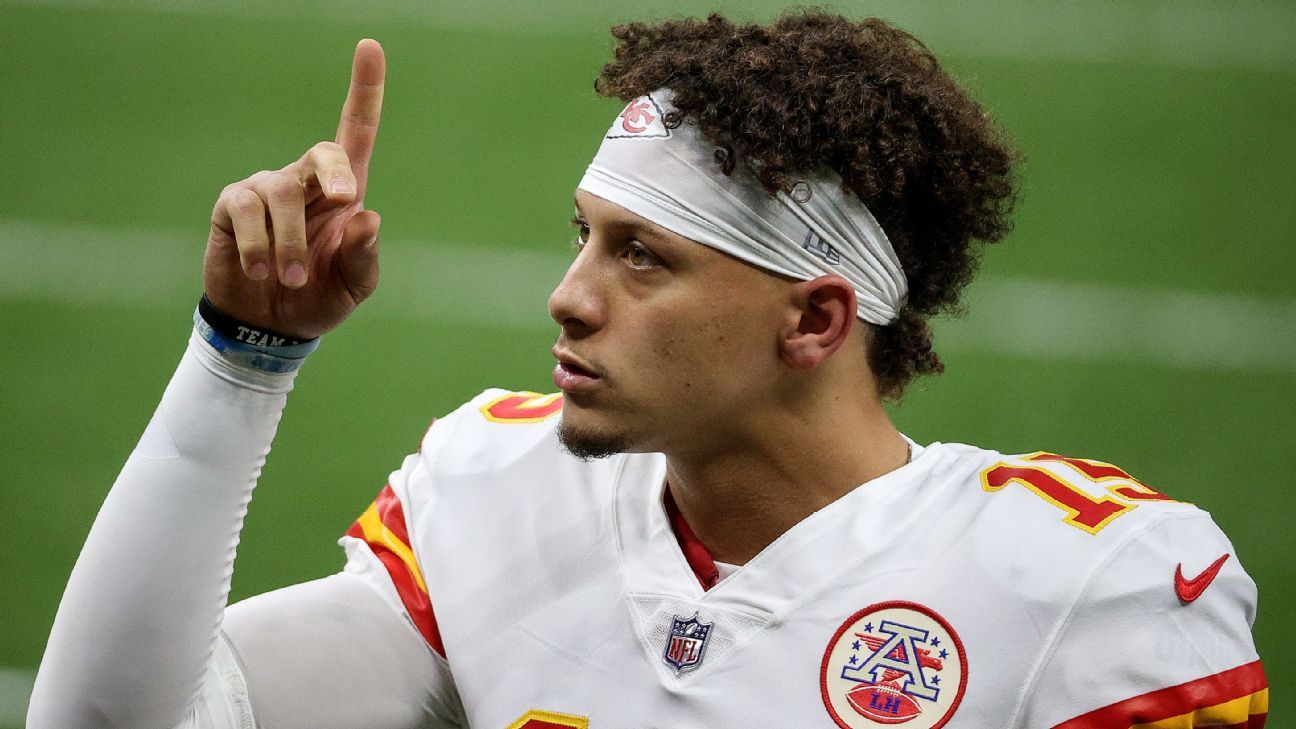 Super Bowl LV is set with Patrick Mahomes and the Kansas City Chiefs set to battle Tom Brady and the Tampa Bay Buccaneers in Tampa on February 7th. We will have two weeks worth of content leading up to the big game, starting with some nuggets and trends to get your prepared for the big game.
---
Super Bowl betting trends to know
Favorites have covered 2 straight Super Bowls and 3 of the last 4. Overall, favorites are 27-25-2.

Last 2 Super Bowls went under the total. 10 overs and 10 unders last 20 Super Bowls and it's 26-26-1 overall (no total for Super Bowl 1)
AFC teams have won and covered 5 of the last 6 Super Bowls

The favored team is 35-19 straight up in the 54 Super Bowls

Total of 57 would be 2nd-highest closing Super Bowl total ever. Super Bowl LVI closed at 58 and went over in OT

Chiefs enter 8-10 ATS on season, the 5th team to advance to Super Bowl with a losing ATS record (only 2012 Ravens went on to win)

3 of last 4 preseason favorites went on to win Super Bowl (Chiefs began 2020 as favorite at +400)

Tom Brady is 4-5 ATS and 6-3 outright in his career in the Super Bowl. He has been an underdog once, in his 1st Super Bowl vs. the Rams (Only two quarterbacks have won multiple Super Bowls as an underdog: Eli Manning and Jim Plunkett – 2 each).
WR 22
RB 21
TE 5
QB 3
CB 2
Defense 1
TD 26
FG 25
Safety 3
ESPN's Statistics & Information group contributed to this story
Fortune favors the bold for Bruce Arians, whose risks have Bucs in Super Bowl – Tampa Bay Buccaneers Blog
TAMPA, Fla. — On fourth-and-4 against the Green Bay Packers in Sunday's NFC Championship, with 13 seconds left before halftime and looking to pad a 14-10 lead, Tampa Bay Buccaneers coach Bruce Arians told his punt team to get off the field — they were going for it.
"I was like, 'We didn't come here to not take chances to win the game,'" said Arians, whose "no risk it, no biscuit" philosophy — not only on the field but off — is one of the big reasons the Bucs are headed to the Super Bowl this year.
"The coaches told us … all week, 'We're gonna be aggressive, we're gonna go at 'em, we're gonna take chances with the guys that we've got, that's what we do," said wide receiver Scotty Miller, who, after a 6-yard catch by Leonard Fournette to convert that fourth down, caught a 39-yard touchdown to extend Tampa Bay's halftime lead to 11 points.
By contrast, Packers coach Matt LaFleur kicked a field goal after being down 31-23 with 2:09 to go in regulation and never got the ball back.
Added Miller: "It was a risk at the time, but there was only 13 seconds left, so if we didn't run a play, we'd probably waste six [seconds], and then they'd probably throw a Hail Mary as well, so why not let us do it?"
The 68-year-old Arians, whose health issues led him into retirement after the 2017 season, didn't come back to football in 2019 to play scared, to hold back or leave things unsaid. He takes risks, makes unpopular decisions and does so with conviction — much of that stemming from the long wait he had to become a first-time NFL head coach at 60.
"For me, there were times when I never thought it would happen," Arians said Sunday. "I never thought I would get a head-coaching job. After the cancer scare in Arizona, sitting out that year and then coming back — this has been the most rewarding year of coaching in my life."
He told reporters at the NFL combine last February, if he could have his pick, he wanted quarterback Tom Brady, an audacious statement considering the Bucs' 7-9 record at the time. Then when he got Brady, he was scrutinized for his candor talking about Brady's mistakes publicly, which never happened in New England. Yet Arians scoffed at any notion of friction.
When players expressed outrage over the police shooting of Jacob Blake in Wisconsin this summer, Arians challenged them to take their frustrations beyond protesting. If they wanted to move or cancel a practice, he'd support it, but wanted to see a plan, telling them, "Your responsibility is to take action."
» Defining events of Brady's first Tampa season
» How Arians builds QB relationships
» What Brady's jerseys have meant to him
» White-David emerging as best LB duo
» Winfield Jr.'s secret weapon? His dad
» How Brady has meshed with teammates
» Ronald Jones believes in himself again
Members of the players' social justice committee responded by meeting with community leaders. They launched the Buccaneers' Youth Leadership Program, pairing staff members in all departments with middle school students in East Tampa. They also created a #BucsVote campaign to promote voter registration.
Arians' unique coaching style has also been about conveying support, which in numerous instances, made a world of a difference for players and his assistants.
When Leftwich's playcalling was called into question at times, Arians stood by him, not once considering taking back those duties.
When running back Ronald Jones had a costly fumble at the New York Giants, and then again at Carolina, Arians didn't scold him on the sideline, or bench him. Recognizing Jones was "in the tank," Arians pulled him aside and said, "'Let it go. The team's going to need you today, so you got to get back out there.'" Jones ripped off a 98-yard touchdown in the second half.
Arians welcomed wide receiver Antonio Brown, who served an eight-game suspension this season due to multiple violations of the NFL's personal conduct policy, after the coach had said just a few months earlier that he "wasn't a fit." Brown was accused by two women of sexual misconduct.
But Arians didn't just tolerate him — he went to bat for him, knowing the criticism that would come given Arians' advocacy for women and his desire to give second chances.
Fournette was another player who came to Tampa looking to start over.
"I tell A.B. every day at practice, 'Just thank God for second chances,'" said Fournette, whom Arians had to sell on being a backup in Tampa, after he was used to having entire offenses run through him in Jacksonville.
"We had our personal talks," Fournette said. "And he asked me through the duration of the season, 'What do I see myself [as] or what do I want to be?' Because I was upset plenty of times after the games because I wasn't getting the ball or anything. He just sat down and had a real talk with me."
Arians held Fournette out an extra week in Week 6 – against Green Bay — because he was concerned the running back's ankle wasn't 100%. He told Fournette, "We're gonna need you for the long run."
At first Fournette was angry, but gained respect for Arians for making the decision. He realized Arians was trying to protect him. And he thought he and Jones made a great one-two punch.
Lo and behold, when Jones suffered a quad injury and became a late scratch just before the Bucs' wild-card game at Washington, Fournette gashed his way for 93 yards, with 39 receiving yards.
That's how "Playoff Lenny" was born. His 313 yards from scrimmage have been the most of any player this postseason. He's fresher than he's felt in years and believes Arians has helped prolong his career. Which is why he jumped at the chance to answer Arians' call on fourth down.
Fournette told him, "Let's just keep fighting."