Houston Astros minor leaguer Forrest Whitley, one of the game's top pitching prospects, has been suspended 50 games for a violation of minor league baseball's drug program, Major League Baseball announced on Wednesday.
Whitley's suspension is without pay.
"Obviously as an organization we're going to suffer a little bit, but we're still hopeful and optimistic that Forrest can be a big part of our future," general manager Jeff Luhnow said.
Whitley, 20, was the Astros' first-round pick in 2016 (17th overall). A product of Alamo Heights High School in San Antonio, Whitley advanced from low-A ball to Double-A last season. He was a combined 5-4 with a 2.83 ERA and 143 strikeouts in 92⅓ innings with three minor league teams last season, including four appearances for Double-A Corpus Christi in which he posted a 1.84 ERA.
Luhnow wouldn't provide details on what led to the suspension, but he did say Whitley was remorseful and he believes he will learn from his mistake.
"On the pitching side I don't have any concerns, he's going to continue to develop and this is part of maturity," Luhnow said. "When you're a high school player and you get drafted and you're a top prospect there's a lot of pressure that goes along with that role. And I don't know if that had anything to do with this, but there's a maturation process going from high school and the big leagues and this is one step along the way for him."
The Astros have fended off recent trade interest in the 6-foot-7 right-hander, who is ranked eighth among the top 100 prospects this spring, according to ESPN's Keith Law.
The Associated Press contributed to this report.
San Francisco Giants sign LHP Alex Wood to one-year, $3 million contract
SAN FRANCISCO — Left-hander Alex Wood agreed to a $3 million, one-year contract with the San Francisco Giants on Thursday.
Wood, who turned 30 on Tuesday, can make up to an additional $3 million in performance bonuses for the number of games in which he gets 10 or more outs: $125,000 each for 12 and 14 games, $250,000 apiece for 16, 18, 20, 22 and 24, and $500,000 each for 26, 28 and 30.
An All-Star in 2017, Wood went 0-1 with a 6.39 ERA in two starts and seven relief appearances last year with National League West rival Los Angeles, striking out 15 in 12 2/3 innings. He earned $1,481,481 in prorated pay from a $4 million salary. He pitched two perfect innings in the Dodgers' title-winning Game 6 World Series victory over Tampa Bay.
Wood is 53-44 with a 3.45 ERA in 138 starts and 50 relief appearances over eight seasons with the Atlanta Braves (2013-15), the Dodgers (2015-18, 2020) and Cincinnati Reds (2019).
Right-handed reliever Mychal Givens, Colorado Rockies agree to 1-year, $4.05M contract
DENVER — Right-handed reliever Mychal Givens and the Colorado Rockies agreed Thursday to a $4.05 million, one-year contract.
Colorado acquired Givens in a deal with Baltimore on Aug. 30. He allowed at least a run in five of 10 appearances for the Rockies.
Givens appeared in 12 games for the Orioles before the trade and allowed two runs over 13 innings. Combined, he was 1-1 with a 3.61 ERA with Colorado and Baltimore.
He turns 31 on May 13.
Givens was selected by the Orioles in the second round of the 2009 amateur draft. He is 21-17 with a 3.41 ERA and 21 saves over 345⅓ innings during his career. Givens was due to make $3,225,000 in 2020 and his prorated salary wound up at $1,194,444.
Six Rockies remain eligible to exchange proposed arbitration salaries on Friday: right-handers Carlos Estevez, Jon Gray and Robert Stephenson, left-hander Kyle Freeland, second baseman Ryan McMahon and outfielder Raimel Tapia.
Reliever Archie Bradley reaches one-year deal with Philadelphia Phillies, sources say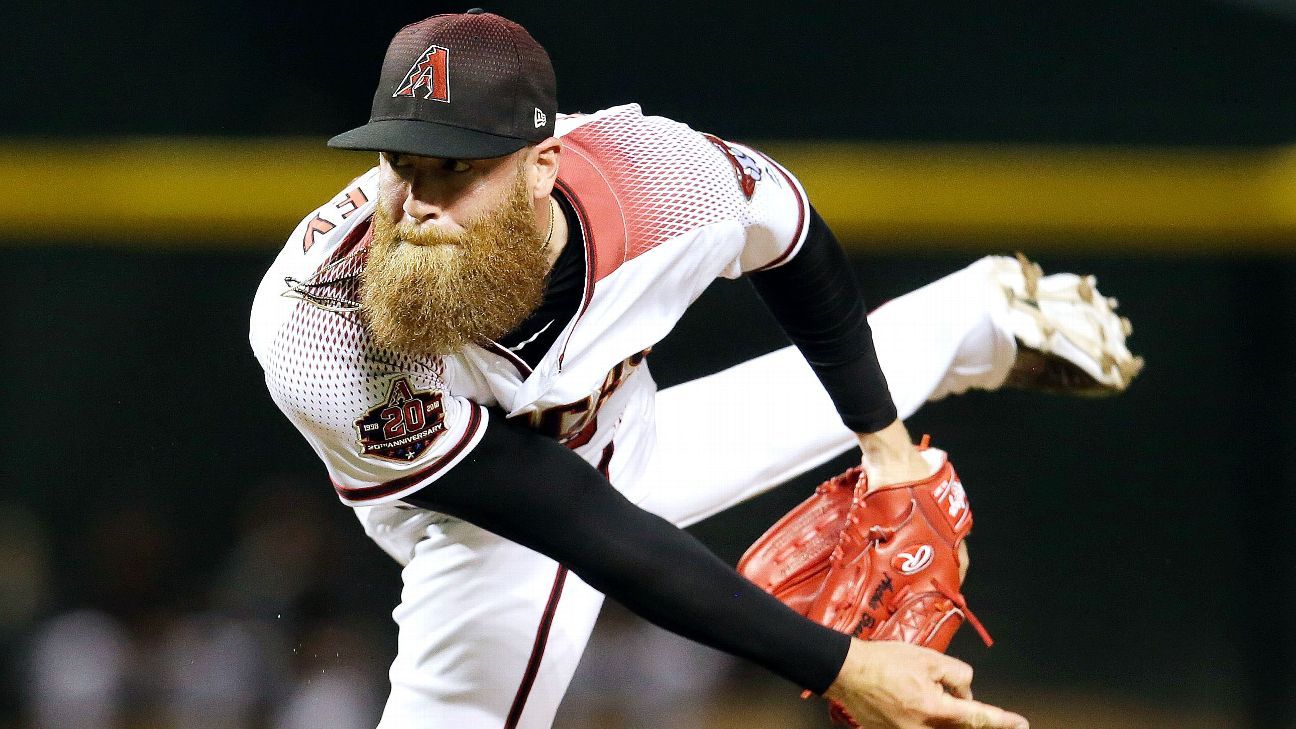 Relief pitcher Archie Bradley has reached a one-year, $6 million deal with the Philadelphia Phillies, sources confirmed to ESPN on Thursday.
Bradley was not re-signed by the Cincinnati Reds after he was acquired in a midseason trade with the Arizona Diamondbacks. The right-hander pitched well in his six regular-season appearances with Cincinnati, giving up just one run over 7⅔ innings. He allowed the deciding run in Game 1 of the team's National League wild-card series against the Braves, which Atlanta won 1-0 in 13 innings.
Overall, he was 2-0 with a 2.95 ERA with 18 strikeouts in 16 appearances between the two teams. He entered the majors as a starter with the Diamondbacks, starting 26 games in 2016, before moving to the bullpen the following seasons. He has 28 career saves and a 3.91 ERA in 255 appearances since entering the majors in 2015.
The agreement between the Phillies and Bradley was first reported by Sportsnet.