A small group of charitable Philadelphia Eagles fans have received a gift by the Minnesota Vikings: confetti that fell at their stadium when the Eagles won Super Bowl LII.
The confetti was sent to roughly 24 Eagles fans who made donations to the Minnesota Vikings Foundation shortly after Philadelphia beat the Minnesota in the NFC Championship Game, team spokesman Jeff Anderson told ESPN.
Anderson said the foundation usually sends thank-you notes. The confetti was a last-minute idea.
"We just felt it would be a nice gesture to some classy fans," Anderson said.
Most of the donations came with notes apologizing for the behavior of Eagles fans after their team's 38-7 victory in the NFC title game.
"Your positive attitude and great sportsmanship towards the Minnesota Vikings will not go unnoticed or unappreciated," the note said.
Texas A&M Aggies QB Kellen Mond has 'upside' as intriguing Day 2 NFL draft option, scouts say
Texas A&M quarterback Kellen Mond is considered an intriguing Day 2 option for teams out of reach of the top quarterbacks in April's draft.
"There's upside there," said one longtime NFC scout. "If anything I would have liked to see him let loose a little more."
And teams are doing their research on the four-year starter. Texas A&M coach Jimbo Fisher tells ESPN that he's had extensive talks with about 10-to-15 teams about Mond. Those teams value his experience, ability to lead and win games, Fisher said. Mond helped A&M win 32 games on his way to a school-record 9,661 passing yards with 71 touchdowns and 27 interceptions.
Experience could be especially important to teams who saw Mitch Trubisky and Dwayne Haskins struggle after starting one season in college.
"He does all of the things you need to judge a first-round player," said Fisher, who has coached Mond since 2018. "He helped change the culture — winning more games, taking a stand, showing he's a guy who can fight through adversity, took criticism, eliminated any distractions and continued to get better."
Scouts say Mond has plenty of arm and athleticism but probably looked for the check down too often. They believe he can go vertical and play less conservative. Fisher said Mond's biggest area for improvement is timing on intermediate throws, but he's come a long way there. Fisher adds he gave Mond all the responsibility a quarterback could handle, from setting protections to audibles to deciphering third and fourth reads post-snap.
As a senior, Mond completed 188-of-297 passes (63.3 percent) for 2,282 yards and 19 touchdowns and three interceptions. Mond, Florida's Kyle Trask and Stanford's Davis Mills are part of the second tier outside the five surefire first-round quarterbacks.
"He's vastly improved every year," Fisher said. "Look at the body of work, the competition he's played against. He really worked his mechanics, has done a great job with his body, his core footwork and balance – that allows him to be so much more efficient. He studies the game, learns very well – an intelligent young man, understands concepts and attacks coverage. He started having fun with it once he grabbed a hold of the offense, where he was the first one on the plane breaking down film with me after a game."
If Jaguars want an impact tight end, they'd better act quickly in the draft – Jacksonville Jaguars Blog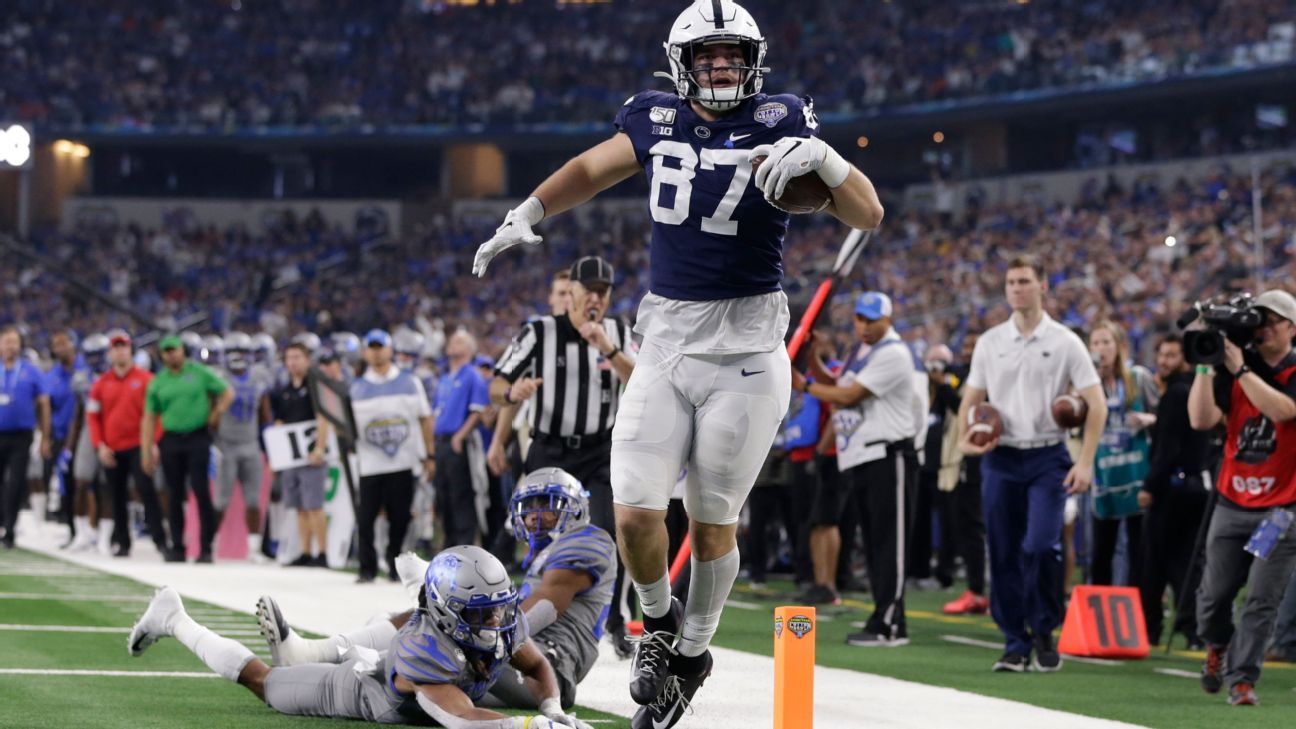 JACKSONVILLE, Fla. — Coach Urban Meyer was pretty clear the Jacksonville Jaguars needed a pass-catching tight end, and since they didn't sign one in free agency it's equally clear it will be a priority in the draft.
The Jaguars had better pick one in the first three rounds, though, because recent history shows that it's hard to find an impact tight end after that. It's not impossible — Antonio Gates was undrafted, Delanie Walker was a sixth-round pick, and George Kittle was a fifth-round pick, for example — but drafting one early is a much better option.
In looking at the highest-producing tight ends over the past 20 years, 13 of the top 20 in terms of receptions were first- or second-round picks. Tony Gonzalez, the NFL's all-time receptions leader among tight ends (and third overall), was a first-round pick. Rob Gronkowski, who has the third-most TD catches among tight ends since 2001 with 86, was a second-round pick. Zach Ertz, who holds the single-season record for most receptions by a tight end (116 in 2018), was a second-round pick.
Four more of the top 20 were third-round picks, including Jason Witten, whose 1,228 receptions are second only to Gonzalez among tight ends and rank fourth overall in NFL history, and Travis Kelce, who surpassed 100 catches twice in the past three seasons. Jimmy Graham and Jared Cook also were third-round picks.
• Answering offseason fantasy questions
• How narrative around Texans' Watson flipped
• Do Packers need to recommit to Rodgers?
• Why WFT's priority in draft could be LT
• How Malcolm Butler fits with Cardinals
Only three of the top 20 players were taken after the third round: Gates, Walker and Owen Daniels (fourth round).
So the Jaguars' best chance of landing a tight end that can be a major part of the passing game — something that hasn't happened much around here, and certainly never to the extent of what the players mentioned above have done — is to find one by the end of Day 2 of the draft. The Jaguars have five picks in the first three rounds (two each in the first and second rounds) and are likely taking quarterback Trevor Lawrence first overall.
Florida's Kyle Pitts will almost assuredly be long gone by the time the Jaguars pick 25th, but there are some other intriguing prospects — such as Penn State's Pat Freiermuth, Boston College's Hunter Long and Miami's Brevin Jordan — that the Jaguars could target in the second or third round. Freiermuth could be the pick to start the second round.
There's no guarantee about any of those players and the Jaguars shouldn't force the pick, but if they do have good evaluations on any of them and believe they can be impact players, then it's better to take them in the second or third rather than waiting at the position or hoping they slide.
The Jaguars' draft history with tight ends is … not good. They've drafted nine since the team's inception (including Derek Brown in the 1995 expansion draft), but just two earlier than the fourth round: Marcedes Lewis (28th overall in 2006) and Josh Oliver (third round in 2019). Lewis is the franchise's all-time leader among tight ends in receptions (375), receiving yards (4,502) and TD catches (33), and he's third overall in the first two categories and second only to wide receiver Jimmy Smith in touchdown catches.
Oliver played in four games and had just three catches in his first two seasons because of injuries, and the Jaguars traded him to Baltimore last month for a conditional seventh-round draft pick in 2022.
Of the remaining nine players in the franchise's top 10 in terms of tight end receptions, six were either free-agent signees, signed off the street, or acquired via trade: Kyle Brady, Pete Mitchell, James O'Shaughnessy, Julius Thomas, Clay Harbor and Tyler Eifert.
After Lewis, the best tight end the Jaguars have drafted is George Wrighster, a fourth-round pick in 1990 who went on to catch 94 passes for 850 yards and nine touchdowns in his six-year career.
Jaguars tight ends have rarely been prominent parts of the passing game. Only three in franchise history have caught 48 or more passes — an average of just three per game over 16 games — in a single season: Mitchell (52 in 1996), Brady (64 in 2000) and Lewis (58 in 2010 and 52 in 2012).
Three catches per game, even for a run-oriented team, isn't asking too much. Especially since the Jaguars haven't exactly had dynamic receivers since Jimmy Smith retired after the 2005 season. They've had only three receivers record 1,000-yard seasons since then (Allen Robinson and Allen Hurns in 2015 and DJ Chark Jr. in 2019) and have had only two players with 70 or more catches in a season (Robinson in 2015-16 and Chark in 2019).
Tight end is a priority in the NFL today more than ever and the Jaguars should treat it as such.
From $248 to $622K – NFL players to bring in a wide range of bonuses
Sometimes the best feeling can be finding an extra $20 in a pair of jeans you have not worn in a while.
Now imagine what it must be like when you learn you have found an extra $622,056.
The NFL's performance-based pay system has been around since 2002, when it was included in the ratification of the collective bargaining agreement, and it rewards players who have had high playing time but are making low base salaries.
This year, the league divvied up $8.55 million per team for veterans and rookies, and while the checks won't hit the players' accounts until 2024 at the earliest, it's still good to know there will be some money coming in.
Here's a look at some of the notable performance-based bonuses that were distributed:
Big money
Alex Cappa, a 2018 third-round pick, played all 1,070 snaps for the Tampa Bay Buccaneers in 2020 at guard, winning a Super Bowl ring along the way. Because of the NFL's performance-based pay system, Cappa earned a league-high extra $622,056 on top of his $750,000 base salary.
He was one of 26 players to have earned at least $500,000. He wasn't the only Buccaneer, either. Safety Jordan Whitehead earned $555,455. A fourth-round pick in 2018, Whitehead started every game for the Super Bowl champs and had two interceptions.
Small money, but …
At the other end of the spectrum is Cincinnati Bengals center B.J. Finney. He collected the smallest bonus, just $248 for two snaps on special teams.
But Finney was able to double dip. He also earned $3,668 from the Seattle Seahawks, who dealt him to Cincinnati in the Carlos Dunlap trade in October 2020. Finney signed a one-year deal with the Pittsburgh Steelers this offseason.
Offensive lineman Marcus Martin, who split the 2020 season between two teams, was also a double-dipper. He earned $2,839 from the Detroit Lions and $591 from the New England Patriots.
The rest of the top 10
Arizona Cardinals tackle Kelvin Beachum collected the second-highest check at $604,185 after starting every game. Not bad for a player who signed a few weeks before training camp began. This offseason, he signed a two-year, $4 million deal with the Cardinals.
The remainder of the top 10 includes: Buffalo Bills corner Taron Johnson ($578,749), Los Angeles Rams guard Austin Corbett ($572,736), Detroit cornerback Amani Oruwariye ($572,067), Chicago tackle Germain Ifedi ($570,571), Steelers offensive lineman Chukwuma Okorafor ($567,469), Minnesota Vikings offensive lineman Dakota Dozier ($561,469), Baltimore Ravens safety DeShon Elliott ($557,477) and Whitehead ($555,335).
The bottom 10
Finney was one of 13 players to earn bonuses of less than $1,000, with Houston Texans quarterback AJ McCarron receiving the second-smallest check at $316.
In spots 3 through 10: Seattle linebacker D'Andre Walker ($453), Carolina offensive tackle Matt Kaskey ($542), Green Bay defensive tackle Anthony Rush ($547), Martin ($591), New York Giants wide receiver Alex Bachman ($600), Jacksonville Jaguars place-kicker Stephen Hauschka ($740), Philadelphia Eagles tackle Prince Tega Wanogho ($781), Tennessee Titans offensive lineman Isaiah Wilson ($924) and Washington Football Team tackle Saahdiq Charles ($924).
There could not have been a more disappointing season for anybody other than Wilson, the Titans' first-round pick.
The players selected immediately before Wilson at No. 29 overall — Ravens linebacker Patrick Queen and Miami Dolphins cornerback Noah Igbinoghene — earned $181,141 and $139,826 respectively.
The Titans traded Wilson to the Dolphins earlier in the offseason and he has already been released.
Big names, small money
Playing on his rookie contract from 2016 to 2019, Dallas Cowboys quarterback Dak Prescott regularly cashed in quite well in the performance-based pay system, earning more than $1 million total in his first four seasons.
Last year, Prescott had the highest base salary in the NFL at $31.4 million, playing on the quarterback franchise tag. He was also limited to five games because of a compound fracture and dislocation of his right ankle. His take from the 2020 performance-based pay system: $5,653.
Giants running back Saquon Barkley suffered a season-ending knee injury in Week 2. He collected $4,786. San Francisco 49ers defensive end Nick Bosa (knee) played just two games as well, and he earned $4,279. Cleveland Browns wide receiver Odell Beckham Jr. lasted seven games before a knee injury. He received $14,669.