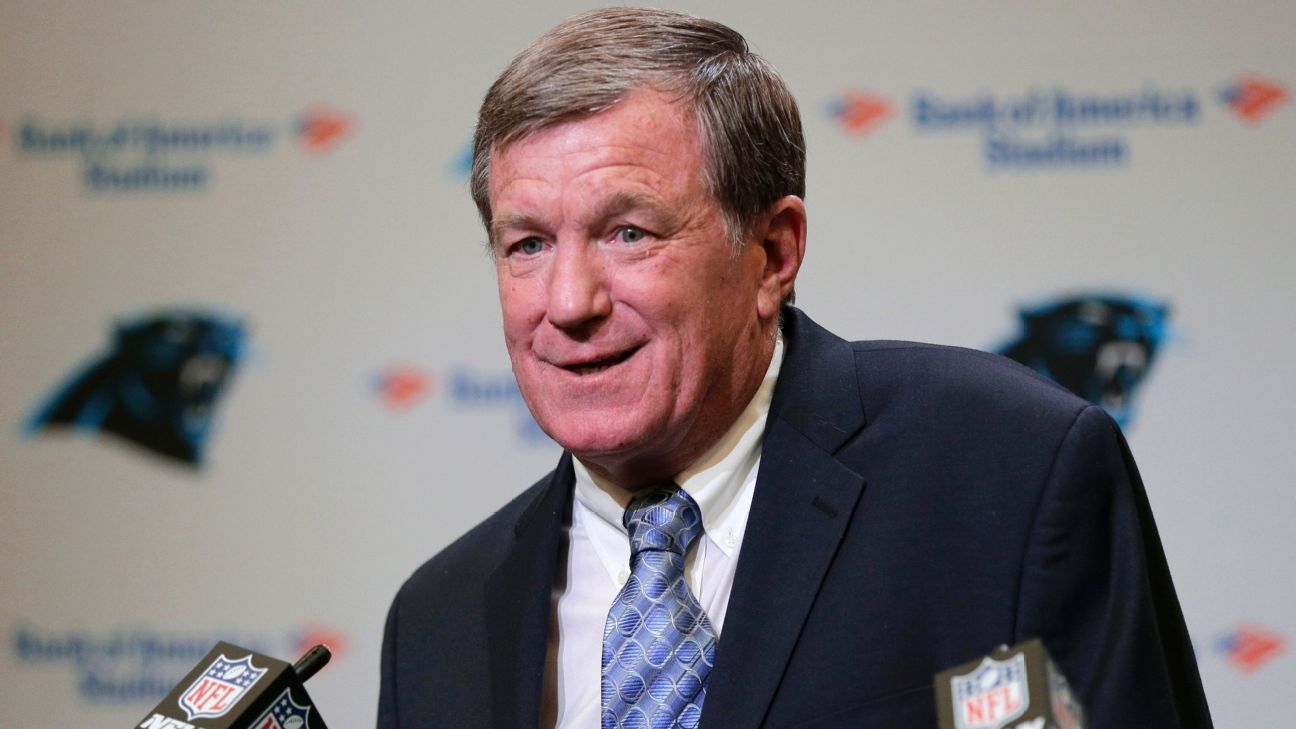 CHARLOTTE, N.C. — The Carolina Panthers on Wednesday lifted the interim tag off of Marty Hurney's title, making him the full-time general manager of the organization for the second time.
Hurney initially was with the Panthers from 1998 to 2012. He served as the general manager from 2002 through six games in the 2012 season, when he reached a mutual decision with owner Jerry Richardson to part after a 1-5 start.
He was hired as the interim general manager the week before the 2017 training camp after Richardson fired Dave Gettleman. The Panthers went 11-5.
A committee, led by chief operating officer Tina Becker, also interviewed Houston Texans assistant GM Jimmy Raye III, Buffalo assistant director of college scouting Lake Dawson (who returned for a second interview), and former Detroit Lions general manager and current San Francisco personnel executive Martin Mayhew. All three fulfilled the league rule that teams must interview at least one minority candidate when hiring a general manager or head coach.
In a statement, Becker said: "We are very fortunate to have Marty as our general manager after he did an exceptional job in the interim role this past season. Marty's guidance and vision helped build the foundation for this team, and his work this season was instrumental in returning the team to the playoffs. We believe he will continue to craft a roster that will win games and contend for a championship."
The Panthers were preparing to make this announcement several weeks ago, but put the process on hold after Hurney's ex-wife accused him of harassment when seeking a temporary restraining order in court. The order was not granted and the complaint was dropped, but the NFL still conducted a two-week investigation to assure there was no violation under the league's personal conduct policy.
Hurney was on paid administrative leave during the investigation, which revealed no violations.
Hurney returned to work Friday and has been preparing since with coach Ron Rivera and the staff for next week's NFL combine and free agency.
He was viewed as the best person to help in the transition to new ownership when the team is sold by Richardson.
Richardson put the team up for sale after the season. He made the decision to sell in December after Sports Illustrated reported he paid off at least four former employees to keep quiet alleged sexual harassment and the use of a racial slur with a former team scout.
"I have always felt a strong connection to this organization and viewed this job as one of the very best in the NFL because of the people here," Hurney said in a statement. "Mr. Richardson and Tina have been open and honest with me from the beginning, and I am thankful for the trust they have placed in me.
"I gained a lot of perspective being away and then back in an interim role last season. I feel that I am the best person to help Ron and this team moving forward. We have a really special core of players in place, and I'm extremely excited about the direction we are headed."
Hurney said when rehired in July that he learned a lot about mistakes he made the first time as a general manager. One of his biggest was making what he called emotional decisions and giving veteran players bigger contracts than they deserved.
He vowed not to do that again, saying he has to make sure the "analytical part of my brain takes over the emotional part of my brain."
New York Jets' Zach Wilson signs rookie deal after missing first 2 days of practice, sources say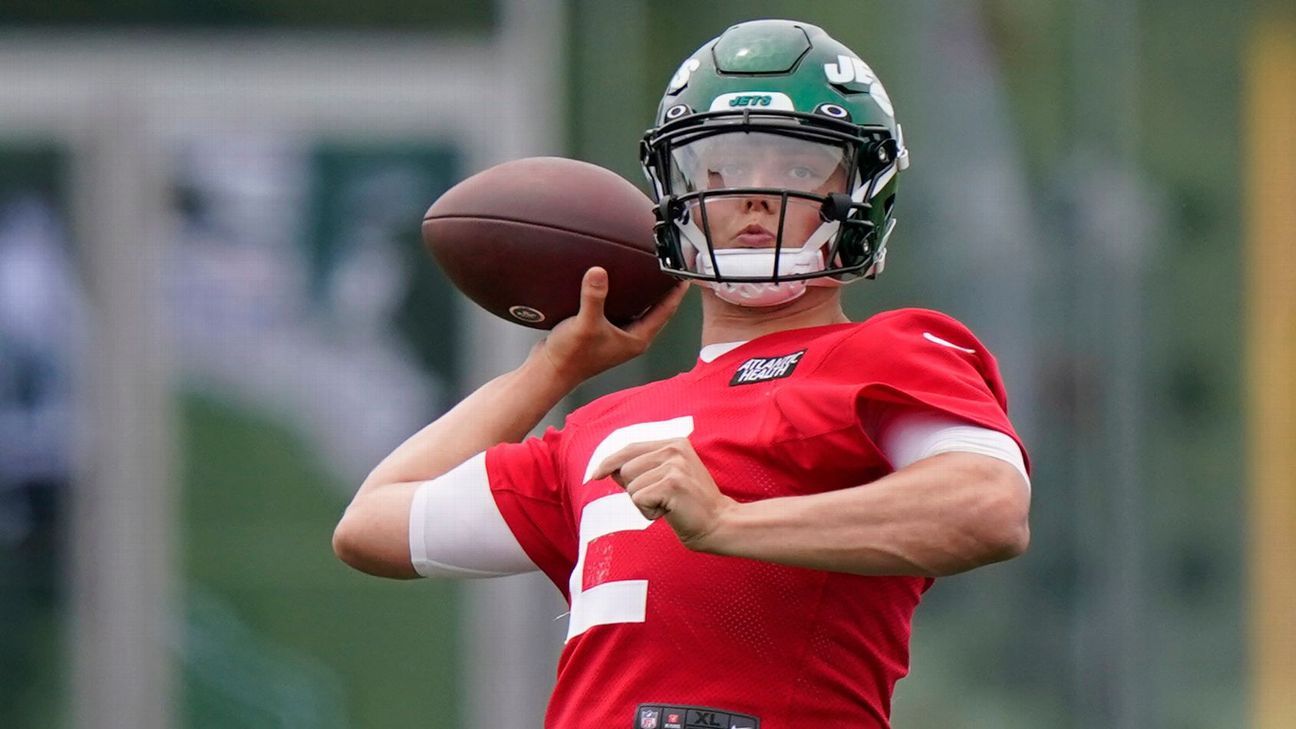 FLORHAM PARK, N.J. — It took longer than expected, but the New York Jets and quarterback Zach Wilson agreed to terms Thursday on his rookie contract, sources told ESPN.
The first-round pick and presumptive starter, who missed two days of practice as the two sides haggled over technicalities in the contract language, will sign a four-year, $35.15 million contract — a slotted deal that is fully guaranteed.
It includes a $22.9 million signing bonus and a fifth-year team option, standard for all first-round picks.
Wilson, who took a red-eye flight from Los Angeles and arrived in New Jersey on Thursday morning, was the last unsigned first-round selection from the 2021 NFL draft.
The contract includes offset language and the signing bonus will be paid within 15 days, per a source, details that imply that the sides have compromised because those were the sticking points.
At the start of camp, coach Robert Saleh said he wasn't concerned about Wilson missing camp time. "It's something he'll have to navigate through," Saleh said. "I've got a lot of faith in Zach. He's incredibly intelligent, and he's got a tremendous drive. When he does get here, I know somehow, some way he'll make up for it."
Wilson benefited from a heavy workload in the spring. With no veterans on the roster, he took all the first-team reps.
There was an increased sense of urgency to strike a deal because the Jets are counting on him to be their opening-day starter, although they haven't announced that. The only other quarterbacks on the roster are James Morgan and Mike White, neither of whom has regular-season experience. Rookie contract disputes are unusual because the deals are slotted, but teams and agents sometimes haggle over certain clauses.
The Jets include an offset in every contract that has guaranteed money, which provides financial protection if they release the player before the contract is complete. An offset allows a team to cut a player before the end of his four-year contract is completed and have the remaining money reduced by the amount of his next contract.
This isn't an unusual stance. It's believed that 30 of the 32 teams use offsets in contracts. The exceptions are the Los Angeles Rams and the Jacksonville Jaguars, with the latter having signed No. 1 pick Trevor Lawrence to a deal with no offsets.
Without an offset, a cut player collects the guarantee from his old team plus the money he receives from his new team — aka double dipping.
What complicated the Jets' negotiation was that at least two of the five quarterbacks drafted in the first round received deals without full offsets — Lawrence and Justin Fields (No. 11 by the Chicago Bears). Fields received a partial offset.
Interestingly, Cincinnati Bengals quarterback Joe Burrow, the top pick in 2020 and represented by the same agency that negotiated Wilson's contract, signed a contract that includes offset language.
Atlanta Falcons owner Arthur Blank 'disappointed' in Julio Jones trade request
FLOWERY BRANCH, Ga. — Atlanta Falcons owner Arthur Blank said he was "disappointed" star receiver Julio Jones had asked for a trade, leading to the team sending him to Tennessee in June.
Blank had earlier said Jones would be a Falcon for life. Instead, it was a 10-year relationship that ended with Blank trying to reach out to Jones, but ending up not being able to speak with him.
"I think the part that bothered me personally was the fact that he expressed that he wanted to be traded," Blank said Thursday at the first day of Atlanta's training camp. "You know, we had a 10-year relationship. I think it was a good relationship. It was certainly productive.
"He's a Hall of Fame player so I was disappointed he felt that way. For whatever reasons, I'm not sure. I was unable to speak with him myself. I tried to, but he felt the way he felt and was ready to make a change."
Blank said he learned through his years of ownership in Atlanta that you want players on the roster who want to be in the building. He believed the trade, which also sent the Titans a 2023 sixth-round pick but brought the Falcons a 2022 second-round pick and 2023 fourth-round pick, would be beneficial for both sides.
It already worked out to Atlanta's benefit financially as it created room under the salary cap for the team to sign its rookies, including No. 4 overall pick Kyle Pitts. Blank said he did not realize the team would end up trading Jones at the end of last season, either, and that "was not our original intent."
The idea of possibly trading Jones first surfaced publicly before the NFL draft. Jones then said on FS1 on May 24 that he was "outta there," meaning Atlanta. He was traded weeks later.
"We have tremendous regard for the player and the human being as well and he's given us 10 great years and that's about half of my ownership and set all kinds of records," Blank said. "But the time was right for him to move on and I think the coach did what he could and the general manager did what he could to have him try to stay but he was ready to move."
Jones had 848 catches for 12,896 yards and 63 touchdowns with the Falcons and is the NFL's all-time leader in yards per game with 95.5 — almost 10 yards better than the No. 2 receiver on the list, 2021 Hall of Fame inductee Calvin Johnson.
Baltimore Ravens CB Jimmy Smith still traumatized by February robbery
OWINGS MILLS, Md. – Baltimore Ravens cornerback Jimmy Smith said he suffers from post-traumatic stress disorder since his family was robbed at gunpoint in February.
"Going into the store and being around anyone with a mask or hood on, it really makes my heart thump to this day," Smith said after Thursday's practice. "It was terrifying situation."
Five months ago, Smith got out of his car after checking into a hotel near the Los Angeles International Airport and was surrounded by three masked men with guns. The woman in the car with Smith, who is pregnant, had a gun pointed at her stomach, Smith said.
"You feel helpless," Smith said. "Cowards running up on you with three guns. You don't know if you're going to lose your life in that moment."
Smith said he and his family were followed to two fast-food restaurants and then back to the hotel. Smith's children were in the car when the robbery occurred.
"The crazy thing is I seen it kind of coming," Smith said. "You know, when something bad happens, you get this eerie feeling. I kind of had an eerie feeling. I didn't listen to it. I hopped out of the car and just seen dudes coming at me with guns. They surrounded me. All you could think of is 'I want to live, I want to get out of here.' At that moment, jewelry didn't matter. None of that matters."
Smith said he doesn't expect the robbers to ever get arrested.
"I'm not going to I wish death upon them," Smith said. "But they'll get what's coming to them."
Smith is starting his 10th training camp with the Ravens. A first-round pick in 2012, Smith remained with Baltimore when he signed a one-year, $2.5 million extension on Jan. 1.