The market for J.D. Martinez appeared to comprise just one team — the Boston Red Sox, who had the means, motive and opportunity to sign the outfielder/DH whom no other team seemed to come close to in terms of offers. That may have contributed to the lengthy stalemate. I think the Red Sox blinked, giving Martinez a five-year, $110 million deal that is certainly too long (the deal includes an opt-out after two years), but does improve their offense in a way no other free agent this year could have, and directly boosts their chances of repeating as division champs.
In the short term, Martinez is exactly what the Red Sox need: a power hitter to insert into a lineup that hit the fewest homers of any American League team last year — 168, 18 home runs behind the next lowest total. The Red Sox were fifth in the AL in OBP last year, helping them to a sixth-place finish in runs scored despite the lack of home run power, but with even average home run totals they likely would have finished in the top three.
San Francisco Giants sign LHP Alex Wood to one-year, $3 million contract
SAN FRANCISCO — Left-hander Alex Wood agreed to a $3 million, one-year contract with the San Francisco Giants on Thursday.
Wood, who turned 30 on Tuesday, can make up to an additional $3 million in performance bonuses for the number of games in which he gets 10 or more outs: $125,000 each for 12 and 14 games, $250,000 apiece for 16, 18, 20, 22 and 24, and $500,000 each for 26, 28 and 30.
An All-Star in 2017, Wood went 0-1 with a 6.39 ERA in two starts and seven relief appearances last year with National League West rival Los Angeles, striking out 15 in 12 2/3 innings. He earned $1,481,481 in prorated pay from a $4 million salary. He pitched two perfect innings in the Dodgers' title-winning Game 6 World Series victory over Tampa Bay.
Wood is 53-44 with a 3.45 ERA in 138 starts and 50 relief appearances over eight seasons with the Atlanta Braves (2013-15), the Dodgers (2015-18, 2020) and Cincinnati Reds (2019).
Right-handed reliever Mychal Givens, Colorado Rockies agree to 1-year, $4.05M contract
DENVER — Right-handed reliever Mychal Givens and the Colorado Rockies agreed Thursday to a $4.05 million, one-year contract.
Colorado acquired Givens in a deal with Baltimore on Aug. 30. He allowed at least a run in five of 10 appearances for the Rockies.
Givens appeared in 12 games for the Orioles before the trade and allowed two runs over 13 innings. Combined, he was 1-1 with a 3.61 ERA with Colorado and Baltimore.
He turns 31 on May 13.
Givens was selected by the Orioles in the second round of the 2009 amateur draft. He is 21-17 with a 3.41 ERA and 21 saves over 345⅓ innings during his career. Givens was due to make $3,225,000 in 2020 and his prorated salary wound up at $1,194,444.
Six Rockies remain eligible to exchange proposed arbitration salaries on Friday: right-handers Carlos Estevez, Jon Gray and Robert Stephenson, left-hander Kyle Freeland, second baseman Ryan McMahon and outfielder Raimel Tapia.
Reliever Archie Bradley reaches one-year deal with Philadelphia Phillies, sources say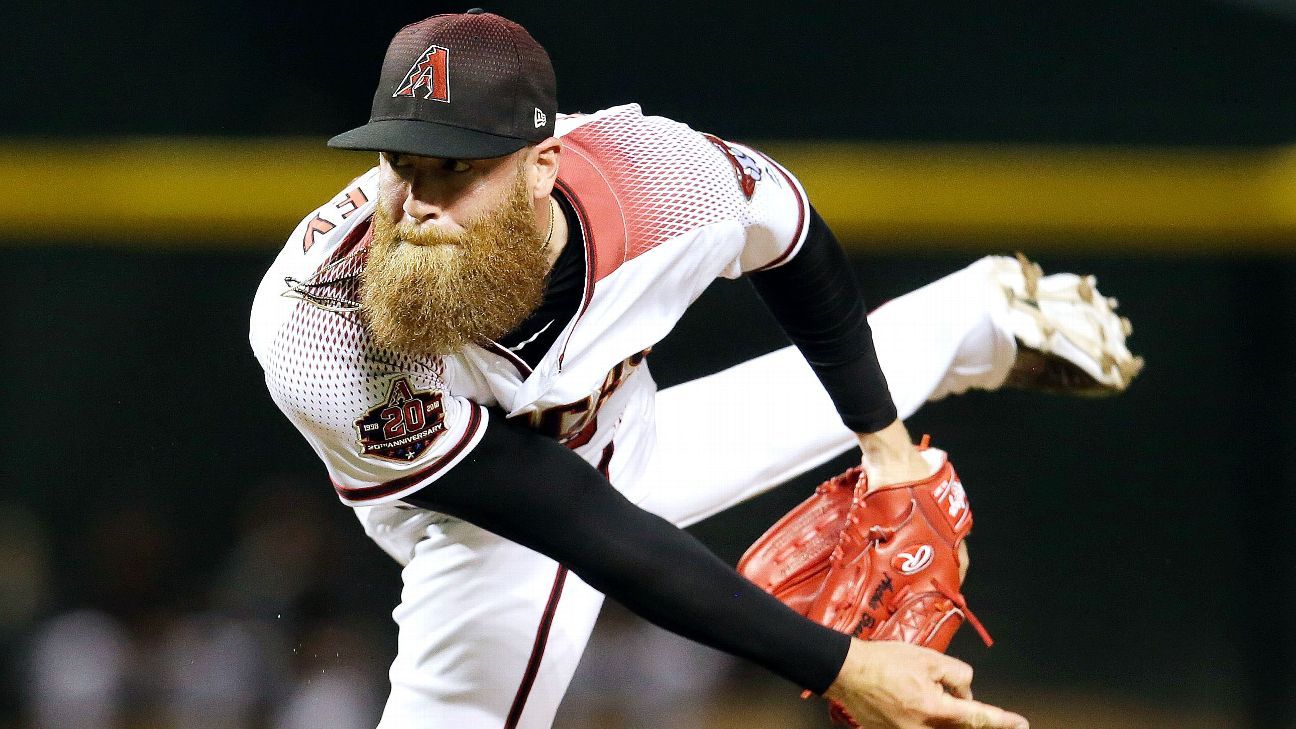 Relief pitcher Archie Bradley has reached a one-year, $6 million deal with the Philadelphia Phillies, sources confirmed to ESPN on Thursday.
Bradley was not re-signed by the Cincinnati Reds after he was acquired in a midseason trade with the Arizona Diamondbacks. The right-hander pitched well in his six regular-season appearances with Cincinnati, giving up just one run over 7⅔ innings. He allowed the deciding run in Game 1 of the team's National League wild-card series against the Braves, which Atlanta won 1-0 in 13 innings.
Overall, he was 2-0 with a 2.95 ERA with 18 strikeouts in 16 appearances between the two teams. He entered the majors as a starter with the Diamondbacks, starting 26 games in 2016, before moving to the bullpen the following seasons. He has 28 career saves and a 3.91 ERA in 255 appearances since entering the majors in 2015.
The agreement between the Phillies and Bradley was first reported by Sportsnet.