FRISCO, Texas — To hear owner Jerry Jones tell it, coach Jason Garrett does not need to worry about his future. He is not on any kind of hot seat in 2018 after the Dallas Cowboys finished a disappointing 9-7 and missed the playoffs.
Jones has been patient with Garrett, even letting him get to the final year of his contract in 2014. Garrett answered that challenge with a 12-4 record, thanks to quarterback Tony Romo's best season, and was rewarded with a five-year, $30 million deal.
If the Cowboys miss the playoffs in 2018, would Jones give Garrett a ninth season as head coach?
Using the seven head-coaching changes from 2017 into 2018 as a guide, what could the Cowboys be looking at if Jones makes a change?
The big name
The Oakland Raiders lured Jon Gruden out of the Monday Night Football booth with what was reportedly a $100 million contract. He last coached in the NFL for the Tampa Bay Buccaneers in 2008 but remained close to the game during his time at ESPN.
Bill Cowher last coached in 2006 and has been on CBS' pregame show ever since. His name has been tied to jobs even though he has professed he is done coaching. Could he be lured to the "big room," as Bill Parcells called the Cowboys' job in 2003?
What about Sean Payton? Yes, he is the New Orleans Saints' coach, but Jones has long been a fan and there have always been rumblings of a reunion. Payton took the Saints back to the playoffs in 2017, but he has been in New Orleans a long time.
Bob Stoops? Jim Harbaugh? Never underestimate the pull of the star.
The Belichick guy
Matt Patricia is now the Detroit Lions coach. Josh McDaniels was supposed to be the Indianapolis Colts coach.
Bill Belichick's run of success with the New England Patriots has made his assistant coaches hot names. Charlie Weis, Eric Mangini and Romeo Crennel left New England for lucrative head-coaching jobs. Now Patricia has a chance.
McDaniels might be too hot to touch with his handling of the Colts' debacle, but would Jones care? No. He would want a coach who can help Dak Prescott the most. McDaniels is at the top of the list of playcallers in the NFL.
The former player
Mike Vrabel could be considered a Belichick guy as well, considering he played for so many years with the Patriots. His ascension from player to Ohio State assistant, Houston Texans defensive coordinator to Titans coach has been quick.
Dan Campbell was named Miami Dolphins coach after Joe Filbin was fired after four games in 2015. Campbell went 5-7 but brought a toughness to the Dolphins after he was named interim head coach four-plus seasons after he finished his playing career. Now the Saints assistant head coach, Campbell played three seasons with the Cowboys (2003-05), becoming something of a Parcells' guy over the years. He also learned a high-powered offense under Payton and knows the Cowboys' process.
The defensive coordinator
Steve Wilks had a one-year run as defensive coordinator of the Carolina Panthers, but he earned praise through the years as a position coach.
Kris Richard had interest from teams as a head coach when he was coordinator of the Seattle Seahawks. He will be under Jones' nose in 2018 as the Cowboys' passing game coordinator and secondary coach. Jones has also seen what Jim Schwartz has done as the Philadelphia Eagles coordinator the past two seasons.
The offensive coordinator
Frank Reich got the job in Indianapolis after the McDaniels fiasco but his work with Nick Foles in helping the Eagles to Super Bowl LII should not lead folks to believe he was some kind of backup candidate.
If the Cowboys can't get Payton, then maybe they would look at his offensive coordinator, Pete Carmichael. He has been with Drew Brees since their time together with the San Diego Chargers. Payton has had Carmichael call plays and has relied on him greatly over the years. Carmichael has interviewed for head coaching jobs in the past (Oakland).
The redemption guy
Pat Shurmur went 9-23 in two seasons with the Cleveland Browns. Looking back, maybe he did a better job than anybody could have expected, since the Browns have one win over the past two years. The New York Giants hired Shurmur to take over for Ben McAdoo after their 2017 season fell apart and are banking on him being much better the second time around.
Campbell and Schwartz can fall into this category, but John Fox has a long friendship with Cowboys executive vice president Stephen Jones. This would be his fourth chance, not second, but he took the Carolina Panthers and Denver Broncos to the Super Bowl before a poor showing with the Chicago Bears.
Jack Del Rio, a former Cowboy, took Oakland to the playoffs in 2016 for the first time since 2002 but lost his gig when Gruden opted to return. Twice he took the Jacksonville Jaguars to the playoffs.
The out-of-nowhere guy
Nobody would have said Matt Nagy would be a head coaching candidate prior to the 2017 season but he did well as the Kansas City Chiefs playcaller after Andy Reid gave up the duties in-season. The Bears are hoping Matt Nagy can be the next Doug Pederson, who was also groomed by Reid.
Nobody expected much from Sean McVay when the Los Angeles Rams named him coach. He was 30 when he was hired and ended up being the NFL's coach of the year in 2017.
Matt LaFleur is Vrabel's new offensive coordinator in Tennessee. He was with the Rams last season under McVay. He also spent time with Mike and Kyle Shanahan. He's 38 years old. New England linebackers coach Brian Flores interviewed for the Arizona Cardinals job and many across the league have raved about his future ability as a head coach.
Women amend lawsuits vs. Houston Texans' Deshaun Watson to disclose names; 1 plaintiff withdraws suit 'for now'
HOUSTON — Twenty women who had filed lawsuits alleging inappropriate behavior and sexual assault against Houston Texans quarterback Deshaun Watson have amended their petitions to disclose their names.
Another lawsuit is expected to be refiled by Thursday after an emergency hearing was canceled on Wednesday.
One of the original 22 lawsuits was dropped by a plaintiff "for now," according to court documents.
"In light of privacy and security concerns, Plaintiff has decided not to pursue her case, for now," the document said. "Plaintiff reserves the right to refile this case once such concerns are addressed."
On Friday, two judges ruled that most of the plaintiffs suing Watson must identify themselves. The rulings from two hearings Friday covered 13 of the 22 lawsuits filed against Watson, while the attorneys also agreed to release a 14th name later in the day. Before Friday, only two women had been publicly identified. Another emergency hearing to determine whether the remaining lawsuits should be amended had been scheduled for Wednesday but was called off shortly before it was scheduled to begin.
The plaintiffs' attorney, Tony Buzbee, said in a statement Tuesday that his law firm "previously attempted to make available to Defense Counsel the names of the plaintiffs suing Deshaun Watson, and intended to do so in due course."
"We were concerned about the safety of these plaintiffs, and asked the Watson team to agree to a protective order where the identities could be used in litigation, but not broadcast to the world," Buzbee's statement continued.
In a statement last week, Watson's lawyer, Rusty Hardin, said that when his law firm asked Buzbee "to identify his clients weeks ago, he refused and told us to file a motion."
"While I understand that anonymity often is used as a shield for victims, Mr. Buzbee is using it as a sword," Hardin said in a statement on Thursday. "While shielding his clients from public scrutiny, Mr. Buzbee continues to use their anonymous allegations to destroy Mr. Watson. This is simply not right. And we look forward to resolving these matters in court."
In memo, NFL outlines rules for offseason program, with only minicamp being mandatory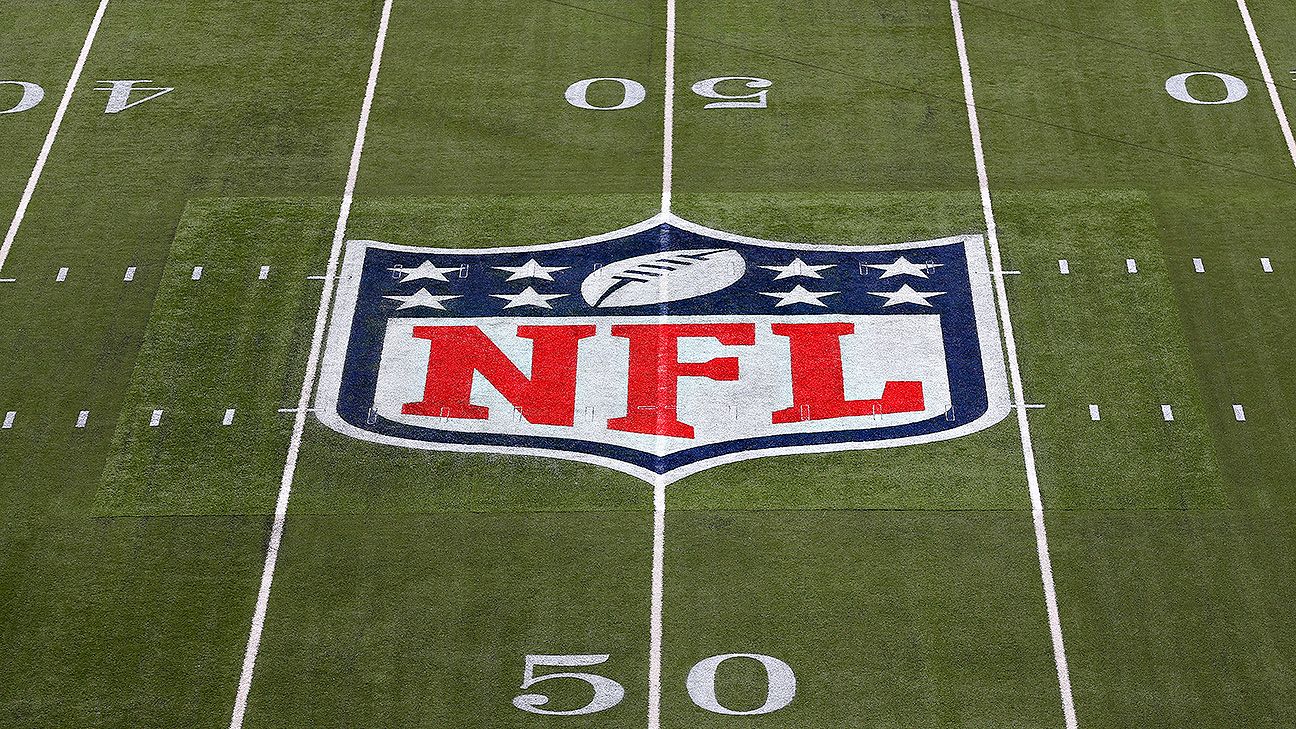 The NFL on Wednesday sent a memo to teams outlining rules for its offseason programs — rules the league has decided to impose after failing to reach agreement with its players' union on some key aspects.
The parts of the offseason program that are voluntary under the CBA — everything but the annual mandatory June minicamps — will remain so. But while the NFLPA has publicly called for the entire offseason to be conducted virtually in light of the ongoing coronavirus pandemic, the league is telling teams that on-field work will be permitted.
Phase 1 of the offseason program, which reflects what the players requested, will run from April 19 through May 14. All meetings will be conducted virtually, and no on-field work will be permitted. The league says it wants to use this phase to focus on vaccine education efforts and making vaccines available to players, team staff and their families as soon as their various local regulations permit.
Phase 2 will run from May 17 through May 21. It will remain voluntary and meetings will remain virtual, but on-field drills will be permitted under the normal Phase 2 guidelines (which prohibit contact and limit the amount of time spent on the field per day). Annual post-draft rookie minicamps will be held in the week of Phase 2.
Phase 3 will be a traditional Phase 3 that runs from May 24 through June 18 and will include the normal 10 days of voluntary OTA work as well as the mandatory minicamps. Meetings during this phase will be allowed to be conducted virtually or in-person, and applying the COVID-19 rules about testing, contact tracing and limits on the numbers of people allowed in various parts of the team facility.
Players who participate in meetings or workouts virtually will still be entitled to their $250 per diems, which was an important part of the NFLPA's request during the negotiations on offseason programs.
The league will not require players or staff to be vaccinated, but it is waiting to hear back from the NFLPA on its vaccine-related proposal that would ease COVID restrictions on vaccinated players and on teams with personnel that reaches a certain percentage threshold of vaccinations. Under the league's proposal, players who have been vaccinated would be subject to less testing and fewer contact tracing restrictions and would have more freedom of movement around the team facility and outside of it. Teams with players and staff who reach a certain percentage of vaccinations would be subject to more relaxed COVID protocols, as teams in other professional leagues have been.
The NFLPA has said publicly that it believes the offseason program should be exclusively virtual, and it is urging its members not to attend the portions of the program that are voluntary under the CBA. The union does recognize that 203 players have workout bonuses in their contracts that require them to attend offseason workouts to receive those bonuses, and it is not actively discouraging those players from doing so, although the union is trying to articulate a broader message that players should stop agreeing to contracts that include bonuses for attending voluntary offseason workouts.
LB Vince Williams re-signing with Pittsburgh Steelers
Inside linebacker Vince Williams is re-signing with the Pittsburgh Steelers on a one-year deal, sources told ESPN's Jeremy Fowler.
The Steelers released Williams in March in one of their moves to get under the salary cap. He told Fowler then that he had a lot of football left and was eager to provide veteran leadership and play for a team that needs it.
He started 14 games last season, finishing with 70 tackles and three sacks. His usage jumped significantly last season after the departure of Mark Barron, playing 65% of defensive snaps, up from 37% the year before.
Williams, 31, was a full-time starter for the Steelers in three of the past four seasons.
A sixth-round draft pick by Pittsburgh in 2013, he has appeared in 121 games, with 69 starts, and has two interceptions (including a pick-six), 20.5 sacks and 333 solo tackles in eight seasons with the franchise.
Williams has indicated that he will think about retirement after this season and has considered getting into coaching.
ESPN's Brooke Pryor contributed to this report.