FORT WORTH, Texas — Baker Mayfield doesn't like comparisons to Johnny Manziel, although the Heisman Trophy winner wasn't surprised by them after an arrest and other antics during his time with the Oklahoma Sooners.
At a stop in his home state of Texas to accept the Davey O'Brien Award as the nation's top quarterback, Mayfield said Monday that he and Manziel were "two completely different people."
Mayfield will be at the NFL combine next week and is projected as a possible first-round pick in April's draft.
It has been four years since Manziel, the first freshman to win the Heisman at Texas A&M in 2012, was taken 22nd overall by Cleveland and dumped after two trouble-filled seasons. A former Texas high school star like Mayfield, Manziel has been out of football for two years.
After an offseason arrest for public intoxication and disorderly conduct, Mayfield planted an OU flag at midfield after a win at Ohio State. He made a lewd gesture toward the Kansas sideline after the Jayhawks refused to shake his hand before the coin flip.
"We're two completely different people," Mayfield said. "I've always been a team-oriented guy. Not saying that Johnny wasn't. But I've quickly earned the respect of my teammates because of how I worked.
"I wasn't given the natural talent that Johnny had. Because he's a talent. And there's a reason he got taken in the first round, amazing player. We're just not the same mentally. Just wired differently."
Mayfield acknowledged last weekend that NFL personnel have talked to him about having more awareness of his social media use and trying to stay out of trouble. But coaches have long praised his leadership and infectious energy.
"I've always been an outgoing person, somebody that's confident, somebody who has passion and energy for the game of football and for whoever I'm playing for, I'm going to be passionate about it," said Mayfield, who broke his own single-season passing efficiency rating and threw for 4,627 yards and 43 touchdowns in 2017.
After the Sooners lost to Georgia in the Rose Bowl in the national semifinals, Mayfield stayed in the Los Angeles area and has spent most of his time there preparing for the combine and draft.
"This process right now is different than anything of the stuff I've been through before because it's more individualized right now than anything else," Mayfield said. "Normally in the offseason I'm with the team. We're working toward one goal together."
The Kansas sideline incident cost Mayfield a start in his final home game when coach Lincoln Riley benched him. He also apologized for the flag plant. But Mayfield said the arrest in Arkansas last February is what braced him for the Manziel chatter.
"I didn't want to be portrayed as the villain or somebody like that," Mayfield said. "I do good things within my community. I'm not trying to say those cover up any mistakes that I've made. But there's always a learning curve when you're growing up."
And Mayfield knows where his career is taking him next.
"You get a bunch of grown men that work really hard, so it'll be different going from 18 [to] 22-year-olds to people that are feeding their families, their children," Mayfield said. "A lot of these guys make their money just based off work ethic and never quitting."
Mayfield thinks that's what he's bringing to the NFL, not Manziel-like baggage.
Is Camaron Cheeseman, aspiring dentist, the NFL draft's top long-snapper?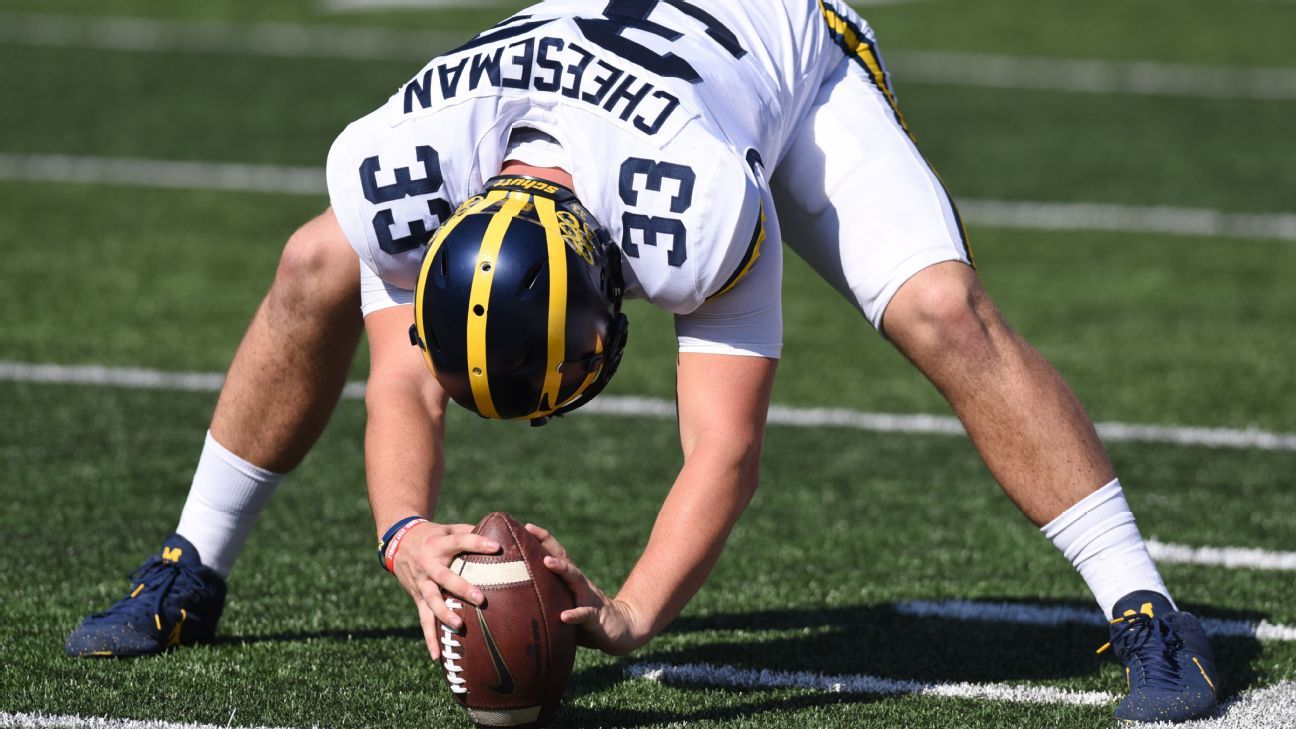 Back in 2018, No. 12 Michigan was holding on to a 13-7 lead over No. 15 Wisconsin during the first drive of the second half.
The Wolverines were facing a fourth-and-6 from their own 44 and lined up to punt. As they got the kick away, a flag came out for roughing the snapper, giving Jim Harbaugh's squad a fresh set of downs.
Five plays later, the Wolverines were in the end zone, the first of 25 consecutive points in a 38-13 rout of the Badgers.
But that would all come later. For a moment, those watching the game were consumed by the name of the long-snapper on the receiving end of the penalty: Camaron Cheeseman.
"All the Wisconsin fans are like, 'Why didn't he come to Wisconsin?'" Cheeseman said.
Ever since he could remember, his last name has always been a point of discussion.
"People always ask me, 'Is it Cheese-man or is it Cheese-min?' And I'm like, 'I think it's Cheese-min.' … But yeah, people just call me 'Cheese.'"
And Cheeseman notes that the fun doesn't stop there, since his first name means "shrimp" in Spanish.
"So it's like Shrimp Cheeseman is my name," he said. "I've never seen anybody else spell it that way, and I can never get a keychain at a [gift shop]."
But in a couple of weeks he might be able to find his name on an NFL draft card. Because while the name might be the first thing you notice about Cheeseman, he's also one of the nation's top long-snappers, currently at No. 2 in Mel Kiper Jr.'s rankings. (Each of the past six drafts has seen one long-snapper selected.)
There's not a lot of glory for long-snappers. Their greatness can't be measured by completions, yards or touchdowns, and attention usually comes only when they make a mistake.
To have one of the 32 long-snapping jobs in the NFL requires consistency, and that's what Cheeseman and his coach Casey Casper of Kohl's Kicking, Punting, and Long Snapping go for. Keeping that consistency after the past year has been a challenge, but one he's been able to meet.
Cheeseman says he opted out of the 2020 season because Harbaugh told him a scholarship wasn't available. (The former walk-on had been awarded a scholarship back in 2018.) At the time, Cheeseman needed to know if he would have one before renewing the lease on his apartment in Ann Arbor.
A native of New Albany, Ohio, Cheeseman and his family weren't in a position to pay out-of-state tuition and, with the added uncertainty due to the pandemic, he decided to forego a final season and train for the NFL from home.
"A few weeks later, that's when they brought the Big Ten season back and I was home," Cheeseman said. "And I couldn't do anything about it. I was helpless at that point. I already left, I graduated."
"It was emotionally draining," he added. "It was unfortunate. It was tough for me. That was my first season in 14 years I hadn't played football."
At that point, Casper said, "I told him, 'You know that taking a year off like this kind of sets you back because these guys that are still playing are going to be training with the team and working with the team. And you know, the food, resources, you name it, just gotta work that much harder.
"'It's gonna be that much more enjoyable when you make it, but it's going to be that much harder. You need to stay after it.'"
So throughout the fall of 2020 and into 2021, Cheeseman held himself accountable. He purchased a tripod for his iPad so he could take better film of himself. He would send film to Casper, and they'd go over it trying to pick out things he could do better.
"It's cool where he's gotten to with his knowledge of the game, just the little nuances," Casper said. "It's been fun for him and I because that's what I do for a living, I break down long-snapping and film, tens of thousands of clips a year and figure out little things and why, and talk to guys like him and other NFL guys, and it's just cool to have that. Guys that take it to that level where he's a student of it, it's like he's becoming an expert kind of thing.
"How can we get better? How can we get faster, better rotation, more accuracy, all that stuff?"
Cheeseman takes those little details with his mechanics to his workouts, and takes it a step further by making his workouts feel as close to game situations as possible.
"A lot of times you'll see snappers just want to keep snapping back to back to back, you may have five snaps in a minute," Cheeseman said. "That's unrealistic to how the game is. I kind of like to picture the situation. I may just stand over the side, and then I might do a little jog out to the ball. Visualize the fronts, visualize four guys on my left, four guys on my right, or five guys on my left, three guys on my right. And picture what the personnel protection is going to tell me and take my specific steps."
Michigan's pro-style punt system is also an advantage for Cheeseman. Most college teams run spread punts, where they snap the ball, and immediately run downfield. So for most long-snappers entering the NFL, there's an adjustment.
"Easily the hardest part of being a good NFL snapper is your blocking," Casper said. "Because you have to snap a ball, backpedal, catch up to a guy that's in a dead sprint next to you. It's very, very difficult to do and that's why guys lose their jobs, is blocking. Cam's been doing that already for three, four years, and he's training on that. He's not having to learn all that stuff now.
"He just checks every box. He really does."
The rest of Cheeseman's days are filled with taking an anatomy class at Columbus State Community College in order to be able to attend dental school at Ohio State. He took the Dental Admission Test (DAT) back in August, and scored over the 92 percentile on the exam, which helped him get into Ohio State.
Along with his workouts and classwork, Cheeseman has been working at an orthodontic practice in Gahanna, Ohio. He checks the wellness of patients who come in by taking temperatures, handing out mouthwash and having them fill out symptom forms.
And while Cheeseman has dental school in front of him before he can actually practice dentistry (presumably after football), he already has impressed Dr. James McNamara in Ann Arbor, who has been working in the field for half a century.
"He's taking this NFL thing really seriously," McNamara said. "But he's taking the dentistry thing just as much. I mean, he got admitted to Michigan and Ohio State on his own merits. This wasn't because he was a football player, I can tell you that."
McNamara has known Cheeseman since 2018, and started inviting him to observe at his office. Eventually McNamara hired Cheeseman as a research assistant through the University of Michigan, where the two co-authored the first significant article on the carriere appliance, which is a method of fixing an underbite.
"To be a co-author on a major paper as your first paper was a big deal," McNamara said. "And that doesn't happen very often that I would put somebody in that, but he worked so hard and was not just putting in the hours, but was putting in the mental time to understand the significance of what we were doing."
As far as dentistry and dental school goes, Cheeseman said, "It's kind of just like a security blanket. I wasn't sure what was gonna happen, and I applied, and I got accepted. So I have that in my back pocket.
"But if the NFL works out this year, then I'll just reapply."
For now, he'll keep grinding in the run-up to the draft.
"Long-snapping is unique, you have to be perfect," Casper said. "That's the expectation. And it's unachievable, but you can keep working towards it."
Do Packers need to recommit to Aaron Rodgers? An agent, scout, coach and exec weigh in – Green Bay Packers Blog
GREEN BAY, Wis. — There are four major players in the Aaron Rodgers contract situation with the Green Bay Packers: Rodgers himself (represented by agent David Dunn), general manager Brian Gutekunst, coach Matt LaFleur and team president Mark Murphy.
None of them have said much of late.
Rodgers' future was thrown into question nearly a year ago, when Gutekunst traded up to pick quarterback Jordan Love in the first round. Since then, Rodgers won his third career NFL MVP and got the Packers back to the NFC Championship Game. Shortly thereafter, Rodgers wondered aloud that his future in Green Bay was uncertain. The team then restructured the contracts of six veteran players to gain salary-cap relief but surprisingly haven't touched Rodgers' deal, meaning it could move on after this season and save up to $25 million in cap space.
Rodgers reiterated nothing has changed from his perspective. He's under contract through 2023 with no adjustments agreed upon to financially ensure he's not entering a lame-duck year, and Dunn has not returned messages.
Murphy recently declined to answer three questions about why the Packers haven't given Rodgers that assurance.
Gutekunst and LaFleur both made verbal commitments to Rodgers shortly after the season.
Until something changes, that's about all anyone is going to get from those directly involved.
To get some clarity on what each party might be thinking, ESPN contacted an agent, a high-ranking scout, a veteran assistant coach and a front-office executive and gave them anonymity so they could share their unvarnished opinions on what each party might be thinking and what course of action they might take.
The agent's take
"If I was Aaron's agent, I mean, he has more leverage than anybody else in the country. But what can you do in this situation? That's the thing. It's really hard to say without knowing what conversations have occurred. Because what I've also heard is Aaron is stubborn, and who knows that they're not offering up a palatable situation that is a middle ground and he's saying 'F— that — I'm not budging and do it the way I want to do it or not.'
"I'm going to assume that some sort of middle ground has been attempted by the Packers, and I'm going to assume right now that Aaron is not listening to it. So if I'm Aaron's agent, if I have to cater to my guy, and I have to find a way to communicate to my guy and I have to find a way to make the whole situation palatable for him in his own perception because his ego is such that if you don't make it that, then there's nothing ever going to happen.
"I don't know who's really calling shots there, whether it's (chief contract negotiator) Russ (Ball), Gutey, Murphy, whoever. But it's screwing the Packers in a lot of ways right now because there's just no cap space. They've called me about one of my players and said 'Hey, this is where we are now, and until we get something big done — hint, hint — we don't have any space.' It's kind of like a lose-lose situation right now. That's what [is] surprising to me is, you'd think there would be a middle-ground situation to get something done.
"But here's the other thing. I don't know why he's so worried about it. He's the best player in the league. So what, they drafted Jordan Love? Who cares? But here's the thing with players: They just want to be shown how much they're loved and don't want any sort of sign that they're not the man. Look, I get it from Aaron's perspective. But the team has to have a backup, and it might as well be a young guy and maybe he never plays."
The personnel perspective
"I would've redone his contract, got some more money under the cap and went out and bought a receiver. I get why you might not need to extend it, because he's got three years left and he'll be 40 by then, but I might adjust it and give him some more money just so that he's the highest-paid quarterback again. You can move money around. But I'm not going to give him five years. I would add more money to the final two years, and then I would go sign another legitimate receiver.
"They need somebody that can take the pressure off Davante [Adams] and make plays as well. [Marquez] Valdes-Scantling is fine if he's your [No. 3] or 4 or 5 [receiver]. If he's your fifth receiver, then you've got great depth. [Allen] Lazard is a good possession guy, but when they get into the big games, those guys can't make enough plays. And they're successful because of Aaron. Davante is successful with or without Aaron.
Dan Orlovsky and Domonique Foxworth discuss whether the Packers' draft moves will determine if Aaron Rodgers stays in Green Bay.
"But, yeah, I'd commit to Aaron — why wouldn't you? He's still playing at a high level. What am I going to do, go with Jordan Love next year? He's signed through 2023, right? You know Aaron's got a chip on his shoulder, so he's not going easy. He's going to play as well as he did last year again, and if he does that, I'm keeping him. I'm keeping him as long as he's playing at a high level.
"When Brett [Favre] was there, he had a quarterback who was comparable to Brett. And some might say Aaron was even the better quarterback. But that's not it in this case."
The coach's call
"If I'm Matt LaFleur, I make sure Aaron knows I'm in his corner, and based on the way Aaron has reacted to the coaching change the last two years, I'd say he's done a good job of that. A couple years ago, everyone around the league wondered if Aaron was even coachable anymore and look what he's done. He embraced the change. Now, what choice did he have? But he embraced it, and people there say his leadership has been just as good as his play — off the charts.
"So even if LaFleur liked Love and sees the same stuff Gutey saw coming out, he's smart enough to know that he needs Rodgers. Gutey might get another shot at it without Rodgers, but will the coaches? If they fail after Rodgers, they're gone and Gutey's picking another quarterback.
"So, look, I don't know Matt at all, but he's obviously done something right, and if I'm him, I keep telling Rodgers, 'I've got nothing to do with what they're doing upstairs. I'm here to win with you.' Isn't that basically what he said after the season?"
Front-office musings
"The first thing I'm doing is not adding any outside stressors to this deal. I'm not sure why [Murphy] didn't answer the questions the other day when you guys brought it up. That no-comment thing didn't do anyone any good. It didn't help Aaron, and it didn't help the Packers.
"Now, hey, I get it, things are run different there without an owner. It's a different setup and a different structure than the other 31 places in the league. Nobody else can really put themselves in [Murphy's] shoes because he's in such a weird spot. He has to act as the owner, but it's not his team. It's not his money.
"If it's Jerry Jones up there or Bob Kraft up there, he just says, 'This is a bunch of bulls— and Aaron is our guy and we're going to work on making sure of that.' Even if it's B.S., just say it. You know how this business is, people B.S. all the time, and if someone calls you out on it down the road, who the heck cares? It's liar's poker. That's what the NFL is, really.
"But Murphy probably doesn't want to make it seem like he's meddling in football, so he goes the no-comment route. But that didn't help. Like I said, if I'm up there and we're taking heat for not doing anything, I'm going to assure my people that Aaron's the guy and we're working on it — even if we're not."
Judge orders woman suing Deshaun Watson to disclose name
HOUSTON — At an emergency hearing Friday morning, a Harris County judge ruled that one of the plaintiffs suing Texans quarterback Deshaun Watson must identify herself by refiling her lawsuit with her name attached.
The original lawsuit, filed by Houston attorney Tony Buzbee, was filed on behalf of Jane Doe. Of the 22 lawsuits filed against Watson alleging sexual assault and inappropriate conduct, only two women had been publicly identified.
The ruling was made by Judge Dedra Davis in the 270th district court. A similar hearing regarding at least 12 other cases is set for noon ET Friday in the 113th district court, according to court records.
Hardin filed the emergency motion Thursday, saying, "Mr. Buzbee's use of anonymous lawsuits violates Texas law and the basic concept of fairness."
"While I understand that anonymity often is used as a shield for victims, Mr. Buzbee is using it as a sword," Hardin said in a statement. "While shielding his clients from public scrutiny, Mr. Buzbee continues to use their anonymous allegations to destroy Mr. Watson. This is simply not right. And we look forward to resolving these matters in court."
Watson has denied the allegations in the lawsuits.
In a statement Tuesday, NFL spokesperson Brian McCarthy called the allegations against Watson "deeply disturbing," noting, "We take these issues very seriously."
McCarthy said the league launched an investigation under its personal conduct policy last month after the first allegations and that the NFL is "continuing to closely monitor all developments in the matter."