GOODYEAR, Ariz. — On his first day back at spring training after his dad's funeral, Terry Francona seemed to exhale when the questions eventually turned to baseball.
"Thanks, I made it," the Cleveland manager said.
He spent the first six minutes of his media session Sunday reflecting on his father, former Indians player Tito Francona.
While Francona remained composed, it was clear what his dad meant to him and how good it was to be back with his baseball crew.
"It's so nice to be back. I went back for two days to be with my family and then I came back here to kind of be with my family," he said. "That's about as close as you could feel with the people that aren't your family. … It's not just baseball. It's Cleveland, it's the people here, and I know that."
Francona left the Arizona camp on Thursday afternoon to go to Pennsylvania to attend the private services for his father.
John "Tito" Francona, who proudly watched his son follow his footsteps to the major leagues, died unexpectedly at his home on Tuesday night in New Brighton, Pennsylvania. He was 84.
The Indians manager is also known as "Tito," a nickname his grandfather had given his father.
"The way he explained it to me is that it's kind of a little, kind of a kid that's in the way, kind of a little ornery, like energetic," Francona said. "But not always complimentary, maybe. Kind of depended who gave you the description."
The elder Francona made his big league debut in 1956 with the Baltimore Orioles, and retired as a player after the 1970 season with Milwaukee
Terry Francona was born in 1959, the first year his dad played in Cleveland. Tito hit .363 that season and finished fifth in the AL MVP voting. He led the AL in doubles the following year, and in 1961 he was an AL All-Star and led the league in singles.
Flooded by messages about his father in the past several days, Francona said he believes he answered every one of them.
"Because people took the time to say something kind, but it was a lot," he said. "When you play for nine teams and you're a good guy, you're going to know a lot of people."
Francona said the Indians had a family feeling in a professional setting for both he and his father, who was only about 90 minutes away and could come up whenever he wanted to watch his son's games. The elder Francona threw out a first pitch before Game 1 of the AL Division Series two years ago, as he had before the Indians home opener in 2013, his son's first season as their manager.
"Just the way he was treated when he would come back, not just for me to get to see him, but the way he was treated," he said. "My son did kind of a eulogy yesterday, and he mentioned that, that like what a fitting way to kind of wind down your life as being that happy."
Describing himself as the luckiest kid ever with the best parents, Francona said he knew how fortunate he was growing up like that. His love for baseball definitely came from his dad.
"The majority of whatever I do know, or what I care about, came from him," Francona said. "I care about the game, I respect the game, I love the game because of my dad, I guarantee you that. He taught me to care about baseball so deeply."
Sources — New York Yankees acquire pitcher Jameson Taillon from Pittsburgh Pirates for four prospects
The New York Yankees have added another bounce-back candidate to their starting rotation, acquiring Jameson Taillon from the Pittsburgh Pirates for four minor-league prospects, according to ESPN's Jeff Passan and multiple reports.
Pittsburgh will receive pitchers Miguel Yajure and Roansy Contreras, infielder Maikol Escotto and outfielder Canaan Smith in the trade, sources tell Passan.
Taillon, 29, was the No. 2 overall draft pick in 2010 and was a 14-game winner for the Pirates in 2018. But the hard-throwing right-hander appeared in just seven games in 2019 and missed all of last season while recovering from Tommy John surgery on his pitching elbow.
The Yankees agreed to the trade less than two weeks after signing former Cy Young award winner Corey Kluber, who also is looking to rebound from back-to-back injury-marred seasons.
How timing and circumstance finally allowed the Toronto Blue Jays to land a star
All along, the plan of the Toronto Blue Jays had been to start looking for opportunities — either in trades or in free-agent signings. The priority was to entrench the team's core of promising young players — Bo Bichette, Vladimir Guerrero Jr., Cavan Biggio and others — in the big leagues, and then add to them. In front-office meetings in recent years, they spoke of the 2020 trade deadline and the offseason that followed as perhaps the first windows to augment the roster with established players.
Ryan Zimmerman seals deal with Washington Nationals, says this might not be last year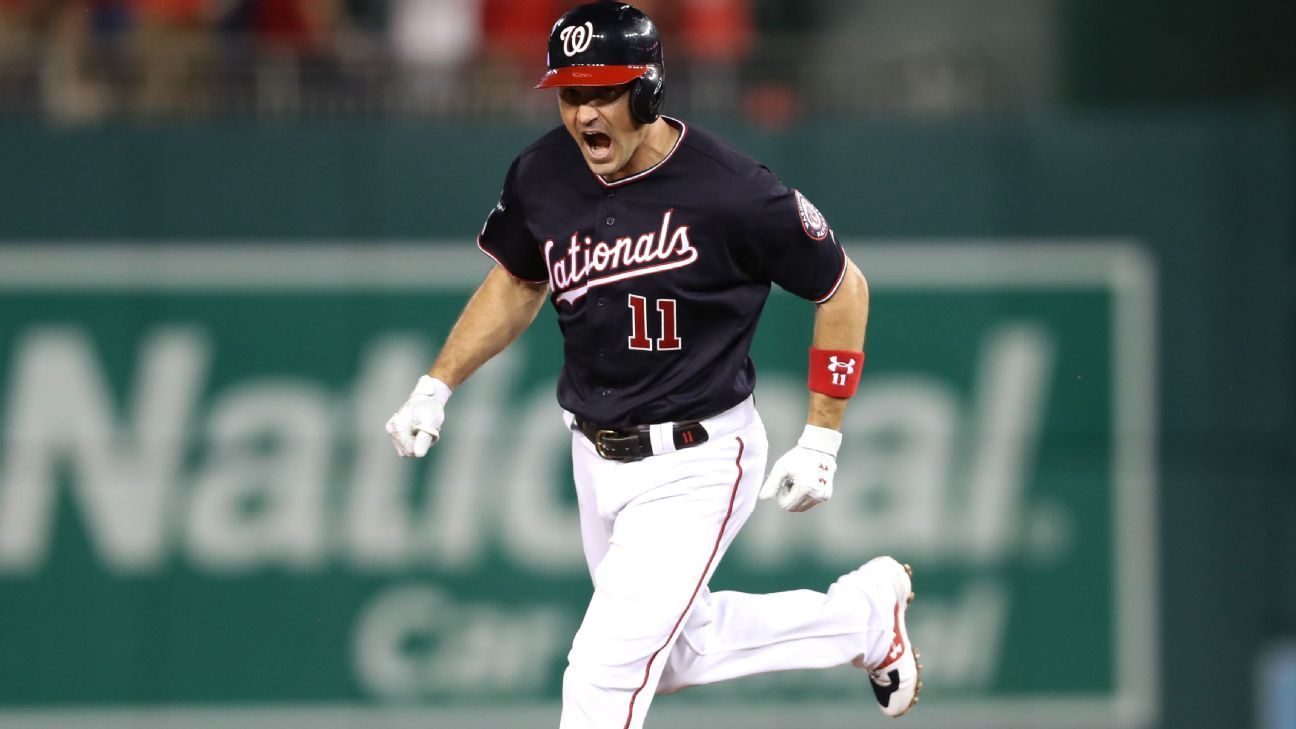 WASHINGTON — Now that he's set to play for the Washington Nationals this season, Ryan Zimmerman might stick around a little longer, too.
Zimmerman and the Nationals made it official Saturday, announcing his $1 million, one-year contract. The deal came after the Nats' longest-tenured player opted out of the coronavirus-shortened 2020 season.
"If I can settle into this role and do well this year, by no means does this have to be my last year," the 36-year-old Zimmerman said on a video call with reporters. "At least that's the way I'm looking at it."
Zimmerman is a two-time All-Star and bats right-handed. His playing time likely will diminish after Washington traded for switch-hitting first baseman Josh Bell from Pittsburgh last month.
It's still uncertain whether the National League will employ the designated hitter this year. It was used as part of the new rules added for the virus-abbreviated season.
Zimmerman, however, wasn't looking for a new opportunity in another city.
"Playing anywhere else would be really weird. Wouldn't really be worth it," he said.
Zimmerman has played 15 seasons in the majors, all for the Nationals. They took him with their first pick in the 2005 draft soon after moving from Montreal to Washington.
Zimmerman boosted the franchise to its World Series championship in 2019. He didn't play last year, choosing to sit out because of concerns about his family's health during the pandemic. His mother has multiple sclerosis; he and his wife had their third child last year.
"Me coming back this year was in no means for like a victory lap sort of thing," he said. "This is about coming back because I still think I can play the game at a high level, and I still think I can help the team win."
The Nationals went 26-34 last season, tied with the Mets for last in the NL East.
Zimmerman batted .257 with six homers and 27 RBIs in 171 at-bats in 2019. He is a career .279 hitter with 270 home runs and 1,015 RBIs.
Zimmerman said he was pretty certain he'd return to the diamond.
"I don't think it was ever 100%, but I don't think it was under, like, 95%," he said. "Once I was hanging out at home and watching the games and kind of getting into life without baseball, I think that number shot up to pretty close to 100% very quickly on my end."
Zimmerman thanked general manager Mike Rizzo and the organization for the chance to play again.
"I didn't know if they were going to offer me a major league deal, or if they were going to want me to come down on a minor league deal," he said. "I'm 36 years old, and I haven't played baseball in a year. So I think that shows, obviously, the respect that [Rizzo] and the team have for me. I can't tell you how much I appreciate that."
Zimmerman gave up a $2 million salary last season, but received a $2 million buyout for the declined option at the end of his previous contract.
In addition to his $1 million base salary this year, Zimmerman can earn $250,000 for games: $50,000 each for 50, 65, 80, 95 and 100. He also can make $250,000 for plate appearances: $50,000 apiece for 200, 250, 300, 350 and 400.
He also gets a one-day use of Nationals Park for charity, as a provision in his contract.
Zimmerman's deal includes $500,000 if he's league MVP or $200,000 if he finishes second through fifth in voting. He would get $100,000 for making the All-Star team and another $100,000 if he's the top vote-getter. Zimmerman would earn $250,000 for World Series MVP, $150,000 for League Championship Series MVP, $100,000 for Gold Glove, $100,000 for Silver Slugger, $100,000 for the Hank Aaron Award and $100,000 if he is Baseball America or The Sporting News player of the year.