TAMPA, Fla. — The words in Tampa Bay Buccaneers running back Peyton Barber's playbook are sometimes jumbled, and they don't make sense, so he has to read them over and over. He has to draw the plays up, too, and then he has to walk through them to fully understand.
"Some people can get things with classroom only, but he's certainly gotta be in it, see it and let it happen," said Bucs running backs coach Tim Spencer, who has worked with Barber the past two seasons.
Barber has dyslexia, a learning disorder that affects 10 to 15 percent of the U.S. population. It results in difficulty with word recognition, spelling, reading comprehension, language and visual processing.
"I do read a lot slower, and there will be times when I'm reading something and I'll read it backwards or the words will come off the page," said Barber, 23. "[But] I don't really see it as a challenge, to be honest."
Barber also has attention deficit-hyperactivity disorder (ADHD), a condition characterized by difficulty concentrating, hyperactivity and impulsivity.
Neither has held him back on the football field, even when he must learn hundreds of plays and identify where the pressure is coming from in a matter of seconds. In fact, despite starting only four games last season, Barber finished with a team-high 423 rushing yards, 114 receiving yards and three touchdowns, becoming a candidate for the starting role in 2018.
"I think he will be right there," Bucs coach Dirk Koetter said at the end of the season. "I think that will definitely be a consideration. Peyton did a good job with his opportunities this year."
'I learned a lot slower'
Growing up in Alpharetta, Georgia, Barber was diagnosed with ADHD in kindergarten and took mostly remedial courses until his junior year of high school.
"I learned a lot slower. I struggled a little bit in high school. [My grades] weren't terrible, but I mean, I'd say I was kind of all over the place: C's, B's, occasionally an A in college," said Barber, whose father also has dyslexia and ADHD.
He wasn't diagnosed with dyslexia until his freshman year at Auburn. There, Barber had tutors, received extra time on tests and took his exams in a different room with a proctor, all of which are allowed by the Americans with Disabilities Act (ADA) and the ADA Amendments Act of 2008 (ADAAA).
Barber tried the medication Vyvanse for about a week and a half, but he didn't like the way it made him feel, so he stopped taking it.
He also got help from then-offensive analyst Bobby Bentley, now the running backs coach at South Carolina. Bentley understood that the traditional classroom setting and long meetings didn't always cater to people like Barber, a kinesthetic learner, who needs movement to learn.
"A good athlete has to be someone who does well under pressure, who actually has clarity under pressure and can respond and react almost impulsively. … On the field, being impulsive is good because it means you're acting quick and fast."

Dr. Roberto Olivardia
"I was the same way. I have ADHD," Bentley said. "Nobody really knows this, but we would meet in the indoor facility and walk through plays from hash to hash. … He became very knowledgeable about what to do based on our step-throughs and our walk-throughs. … What was great about Peyton is that he absorbed it all. He was a sponge. I was able to pour myself into him because he wanted it."
After Roc Thomas and Jovon Robinson left the 2015 Chick-Fil-A Kickoff Classic against Louisville with injuries, Barber stepped in to rush for 116 yards, becoming the starter.
"It's been like that pretty much wherever I've gone. Like, I've always been that guy that was sort of overlooked in a way," said Barber, who credits Bentley with teaching him patience. "Just remembering your process and everything — what you've been through in the past, knowing that the cream always rises to the top."
Barber rushed for 1,017 yards and 13 touchdowns that year. He also excelled in the classroom, earning SEC Academic Honor Roll for three years.
He entered the NFL, a decision he made so he could assist his mother, Lori, who lives off disability and at the time was staying in a cramped apartment with her daughter and grandchildren. He bought her a townhome this past year, and his dream is to buy her a house.
Thriving on urgency
Barber has developed some of his own coping mechanisms. He chews gum when studying because he feels the chewing motion helps him lock in. He keeps multiple packs in his locker.
He also fidgets with his goatee, which can stimulate the frontal lobe of the brain to improve concentration, and he takes breaks to give his mind a rest.
When Spencer gives quizzes, he gives Barber additional time, if needed. Barber always sits in the front of the room and is called on frequently.
"I just really direct everything to him, and he's OK with that because he wants to learn. And there's nobody in there making him feel like he doesn't know or making him feel like he's any less than anybody else," said Spencer, who is an advocate of multisensory ways of teaching.
"The coaching staff really helps me. They'll always ask me, 'Do you completely understand?' If I don't, I'll tell them straight up, 'I don't,'" Barber said.
Said Spencer: "He can definitely run the football, and he's a lot better than when he first got here with protections and being able to see the field and not just looking at the line of scrimmage. He needs to be able to see down the field and analyze things before they actually happen so he can play a lot faster. That's what I'm trying to get him to see.
"Also, because he has ADHD and dyslexia, it's imperative for him to focus when he comes out on the practice field. He can't be messing around with the guys and joking and all that other stuff. He has to focus so he can be on point."
Dr. Roberto Olivardia, a clinical psychologist and lecturer at Harvard Medical School who specializes in the treatment of ADHD and learning disabilities, believes Barber's makeup can actually be advantageous in sports. Dr. Olivardia mentioned other athletes who have ADHD, dyslexia or both, including Greg Louganis, Michael Phelps and Magic Johnson, as did the late Muhammad Ali.
"There's something in the ADHD brain that thrives on urgency," Olivardia said. "A good athlete has to be someone who does well under pressure, who actually has clarity under pressure and can respond and react almost impulsively. … On the field, being impulsive is good because it means you're acting quick and fast."
Barber has never met anyone in the NFL with dyslexia, but some of the sport's biggest personalities — Rex Ryan, Tim Tebow, Mark Schlereth and Frank Gore — have been diagnosed with it.
"When you've had to work at succeeding in a way that might have come easy for other people, by virtue of having ADHD or dyslexia, there is a certain perseverance and a certain toughness that comes along with that," Olivardia said. "There's a certain sense of power in, 'Maybe I did it in an unconventional way, but I was able to figure it out and do it.'"
Olivardia said that some of the most highly successful entrepreneurs have dyslexia because they think outside the box and are avid problem solvers. That's exactly what Barber wants to do. The past two offseasons, he has returned to Auburn to work toward finishing his degree in interdisciplinary studies.
"I kind of want to do a little bit of everything," said Barber, who believes that the patience he learned through coping with dyslexia and ADHD has helped him excel in all areas of his life.
"I don't see it as a disability — I see it as an ability. I see it as something special and unique in many ways. Yeah, I may learn differently, but at the same time, I'm thriving."
From jumbo New York Jet to Andre the Giant
Matthew Willig first met Dwayne Johnson about a decade ago at an Equinox gym outside Los Angeles. Willig was a fledgling actor, a few years removed from a 14-year career in the NFL trenches. Johnson was … well, The Rock.
The Rock wore a hoodie that day, Willig recalled, surmising the Hollywood megastar wanted to keep a low profile during his workout. They shared a couple of Nautilus machines, and later in the lobby, Willig pulled him aside and requested career advice, the former offensive lineman asking the former defensive lineman about how he could advance his career in show business.
Willig didn't get a bum's rush — or a bull rush, for that matter. Johnson was gracious.
More than 50 movie and TV credits later, Willig finally has a place on The Rock's team. He plays wrestling icon Andre the Giant in the new NBC series "Young Rock," a biographical comedy that captures Johnson's life through his formative years. Johnson's father was a professional wrestler, so the young Rock grew up with some of the sport's most colorful characters, including Andre René Roussimoff — aka the Eighth Wonder of the World.
"His persona was one thing, [but] he was such a gentle giant, which doesn't surprise me," Willig, 52, said in an interview with ESPN. "I've been living that life for a long time."
PODCAST: Matthew Willig talks about his bond with The Rock
During his NFL career, which started with the New York Jets in 1992 and included five other teams, Willig was listed at 6-foot-8, 315 pounds — one of the biggest men in a big-man sport. He came up the hard way, an undrafted free agent from USC who hung around long enough to win a Super Bowl ring with the 1999 St. Louis Rams (even though he didn't play a single down).
In a sense, he has spent the past three decades auditioning, first in the NFL and now in the cutthroat business of Hollywood — forever a role player.
"I've been really fortunate," Willig said. "I've worked hard and I haven't taken no for an answer, so to speak. I always said, 'Why not me? Why can't I be the guy that does it?' It has worked out pretty well for me. To have just as long a career in this as I did in football, I'm pretty proud of that."
Often cast as an intimidating muscle guy, Willig is perfect as Andre the Giant, who reportedly was 7-foot-4 and 500-plus pounds during his heyday in the 1970s and 1980s.
It took a lot of research and a lot of eating for Willig. As large as he is, Willig gained 35 pounds in an effort to recreate Andre's prodigious midsection. (A production secret: He also wore boots with 3-inch lifts.)
To master Andre's French accent, he worked with a dialect coach. To understand the bond between Andre and The Rock, Willig probed Johnson, asking the star to describe his kinship with the wrestling legend, who died of congestive heart failure in 1993.
"He gave me a really nice, detailed and sweet version of his relationship," Willig said. "He idolized him in a way and got a lot of advice from him, which we explore in the show and will continue to explore."
Johnson is a co-creator of the show, which premiered Feb. 16 and explores his upbringing in three different stages — as a 10-year-old known as Dewey (Adrian Groulx), a 15-year-old (Bradley Constant) and a freshman at the University of Miami (Uli Latukefu). The Rock stars as himself in a future setting, 2032, when he's interviewed by Randall Park upon announcing his candidacy for president of the United States. The interview sets the stage for flashbacks to his childhood.
Willig has a big part in Episode 6, titled "My Day With Andre." In its review of the show, Rolling Stone says this particular episode is a "warm, bittersweet tale about the lessons that Dewey and Andre the Giant have to teach one another." Willig, who gets a chance to show off his acting chops, said it includes "some soulful moments, some soft, tender moments" between Andre and the young Rock.
This was a passion project for Johnson, who became choked up during some of the table reads, according to Willig. (Because of the coronavirus pandemic, they rehearsed the script via Zoom, with Johnson in Atlanta and most of the cast and crew shooting in Australia.) Because it's the story of his life, Johnson took a hands-on approach with the actors.
"Every single one," Johnson said in an interview with The New York Times. "And I was able to spend some time with them prior to shooting and let them know what I was like during that time, what I thought my priorities were, the times … that I fell on my ass and had to get back up. That was surreal, in and of itself."
In Episode 1, Dewey, surrounded by his dad, Rocky Johnson (Joseph Lee Anderson) and a bunch of his wrestling friends, drops the F-word: fake. The room goes silent. Andre hoists the horrified boy to eye level and declares, "Does this feel fake?"
Willig stayed in Australia from September to December last year. By the end of the shoot, Willig's knees were aching because of the weight he gained for the role, and it reminded him of how he felt near the end of his playing career. The role was physically demanding, especially the wrestling scenes. He got a bruise on his rear end because he bounced off the ropes the wrong way. One scene, a Battle Royal with 25 wrestlers in the ring, took more than a week to choreograph.
"A guy his size, with his look, he definitely has a role in Hollywood," said former Jets quarterback Boomer Esiason, Willig's teammate for three seasons. "I'm so happy for him. It's always great when you hear an ex-teammate doing well. [He was] a great teammate, a guy who worked his ass off."
Willig, who also played for the Atlanta Falcons, Green Bay Packers, Carolina Panthers and San Francisco 49ers, didn't know what to do with his life when he retired from football in 2005. As he said, "I was in that tweener time. I played 14 years in the NFL, but I didn't make enough money to where I could just retire. What's a guy like me going to do?"
He had done some radio shows during his playing days and always felt comfortable in front of a camera, so he decided to pursue acting.
"He always had that funny personality and joking nature," said ex-linebacker Marvin Jones, a former Jets teammate. "I could 100 percent see him as an actor. Kudos to him."
Willig has performed in several comedies, including "We're the Millers" (2013), starring Jennifer Aniston and Jason Sudeikis. Willig plays a Mexican drug lord named One Eye. In the movie, Aniston performs a striptease. In the original script, she's supposed to dance specifically for Willig's character. About 20 minutes before shooting the scene, he received a knock at the door of his trailer and was told that part of her dance routine had been eliminated.
Willig was bummed, but he still has fond memories.
"Jennifer couldn't have been sweeter to me," he said.
Willig played a small part in "Birds of Prey" (2020), starring Margot Robbie. He also played Lash in the "Agents of S.H.I.E.L.D" TV series (2015-16). While keeping his acting skills fresh by appearing in commercials, Willig says his future plans consist of more projects in a producing role.
Of all his screen credits, the one with the strongest emotional connection is "Concussion" (2015), which starred Will Smith. Willig plays the late Justin Strzelczyk, a former Pittsburgh Steelers lineman who battles brain trauma and eventually dies in a fiery car wreck.
It hit home for Willig, who played college ball with Junior Seau and Scott Ross — neither of whom reached their 46th birthday. Seau shot himself in the chest; Ross, part of the concussion lawsuit against the NFL, was found dead in a car. Autopsies later discovered they suffered from chronic traumatic encephalopathy (CTE).
When Willig went for the part in "Concussion," he cried during the audition. He forged a friendship with Strzelczyk's family, which strengthened his attachment to the role.
"It was really an emotional shoot, and I was proud to be a part of it," Willig said.
His first NFL quarterback remembers watching "Concussion" for the first time.
"When I went to see the movie by myself," Esiason said, "I said, 'Damn, that's Matt Willig.'"
Cut Carlos Dunlap? Restructure Bobby Wagner? Seahawks create cap room – Seattle Seahawks Blog
SEATTLE — The Seattle Seahawks could be in much worse shape with their salary cap as the March 17 start of free agency approaches.
Just look at how many teams are currently over the estimated spending limit for 2021.
The NFL has not announced an exact salary cap for next season but has told teams it will be no lower than $180 million. As things stand now, OverTheCap.com and Roster Management System have the Seahawks with less than $8 million in cap space, based on an estimated leaguewide cap that's slightly above that $180 million floor.
That would cover only about half the cost of a franchise tag for cornerback Shaquill Griffin, let alone whatever it might take to keep any of Seattle's other free agents or to make any outside additions.
In other words, general manager John Schneider and cap guru Matt Thomas have work to do to free up money before March 17, when every team's top 51 contracts must be under the cap.
Here are four ways they might — and might not — do that:
Cuts
Defensive end Carlos Dunlap is the most obvious candidate. As good as he was after arriving in a midseason trade from the Cincinnati Bengals — five sacks and six tackles for loss in eight games — the Seahawks can't afford the $14.1 million he'd count against their cap in the final year of his contract.
Lowering that number with an extension based off his current deal could be easier said than done for a few reasons. Start with Dunlap having already taken one pay cut to facilitate his trade from Cincinnati. As much as he likes Seattle, he might not be willing to sign an extension now that pays him anything less than that — without seeing what his value is on the open market — since it would amount to another pay cut.
And while the Seahawks could theoretically structure an extension that pays him that much in 2021 but with a lower first-year cap charge, that could require them to commit too much guaranteed money over the length of a deal for a player who just turned 32.
Cutting Dunlap would allow him to test the market for the first time in his career and give the Seahawks a chance to sign him to a more team-friendly deal, something they could negotiate from scratch as opposed to from $14.1 million. The lowered NFL salary cap will force other teams to make similar decisions with productive but high-priced players, so the Seahawks would likely have viable alternatives if they cut Dunlap and aren't able to re-sign him.
He has a $3 million roster bonus due March 21. If he is cut — which seems likely — it would happen before then.
Prediction: Seattle cuts Dunlap and re-signs him at a lower rate.
Restructures
The Seahawks' current regime has been much less willing than other teams to treat contracts like ATMs, knowing that immediate cap savings created by a restructure will catch up to them down the road. But they've restructured deals before by converting base salary into a signing bonus (Doug Baldwin and Russell Wilson in 2017) and might have to do so this year.
• First-round QB isn't sure path to success
• Washington has options to add WR speed
• How the Broncos can win their offseason
• Wouldn't Browns extend Baker Mayfield?
• Cowboys need decisions on 17 free agents
Here's a rough example of how that might work: They could convert $6 million of linebacker Bobby Wagner's $13.15 million base salary for 2021 into a signing bonus. That would clear a net of $3 million for 2021, as the $6 million bonus would be spread out over the final two years of Wagner's contract for cap purposes. Wagner's 2022 cap number would thus increase by $3 million, which is the long-term downside of such a move.
The negative cap ramifications would likely make the Seahawks less inclined to do this type of restructure again with Wilson, especially under the circumstances. Pushing more cap charges onto future years would make it more difficult to tag or extend him, since negotiations of that size are typically based off the tag. And it would add to the already-whopping amount of dead money the Seahawks would have to eat if they traded Wilson.
Prediction: Seattle restructures Wagner's deal but not Wilson's.
Extensions
The Seahawks have several productive players entering the last year of their deals who have a big 2021 cap number that could theoretically be lowered with an extension: wide receiver Tyler Lockett ($13.75 million), left tackle Duane Brown ($13 million), right tackle Brandon Shell ($5.5 million), defensive tackle Jarran Reed ($13.5 million) and safeties Jamal Adams ($9.86 million) and Quandre Diggs ($5.5 million).
But as with Dunlap, creating cap space with an extension for those players is easier said than done. Will they want to give Lockett a big raise knowing DK Metcalf will soon be in line for a massive payday? Will they want to reinvest in Brown past his age-36 season? The Seahawks are optimistic that they'll extend Adams at some point this offseason, but they might not be able to structure it in a way that provides significant cap relief for 2021.
Prediction: Seattle extends Adams.
Trades
Trading Wilson this offseason is unlikely for several reasons, including the $39 million in dead-money charges it would incur. A post-June 1 trade this year would spread out that dead money over the next two years and create $19 million in 2021 cap space, minus whatever Seattle would have to spend on his replacement.
There have been no indications that the Seahawks are looking to shop any of the other aforementioned names, so this is all hypothetical. But a trade of a player listed above could be doubly beneficial as it would shed salary and recoup needed draft capital and/or a player at another need position. Seattle has no first- or third-round pick and only four in all.
Prediction: Seattle makes a salary-shedding trade, but not with Wilson.
Houston Texans release running back Duke Johnson, source says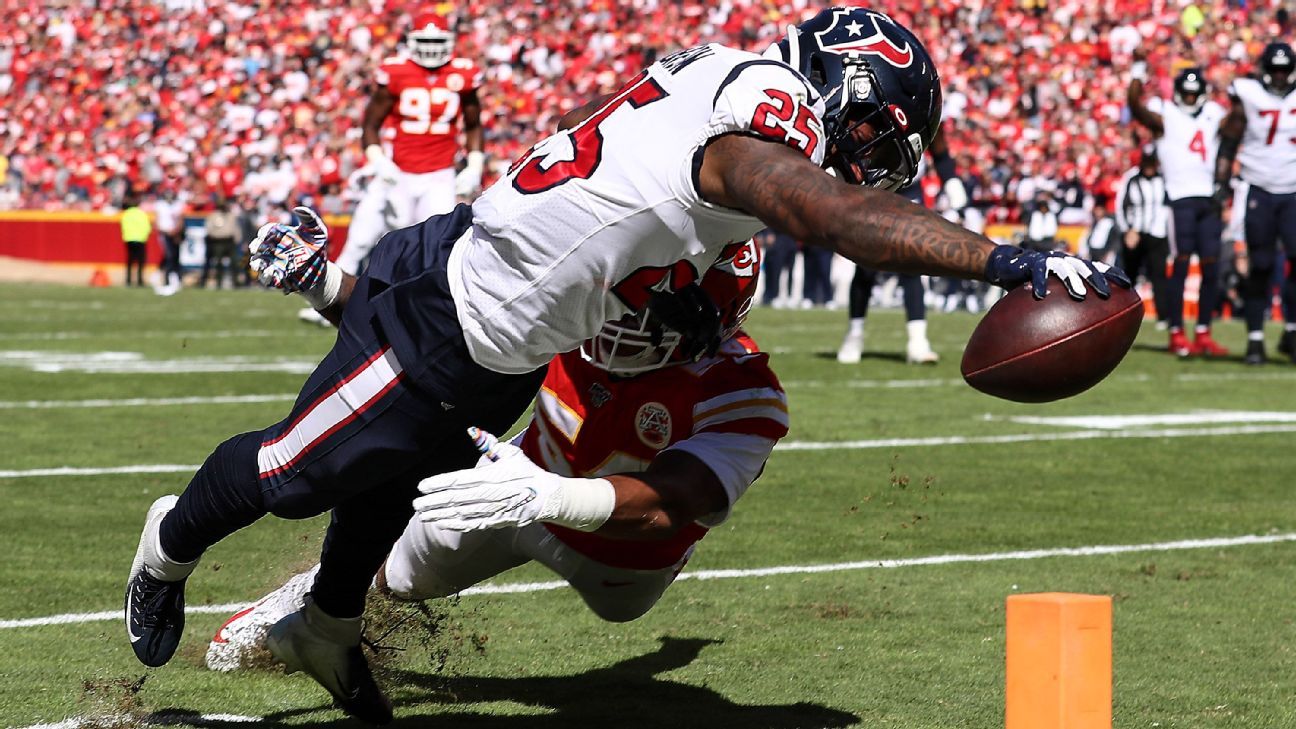 The Houston Texans have released running back Duke Johnson, a source told ESPN's Adam Schefter on Friday.
The Texans acquired Johnson from the Cleveland Browns during training camp in 2019 for a third-round pick.
In 11 games for the Texans last season, Johnson rushed for 235 yards and a touchdown on 77 carries. The pass-catching running back had a career-low 28 receptions for 249 yards and a touchdown.
Johnson backed up Carlos Hyde in 2019 and David Johnson in 2020. During the 2020 season, he started in place of David Johnson when the starter missed time due to a concussion and spending a week on the COVID-19 list.