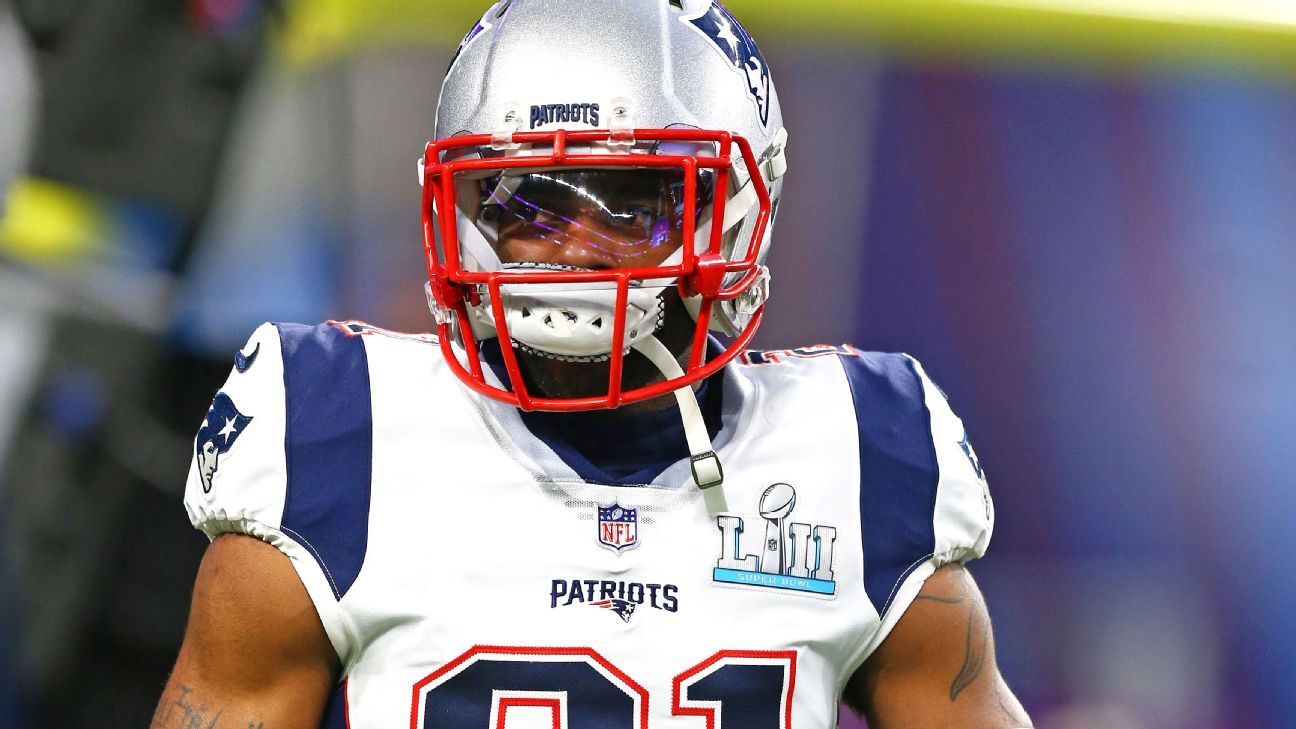 Exploring some hot topics around the New England Patriots in mailbag form:
Mike, team needs/roster move projections coming soon? With Butler (probably) leaving, do you expect team to address (jnterior and/or outside) pass rush before anything else?

— Ed Negroni (@ednegroni) February 14, 2018
Ed, I wouldn't narrow it down to solely pass rush. As the Super Bowl showed, the Patriots have several needs on defense and the best approach is to maximize opportunities to fill them, which come in different forms: free agency, draft, trades, waiver wire. So it doesn't have to come in any specific order. I think Bill Belichick would agree that the Patriots need to be better in maximizing those opportunities than they were last year, as several of their moves didn't produce the desired results (e.g. David Harris, Dwayne Allen, Cassius Marsh, Kony Ealy, etc.). If I had to pick one spot to put atop the list in 2018, I'd go with an off-the-line linebacker who can run well and play on all three downs, like an early-career Jerod Mayo. The biggest problem with that is those players are hard to find; it's especially not easy when you're picking No. 31 to find that type of talent (Mayo was No. 10 overall in 2008). While some might point out that the Patriots had one in Jamie Collins, I believe the reason he was traded was because he was no longer buying into the program. That highlights a whole different issue: Identifying and securing the talent is one thing, but those players also need to be program fits.
@MikeReiss In the week after a SB (whether a win or loss) do the Pats coaches and/or players review the tape together? Or is it "class dismissed" until training camp?

— Andy M (@SillyLongLeg) February 13, 2018
Andy, most coaches were in the office in the days upon their return from Minnesota and my understanding is that they broke down the game as they usually would. That's an important part of their personnel/scheme/self-scouting analysis as they move forward. It's different for players, as there is not the standard meeting the morning after a game like there normally would be during the season because there isn't the same urgency to make those corrections without another game coming up. Coaches are currently off until later next week, although some have been in and out of Gillette Stadium because they are coaches who live the game and there's no such thing as going cold turkey for them.
@MikeReiss , for your Q&A: at the snap count you said you believe Butler would've been called if Gilmore or Rowe got injured. So why Bademosi and not Butler got the call as the CB3 at some points during the game? I get starting the taller Rowe over Butler, but it stops there…

— Obina Neles (@obina_neles) February 14, 2018
That's a fair point Obina, as it easily could have been Johnson Bademosi over Malcolm Butler in Super Bowl LII if either Stephon Gilmore (excellent performance) or Eric Rowe (settled down after a rocky start) had sustained an injury. But when I went through film review and matched it up with notes I took during the game, it's important to note that the insertion of Bademosi into the game in the third quarter was in place of safety Jordan Richards in the dime package. That was a halftime adjustment in which the Patriots altered their dime to go from a 2-corner/4-safety grouping to a 3-corner/3-safety grouping. Why Butler wouldn't be part of that 3-corner grouping — when he was dressed for the game and part of the special-teams plan — remains a puzzler and something that is still being pursued from a reporting standpoint for more clarity. Bademosi's first defensive play in the game came when he was aligned across from receiver Nelson Agholor in the slot and could have tackled him short of the first down but didn't wrap up. Does Butler make that tackle? I like the odds that he does.
@MikeReiss Any possibility that there will be a transition of power in the near future with McDaniels taking the HC position and Belichik retaining the GM role rather than retiring fully?

— Original Jamoke (@Original_Jamoke) February 14, 2018
While that is always possible, I'm of the belief that Josh McDaniels' return to the Patriots — which was a result of the team making a last-minute push to retain him with an offer that wasn't previously on the table for him — will actually prolong Belichick's stay on the sideline. This would have been a challenging year for Belichick had McDaniels departed, as there was no obvious successor for McDaniels, and it likely would have led to a trickle-down effect of several other departures. So this eases the burden on Belichick, which I could see extending his coaching window to at least 20 years with the club (this year will be No. 19).
@MikeReiss @jeffphowe @DougKyed What are the chances the Patriots keep Martellus Bennett? Huge fan, hope we retain him

— Joseph Martinez (@JMartinezBKN) February 14, 2018
Joseph, I'd be surprised if they pick up Martellus Bennett's $2 million roster bonus on the first day of the 2018 league year, which would mean they would be prepared to pay his base salary of $3.6 million in 2018, as well as $2.6 million in roster bonuses. While those numbers aren't off the charts, given where Bennett is at this stage of his career and his prior talk of retirement, I don't see the team going there.
@MikeReiss Am I crazy to think if we lose Dion Lewis in Free agency that we should make a Push at Demarco Murray if he is cut? Think about him in back field with James white.

— Kip Hackman (@Jester8426) February 15, 2018
Kip, there are no crazy thoughts in free agency, as it's worth exploring any avenue that could improve the team. The one question the Patriots would want to answer is whether Murray's declining numbers (he averaged a career low 3.6 yards per carry in 15 games) are a sign that he is slowing down. He just turned 30 this week. One other thought: When the Patriots entered 2017, Belichick noted the versatility of the backs (Dion Lewis, Mike Gillislee, Rex Burkhead, James White) and how he liked how it created flexibility on a play-by-play basis so the team didn't telegraph its intentions as much as in 2016 with the LeGarrette Blount-led approach. I see bringing in Murray as more of a return to the 2016 approach.
Latest round in Drew Brees-Tom Brady rivalry will be the most consequential
METAIRIE, La. — Don't let the History Channel meme fool you.
Although Tom Brady's social media team gave him a lush, full head of hair next to a bald Drew Brees in the hilarious viral tweet this week that aged them an extra 30 years or so, there is a tremendous amount of mutual respect between the legendary quarterbacks who will make history once again on Sunday.
Brees turned 42 on Friday, which means he and Brady will have a combined age of 85 when the New Orleans Saints host the Tampa Bay Buccaneers on Sunday (6:40 p.m. ET, Fox) in the first-ever playoff meeting between starting QBs over 40.
It will also be the first playoff matchup between the NFL's top two leaders in career touchdown passes.
"We were texting back and forth on Monday, just kind of chuckling at this whole scenario, right? … That's 85 years and a lot of football experience that's going to be on the field on Sunday," said Brees, who said he thought this was "inevitable" when Brady left the New England Patriots after 20 years and joined him in the NFC South this past offseason.
"What was that, nine months ago, eight months ago?" Brees said. "I envisioned this game happening because I knew our aspirations as a team, to be in the playoffs and beyond. And I certainly knew what he was bringing to the Bucs and that talented roster. And so I think this is probably where we all envisioned being at this point in season."
Perhaps there is some unwritten rule that suggests Brees and Brady shouldn't be texting each other during the week of such an important playoff game. But let's get real here. There are no precedents for this type of historic matchup.
Brady and Brees have known each other since they first played in 1999 — when Brady's Michigan Wolverines trounced Brees' Purdue Boilermakers. "Maybe before a lot of guys that we're on the field with were born," Brees said.
And they've built a friendship — and friendly rivalry — ever since. Brees ranks first in NFL history with 80,358 career passing yards (1,154 ahead of Brady). Brady ranks first with 581 TD passes (10 ahead of Brees).
"He's a lot younger than me," Brady cracked. "I mean, he's 18 months younger. Eighteen months ago, I felt pretty good. So I've got a little advanced age on him and experience. But I'm hanging in there.
"He's had a terrific year. And he's a great player. I've known him for a long time. I've always had a great amount of respect for him, going all the way back to his Purdue days. And my roommate when I first got to the Patriots was from Purdue [David Nugent] and was really good friends with Drew. And I've always just kept up with him and gotten to know him somewhat well over the years and just think so much of him as a person and as a player.
"And I know what it takes to do what he's doing. He knows what it takes to do what I'm doing."
Brees admitted that he "didn't like the hairline" in the History Channel meme and said, "Unfortunately they made me look like the dad from 'Family Ties,'" while he thought Brady looked like Abraham from biblical times. But Brees said it was "hilarious."
Fun and games aside, neither of these quarterbacks would have reached this point if they weren't among the most competitive and driven athletes in sports history.
Brady wants to prove he can win a seventh title outside of New England. And the entire Buccaneers team wants to prove it's better than the team that got trounced by New Orleans twice in the regular season (34-23 in Week 1 and 38-3 in Week 9).
Brees, meanwhile, wants to win a second ring before he retires — which is widely expected to happen after this season. The fact that he and Brady have reached this unprecedented matchup "speaks to the two guys that are playing," Buccaneers coach Bruce Arians said.
"They take great care of themselves and are two of the best that have ever played the game," he said. "Whether they're 25 or 43 and 42, it's spectacular when those guys play."
---
'Tom's throwing it outstanding'
Saints defensive end Cameron Jordan joked that he knew the Buccaneers would be a playoff-caliber team as soon as Brady arrived and "blew into his conch shell" to assemble "a dream team of every merc out in the NFL game" — from Rob Gronkowski to Leonard Fournette to, eventually, Antonio Brown.
Tom Brady uses a conch shell to signal Rob Gronkowski as the two prepare to reunite in Tampa Bay.
But it didn't happen overnight for Brady and the Bucs' offense, who looked a little rusty in that Week 1 meeting in the Superdome and got overwhelmed in the Week 9 rematch.
Ultimately, though, the old QB seemed to like learning some new tricks from Arians and his aggressive "no risk it, no biscuit" approach.
Brady wound up leading the NFL in downfield throws this season with career highs of 34 completions and 88 attempts that traveled 20-plus air yards, according to ESPN Stats & Information. His 4,633 passing yards were his most since 2015. His 40 touchdown passes were his most since 2007.
And after that flop in Week 9, Tampa Bay averaged 34.6 points per game for the rest of the season — second most in the NFL.
"I think you're seeing a combination, or a hybrid [of Brady and Arians]. It really is unimportant what you call it, it's this year's Tampa offense," Saints coach Sean Payton said. "You're seeing the timing, the down-the-field throws. And I think they're operating as efficiently as I've seen yet this year. … I think Tom's throwing it outstanding."
ESPN Buccaneers reporter Jenna Laine broke down a number of the reasons why, from Brown becoming a bigger part of the offense, to guard Ali Marpet getting healthy, to the Bucs finding more balance in the run game, to Brady getting rid of the ball quicker.
"It's just a matter of continual growth," Arians said. "The protection has been great. I think knowing his receivers inside and out now. … It was a normal growing process."
What remains to be seen is whether Brady and Arians can solve a Saints defense that has been a nightmare matchup for them. The Saints have physical defensive backs — including cornerback Marshon Lattimore, who has routinely locked down receiver Mike Evans over the years, and versatile safety C.J. Gardner-Johnson, who has shown an ability to match up with receiver Chris Godwin in the slot.
And the Saints' defensive line has berated Brady, who was sacked three times in each game (a total of three by Saints DE Trey Hendrickson). Brady threw two interceptions in the first meeting and three in the second — his most in a game since 2011.
"We know they have one of the greatest quarterbacks ever, and we need to be able to have a game plan that affects him," said Jordan, who agreed that the best defense against Brady is speeding up his clock, since you're not going to surprise or confuse him. "Yeah, he's been playing football since 1980-something. He's seen every look that you can give. I saw the meme of [Brady and Brees] facing off on the History Channel. And I didn't even laugh. I thought that was going to happen. I thought that was just a serious event."
---
'Never in my wildest dreams'
When asked if he had anything special planned for Brees' birthday, Payton said, "Oh, just a good red zone plan, short-yardage and goal line.
"I think that's probably how he would want it, too," Payton added.
Brees' 20th season hasn't been his smoothest. He was heavily scrutinized for his own lack of downfield throws while the Saints started 1-2. Then he missed four games in November and December because of a punctured lung and 11 broken ribs. Brees told ESPN's Ed Werder that doctors believe he actually suffered eight of those rib fractures during the second victory over Tampa Bay, even though he continued to play a week later.
Nevertheless, Brees has continued to be one of the NFL's most efficient quarterbacks, completing 70.5% of his passes with 24 TDs and six interceptions. That has been the norm for Brees in recent years, as he has made up for any lack of arm strength by posting the best completion percentages, passer ratings and interception ratios of his career.
And his best birthday gift so far is that his cast of playmakers is as complete and healthy as ever — with receivers Michael Thomas and Deonte Harris both coming off injured reserve last week in time for the playoffs.
Brees and Thomas played a total of just 10 quarters together all season (eight of them against Tampa Bay) because Thomas was dealing with his own nagging ankle injury. Thomas caught his first TD pass of the season last week.
The matchup between Thomas and standout Bucs cornerback Carlton Davis will be one of the headliners Sunday.
"I think the thing that [can] throw Drew Brees off is we've just got to be physical with the receivers, tight ends and the running backs," said Tampa Bay linebacker Devin White — who also pointed to the need to get pressure up front. "Don't let them play pitch-and-catch. I think that will be the biggest 'it factor' for us."
White, a Louisiana native, said he isn't getting caught up in the idea that this could be Brees' last game.
"The No. 1 thing if I beat Drew Brees is me and my team will go on to the next round," White said.
Then he added, "But if it is his last game, I do need to get a pick and a sack off him."
Brees has sidestepped questions about whether he will indeed retire after this season. But he has been open about the fact that he has been embracing each season as if it could be his last since 2017. And he isn't afraid to reflect on special moments like this. When asked what he would have thought if someone had told him back in 2001 that he would still be playing at age 42, he said, "'No way, it's crazy.'"
"My goal was just someday to become a starter in the NFL," Brees said. "And when I first became a starter, it was, 'Well, man, I'd love to take my team to the playoffs, love to make a Pro Bowl.' And then once we accomplished those things, it's, 'Let's try to win a championship.' And we win a championship and, 'Maybe I can play 10 years, maybe I could play 15 years.' And you just kind of keep setting these goals and these benchmarks along the way.
"But never in my wildest dreams, back then as a 22-year-old coming into my first training camp, would I have ever thought that I'd be here right now 20 years later."
---
Brady vs. Brees head-to-head
How have their previous meetings played out? A quick look:
1) Oct 2, 1999: Michigan 38, Purdue 12
Both teams were 4-0, and Brees was a junior Heisman hopeful who had Purdue ranked No. 11. But Brady, a senior who was still splitting time with backup Drew Henson, pulled rank on a rainy afternoon in the Big House.
Brady: 15-for-25, 250 yards, 2 TD, 1 INT
Brees: 20-for-49, 293 yards, 1 TD, 1 INT
2) Sept. 29, 2002: Chargers 21, Patriots 14
Brady was coming off his first Super Bowl win, while Brees was starting his fifth career game.
Brady: 36-for-53, 353 yards, 2 TD, 2 INT
Brees: 10-for-18, 104 yards, 1 TD
3) Oct. 2, 2005: Chargers 41, Patriots 17
Brees got some more revenge on the sixth anniversary of their first meeting.
Brady: 19-for-32, 224 yards, 1 TD, 1 INT
Brees: 19-for-24, 248 yards, two TD
4) Nov. 30, 2009: Saints 38, Patriots 17
The only perfect passer rating of Brees' career kept the Saints unbeaten on a Super Bowl run.
Brady: 21-for-36, 237 yards, 0 TD, 2 INT
Brees: 18-for-23, 371 yards, 5 TD, 0 INT, perfect 158.3 passer rating
5) Oct. 13, 2013: Patriots 30, Saints 27
The Saints were 5-0, but Brady spoiled their perfect record with a TD pass with five seconds left.
Brady: 25-for-43, 269, 1 TD, 1 INT
Brees: 17-for-36, 236 yards, 2 TD, 1 INT
6) Sept. 17, 2017: Patriots 36, Saints 20
This is 40?! One month after Brady's 40th birthday, he torched the Saints in the Superdome.
Brady: 30-for-39, 447 yards, 3 TD, 0 INT
Brees: 27-for-45, 356 yards, 2 TD, 0 INT
7) Sept. 13, 2020: Saints 34, Bucs 23
Brady and the Bucs were still a work in progress as he debuted with a new team for the first time in 20 years.
Brady: 23-for-36, 239 yards, 2 TD, 2 INT
Brees: 18-for-30, 160 yards, 2 TD, 0 INT
8) Nov. 8, 2020: Saints 38, Bucs 3
An absolute stunner on Sunday Night Football in Tampa. Brees' passer rating was nearly 100 points higher as the Saints' defense dominated.
Brady: 22-for-38, 209 yards, 0 TD, 3 INT
Brees: 26-for-32, 222 yards, 4 TD, 0 INT
ESPN Tampa Bay Buccaneers reporter Jenna Laine contributed.
NFL playoffs divisional-round game picks, bracket schedule, odds, injuries, bold predictions and more
This weekend's divisional round of the NFL playoffs is stacked with four more great matchups. Our NFL Nation reporters bring us the keys to every game, a bold prediction for each matchup and final score picks.
Additionally, ESPN Stats & Information provides a stat to know for each game, and the Football Power Index (FPI) goes inside the numbers with a matchup rating (on a scale of 1 to 100) and a game projection. ESPN Chalk's Dave Bearman hands out helpful nuggets, and Matt Bowen points out a key matchup to watch as well. It's all here to help get you ready for a loaded weekend of NFL playoff football.
Jump to a matchup:
LAR-GB | BAL-BUF
CLE-KC | TB-NO



Saturday, 4:35 p.m. ET | FOX
Matchup rating: 82.8 | Spread: GB -6.5 (45.5)
What to watch for: The Packers were No. 1 in the NFL in scoring. The Rams were the No. 1-scoring defense. The Packers ranked first in both ESPN's pass block win rate and run block win rate. The Rams' defensive duo of Aaron Donald and Leonard Floyd combined to create 90 pressures, the most of any pass-rushing pair. Throw in All-Pro Green Bay receiver Davante Adams against All-Pro L.A. cornerback Jalen Ramsey, and this is the ultimate battle of strength versus strength. — Rob Demovsky
Bold prediction: From 75 and sunny to the frozen tundra, the Rams' defense isn't afraid of cold temperatures. Green Bay quarterback Aaron Rodgers may have thrown only 89 picks in 6,587 passes over his career, but the Rams' defense is on a takeaway roll. Watch for one of the Rams' cornerbacks to pick off Rodgers and return it for their sixth defensive touchdown of the season. — Lindsey Thiry
Stat to know: The Packers' Rodgers and Adams connected on 76.7% of their attempts this season, the second-highest rate among the 60 QB-WR duos with 150 attempts in the past 20 seasons. But will Ramsey be up to the task on the other side of the line of scrimmage? Pro Bowl receivers have caught 37% of their passes when Ramsey was the nearest defender this season, according to NFL Next Gen Stats. That's the lowest allowed by any defensive back. Ramsey also ranks in the top five in lowest completion percentage over expectation allowed (minus-9.3%), per NFL Next Gen Stats.
Bowen's matchup key: Rookie Rams running back Cam Akers looked like a veteran in the wild-card win over the Seahawks. Now look for coach Sean McVay to mix his personnel with one- and two-tight-end sets, using inside/outside zone and gap schemes, to open clean lanes for Akers. Read more.

Betting nugget: The over has hit in each of Green Bay's past five playoff games. But while the Rams' wild-card upset win went over the total, under tickets cashed in on 11 of Los Angeles' final 13 regular-season games. Read more.
Thiry's pick: Rams 23, Packers 20
Demovsky's pick: Packers 24, Rams 20
FPI prediction: GB, 65.1% (by an average of 5.1 points)
Matchup must-reads: Floyd latest first-round pass-rusher to be revived by Rams … The good (cold) and bad (Donald) for Packers against Rams … Donald on rib injury: 'Feel real good' … Packers' Rodgers has just 89 interceptions in 6,587 passes — and he hates every one of them … Wolford ruled out, Goff to start
Dan Orlovsky foresees the Rams' defense causing offensive problems for Aaron Rodgers and the Packers.

Saturday, 8:15 p.m. ET | NBC
Matchup rating: 94.3 | Spread: BUF -2.5 (50)
What to watch for: The Ravens blitzed their opponents more frequently than any other NFL team this season at 41% of opponent dropbacks — but Buffalo quarterback Josh Allen is ready for it. He faced more blitzes than any other quarterback during the regular season. And he did damage against them. Facing a blitz, he led the NFL in passing touchdowns with 17 (and had two more last week in the wild-card round), was second in QBR (93.4) and finished fourth in yards per dropback at 7.4. — Marcel Louis-Jacques
Bold prediction: The Ravens' Lamar Jackson will become the first quarterback to rush for 100 yards in consecutive playoff games. He produced just the sixth 100-yard rushing game by a quarterback in the playoffs in last weekend's wild-card round when he ran for 136 at Tennessee. The Bills haven't allowed a quarterback to gain more than 61 yards rushing over the past two seasons, containing Kyler Murray, Cam Newton and even Jackson — who was held to 40 rushing yards in Buffalo 13 months ago. — Jamison Hensley
Stat to know: Bills receiver Stefon Diggs posted 128 receiving yards in last week's win. The only players in Bills franchise history with two 100-yard receiving games in a single postseason are Hall of Famers James Lofton (1990) and Andre Reed (1992). Diggs led the entire NFL in receiving this season with 1,535 yards.
Bowen's matchup key: Anticipating that we see more Cover 3 from the Bills this week, Baltimore has to get receiver Marquise Brown loose on defined concepts that allow Jackson to attack middle-of-the-field voids or hit on shot plays down the field. Read more.

Betting nugget: The Ravens have covered seven straight games. The only team with a longer streak this season? The Bills, from Weeks 9-17 (eight straight). Read more.
Hensley's pick: Ravens 24, Bills 23
Louis-Jacques' pick: Bills 24, Ravens 21
FPI prediction: BAL, 51.4% (by an average of 0.5 points)
Matchup must-reads: From logo stomp to beer chug: Ravens' Peters has unpredictable passion … Daboll went beyond X's and O's to revive the Bills' offense and his career … Silencing their critics: Ravens' Jackson has his MVP award, is Bills' Allen next? … Allen's growth on display in first playoff victory with Bills … Bills again to host limited fans for divisional-round game vs. Ravens
---

Sunday, 3:05 p.m. ET | CBS
Matchup rating: 62.4 | Spread: KC -10 (57.5)
What to watch for: The Chiefs have unsuccessfully fought a season-long battle to force opponents to kick more field goals and score fewer touchdowns when they are in the red zone. They allowed a TD on 77% of opponents' trips inside the 20, which was the worst in the league. This game would be a good time to fix the problem. The Browns are efficient offensively inside the 20, scoring a touchdown 74% of the time. That was third best in the NFL. — Adam Teicher
Bold prediction: Reprising their 2016 college shootout, Chiefs QB Patrick Mahomes and and Browns QB Baker Mayfield will combine for seven touchdown passes. But Mahomes gets the ball last this time and propels K.C. into the next round with a winning drive. — Jake Trotter
Stat to know: Browns running back Nick Chubb has scored a TD in seven straight games, the longest streak by a Browns player since 1970 (Bo Scott also went seven straight). The Browns are 10-3 when Chubb plays this season, scoring a rushing TD in 12 of those 13 games, averaging 163.0 rushing yards per game and 4.8 yards per carry as a team. Without Chubb? Cleveland is just 2-2 with 95.5 rushing yards per game, 3.9 yards per rush and zero scores on the ground.
Bowen's matchup key: With a zone-heavy approach, out of two-deep shells, the Browns can "top" the Chiefs' seams and outside verticals. That will force Mahomes to throw into underneath windows and contain the deep-ball game. Read more.

Dan Orlovsky advises the Browns to play explosively and focus on defense to have a chance to beat the Chiefs.
Betting nugget: The "Andy Reid off a bye" narrative gets plenty of attention, and his 8-3 record outright off of byes (regular season or playoffs) with the Chiefs is nice. But he is just 6-5 against the spread in those games, with unders going 6-4-1. Read more.
Trotter's pick: Chiefs 35, Browns 34
Teicher's pick: Chiefs 27, Browns 22
FPI prediction: KC, 81.3% (by an average of 11.7 points)
Matchup must-reads: Ghostbuster Mayfield exorcising playoff demons, giving Browns confidence … Smoked Sausage, Black Pearl, Ferrari Right: How Chiefs creatively name their wild plays … The legend of Mayfield and Mahomes' 2016 epic … Since releasing Hunt, Chiefs have had seven different backs lead them in rushing … Kingsbury gave Chiefs' Mahomes and Browns' Mayfield a chance when others passed
---


Sunday, 6:40 p.m. ET | FOX
Matchup rating: 97.0 | Spread: NO -3 (52)
What to watch for: You might have heard this game will feature a pair of future Hall of Fame quarterbacks named Tom Brady and Drew Brees. It's their first playoff meeting, and it might be their last because Brees is contemplating retirement after the season. Brady is trying to reach a conference championship game for a staggering 14th time, while Brees is seeking his fourth appearance. They're both flanked by top-six defenses, too. And while New Orleans dominated the regular-season series (winning 34-23 and 38-3), the Bucs have been one of the hottest teams in football during a current five-game win streak. — Mike Triplett
Bold prediction: Buccaneers receiver Antonio Brown will score two touchdowns. He has been a difference-maker on offense, lining up all over the field and really picking it up since the Bucs last faced the Saints — when Brown still had just three practices with the team under his belt. Brown has scored in four straight games, including last week's win. — Jenna Laine
Stat to know: New Orleans cornerback Marshon Lattimore has lined up across from Bucs receiver Mike Evans on 72 routes over their past three games against each other, according to NFL Next Gen Stats data. Evans had zero receptions on six targets on those plays. But Tampa Bay has options even if Evans is again bottled up. Tight end Rob Gronkowski has 12 receiving TDs in the playoffs, tied with John Stallworth for the second most all-time (Jerry Rice, 22). And receivers Brown and Chris Godwin each have five receiving TD catches since Week 14 (including playoffs), tied for the most in the NFL over that span with Stefon Diggs and Davante Adams.
Injuries: Buccaneers | Saints
Bowen's matchup key: Pressure is a big part of the Tampa Bay defense's identity. I think we will see sim pressures from Tampa, working to speed up the process for Brees. Todd Bowles' defense had a blitz rate of 37.5% in the Week 9 matchup against the Saints. Read more.

Betting nugget: Think the Saints cover? If so, it's worth noting that unders are 7-1 in the past eight New Orleans covers. Read more.
Domonique Foxworth breaks down the keys for the Buccaneers to beat the Saints, emphasizing the importance of Rob Gronkowski.
Laine's pick: Saints 27, Buccaneers 24
Triplett's pick: Saints 26, Buccaneers 23
FPI prediction: NO, 53.6% (by an average of 1.2 points)
Matchup must-reads: Brady's Bucs an improved team since last facing the Saints … Latest round in Brees-Brady rivalry could be the most consequential … Brady's Tampa timeline: Events that defined his first year as a Buc … A beautiful mind: How Saints' Kamara stays 'two moves ahead'
Sources — Atlanta Falcons offer head coaching job to Tennessee Titans OC Arthur Smith
The Atlanta Falcons have made an offer to Arthur Smith to become their next head coach, sources told ESPN's Dianna Russini.
Smith has served as the offensive coordinator for the Tennessee Titans the past two seasons.
Smith, 38, would replace Dan Quinn, whom the Falcons fired along with general manager Thomas Dimitroff on Oct. 11 after an 0-5 start. Raheem Morris took over as interim head coach and led the Falcons to their only wins of the 2020 season en route to a 4-12 overall record.
The Titans ranked fourth in the league in scoring during the regular season, averaging 30.7 points per game under Smith. Tennessee finished the regular season averaging 396.4 total yards per game, good for third in the NFL. The Titans' rushing attack posted 168.1 yards per game, second only to the Baltimore Ravens (191.9 yards).
Tennessee achieved rare balance under Smith. Running back Derrick Henry's 2,027 rushing yards were the fifth-best rushing total ever, and he became the eighth player to surpass the 2,000-yard plateau. Titans receiver A.J. Brown finished with 1,075 receiving yards, while teammate Corey Davis ended the season 16 yards short of the 1,000-yard plateau.
Smith joined the Titans in 2011 as a defensive quality control coach; he has since served multiple roles in Tennessee, including offensive quality control coach, offensive line assistant and tight ends coach.