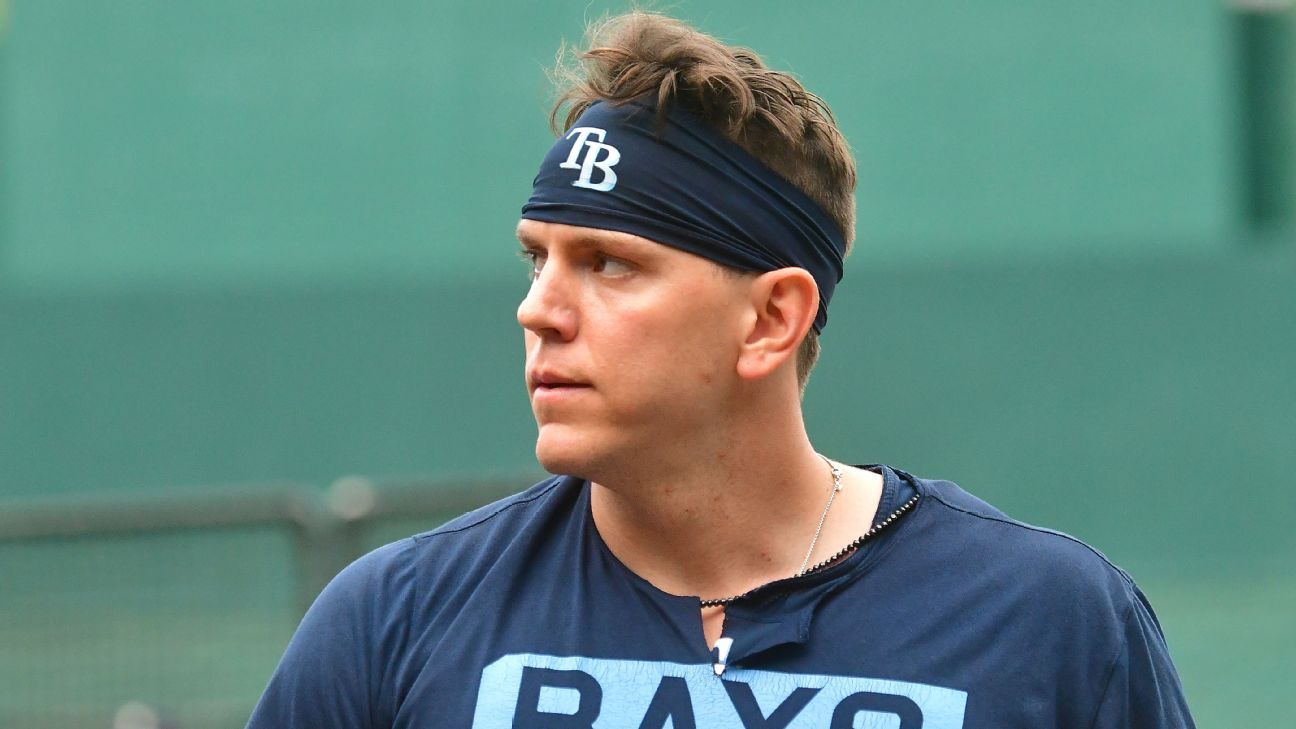 FT. MYERS, Fla. — An agent paused to consider the list of the many unsigned major leaguers. "Some of these guys are going to get absolutely destroyed," he said.
What he meant is that solid, established players are eventually going to be forced to accept deals for ugly terms, for much less than what they expected to get when they moved into free agency last fall — maybe for half of what they anticipated, maybe even less. Logan Morrison had the best season of his career last year, with 38 homers, a .353 OBP and an Adjusted OPS+ of 135, and as of last month, friends say Morrison had no offers in hand. That could change now that Eric Hosmer has reportedly picked his next employer and perhaps that opens an opportunity in Kansas City or elsewhere for Morrison.
It could be that Morrison and many other players wind up settling. But that is probably preferable to an alternative available to all of those unsigned: to simply wait it out, perhaps until after the start of the season, to see if injuries or performance problems motivate teams to bid aggressively. If Morrison carried his free agency into April, it's conceivable that a contending team might lose a first baseman to a broken hand or wrist and turn to Morrison with heightened desperation, giving him more leverage with which to negotiate.
But recent history suggests that players who follow this strategy of waiting and waiting and waiting to sign often struggle after they get back on the field. This is especially so for position players. "They fall behind, and they don't ever really catch up," another agent said.
• Kendrys Morales and Stephen Drew, 2014. Both turned down $14.1 million qualifying offers in the previous fall, from the Mariners and Red Sox, respectively, and when acceptable deals didn't materialize the next spring, they remained unsigned through the start of the 2014 season, freeing them from draft-pick compensation.
But after they signed, about one-third of the way through the season, both really struggled. Morales hit one home run in 162 plate appearances for the Twins while batting .234 before he was dealt back to the Mariners. He then batted .207 for Seattle in 59 games. Morales signed a two-year deal with the Royals before the 2015 season for $15.5 million.
Drew returned to the Red Sox for $10.1 million, floundered offensively, and was swapped to the Yankees. Drew batted .162 in 300 plate appearances in 2014, and he has made a total of $11.5 million in the three seasons since.
• Tim Lincecum, 2016. He signed in May 2016, for minimal dollars, and allowed 68 hits in 38⅓ innings for the Angels, posting a 9.16 ERA.
• Johnny Damon, 2012. He signed with the Indians on April 17, played his first game in the big leagues on May 2 and never really drove the ball. A hit on July 24 pushed his batting average to a season-high .236, and Damon was released a couple of weeks later.
• Roy Oswalt, 2012. The longtime Astros right-hander followed the Pedro Martinez/Roger Clemens plan of waiting until after the start of the season to sign. He agreed to a deal with the Rangers on May 29 before making his Texas debut on June 22. He had a 6.49 ERA after six starts and was dropped from the rotation.
There are more examples of players who took an imperfect deal in February or March, played well and parlayed that performance into a good contract the next fall. In the spring of 2014, the same time Morales and Drew opted to wait, Nelson Cruz, who also turned down a qualifying offer of $14.1 million, signed a one-year, $8 million deal with the Orioles on Feb. 22. He had the benefit of a full spring training and complete preparation, and when the season began, Cruz flourished. After leading the league with 40 homers, Cruz returned to the market and landed a four-year, $57 million deal with the Mariners.
As some unsigned players consider their options, they're probably better off signing even an ugly deal and getting into camp than falling behind and risking their 2019 standing as well.
News from around the majors
Because of the presence of Shohei Ohtani, the Angels' shift to a six-man rotation has generated a lot of attention. But the change is in keeping with the evolution in pitching — and in thought — throughout Major League Baseball. For a lot of teams, rotation choices are no longer being determined by an artificial schedule or the predetermined pecking order of a group of starting pitchers. Rather, decisions are based on what's best for each of the individual pitchers. "It's definitely personnel-driven," one evaluator said.
Instead of penciling a starter every fifth day into the baseball calendar with the expectation that four or five guys could make 30-plus starts, teams are assessing and evaluating the physical well-being of each guy and making the necessary adjustments. Because a one-size-fits-all system doesn't fit all. Madison Bumgarner might be OK taking the ball every fifth day through the six months of the season, but not every pitcher is like Bumgarner. A 22-year-old Clayton Kershaw might have easily handled a 200-inning workload, but at age 29, he might be better through rest. A few years ago, when the Oakland Athletics discussed the idea of innings limits, Billy Beane challenged his staff and asked, in so many words: What evidence do we have that the same limits should apply to every pitcher?
As teams have dug into the questions around why some pitchers break down and some pitchers don't, they have focused on structuring the rotation around who is best-suited for a given day, rather than where they fall on the calendar. The Dodgers have been the most prominent example of this shift in recent seasons. Ten pitchers made starts in 2017, but none made more than 27 starts; Kershaw was the only Dodgers pitcher to throw enough innings to qualify for the ERA title. The high payroll helped to give the Dodgers more depth and more flexibility, but they also worked to rest their starters. The Dodgers' rotation generated only 45 starts on four days of rest, far fewer than most teams.
30. Dodgers 45
29. Yankees 53
27t. Astros 64
27t. Padres 64
26. Nationals 67
So yes, the Angels are adapting to Ohtani, who worked on a six-day schedule in Japan. But they will also adapt to Garrett Richards, Matt Shoemaker and the others, working to schedule them when they'll be in the best possible physical condition within the context of the long season.
• Nobody knows better than David Wright that the odds of him returning to be a big league-caliber player — even the odds of him returning at all — are stacked against him. He's 35 years old, his condition is regressive, and 632 days have passed since the last time he played.
But he's trying. He gets paid the same either way, under the terms of a guaranteed deal that carries through the 2020 season.
If he can't play, Wright will go on the disabled list for the remainder of his career, just as Prince Fielder did. He's trying to work through his rehabilitation program and has been for many months, even though Wright is well aware that a return to the big leagues might be for only a few days or a few plate appearances. He's trying because he loves to play and because of his integrity.
• Dustin Pedroia is well-attuned to the Boston media and fully aware that the team was criticized last year for lacking leadership. In speaking with reporters Saturday, it was evident that Pedroia has spent time mulling over that theory. Pedroia said he thought back to when the renaissance of the Red Sox began, around 2002-2003, leading into the championship season of 2004. That team, Pedroia said, had Jason Varitek, along with Pedro Martinez, David Ortiz and others. It had a lot of leaders.
The same was true for the 2007 and 2013 championship teams, Pedroia said, ticking off names of teammates from those times. "I've got to do a better job of making everybody realize it's not one guy," Pedroia said. "It's everybody."
He related a day from last season, when he was fighting through injuries and was sitting with Xander Bogaerts, the team's young shortstop. Pedroia told Bogaerts that he would play, but he was banged up and going through a tough time.
"You're going to be fine," Bogaerts said to Pedroia, who told Bogaerts that's what all of them needed from time to time — a pickup from teammates. Not just the veteran guys and not just one or two core players. The team needs leadership.
Pedroia, by the way, is recovering from knee surgery and says he feels much better — free of discomfort in a way he hasn't felt since he got hurt early last season. The Red Sox don't know when Pedroia will be back, but new manager Alex Cora intends to rest the 34-year-old second baseman regularly. "Rest is not DHing," Cora said. "Rest is getting off his feet."
And today will be better than yesterday.
Marla Miller retiring as MLB's head of special events after 21-year run
NEW YORK — Marla Miller is stepping down after 21 years as Major League Baseball's senior vice president of special events.
Miller, MLB's first female senior vice president, has been in charge of planning for the All-Star Game and World Series, arranging ceremonies and entertainment, including national anthem singers.
She helped launch the All-Star FanFest, the All-Star red carpet show, the All-Century team, Memorable Moments campaign and special events such as the Little League Classic since 2017, the 2016 game at Fort Bragg, North Carolina, and this year's Field of Dreams game at Dyersville, Iowa.
She also took charge of planning the winter meetings and owners meetings.
Atlanta Braves extend contract of manager Brian Snitker
The Atlanta Braves have extended the contract of manager Brian Snitker through the 2023 season with a club option for 2024, it was announced Friday.
"I am thrilled that Brian will continue to lead our club on the field and in the clubhouse," Braves president and general manager Alex Anthopoulos said in a statement. "Three consecutive division titles speak to the impact of Brian and his staff, and we are pleased that he will continue to guide our club through 2023."
Snitker, 65, who is in his 45th season with the organization, has a 353-317 record as a manager, a position he took over full time in October 2016. He guided the Braves to a 35-25 record during the pandemic-shortened 2020 season, winning the National League East for the third consecutive season.
He is the only manager in franchise history to take the Braves to the postseason in three of his first four seasons.
Kiley McDaniel's 2021 MLB draft rankings 1.0 — There's a No. 1 prospect ahead of Vanderbilt's two aces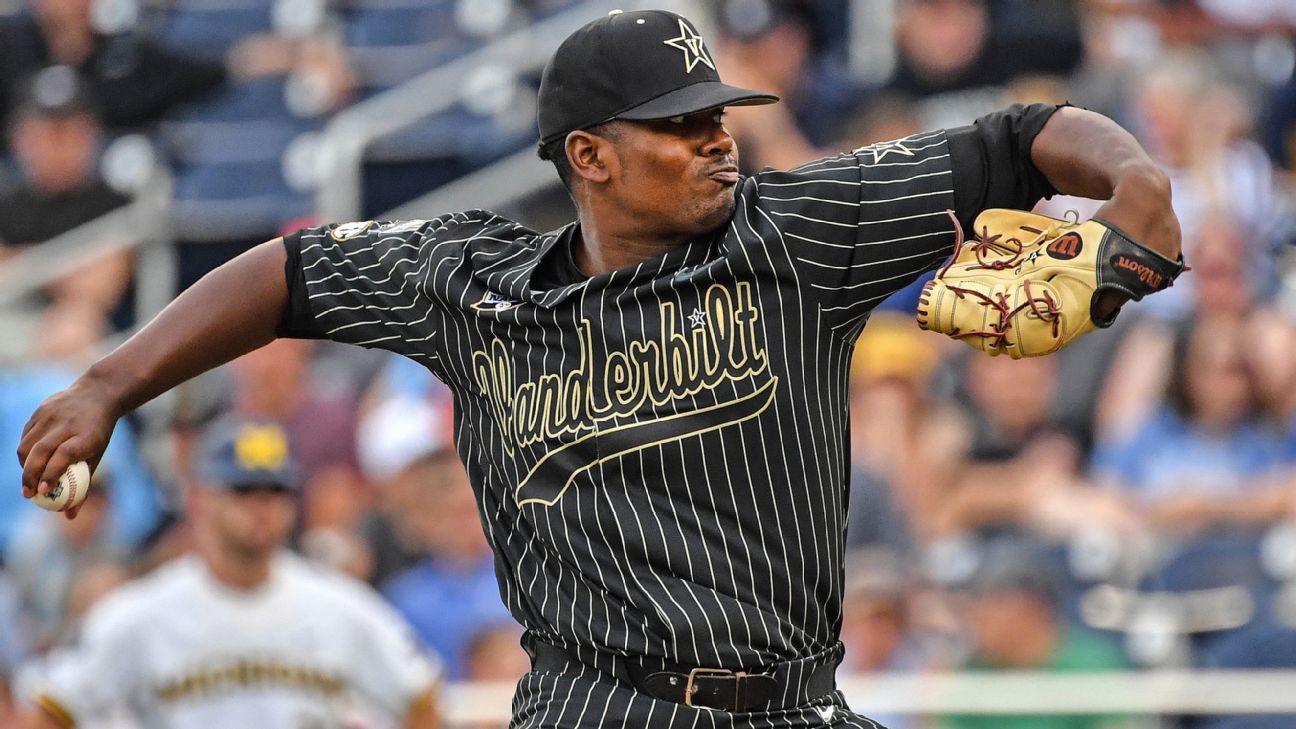 The 2020 MLB draft was obviously tricky for teams to navigate, with very limited information and a much shorter draft. This year it will be a little bit easier, but with a different set of limitations.
Because summer high school showcases still largely went on as planned, a number of prep prospects, particularly in the Southeast where the events happened, have been seen as much as they usually are, while college prospects are at a disadvantage. With almost no summer collegiate leagues and almost no 2020 season, the performance-heavy-profile college player simply has no performance on which to be evaluated. The biggest challenge clubs will have this spring is quickly identifying this year's Justin Foscue: a big-time performer and first-round talent who doesn't really look the part but grows on you over time with bulk performance against good competition. The mid-major prospect who had late helium, like Wright State/Marlins RF Peyton Burdick, might not be scouted at all by some teams' high-level evaluators.
The college hitter crop is down a bit due to this and the fact that hitter evaluation in general is linear. A pitcher can have one good outing with better stuff and shoot up the board, whereas hitters improve more slowly and prove it over a longer period of time. This also means that the top tier of prep prospects will have as much or more data (and thus certainty for teams) than most college players, so they won't be seen as a more risky subset of prospect as they usually are. Due to the lack of rising college players this early in the spring (I think it will change in a month or so), the 11-20 area of the list feels blank, and those players ranked there now feel like 21-30 overall type talents.
One other factor to keep an eye on is the shrinking of the minor leagues. Each club is losing something like 30 roster spots, and organizations will want to hold on to/not release players they haven't seen for over a year, thus signing classes in the draft will be smaller than usual. With a likely 20-round draft and some clubs not signing close to 20 players, that means more money will be going to fewer players, which creates more demand for the top bonuses, with less demand for the low-six-figure types. Combine that with the likely diverse opinions on prospects with short histories and scouts will have plenty of opportunities to influence the draft board, since plenty of prospects can be undervalued without needing data to enter the equation.
Lastly, with so many college prospects not signing last year who normally would, there are more 22- and 23-year-old prospects, making draft-day age a more important factor than it normally is. That's the number in parentheses after each name listed. Future value (FV) is, in short, the ranking system I use and will help you slot players in a top 100 for when they turn pro.
Here are my top 50 prospects for 2021 along with an early top 15 for 2022, featuring a particularly intriguing No. 1 player, and top 10 for 2023.