A family version of the New England Patriots' Super Bowl LI championship ring with "Brady" on it sold Sunday morning for $344,927, a record for a football ring.
The ring, which has 265 diamonds compared to the 283 that Tom Brady's actual ring has and is about 10 percent smaller, has the same engraving that Brady's ring would have. The ring comes with a letter of appraisal from its maker, Jostens, for Brady that assesses its jewelry value at $29,700. Ken Goldin, president of Goldin Auctions, which sold the ring, would not say who consigned the ring or how it was obtained. Goldin also said the buyer prefers to remain anonymous.
To put the astronomical price paid for the Brady ring in perspective, only one piece of sports memorabilia from the past 25 years sold for more than this ring: Mike Piazza's uniform from the New York Mets' first game after Sept. 11, 2001. That jersey was sold in a private sale by Goldin for $365,000 in April 2016.
The nearly $350,000 price point obliterates the previous record paid for an NFL championship ring. The Super Bowl XXV ring of New York Giants linebacker Lawrence Taylor sold for $230,401 in 2012.
Friends and family rings don't commonly surface for big stars, but when they do, they are often competitively bid on. Prior to Sunday morning, the most a friends and family ring sold for was $173,102. That was the price paid in July 2013 for a Kobe Bryant 2000 Los Angeles Lakers championship ring owned by his father Joe. The auction was also conducted by Goldin.
Considering they have won five times, Patriots rings have been relatively rare to surface at auctions. In February 2005, former Patriots backup cornerback Leonard Myers sold his Super Bowl XXXVI ring for $32,600. Lineman Maurice Anderson sold his Super Bowl XXXVI ring for $41,825 in 2016. A staff ring from that same Super Bowl, the Patriots' first, sold for $36,000 last year.
Rings of more significant players sold recently include the Super Bowl XXX ring of Raiders CB Larry Brown, who was MVP in that game, for $71,700 in 2016. The Super Bowl XVIII ring of Lester Hayes also sold that year for $54,970.
Other big-ticket items Goldin sold in the auction on Sunday morning include the racket Bobby Riggs used in his "Battle of the Sexes" match against Billie Jean King for $27,500. An unopened box of 1966 Topps football cards sold for more than $75,000 and a head of the famous San Diego Chicken sold for $9,820.
Tennessee Titans shipping Isaiah Wilson to Miami Dolphins
The Tennessee Titans have agreed to trade Isaiah Wilson, their first-round pick last year, to the Miami Dolphins, sources told ESPN on Monday.
The Titans will send a seventh-round pick in 2022 and Wilson to Miami for a 2021 seventh-rounder to complete the deal, sources said.
Wilson will need to pass his physical in Miami once the new league year begins next week for the trade to be officially completed. If he doesn't, he would revert back to the Titans.
Tennessee signed Wilson, the 29th overall selection in last April's draft, to a four-year, $11.6 million contract in August. His time in Tennessee didn't get off to a good start, prompting the team to move on from him less than a year later.
The right tackle out of the University of Georgia played only four snaps in his rookie season, which culminated in him being placed on the non-football injury list in December. Before that, Wilson found himself on the reserve/COVID-19 list twice last year, during training camp and in October.
He also had a couple of run-ins with the law.
The first incident came when Tennessee State police broke up an off-campus party that Wilson had attended during training camp. In their report, the police documented that Wilson went to the second-floor balcony, where he appeared to briefly consider jumping. He received a trespass warning.
The second incident occurred when Wilson was arrested and charged with a DUI in September when he lost control of his vehicle and struck a concrete wall.
Titans general manager Jon Robinson addressed Wilson's status during a virtual news conference last month, telling reporters he had not spoken to him since putting him on the NFI list and suggesting that Wilson "makes a determination on whether he wants to do what it takes to play pro football."
The Dolphins, meanwhile, are buying low on Wilson. They liked him leading up to the 2020 NFL draft and he could have been a candidate for a Day 2 pick by the team, a source told ESPN. Now the Dolphins are taking virtually a free chance to help him revive his NFL career.
Wilson played at Poly Prep Country Day School in Brooklyn, where Dolphins coach Brian Flores attended high school. Wilson also attended Georgia with Dolphins guard Solomon Kindley.
Miami now hopes those connections will help get more out of Wilson than Tennessee did.
NFL Network first reported the trade agreement Monday.
ESPN's Dianna Russini and Cameron Wolfe contributed to this report.
Washington Football Team places franchise tag on Brandon Scherff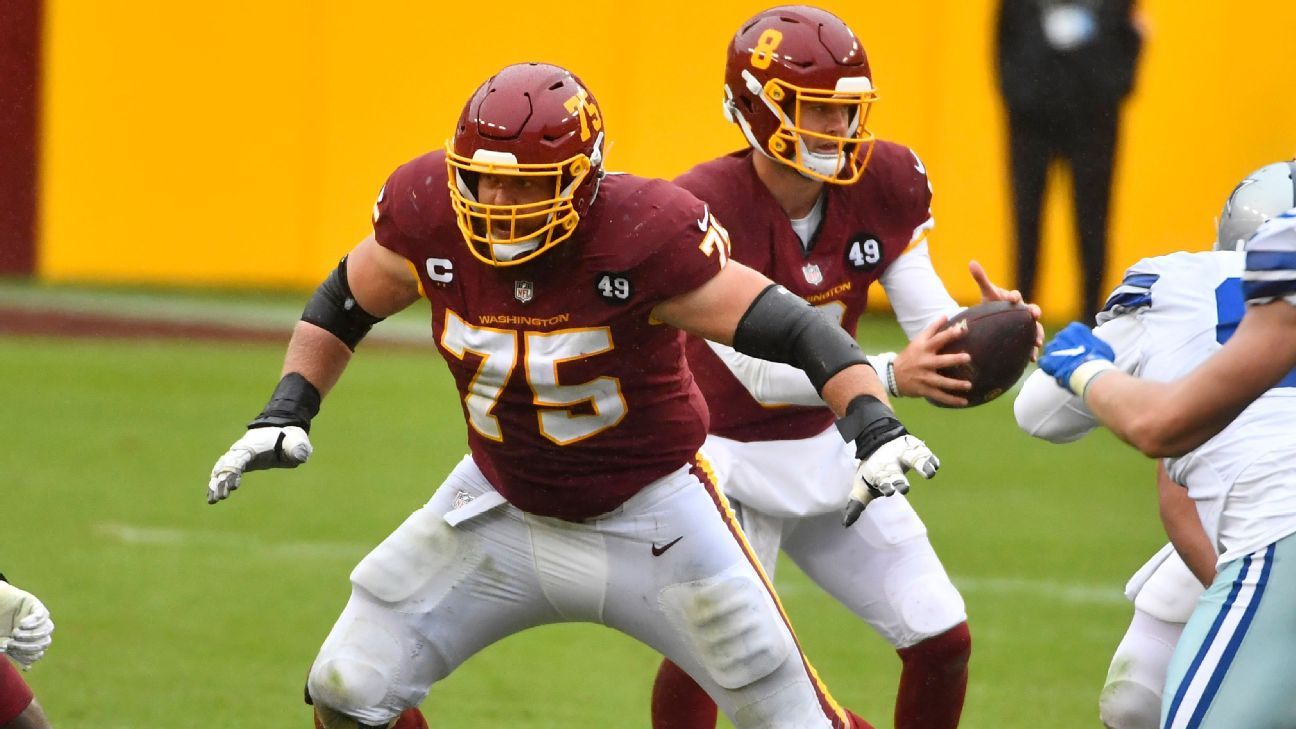 Washington has placed the franchise tag on right guard Brandon Scherff for a second consecutive year, the team announced Monday night.
Scherff will receive $18.03 million in the 2021 season — a 20% increase over last season. But Washington still hopes to sign him to a long-term deal. It has until July 15 to do so, and a source described talks so far as amicable.
Scherff, who turned 29 in December, played on the franchise tag last season, earning $15.03 million. He also became the first Washington player to be named first team All-Pro since punter Matt Turk in 1996. Scherff has made four Pro Bowls, including the past two.
Coaches liked how Scherff played inside, but also how well he blocked on the move in the screen game.
But injuries also have been an issue. Scherff hasn't played all 16 games since 2016 and has missed a combined 18 games the past four years. He ended up on injured reserve in 2017 and '18.
Washington selected Scherff with the fifth overall pick in the 2015 draft, intending to try him at right tackle first. But Washington moved him to right guard early in his first camp and started Morgan Moses at tackle, creating a strong tandem on the right side.
While at Iowa, Scherff was named the Outland Trophy winner in 2014 as the nation's best offensive lineman.
Traffic case closed, as Las Vegas Raiders' Josh Jacobs completes community service, lawyers say
LAS VEGAS — A traffic case involving Las Vegas Raiders player Josh Jacobs was closed Monday after he completed community service and paid a fine stemming from a vehicle crash in January near McCarran International Airport, his lawyers said.
The 23-year-old running back mentored at a Boys & Girls Club and paid a $500 fine to resolve a failure to exercise due care traffic violation, said his attorneys, David Chesnoff and Richard Schonfeld.
Jacobs received several stitches for a cut forehead and was initially also charged with driving under the influence after the 2019 Acura NSX he was driving crashed early Jan. 4 into a tunnel wall at the Las Vegas airport.
The DUI charge was dropped a week later because Jacobs' blood-alcohol level did not reach the 0.08% level needed to pursue the case, his attorneys and a prosecutor said.
Jacobs, who lives in Las Vegas, was alone in the vehicle after returning to Las Vegas from Denver, where the Raiders defeated the Broncos in their final NFL regular-season game less than 12 hours before the crash.
A team representative did not immediately respond Monday to an email message about the case.