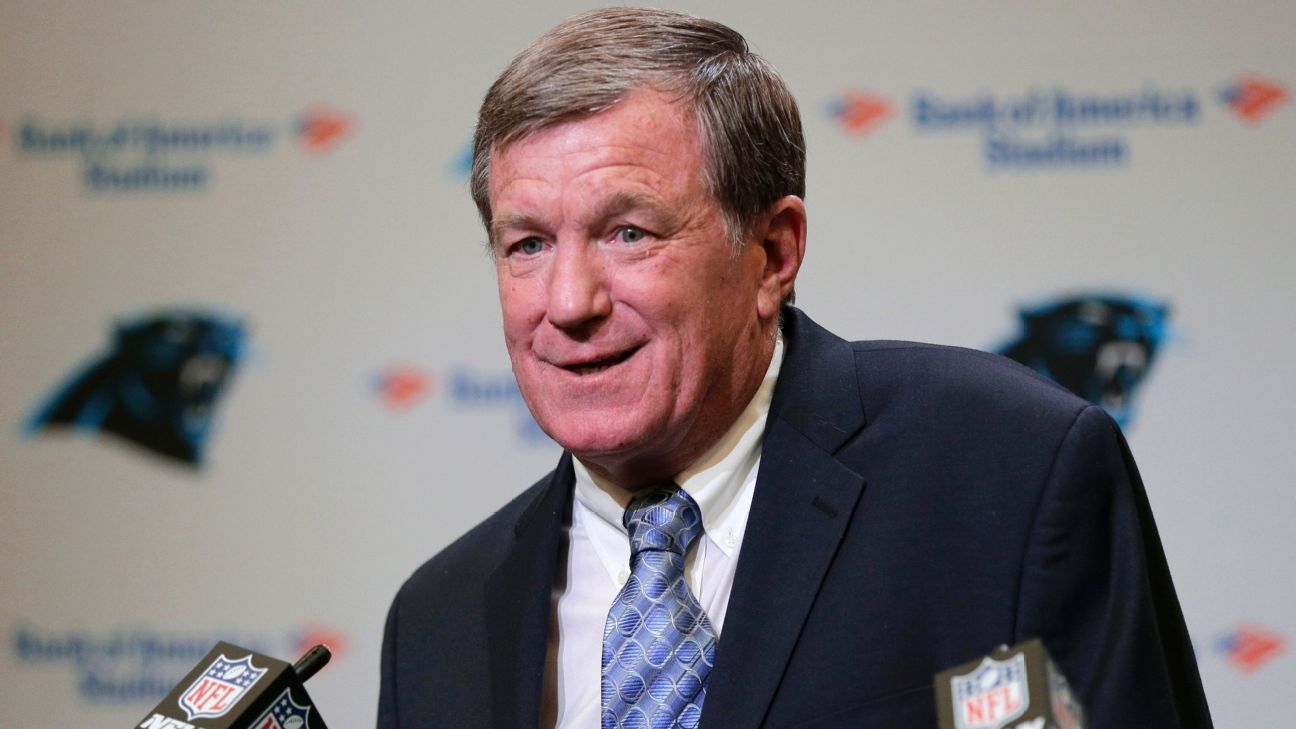 CHARLOTTE, N.C. – Marty Hurney on Friday was reinstated as the interim general manager of the Carolina Panthers after the NFL informed the team that a two-week investigation revealed no evidence that Hurney harassed his ex-wife.
He remains the front-runner to be named the full-time GM, according to a league source. An announcement could come Monday, if not sooner.
Hurney was placed on paid administrative leave three days after Jeanne Hurney filed the complaint in a Charlotte court on Feb. 2. The complaint was withdrawn four days later, but the NFL followed through with its own investigation under the personal conduct policy.
Former New York City sex crime prosecutor Lisa Friel headed the investigation.
NFL spokesperson Brian McCarthy said the league reviewed all available law enforcement and court records and sworn testimony in prior proceedings in addition to interviewing Hurney and members of the Panthers.
"We also requested an interview with Mr. Hurney's former wife, which was declined through her attorney," McCarthy said. "Our investigation identified no evidence to support an allegation of domestic violence or similar conduct that would constitute a violation of the personal conduct policy."
Kathleen Lucchesi, Hurney's attorney, said it's "been a very long two weeks for Marty and his family."
Hurney has since remarried.
"In this digital age, it's nearly impossible to overcome suspicion, defend yourself and clear your name once the court of public opinion gets ahold of a false narrative," Lucchesi said. "The public scrutiny can be devastating and unrelenting. In this case, it was also unnecessary."
The Panthers also interviewed Buffalo assistant director of scouting Lake Dawson, Houston Texans assistant general manager Jimmy Raye III and Martin Mayhew, senior personnel executive with San Francisco, for the full-time general manager job.
All three are minority candidates, fulfilling the league's rule that teams have to interview at least one minority candidate for general manager and head-coaching positions.
Dawson was brought in for a second interview.
But Hurney, who was named the interim GM the week before training camp after Dave Gettleman was fired, has been the front-runner throughout the process, according to sources.
The team had tentative plans to announce the new general manager two weeks ago before the allegations were made against Hurney but put them on hold while the NFL investigated.
Hurney's ex-wife withdrew the complaint after the judge denied a temporary restraining order during an ex parte hearing in which only Jeanne and her attorney appeared.
Hurney informed the team of the complaint two days later, and the team informed the league office.
This all came about two months after the NFL opened an investigation into allegations of workplace misconduct by team owner Jerry Richardson. A December article in Sports Illustrated said at least four former employees were paid to keep quiet about allegations of sexual harassment and the use of a racial slur directed at a former team scout.
Lucchesi told ESPN.com at the time that the allegations against her client were "absolute fiction" and part of a continued trend of allegations since the Hurneys began divorce proceedings in 2013.
The divorce became official in January 2014.
On Friday, Lucchesi said how thankful her client was that the NFL conducted a "thorough investigation" and gave Hurney a chance to clear himself.
"He is also grateful for the continued confidence and support of the Panthers organization," Lucchesi said. "Marty is looking forward to getting back to the work of building a strong and successful Panthers team for the 2018 season."
TE Josh Hill retires from football less than 2 months after signing with Detroit Lions
METAIRIE, La. — Tight end Josh Hill officially announced his retirement Thursday, less than two months after joining the Detroit Lions as a free agent.
The Lions signed veteran tight end Darren Fells as a replacement.
Hill, who turns 31 later this month, spent his first eight years with the New Orleans Saints before being released in a wave of salary-cap cuts. He initially planned to follow his former position coach, Dan Campbell, to Detroit before the apparent change of heart.
Hill's one-year deal with the Lions was scheduled to pay him $1.2 million.
"This game has blessed my family and I with more than we could have ever imagined," Hill wrote in an Instagram post. "Everything this game has given and taught me makes this decision extremely difficult, but I am looking forward to all of the years I have with my young family, and being able to chase after different dreams."
Hill joined the Saints as an undrafted rookie from Idaho State in 2013 and quickly earned a place as a versatile blocker, receiver, core special teams player and occasional fullback. The 6-foot-5, 250-pounder finished his career with 116 catches for 1,071 yards and 15 touchdowns in the regular season, plus another 15 catches for 166 yards and a TD in the playoffs.
Saints coach Sean Payton once described Hill as so valuable in so many different areas of the playbook that losing him to an injury early in a game was "like losing your front door."
"He has been a model of consistency throughout his eight seasons with us," Payton said in a statement when Hill was released. "He has been reliable, selfless and filled numerous roles for us, oftentimes on the fly and in the middle of games, filling each role at a very high level."
Players Association fires back at NFL's voluntary offseason workout policy following Ja'Wuan James' injury
ENGLEWOOD, Colo. – The Denver Broncos and tackle Ja'Wuan James have become the focal points in the growing acrimony between the NFL and the NFL Players Association over attendance of players at voluntary offseason workouts.
That relationship grew even more strained on Thursday when the players' union fired back to its membership in response to a memo from the NFL's management council to team executives and head coaches earlier this week.
In a wide-ranging email to players, which was read to ESPN, union officials devoted a section to the season-ending Achilles tendon injury James had suffered earlier this week while working out away from the Broncos' complex.
In the email, union officials said:
"It was gutless to use a player's serious injury as a scare tactic to get you to come running back to these workouts.
"This memo is another sign of what they think of you and also affirms that they simply want to control you year-round in any and every way that they can.
"We have been in touch with Ja'Wuan James. Despite an open threat of an 'NFI' designation, Ja'Wuan was working out to stay in shape under a program recommended to him by his coach."
James had been specifically named in the league's memo Tuesday. In that memo, it was outlined under the "Non-Football Injuries" designation that teams like the Broncos would have "no contractual obligation" to pay players like James their salaries if they were injured away from the team facilities.
The memo also outlined why a player's salary would be paid if the injury had been suffered during a workout at a team's complex. The memo also mentioned: "Clubs are encouraged to remind players of the significant injury-related protection provided if they choose to work out at the club facility and the risks they undertake in choosing to train at a non-NFL location."
James has a $10 million salary guarantee for the 2021 season the Broncos would not have to pay, according to the collective bargaining agreement, because he suffered the injury at another site. The union also pointed out in its email Thursday while the NFI designation has been part of the CBA for some time, the league has "never, ever sent such a memo about voluntary workouts."
The Broncos players were among the first earlier this offseason to issue a statement through the NFLPA that they would boycott the team's voluntary offseason program. Several players, more than 20 at times, have still worked out at the team's facility in recent weeks, including several who are returning from injuries.
Broncos coaches have routinely given players specific workout protocols to follow during the offseason, if the players wishes to, if the players are working out away from the facility. James, who opted out of the 2020 season due to concerns over the COVID-19 pandemic, had also been in the team's facility at times this offseason.
Days before the draft Broncos general manager George Paton was asked about James' progress and said: "He's been here, and he's been working out. He looks great and the expectation is he starts at right tackle and he plays well."
James has played 63 snaps over three games combined – all in 2019 – since he signed a four-year, $51 million deal with the Broncos in March of that year. During the 2019 season James suffered a torn meniscus as well as a torn MCL in separate games that season.
Detroit Lions release former second-round running back Kerryon Johnson
The Detroit Lions have released running back Kerryon Johnson, the team announced on Thursday.
Detroit drafted the former Auburn standout in the second round in 2018. Johnson became expendable after the team drafted D'Andre Swift No. 35 overall in 2020, signed free-agent running back Jamaal Williams in March and drafted Oregon State's Jermar Jefferson last week.
Johnson ran for 1,225 yards and eight touchdowns over three seasons. He also has 61 career receptions for 527 yards and three scores.
Last year, he had 181 yards rushing and two scores on 52 carries, and had 19 receptions for 187 yards receiving and a touchdown.
The Lions also added a player in free agency, signing tight end Darren Fells on Wednesday. The move gives the team a veteran at the position it can put on the field with Pro Bowl tight end T.J. Hockenson.
The 35-year-old Fells has 123 career catches with 1,483 yards receiving and 21 touchdowns. The previous two years in Houston, he had a combined 55 catches for 653 yards and 11 touchdowns.
Fells has started 76 games — including 13 with the Lions in 2017 — and played in 102 games with Arizona, Detroit, Cleveland and the Texans. He was a rebounding standout at UC Irvine and played basketball in Argentina, Mexico, Belgium, Finland and France before playing in the NFL.
The Associated Press contributed to this report.