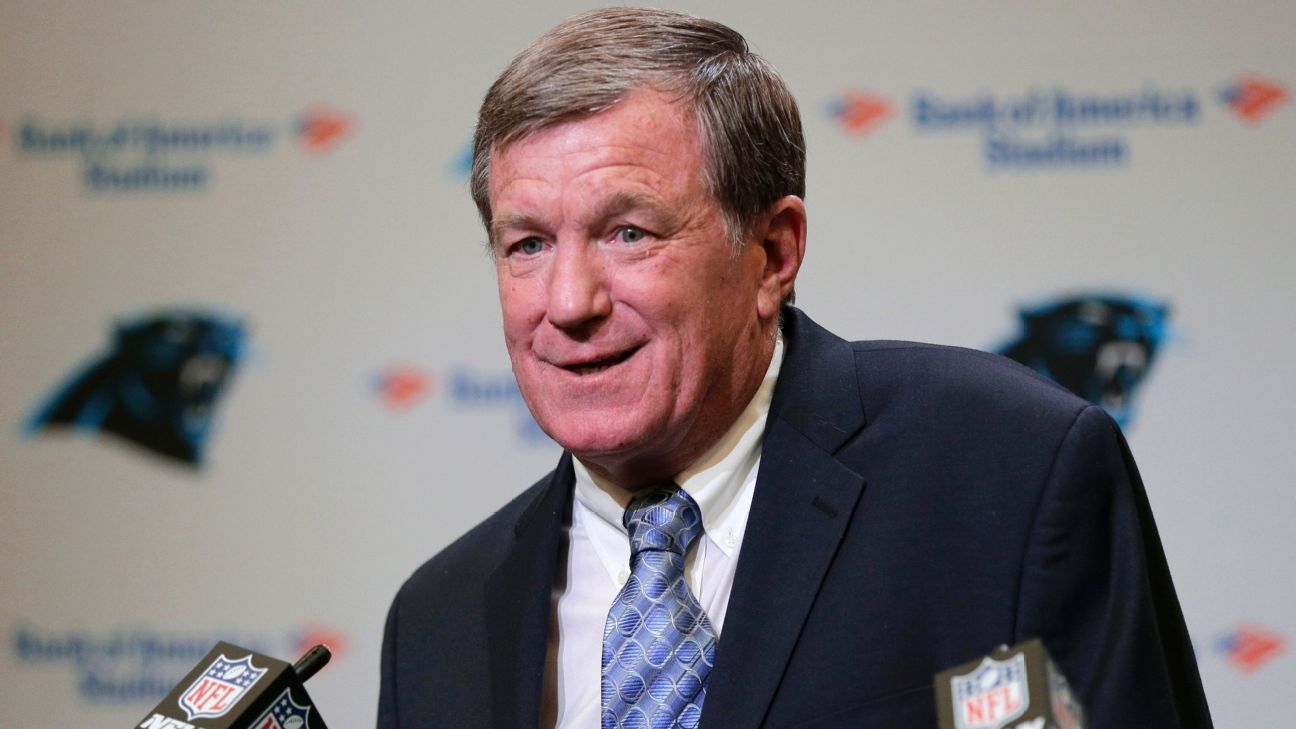 CHARLOTTE, N.C. – Marty Hurney on Friday was reinstated as the interim general manager of the Carolina Panthers after the NFL informed the team that a two-week investigation revealed no evidence that Hurney harassed his ex-wife.
He remains the front-runner to be named the full-time GM, according to a league source. An announcement could come Monday, if not sooner.
Hurney was placed on paid administrative leave three days after Jeanne Hurney filed the complaint in a Charlotte court on Feb. 2. The complaint was withdrawn four days later, but the NFL followed through with its own investigation under the personal conduct policy.
Former New York City sex crime prosecutor Lisa Friel headed the investigation.
NFL spokesperson Brian McCarthy said the league reviewed all available law enforcement and court records and sworn testimony in prior proceedings in addition to interviewing Hurney and members of the Panthers.
"We also requested an interview with Mr. Hurney's former wife, which was declined through her attorney," McCarthy said. "Our investigation identified no evidence to support an allegation of domestic violence or similar conduct that would constitute a violation of the personal conduct policy."
Kathleen Lucchesi, Hurney's attorney, said it's "been a very long two weeks for Marty and his family."
Hurney has since remarried.
"In this digital age, it's nearly impossible to overcome suspicion, defend yourself and clear your name once the court of public opinion gets ahold of a false narrative," Lucchesi said. "The public scrutiny can be devastating and unrelenting. In this case, it was also unnecessary."
The Panthers also interviewed Buffalo assistant director of scouting Lake Dawson, Houston Texans assistant general manager Jimmy Raye III and Martin Mayhew, senior personnel executive with San Francisco, for the full-time general manager job.
All three are minority candidates, fulfilling the league's rule that teams have to interview at least one minority candidate for general manager and head-coaching positions.
Dawson was brought in for a second interview.
But Hurney, who was named the interim GM the week before training camp after Dave Gettleman was fired, has been the front-runner throughout the process, according to sources.
The team had tentative plans to announce the new general manager two weeks ago before the allegations were made against Hurney but put them on hold while the NFL investigated.
Hurney's ex-wife withdrew the complaint after the judge denied a temporary restraining order during an ex parte hearing in which only Jeanne and her attorney appeared.
Hurney informed the team of the complaint two days later, and the team informed the league office.
This all came about two months after the NFL opened an investigation into allegations of workplace misconduct by team owner Jerry Richardson. A December article in Sports Illustrated said at least four former employees were paid to keep quiet about allegations of sexual harassment and the use of a racial slur directed at a former team scout.
Lucchesi told ESPN.com at the time that the allegations against her client were "absolute fiction" and part of a continued trend of allegations since the Hurneys began divorce proceedings in 2013.
The divorce became official in January 2014.
On Friday, Lucchesi said how thankful her client was that the NFL conducted a "thorough investigation" and gave Hurney a chance to clear himself.
"He is also grateful for the continued confidence and support of the Panthers organization," Lucchesi said. "Marty is looking forward to getting back to the work of building a strong and successful Panthers team for the 2018 season."
Jodie Foster thanked Aaron Rodgers in her Golden Globes acceptance speech
Jodie Foster won a Golden Globe award for Best Actress in a Supporting Role for her role in the legal drama "The Mauritanian," where she plays the lawyer of a man imprisoned in Guantanamo Bay. Now, Jodie Foster winning an award isn't unusual — she's an actress and director with an incredible career that's spanned decades. She's been in "Taxi Driver," "The Silence of the Lambs," "Contact," and has directed episodes of "Black Mirror" and "House of Cards." Her trophy case is pretty full.
No, what's unusual is that she thanked Green Bay Packers quarterback Aaron Rodgers during her acceptance speech.
🚨 JODIE FOSTER JUST THANKED AARON RODGERS 🚨

– Mina Kimes (@minakimes) March 1, 2021
Now, upon further review, there are at least two connections here. One, Shailene Woodley, who is engaged to Rodgers, is one of Foster's co-stars. Two, Jodie Foster is a huge Packers fan — and Rodgers thanked her during his NFL MVP acceptance speech earlier this month.
Aaron Rodgers' MVP acceptance speech (via @NFL) and yes he spoke the words "engaged" and "fiancée"

— Rob Demovsky (@RobDemovsky) February 7, 2021
Foster was coy when addressing Rodgers thanking her on a recent episode of Jimmy Kimmel Live, saying that she didn't know Rodgers, that the Woodley connection was a coincidence, and that she'd thank him next time she got a chance. Well, she got a chance and kept her promise.
Irv Cross, pioneering Black sports analyst, dies at 81
PHILADELPHIA — Irv Cross, the former Pro Bowl defensive back who became the first Black man to work full time as a sports analyst on national television with CBS, died Sunday. He was 81.
The Philadelphia Eagles, the team Cross spent his six of his nine seasons with, said Cross' son, Matthew, confirmed his father died near his home in Roseville, Minnesota. The cause of death was not provided.
"All of us at CBS Sports are saddened by the news of Irv Cross' passing," CBS Sports chairman Sean McManus said in a statement. "Irv was a pioneer who made significant contributions to the storied history and tradition of CBS Sports and, along with Phyllis George and Brent Musburger, set the standard for NFL pregame shows with THE NFL TODAY.
"He was a true gentleman and a trailblazer in the sports television industry and will be remembered for his accomplishments and the paths he paved for those who followed."
Cross spent 23 years at CBS and won the Pro Football Hall of Fame's Pete Rozelle Radio-Television Award in 2009. He was the first Black recipient of the annual award, which seeks to recognize "longtime exceptional contributions to radio and television in professional football."
Cross, a two-time Pro Bowl cornerback, had 22 interceptions, 14 fumble recoveries, eight forced fumbles and a pair of defensive touchdowns for his career. He also averaged 27.9 yards on kickoff returns and returned punts.
He joined CBS after retiring from the game, covering a variety of sports before teaming up with Musburger, George and Jimmy "The Greek" Snyder on "The NFL Today" in 1975. The show broke a variety of barriers, including featuring the first woman network sports show anchor in George. It also was the first live pregame show.
Cross left the network in 1994 and later served as athletic director at Idaho State and Macalester College in Minnesota.
Musburger called Cross "one of the finest gentleman I've been with" in a statement posted to Twitter on Sunday.
"No one ever had a bad thing to say about Irv," Musburger wrote. "He led the way for African Americans to host NFL and other sports shows. Rest in peace my friend."
The eighth of 15 children, Cross is survived by wife, Liz; children Susan, Lisa, Matthew and Sarah; grandson Aiden; brothers Raymond, Teal and Sam; and sisters Joan, Jackie, Julia, Pat and Gwen.
The Associated Press contributed to this report.
Ex-Notre Dame football star Louis Nix, 29, found dead after reported missing
JACKSONVILLE, Fla. — Former Notre Dame and NFL football player Louis Nix, who had been reported missing earlier this week, was found dead on Saturday, family members told two Jacksonville television stations. He was 29.
Nix's family reported him missing on Wednesday to police. After several days of searching, the Jacksonville Sheriff's Office tweeted at 8 p.m. ET Saturday that Nix had been located but did not report Nix's condition. CBS/Fox affiliate Action News Jax reported that Nix's mother confirmed that Nix had died. WJXT TV-4 reported Nix's death via another family member.
According to the Jacksonville Sheriff's Office, Nix was last seen at 10 a.m. ET on Wednesday, leaving his father's Jacksonville residence. Notre Dame football coach Brian Kelly sent out a tweet Saturday morning asking for the public's help in finding Nix.
Nix was injured in a shooting in December while filling his car's tires at a gas station near the Jacksonville airport. He said on social media that he spent 10 days in the hospital and that a bullet ricocheted off his sternum and went into his lung.
Nix starred at Jacksonville's Raines High School and played three seasons at Notre Dame before being drafted in the third round by the Houston Texans in 2014. Nix, a defensive tackle, never played a game for the Texans because of knee injuries and played in just four games in 2015 for the New York Giants. He also spent time on the practice squads with Washington and the Jacksonville Jaguars in 2016.