At first glance, this AJ McCarron news might not strike you as much. A fifth-round pick who's started four games in four NFL seasons can now be an unrestricted free agent. Big whoop, right? Are teams really going to line up to throw money at him just because they can?
Thing is, though, McCarron plays quarterback. And that position makes NFL teams do funny things. Just a year ago, Mike Glennon was a 27-year-old free agent with 18 career starts — none since 2014 — and the Bears signed him for $18.5 million guaranteed.
McCarron is 27. His four starts in Cincinnati were in 2015. One was a playoff game. He completed 62 percent of his passes in them, with five touchdowns and one interception. He played well enough to win the playoff game, but the Bengals lost to the Steelers in painful fashion because Jeremy Hill fumbled and the defense lost its mind.
Oh, and don't forget that, just a little more than three months ago, a team tried to trade a second-round pick and a third-round pick for McCarron but couldn't get it done because of a deadline paperwork snafu.
The point here is this: Don't rule out McCarron as a factor in the increasingly interesting 2018 offseason quarterback market.
Start with the Browns, the team that tried to trade for McCarron at the deadline in October. That got all botched up, and the team has since changed general manager and overhauled its front office, but if the Browns still want McCarron, they can now get him for nothing but money. Coach Hue Jackson was the offensive coordinator in Cincinnati for McCarron's first two seasons and is known to be a fan. It's not crazy to imagine the Browns signing McCarron as a guy they think can start in 2018 while whomever they draft — they have picks 1 and 4 in Round 1 — gets ready. And who knows? Maybe they like him enough that, if they sign him, they decide they don't have to take a quarterback at the top of the draft. Unlikely, but you never know.
The top free-agent quarterback prize this year is Washington's Kirk Cousins. But you can make a list of a half-dozen or so teams that will want Cousins, and only one can get him. If the Browns, Jets, Vikings, Cardinals, Broncos and Bills all try for Cousins, that means at least five teams will need a fallback option. Currently, those include the likes of Case Keenum, Tyrod Taylor, Sam Bradford and Teddy Bridgewater (who also hasn't really played in two years). Josh McCown is out there as a one-year "bridge" option. Maybe a team can trade for Blake Bortles, but if so, that leaves Jacksonville as a team looking for a starting quarterback.
The question is not whether McCarron is a starting quarterback any more than that was the question about Glennon a year ago. The question is whether there is a team — or more than one team — out there that views McCarron as a 27-year-old with potential to be more than he's been to this point in his NFL career. And if they're willing to pay him a starter's salary — even on a deal similar to the one-year commitment Chicago made last year to Glennon.
Quarterback is the NFL's most stubborn and common problem, and it very rarely presents its teams with perfect solutions. If your team ends up signing McCarron and making him the starter in 2018, some of you will wonder if the decision-makers have lost their minds. Some will be cautiously optimistic. Very few will be satisfied, unless and until he performs at a level that justifies the decision. This is the nature of the quarterback market, and because of that, McCarron fits into it just fine. As of Thursday, we now know that he's going to have a chance to maximize his value in a world where demand for what he does always outpaces supply. Which means he's likely to end up coming out of this a very rich man.
Tony Jones, two-time Super Bowl champion with Denver Broncos, dies at 54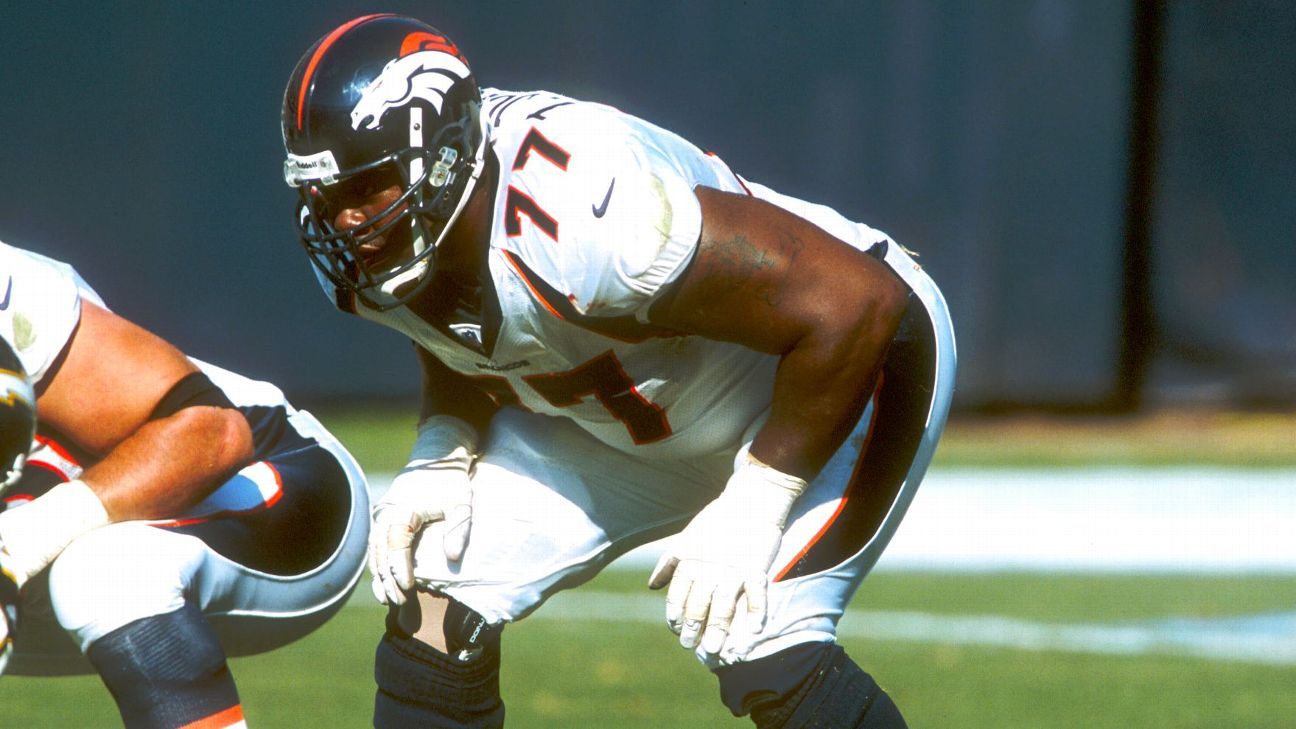 ENGLEWOOD, Colo. — Tony Jones, a starting tackle on two of the Denver Broncos' championship teams, has died, the team announced Friday. He was 54.
Jones, who started at right tackle in the Broncos' win in Super Bowl XXXII and started at left tackle when the team won Super Bowl XXXIII the following year, played 13 seasons in the NFL with the Cleveland Browns, Baltimore Ravens and Broncos after he entered the league as an undrafted rookie in 1988.
Known as "T-Bone" to his Broncos teammates, he spent the last four years of his career with the Broncos, retiring after he started 16 games in the 2000 season at age 34.
"We lost a great man," former teammate Rod Smith posted on Twitter. "Just happened to be a hell of a ball playa. We love you and miss you Bone. One of the Broncos' all time best tackles. Greatest dresser of ALL TIME!"
Ed McCaffrey, another former teammate on the Broncos, called Jones "a great teammate and a wonderful man," and Hall of Famer Steve Atwater, who also played on those two Super Bowl teams, said Jones was "a great teammate" with "just the most beautiful kids."
Atwater also said Friday night that many of the players on those Broncos teams have continued to stay in contact with one another and that "everybody is hurting in this."
The Broncos, believing they were poised to rebound from a playoff loss to the Jacksonville Jaguars to end the 1996 season, traded a second-round pick to the Ravens in 1997 to acquire Jones.
In Super Bowl XXXII, at right tackle, he held Hall of Famer Reggie White without a sack and to one tackle overall as the Broncos rushed for 179 yards and Hall of Famer Terrell Davis was named the game's MVP.
After Gary Zimmerman, also a Hall of Famer, retired before the 1998 season, Jones moved to left tackle and started every game on the way to a Pro Bowl selection as the Broncos went on to win a second consecutive title.
Jones was named to the Broncos' Top 100 team in 2019.
In a social media post, former Bengals tackle Willie Anderson called Jones "a great dad, friend, offensive tackle, trainer and coach."
Panthers GM Scott Fitterer doesn't commit to Teddy Bridgewater – Carolina Panthers Blog
CHARLOTTE, N.C. — Scott Fitterer looked the part of general manager, dressed in the dark blue suit he bought 12 days ago in Charlotte because the clothes he brought from Seattle for his interview with the Carolina Panthers were tight after nearly a year in a pandemic.
He sounded like a GM, not discussing specific players or plans until he gets to meet, and learn more about, everybody in the organization.
• At last, Rodgers vs. Brady in the playoffs
• Ex-Bills eager to see Buffalo 'finally' win title
• Burning questions facing Browns' offseason
• Who stays and who goes for the Bears?
• Takeaways from Campbell's introduction
What kind of general manager Seattle's former vice president of football operations will be for Carolina remains to be seen.
Here's what we learned from Friday's made-for-Zoom introductory news conference:
Noncommittal on quarterback Teddy Bridgewater: Fitterer began by saying he wouldn't talk about specific players. He mentioned only two, linebacker/safety Jeremy Chinn and running back Christian McCaffrey. He mentioned Chinn because they have a mutual friend/agent. McCaffrey came up at the end when Fitterer said he wanted to talk to "Christian and other leaders on the team.'' Bridgewater never got a mention despite several questions referring to him. Make of that what you want.
However, when asked for his definition of a franchise quarterback, second on Fitterer's short list of criteria was "someone who can win when the game is on the line in the fourth quarter.'' Bridgewater was 0-8 this past season when he had a chance on his final possession to win or tie the game.
Deshaun Watson interest: The Panthers have been linked in multiple reports to interest in trading for the disgruntled Houston Texans quarterback if he becomes available. Fitterer didn't mention Watson by name. When reminded that Seattle lived by the mantra that it wanted to be in on every big deal in the NFL, even if it didn't realistically have a shot, Fitterer said, "We will be in on every deal.'' This was a big part of Seattle's culture, because it helped the organization learn about others. It also allowed officials to reduce second-guessing.
Roster philosophy: Fitterer made it clear it starts with the quarterback. A former college quarterback himself, Fitterer helped Seattle find a pretty good one in Russell Wilson. Again, read into his silence on Bridgewater as you please. After quarterback, Fitterer plans to build inside out with offensive and defensive linemen.
Draft philosophy: Fitterer called having the No. 8 pick in this year's draft a "new adventure,'' and with good reason. The last time he had a pick higher than 27th was 2012, when the Seahawks picked 15th. He has made a living hitting on second- to middle-round picks. Wilson was a third-rounder in 2012. Fitterer found in Seattle that the top-tier players usually stopped between 16 and 18, and that in general there wasn't a huge difference in players between 25 and 40. Seattle often traded down to acquire more picks. One instance was last year, when it gave Carolina the 64th pick (second round) for picks No. 69 and 148. The Panthers used that on Chinn, who became a strong candidate for NFL Defensive Rookie of the Year. Fitterer said the eighth pick was great because it gave him flexibility to trade up or down. So don't get comfortable at No. 8.
Who's in charge? You've read here for a while that coach Matt Rhule will have the final say over the roster. Rhule reinforced that by saying, "In terms of on the contract, a lot of those things probably rest with me.'' He also said that that's a formality and that he welcomes a GM who will argue with him. He ultimately wants this to be a collaborative effort the way it was in Seattle.
Source — Matt Patricia returning to New England Patriots to assist Bill Belichick's staff
FOXBOROUGH, Mass. — Matt Patricia, who was fired as Detroit Lions head coach in November before the completion of his third year on the job, is returning to the New England Patriots' coaching staff in 2021, a source confirmed.
Patricia had been an assistant on Bill Belichick's staff from 2004 to 2017 before landing the Lions job. In Detroit, he posted a 13-29-1 record, with one of those victories coming over Belichick's Patriots early in his first season.
It was a turbulent tenure in Detroit for Patricia, and a return to New England — where he is expected to assist Belichick's staff in a variety of roles — provides him a safe and familiar haven in which to continue his coaching career in the NFL.
Patricia, 46, had most recently served as the Patriots' defensive coordinator from 2012 to 2017, and in his absence, Belichick hasn't given that title to another coach. But Belichick referenced this past season that his son Steve, the outside linebackers coach, was calling the defense.
Also, inside linebackers coach Jerod Mayo has a significant role. Mayo, 34, is considered a coach on the rise, as evidenced by his recent interview with the Philadelphia Eagles for their head-coaching opening that went to Indianapolis Colts offensive coordinator Nick Sirianni.
Patricia's return mirrors, in part, what came in 2014, when Belichick hired Michael Lombardi — his former director of player personnel with the Cleveland Browns (1991-95) — as an assistant to the head coach.
The familiarity that Lombardi had with Belichick, and the team's overall system, made his transition into the organization rather seamless.
The Boston Globe first reported Patricia's return.