PARKLAND, Fla. — A day after the tragic mass shooting at Marjory Stoneman Douglas High School, Chicago Cubs star Anthony Rizzo called for change.
"While I don't have all the answers, I know that something has to change, before this is visited on another community, and another community, and another community," Rizzo, a 2007 graduate of the school, said Thursday night at a candlelight vigil for the victims of Wednesday's massacre.
Seventeen people, including students and school workers, were killed when a gunman opened fire with a semiautomatic rifle at the school in South Florida.
Rizzo left Cubs training camp in Arizona on Wednesday and was one of about two dozen speakers who addressed a crowd of thousands who came out to show their support at the Parkland Amphitheater.
"I come home to Parkland to what should be everybody's first concern, and that's showing our kids out there — the students at Stoneman Douglas and of Broward County and from all over the country — that we care about their lives and about their future," Rizzo said. "I've been very impressed with talking to the students and how they're taking care of each other and how they're coming together. I'm so grateful to the teachers, the coaches, the administration and all the first responders that tried to protect them."
Wearing a black polo shirt with a red ribbon pinned above his right chest, Rizzo was seated on the amphitheater stage along with spiritual leaders, government officials and family members of the deceased.
Rizzo took part in a moving candle-lighting ceremony as the names of the 17 victims were read aloud. Shortly after that, he took the podium and spoke for four minutes, pledging his support to an emotional crowd that included his mother, father and fiancée.
"I am only who I am because of this community," Rizzo said. "And I just want all of you to know how proud I am to be a part of this community. I want you to know that you're not alone in your grief. We're all grieving with you. The entire country is grieving with you. So whatever comfort I can give, I will give. Whatever support I can offer to our students, teachers, coaches and families and first responders, you'll have it."
Rizzo showed his support during Thursday's hourlong ceremony by rising to his feet several times to join thunderous ovations as Broward County Sheriff Scott Israel and others made impassioned pleas for "common sense gun laws."
"I promise you we're going to be mourning, grieving and a bit broken for a while," Rizzo said during his speech. "We're human. But I promise the cameras are going to move on. The demands of everyday life will intrude again. Classes will start again. The seasons are gonna change, and the sun is going to rise. And all we'll have left is each other.
"We don't know who's hiding their sadness or feelings of guilt and loneliness, or who needs help and is too proud or afraid to ask. So we have to be there for each other, we have to cope with our pain, and we have to live each other's pain. We have to be the best possible versions of ourselves."
After the vigil concluded, Rizzo declined to speak with reporters. It's unknown how long he'll remain in Parkland before rejoining the Cubs in Arizona.
Manager Joe Maddon exchanged text messages Wednesday night with Rizzo in the aftermath of the nation's deadliest school attack in five years. He said the team was "all for" Rizzo leaving spring training to offer support in Parkland.
"Told him to get back to us if there's anything that we can do to help," Maddon said earlier Thursday. "I definitely want him to go back there and become involved, as he should. It's just horrible. … What are the proper words right now? I don't even know what the proper words are except that 'we're there for you.'"
Cubs outfielder Albert Almora Jr., who is from outside Miami, recalled Rizzo hitting at his old high school a couple of times last season, noting, "I'm sure he still has a lot of connections there."
Before starting drills, the Cubs huddled together on the grass under cloudy skies following more morning rain.
"It's an awful situation," Almora said. "The only thing we can do is come together. Obviously we're all here for Anthony and for that school and all those families."
Maddon called Rizzo "the rock on the field" for the Cubs.
"Please go. Please take your time," was the manager's message to Rizzo. "Please do what you think you need to do and let us know is there some way that we can become involved and help."
The Associated Press contributed to this report.
Chicago White Sox manager Tony La Russa admits he didn't know extra-inning rule
Chicago White Sox manager Tony La Russa is under the microscope again.
La Russa said he didn't fully know the extra-inning rule that would have allowed him to avoid using closer Liam Hendriks as a baserunner in a 0-0 game against the Reds on Wednesday in Cincinnati.
Hendriks had double-switched into the game in the bottom of the ninth inning, taking the No. 5 spot in the batting order, which made the last out in the top of the frame. Per MLB rules, as extra innings begin, the spot in the order to make the last out in the previous inning becomes the baserunner at second base. However, if that spot is occupied by a pitcher, the team has the option to use the preceding player in the batting order as the runner. In this case, it would have been Jose Abreu.
"I didn't know that," La Russa said after the 1-0 loss. "We all thought Liam was going to be the runner. I wasn't aware Abreu could have run. I thought it was the guy that made the last out or the spot in that order."
Besides the obvious injury risk to a player who has run the bases once in his entire career, the choice to run Hendriks impacted the inning. While he was on third base with one out, Reds catcher Tucker Barnhart didn't hesitate to throw to second base to nail Leury Garcia, who was trying to steal — despite the potential winning run at third. Barnhart knew Hendriks likely wasn't going to go home on a double-steal attempt.
"[Garcia] can run," La Russa said. "We wanted to be aggressive. They threw him out."
Even in talking out the White Sox strategy, the team was concerned with Hendriks' safety. La Russa said he was hoping for an easy sacrifice fly or another way for Hendriks to score that wasn't stressful. It didn't matter after Billy Hamilton struck out to end the inning.
"We were going to try and avoid any kind of contact at home plate," La Russa said.
La Russa admitted he wasn't aware of the rule until hearing it read by a reporter in the postgame Zoom session.
"I'm guessing you know the rules better," he said. "Now I know."
The White Sox named La Russa their manager in October.
Joey Votto of Cincinnati Reds suffers broken left thumb after being hit by pitch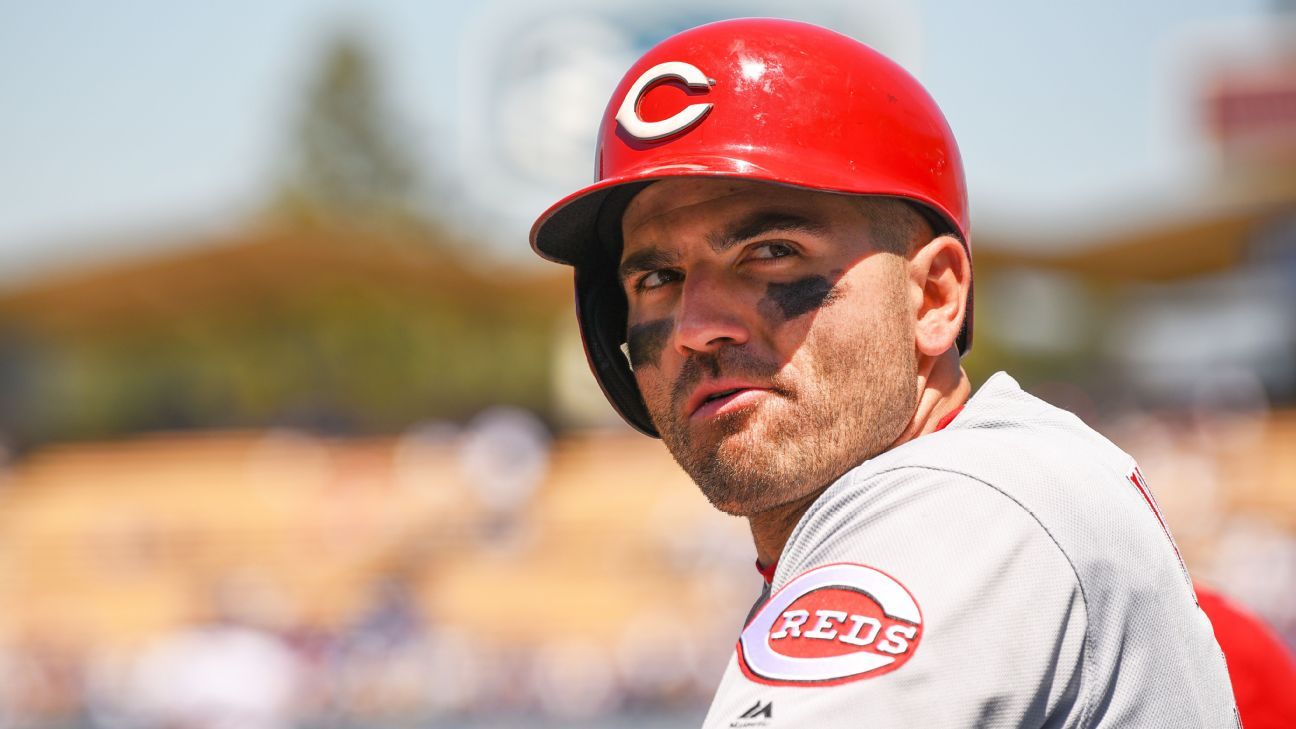 Cincinnati Reds first baseman Joey Votto suffered a broken left thumb in the team's 1-0 victory against the visiting Chicago White Sox on Wednesday.
Votto is not expected to need surgery but could miss up to a month.
Kyle Farmer is among the options at first.
"We'll figure it out," manager David Bell said.
Votto was hit by a Dallas Keuchel pitch in the fourth inning. He remained in the game, but in the sixth was replaced at first base by Farmer.
"I knew I was in pain," Votto said after the game, according to MLB.com. "I thought I was being a baby. I just wanted to stay in the game, but I didn't think I could grip the bat and I was having a hard time putting my glove on. I could run and I was moving well, and I thought, 'Just give it some time, it should shake at some point. Maybe it's just one of those [where] your thumb gets jammed in a door or something like that and it just goes away.' It broke, what are you going to do?"
Keuchel expressed regret.
"It's a joy to pitch against him," Keuchel said. "You never want that to happen. I wish him well."
Votto is hitting .226 with five home runs and 17 RBIs.
Information from The Associated Press was used in this report.
Longtime Baltimore Orioles pitching coach Ray Miller dies at 76
Longtime pitching coach Ray Miller, who served as manager of the Minnesota Twins and Baltimore Orioles during his career, died Tuesday at the age of 76, it was announced Wednesday.
"His legacy will forever be enshrined in our organization's history, having guided some of the greatest Orioles pitchers," the team said in a statement. "… We send our deepest condolences to his beloved family and his many fans throughout our great game."
Miller served three stints as a coach with the Orioles, including two seasons as manager in 1998 and 1999, when he compiled a 157-167 record. He also served as manager of the Twins during parts of the 1985 and '86 seasons, going 109-130.
The Orioles listed Jim Palmer, Mike Flanagan, Scott McGregor, Steve Stone and Mike Boddicker as just some of the pitchers Miller coached during his time with the team, which included the 1983 World Series title and the 1979 American League pennant.
He also served as pitching coach of the Pittsburgh Pirates from 1987 to 1996.
"Ray Miller was a beloved member of the Pirates organization for 10 seasons whose passion and dedicated played an instrumental role in the team's three straight postseason appearances from 1990-92," the Pirates said in a statement. "He was respected not only as a pitching coach by players in the Pirates organization, but also throughout the entire game of baseball."
He was enshrined in the Orioles Hall of Fame in 2010.