INDIANAPOLIS — Frank Reich is ready to embrace being the backup option again.
He spent the majority of his 14-year NFL playing career as a backup quarterback. And he's the Indianapolis Colts' second choice for head coach after Josh McDaniels reneged on his agreement at the very last minute.
"The backup role has suited me well in my career," Reich said as he drew a roomful of laughs during his introductory news conference at Lucas Oil Stadium on Tuesday.
Reich replaces Chuck Pagano, who was fired after six seasons, and McDaniels. The Colts announced that McDaniels had agreed to become coach of the Colts early on Feb. 6, only to have him call general manager Chris Ballard later that day to tell him he was remaining as offensive coordinator of the New England Patriots.
"We don't always choose what happens to us, but what we get a chance to do is choose how we react to it," Ballard said. "I really believe that's what shows what we're made of. I can't be more proud of our organization, the city of Indy and how they've handled this last week. Can't be any more proud of our new head coach Frank Reich."
Ballard had Reich on his initial list of nearly 10 candidates back in December, but Reich didn't make the general manager's top-five list.
"I thought about it after I got done interviewing him. I go, 'My Lord, what was I thinking?' You talk to people," Ballard said. "You make your list. You don't panic."
Having McDaniels back out of the job ended up helping Reich because he told his agent he wasn't going to interview for any openings while Philadelphia was still in the playoffs. Reich wanted his focus to be strictly on getting the offensive game plan together so that the Eagles would be prepared for each playoff game. Ballard interviewed Reich on Feb. 9, the day after the Eagles had their Super Bowl celebration in Philadelphia.
"I want to first off acknowledge and thank the Philadelphia Eagles organization for allowing me to be part of a team and a journey that did something special for the Philadelphia Eagles," Reich said. "But today is a new chapter. Today is a new chapter and I could not be more excited. … My first coaching job, first as an intern and eventually as a quality control coach and then as a quarterback coach to get my start. What better way to get started and there could not be a better way to finish it than right here in this great city."
Reich spent the past two seasons as offensive coordinator of the Eagles. Philadelphia went from 22nd in offense during Reich's first season to seventh this past season. The Eagles scored 41 points to beat the Patriots in Super Bowl LII despite not having starting quarterback Carson Wentz, who tore his ACL on Dec. 10, 2017.
Reich began his coaching career in 2006, eight years after he retired from playing. He spent two seasons as a coaching intern under former Colts head coach Tony Dungy. Reich progressed to being an offensive staff assistant with coach Jim Caldwell in 2008. Then Reich was Peyton Manning's quarterback coach from 2009-10 before coaching Reggie Wayne and the rest of the wide receivers in 2011. Reich was also offensive coordinator and quarterbacks coach with the Chargers and receivers coach with the Arizona Cardinals.
Reich, who will call plays on offense for the Colts, is taking over an Indianapolis team that finished with a 4-12 record in 2017 and has missed the playoffs three straight years. The Colts will have the No. 3 overall pick in the draft and face the uncertainty of not knowing when quarterback Andrew Luck will return from the right shoulder injury that caused him to miss the entire 2017 season.
"One person at a time, one detail at a time, one player at a time and one game at a time," Reich said. "As the head coach, the vision is simple and it's clear, that every time we step on the field to compete, there will be four marks that will mark our team. The first one is that we will be the toughest … both mentally and physically. … Secondly, we will be the most disciplined team. … Thirdly, we're going to be the most prepared team. … Fourth, we're going to be the most united team. We're going to be a close team. It's going to be built around trust, respect and love."
No Green Bay Packers deemed close contacts after OT Jared Veldheer tests positive for COVID-19, source says
GREEN BAY, Wis. — Two days after arriving in Green Bay, veteran offensive tackle Jared Veldheer was placed on the reserve/COVID-19 list.
Veldheer tested positive for COVID-19, a source told ESPN's Field Yates. But the good news for the top-seeded Packers as they prepare for Saturday's NFC divisional-round playoff game against the Los Angeles Rams is that the standard contact tracing investigation did not deem any other players as close contacts, a source told ESPN.
The next step, however, is to wait out each day of daily COVID tests before their playoff opener to make sure there are no more positive tests. Veldheer was signed off the Indianapolis Colts' practice squad on Monday and practiced with the team on Tuesday. He did not practice on Wednesday. He had been in the testing program with the Colts, which is why he was able to join the Packers on the field immediately.
The Packers turned their large media auditorium into the offensive line media room this season, which likely helped them prevent any other linemen from being considered close contacts.
Had Veldheer played against the Rams, he would have become the first player to appear in a postseason game for two different teams in the same year. He was elevated from the Colts practice squad and started at left tackle in their AFC wild-card playoff loss to the Bills on Saturday.
Veldheer is in his second stint with the Packers. He started for them at right tackle in last year's NFC divisional playoff win over the Seattle Seahawks after Bryan Bulaga became ill before the game. The Packers had lured Veldheer out of retirement and signed him in November of 2019.
The Packers did not say how — or if — they planned to use Veldheer this week. They lost All-Pro left tackle David Bakhtiari to a torn ACL in practice leading up to the regular-season finale. They started Billy Turner at left tackle in Bakhtiari's place and put Rick Wagner at right tackle. Veldheer most likely would have served as the top backup tackle unless the Packers wanted to move Turner back to guard to deal with Aaron Donald.
Earlier on Tuesday, coach Matt LaFleur said of Veldheer: "I thought he did a nice job yesterday. But it was primarily walk-through so it was really tough to evaluate that in one walk-through setting. So we'll play it day-by-day and see where he's at."
Answering the biggest injury questions for NFL divisional playoff teams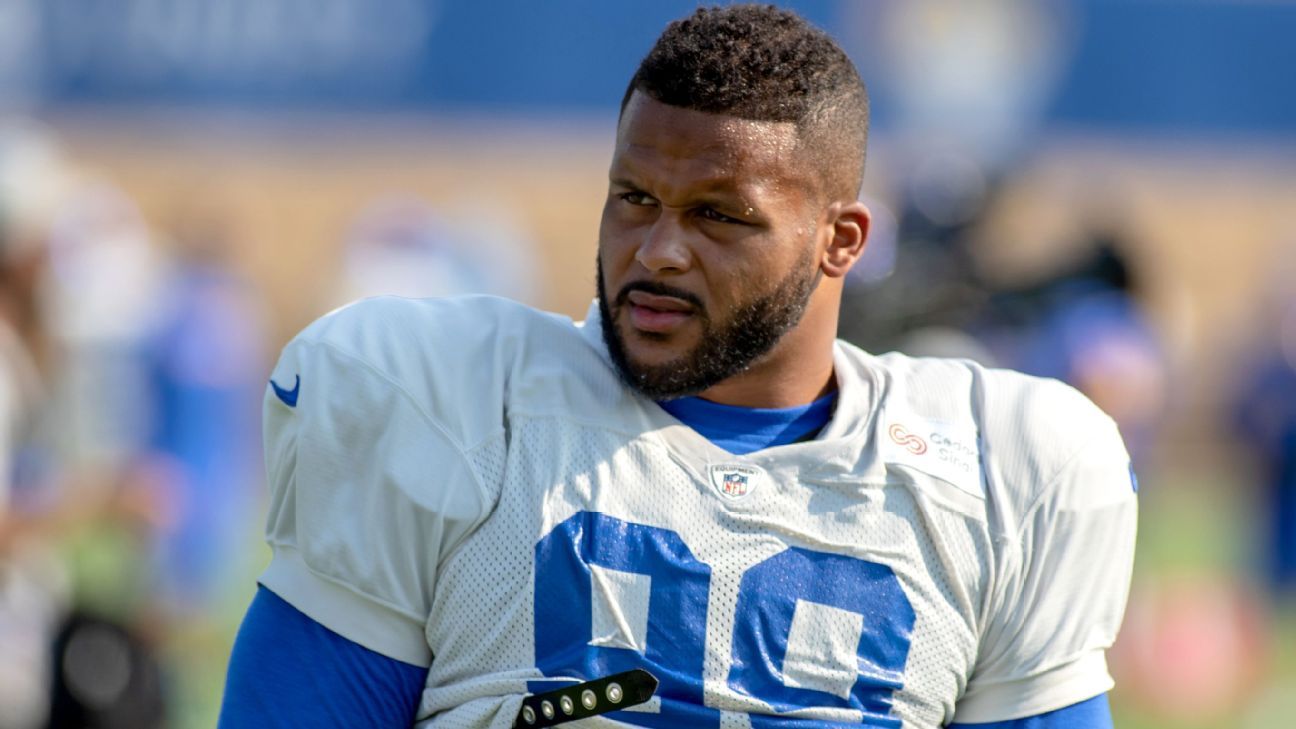 The Cleveland Browns get back their head coach Kevin Stefanski — who missed the wild-card game due to COVID-19 — for Sunday's game against the Kansas City Chiefs.
Quarterbacks continue to deal with injuries, most notably in Los Angeles where Jared Goff is still recovering from surgery on his throwing hand thumb and John Wolford from a stinger. Rams defensive tackle Aaron Donald is also dealing with a rib injury suffered in the wild-card round, but is expected to play.
Our NFL Nation reporters update the top injury question for every team heading into divisional weekend:

Saturday
Rams: The Rams have no shortage of injury big concerns ahead of Saturday's divisional-round playoff against the Packers. Defensive tackle Aaron Donald is dealing with a rib injury, but is expected to play, according to Rams coach Sean McVay. "Unless something unforeseen happens," McVay said, "the terminator will be ready." Receiver Cooper Kupp has bursitis in his knee and is day-to-day, and then there's the quarterback situation. Jared Goff is another week removed from Dec. 28 surgery on his throwing hand thumb and John Wolford is recovering from a stinger, but McVay isn't saying which QB is on track to start against the Packers. — Lindsey Thiry
Packers: The Packers don't have any major injury issues – at least none they can solve before Saturday's game against the Rams. They're obviously not getting left tackle David Bakhtiari (ACL) off injured reserve. But otherwise the playoff bye week did them wonders. Wide receiver Davante Adams, who didn't practice last week in the two workouts, isn't even listed on the injury report. Said Adams: "I just wanted to make sure I gave myself the right rest, treatment and just relaxation while still getting my cardio and everything I needed. I feel as good as I've felt all season right now." — Rob Demovsky
---

Ravens: Three-time Pro Bowl corner Marcus Peters looked healthy when he made the game-clinching interception in the final two minutes of Sunday's wild-card victory in Tennessee and hopped on the Titans logo. But Peters, who has been among the most durable cornerbacks in the league, missed Tuesday's walk-through and Wednesday's practice because of a back injury. Peters' availability looms large in this matchup against the Bills. Josh Allen has completed an NFL-high 302 passes to wide receivers — 22 more than any other quarterback. If the Ravens are without their No. 2 cornerback, they would rely on Jimmy Smith and Anthony Averett to fill the void. — Jamison Hensley

Bills: Can wide receiver Cole Beasley's knee hold up at least one more week? The Bills' slot receiver made it through the wild-card round without any setbacks after missing Week 17 with a knee injury and Buffalo says he should be available for Saturday's game against the Ravens. The Bills will need their second-leading receiver as a a safety valve against Baltimore's aggressive blitzing scheme. — Marcel Louis-Jacques
---
Sunday
No. 6 Cleveland Browns vs. No. 1 Kansas City Chiefs, 3:05 p.m. ET, Sunday, CBS

Browns: All-Pro right tackle Jack Conklin sat out Wednesday's practice because of a hamstring injury that knocked him out of Sunday's playoff win over Pittsburgh. Coach Kevin Stefanski has termed Conklin "day-to-day," but the Browns are hopeful he'll be ready in time for Cleveland's divisional road trip to Kansas City. — Jake Trotter
Chiefs: Running back Clyde Edwards-Helaire has a chance to play on Sunday against the Browns. He practiced for the first time since injuring his ankle and hip in a Week 15 game against the Saints. Edwards-Helaire was a limited participant on Wednesday. The Chiefs could use a healthy Edwards-Helaire, who has more big play ability than either of their other top backs, Darrel Williams and Le'Veon Bell.— Adam Teicher
---
Buccaneers: Inside linebacker Devin White and defensive lineman Steve McLendon both returned from the reserve/COVID-19 list after missing the last two games, but running back Ronald Jones did not practice Wednesday due to a quad injury that forced him to miss last week's wild-card game. "I anticipate and hope he can go tomorrow," coach Bruce Arians said of Jones. Right guard Alex Cappa, who suffered a fractured ankle against Washington, will be replaced by Aaron Stinnie this week. — Jenna Laine
Saints: Defensive end Trey Hendrickson practiced on a limited basis Wednesday after missing last week's game with a lingering stinger. Not only did Hendrickson lead the Saints in sacks this year with 13.5, but he was especially huge in the two wins over Tampa Bay with a combined three sacks (plus a sack-fumble that was negated by penalty). Versatile offensive chess piece Taysom Hill did not practice Wednesday because a knee injury that temporarily sidelined him last Sunday, but it's too early in the week to predict his status. — Mike Triplett
Kansas City Chiefs RB Clyde Edwards-Helaire returns to practice ahead of playoff game
KANSAS CITY, Mo. — The Kansas City Chiefs could have running back Clyde Edwards-Helaire for Sunday's divisional-round playoff game against the Cleveland Browns at Arrowhead Stadium.
Edwards-Helaire returned to practice Wednesday for the first time since injuring his ankle and hip in a Week 15 game against the New Orleans Saints. He was a limited practice participant.
Chiefs coach Andy Reid said he was able to watch some of Edwards-Helaire's rehab progress, noting that the 2020 first-round draft pick "gets after it."
"A lot of it is the way you approach it and the trust you have in the trainers and so on. I'll tell you, this kid, he just kind of went right at it," Reid said. "I mean, he was fearless with it, and as a result, I'd tell you he's probably a little ahead, and we've just got to evaluate it."
But, Reid cautioned, "we're not going to do anything to jeopardize him or his career. I mean, that's not what we're doing. We've taken it day by day with him and we'll keep doing that and just see how he does here."
Edwards-Helaire led the team in rushing with 803 yards in the regular season. He also caught 36 passes and scored five touchdowns.
Darrel Williams, Le'Veon Bell and Darwin Thompson filled in for Edwards-Helaire in the two games he missed.