The way Dave Dombrowski chooses to see it, things will break the Boston Red Sox's way this season as long as the American League East turns into an arms race.
Forget all about the David Ortiz-sized hole in the middle of the batting order. And never mind Giancarlo Stanton teaming up with Aaron Judge in New York. Dombrowski believes the division will be decided by pitching, and the Red Sox president wouldn't trade his staff for any other.
"If you told me right now that our starting rotation and our bullpen was going to stay healthy during the season, I'd take our chances right now with our club," Dombrowski says. "I think we can compete with anybody because we've got some guys [who] can shut people down when they come out in big games."
It's true Chris Sale was the best pitcher in baseball for three quarters of last season before hitting a wall in August. Likewise, Craig Kimbrel had as dominant a year as you'll see from a closer, at least until Game 4 of the division series against the Houston Astros.
But the Red Sox have bullpen questions in front of Kimbrel, chiefly whether Carson Smith and Tyler Thornburg can return from injuries to be reliable setup men. And then there's the starting rotation, which had the fourth-best ERA in the league last year (4.06) but nevertheless is filled with uncertainty.
As pitchers and catchers report to Fort Myers, Florida, Monday and partake in their first workout Wednesday, here's a look at the biggest issue facing each prospective Red Sox starting pitcher.
Chris Sale: Start to finish
Sale had a 2.37 ERA and gave up 11 home runs in 148 1/3 innings through the end of last July. But over his final 11 regular-season starts, he had a 4.09 ERA and gave up 13 homers in 66 innings. Then, in Game 1 against the Astros, he allowed seven runs on three homers in five innings.
Quite simply, Sale hit a wall. It's happened before, too. His career ERA before the All-Star break (2.74) is half a run lower than after the break (3.28), while his home-run rate jumps from 0.78 per nine innings to 1.11. And in the final month of the season, those numbers skyrocket to 3.78 and 1.51.
But at least Sale is aware of the problem and intent on fixing it. He "won't spill the beans" about changes he's making with new pitching coach Dana LeVangie, but suggested a more gradual build-up of his throwing program. After striking out 308 batters last season, the most by an AL pitcher since Pedro Martinez in 1999, Sale also hinted at being more economical.
"I don't think I need to dial it back. I think I just need to eliminate waste pitches," Sale said recently. "I'd love to be able to get to the sixth inning on a very regular basis with 80-85 pitches. Easier said than done, and it looks good on paper, but those are kind of the things we've been talking about."
Price missed the first two months and another eight weeks last season with an elbow injury, the specificity of which was never revealed. Regardless, the lefty's head was every bit as big a problem as his arm.
From his feud with local media to needlessly deriding Hall of Famer Dennis Eckersley on the team plane over an innocuous comment during a television broadcast, Price raised a whole new set of questions about his ability to thrive amid the deafening noise that exists in the sports-obsessed fishbowl known as Boston.
Price's dominance out of the bullpen down the stretch and in the playoffs signaled his elbow was healthier. By all accounts, he has had a relatively typical offseason as he prepares to re-enter the rotation. But with a chance to opt out of his seven-year, $217 million contract after this season, what about Price's mindset?
"For me, it's unfair to talk about last year. It's in the past," said new manager Alex Cora, whose predecessor John Farrell had a strained relationship with Price. "I'm here to move forward. He's a talented kid. He single-handedly almost beat [the Astros] in the playoffs. The way he threw the ball with conviction, I'll take that."
In 2015, Porcello ranked 75th among 78 pitchers (minimum 162 innings) with a 4.92 ERA. In 2016, he won the Cy Young Award. Last season, his ERA climbed back to 4.65 and he allowed more hits (236) and homers (38) than any other AL pitcher.

If ever Porcello could settle somewhere in the middle of those extremes, he would be a solid No. 3 starter.
A sinkerballer without overpowering stuff, Porcello must locate with precision to be effective. With more hitters hunting low pitches in order to lift the ball in the air, it's imperative for Porcello to be more exact than ever.
"One of the biggest things I'm trying to do is separate the fastball at the bottom of the zone and elevated above the zone," Porcello said recently. "When you try to do that, and you're not executing the knee-high fastball as well as the one out of the zone elevated, everything starts to blend into one pitch. That's when I get in trouble."
As much as any Red Sox starter, Pomeranz would do well to simply repeat 2017. The lefty reached career highs in starts (32) and innings (173 2/3), matched his All-Star 2016 season with a 3.32 ERA and was more consistent over six months than even Sale.
At 29, and after bouncing between the bullpen and the rotation with four teams in four years, Pomeranz might have finally reached his potential. And with free agency beckoning after the season, that could mean a handsome payday.
"I've mainly been focused on picking up where I left off because at the end of the year, I was basically throwing every pitch I have when I wanted to, and it didn't matter the count," Pomeranz said. "Just trying to pick up from there and get that same feel coming into the season."
On the night the Red Sox hired Dombrowski in 2015, Rodriguez allowed one run over eight innings against the Cleveland Indians. More than two years later, it remains one of his most impressive starts in the big leagues.
Injuries, specifically recurring instability in his right knee that finally necessitated surgery in October, have prevented Rodriguez from rising to a top-of-the-rotation starter. The Sox still believe he can get there, but if it doesn't happen this season for the 24-year-old lefty, there will be reason to doubt it ever will.
With Rodriguez likely to miss the season's first few weeks to complete his recovery, 2016 All-Star Steven Wright could find his way back into the rotation. But that presumes Wright is healthy and available. The knuckleballer missed most of last season after knee surgery in May and was arrested in December on charges of domestic assault. While a Tennessee court retired the charges for one year, Major League Baseball is still conducting an investigation with no timetable for potential discipline.
Reports — New York Yankees agree with reliever Darren O'Day on 1-year, $2.5 million deal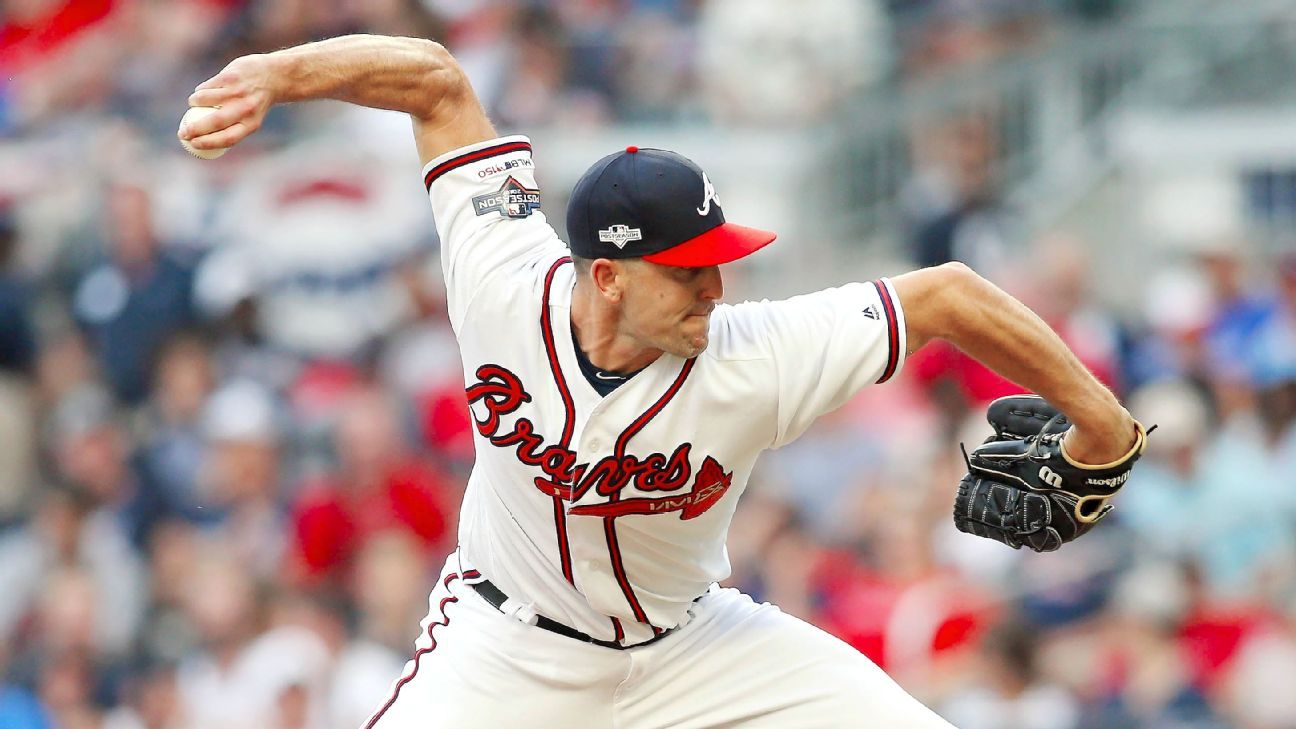 The New York Yankees quickly found a replacement for their bullpen, agreeing to a $2.5 million, one-year contract with submarining right-hander Darren O'Day, according to multiple reports.
The deal includes player and club options for 2022 and is subject to a successful physical, according to reports.
O'Day takes the spot vacated when the Yankees traded right-hander Adam Ottavino to Boston on Monday, a move that cut $7.15 million from New York's payroll. O'Day figures to join left-hander Zack Britton and right-hander Chad Green as the primary setup men for closer Aroldis Chapman.
O'Day, 38, was 4-0 with a 1.10 ERA in 16⅓ innings over 19 games last year with Atlanta, striking out 22 and walking five while allowing eight hits. While his fastball averaged just 86 mph, his low arm angle creates deception; right-handed hitters batted .143 (7-for-49) off him with one home run, by Boston's Xander Bogaerts, the leadoff batter of O'Day's final appearance of the season. Left-handed hitters were 1 for 10.
He became a free agent when Atlanta declined a $3.25 million option, triggering a $250,000 buyout.
O'Day is a 13-year major league veteran, going 40-19 with a 2.51 ERA and 600 strikeouts and 158 walks in 576⅔ innings for the Los Angeles Angels (2008), New York Mets (2009), Texas (2009-11), Baltimore (2012-18) and Braves (2019-20).
He was an All-Star in 2015, when he had a 1.52 ERA and six saves while striking out 82 in 65⅓ innings, but he missed the final two months of the 2018 season with a strained left hamstring and the first five months of 2019 with a strained right forearm sustained during spring training.
O'Day made $833,333 in prorated pay last year from a $2.25 million salary, down from a $31 million, four-year contract he signed with Baltimore ahead of the 2016 season. His wife, Elizabeth Prann, is a correspondent for HLN and CNN, formerly of Fox News.
The Associated Press contributed to this report.
George Springer sees echoes of Houston Astros in Toronto Blue Jays' young core
TORONTO — George Springer thinks the Blue Jays' promising young core is similar to the group he played with that led the Astros to their first World Series title in 2017.
Springer and the Blue Jays agreed last week to a team-record $150 million, six-year contract. He joined a roster that includes young sluggers Vladimir Guerrero Jr. and Bo Bichette, The three-time All-Star outfielder was 2017 World Series MVP when he played with Jose Altuve, Alex Bregman and Carlos Correa.
"This lineup reminds me a lot of them," Springer said, wearing a Toronto cap and jersey during a video news conference. "It is a young lineup but it's a very talented, advanced younger lineup. From everything I've seen, they're very, very ambitious. They want to win, they work hard. That's awesome to see."
"I think the young core is very, VERY impressive! Bichette, Biggio, Guerrero, Gurriel…" – George Springer 👀 pic.twitter.com/y8ESk9ehzN

— Toronto Blue Jays (@BlueJays) January 27, 2021
Toronto went 32-28 during the pandemic-shortened 2020 season, finishing third in the AL East behind the Tampa Bay Rays and the New York Yankees and qualifying for the expanded postseason. The Blue Jays were swept in two games during a first-round series by the eventual AL champion Rays.
"I think they're right there," Springer said of Toronto. "When you play against this team like I have, you could see the talent, could see the potential in their lineup, in their staff, in their arms. I think this team is built to win, and I think they're going to be built to win for a long time."
Team president Mark Shapiro said Springer was "clearly a good fit" for the emerging Blue Jays.
"His experience will add a certain level of wisdom to our players," Shapiro said. "He's been places where our guys haven't been yet and knows how to handle those environments."
In seven seasons, Springer has a .270 career average with 174 home runs and 458 RBIs, including career bests of .292 with 39 homers and 96 RBIs in 2019.
Besides Springer, Toronto also has signed right-handers Kirby Yates and Tyler Chatwood in the past week. The Blue Jays have a pending $18 million, one-year deal with infielder Marcus Semien, subject to a successful physical.
"We've taken the next step and we'll see where that takes us," general manager Ross Atkins said.
Shapiro insisted the Blue Jays still have flexibility to add payroll, likely to strengthen the rotation, but said "the bulk of our heavy lifting is done."
Springer split time between center field and right with the Astros, but is expected to become a fixture in center for the Blue Jays. He's also likely to lead off Toronto's batting order.
"It's no secret that George is a great leadoff hitter," manager Charlie Montoyo said.
"I'm willing to do whatever it is they want me to do," Springer said. "I'm here for the team, I'm here to win so whatever they want me to do, I'll gladly do it."
Springer said the Blue Jays contacted him early in the free agent process, putting him in "a very good state of mind" right from the first call.
"When you have a young talented group that's already in place, it's obviously very, very attractive because you know what they could potentially do," he said.
Springer's contract is the second $100 million-plus deal in team history. In December 2006, center fielder Vernon Wells and the Blue Jays agreed to a $126 million, seven-year contract.
Under new owner Steve Cohen, the New York Mets were said to be interested in Springer, but the outfielder wouldn't address their pursuit.
"This is about the Blue Jays," Springer said. "I don't really have anything to say on that matter. I'm extremely happy to be where I am."
Springer was more open to addressing Toronto's interest in friend and former teammate Michael Brantley, who rejoined the Astros for a $32 million, two-year deal.
"I talk to Mike as a friend probably every day," Springer said. "It's not my business to ask him all that stuff. I was hopeful for it but, ultimately, I'm happy for him."
New York Mets promote assistant GM Zack Scott to acting GM
NEW YORK — Zack Scott was promoted to acting general manager of the New York Mets on Wednesday, eight days after GM Jared Porter was fired.
Scott was hired as assistant GM on Dec. 23 after 17 seasons with the Boston Red Sox, the last two as assistant GM.
"Zack has plenty of championship experience to draw upon," Mets president Sandy Alderson said in a statement. "He has been an integral part of our decision-making processes since his arrival. The entire baseball operations staff, including myself, will continue to work collaboratively."
Scott, 43, oversaw Boston's analytics along with advance scouting and professional scouting. He joined the team as an intern, became an assistant in 2005, then spent six seasons as assistant director of baseball operations.
A graduate of the University of Vermont with a mathematics degrees, he worked for Diamond Mind Inc. as a developer of baseball simulation software from 2000 to 2003.
Porter was hired by the Mets on Dec. 13 and was fired Jan. 19, nine hours after ESPN reported he sent sexually explicit, uninvited text messages and images to a female reporter in 2016 when he was working for the Chicago Cubs in their front office.