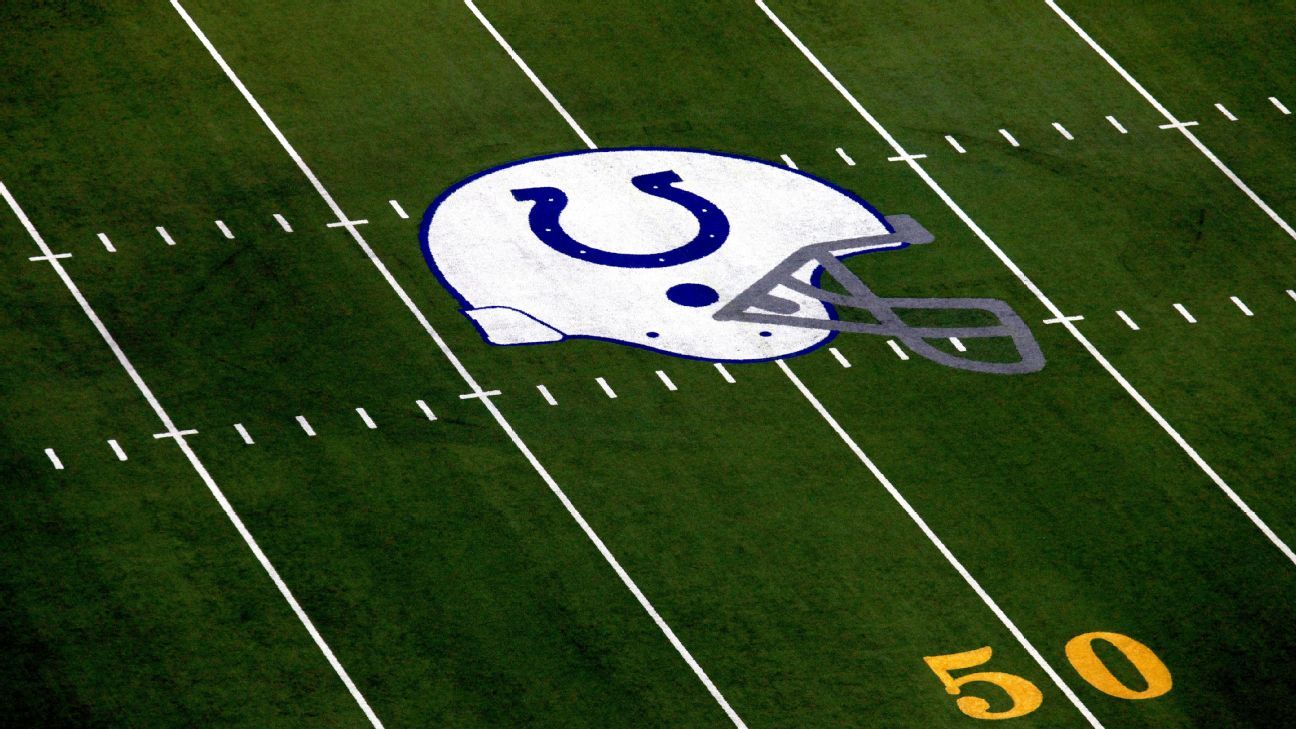 The Indianapolis Colts will name Los Angeles Chargers wide receivers coach Nick Sirianni as their new offensive coordinator, sources told ESPN's Adam Schefter and Field Yates.
Sirianni will work under new Colts head coach Frank Reich, continuing a partnership that existed when both were with the Chargers.
When the Chargers promoted Reich to offensive coordinator prior to the 2014 season, Sirianni took over Reich's role as the team's quarterbacks coach.
Since then, Reich has moved on first to the Philadelphia Eagles and now the top job in Indianapolis.
Sirianni transitioned from QBs coach to wide receivers coach, a position he has filled for the past two seasons.
The 36-year-old played collegiately at the University of Mount Union, where he won three Division III national championships (2000-02) as a wide receiver.
Tampa Bay Buccaneers would be 'elated' to extend Tom Brady's contract beyond 2021
Buccaneers general manager Jason Licht said Thursday that he and coach Bruce Arians would be "elated" if they could get a deal done with quarterback Tom Brady to keep him in Tampa beyond his two-year contract, which will end after the 2021 season.
Licht said Tuesday on the Rich Eisen Show that signing Brady to extension is a possibility, but declined to discuss the specifics of any conversations with Brady's agent Don Yee when asked Wednesday in the Bucs' pre-combine and free agency zoom conference.
"Bruce and I both have a great relationship with Tom, and I have a good relationship with his agent," Licht said. "We thought Tom played incredibly well this year, along with the entire team. We would love to have Tom play here — I can speak for Bruce — I think as long as he continues to want to play. If that comes to fruition at some point, we'd be elated. But I'd like to keep those conversations private right now."
Brady, 43, is set to earn $25 million next season. He had previously said his goal was to play until age 45, but Brady said last month the week of the Super Bowl that he would now consider playing beyond 45. Brady would be 44 next year and tacking on a year to his deal would keep him under contract through his 45th birthday.
A new contract would not only ensure more long-term stability at the position, but could help the Bucs' salary cap situation. They will have less than $30 million in salary cap space, with a number of high-profile players who need to be re-signed, including Pro Bowl wide receiver Chris Godwin, inside linebacker Lavonte David, outside linebacker Shaq Barrett, tight end Rob Gronkowski, wide receiver Antonio Brown and running back Leonard Fournette.
While there is uncertainty as to whether or not there will be an offseason program, Arians anticipates Brady would be recovered from his offseason knee procedure and ready to fully practice by early summer. If there is no offseason program this year, they could lean on Brady's player-organized workouts similar to what he led at Berkley Prep last summer.
"I think he's probably looking [at] somewhere around June, right now, from what I hear," Arians said. "His leadership — he doesn't have to be out there throwing it anymore. He can be there standing and coach the s— out of them. Wherever they meet and work out — I'm hoping we have an offseason for the younger players. Tom doesn't need it, but for the younger players — first-, second-, and third-year players — we've missed two years of player development with where we're at now. We don't need to miss another one."
Licht also said he "expects" center Ryan Jensen and left tackle Donovan Smith back next year. Both are under contract but neither are due any guaranteed money. With Smith set to count $14.25 million against the salary cap this year and Jensen $10 million, some had questioned if they'd be cap casualties. But the Bucs were thrilled with their performances down the stretch and in the postseason.
"We love Ryan and Donovan," Licht said. They played a pivotal role in our offense — in their protection, in the run game. We envision Ryan and Donovan both being on this team. We expect them, not just envision them."
Texans' AFC South rivals donate $100,000 to aid Houston recovery efforts after winter weather
The AFC South is again pitching in to help out one of their own.
The Jacksonville Jaguars, Tennessee Titans and Indianapolis Colts are combining to donate $100,000 to the Houston Harris County 2021 Winter Storm Relief Fund to help residents impacted by the severe winter weather that hit the state last week.
The NFL Foundation also is matching the donation.
"As our community continues to recover from the devastating events of last week, we are grateful for the support from our AFC South family as well as the NFL Foundation," Houston Texans chairman and CEO Cal McNair said in a statement. "I am very proud that our division and the NFL consistently act as one team with one mission — take care of each other. This is part of who we are."
Per its website, the Houston Harris County Winter Storm Relief Fund will focus on grants to local non-profits that will help families that need additional help from the storm damage to recover. It includes helping with home repairs and supplementing help from other local and federal efforts. The Washington Post reported last Sunday that at least 58 people died in the two major winter storms that struck the country. Thirty-two of the people killed lived in Texas, where power outages left many without heat in freezing temperatures.
"It is an honor to join our colleagues in the AFC South and at the NFL Foundation in supporting the Houston community as they recover from the devastating effects of the winter storm," said Titans controlling owner Amy Adams Strunk. "As a native of the area, I know the region will overcome the stunning amount of damage to families and property, and the entire Titans family is thinking of them during this difficult time."
Colts owner Jim Irsay and Jaguars owner Shad Khan also released statements in support of Houston residents.
"While we regularly square off against our division rivals on Sundays in the fall, some things are bigger than football, and now is one of those times," Irsay said. "The Colts are happy and proud to join with the Jaguars and Titans organizations as well as the NFL Foundation to assist our NFL family in Houston that is facing enormous challenges right now. All of us here in Indianapolis are thinking of and praying for the Houston community and others throughout Texas who have been impacted."
Said Khan: "Houston has endured some difficult times recently, but it always bounces back, and I am confident that will be the case again. … Everyone in Jacksonville is a Houston fan today as we get through this together."
This is not the first time AFC South rivals have teamed up to help one of their members. The Colts, Texans and Jaguars made a $100,000 joint donation to the Community Foundation of Middle Tennessee to help Nashville and surrounding areas recover from tornadoes that ripped through the area last March.
Tampa Bay Buccaneers safety Antoine Winfield Jr. turns Super Bowl 2021 taunting fine into positive with donation to school
Safety Antoine Winfield Jr. is donating $7,815, the amount he was fined for taunting the Kansas City Chiefs' Tyreek Hill in Super Bowl LV, to support the Tampa Bay Buccaneers' Youth Leadership Program at Tampa's Young Middle Magnet School.
The Buccaneers Foundation is matching his donation, putting the total donation to the school at $15,630.
"Since it got a lot of media attention, it was out there and I wanted to just spin it in a way to make it positive," Winfield told the team's website.
Winfield has been a mentor to students through the program, part of the Buccaneers' social justice initiative. After Winfield was fined, fans asked whether they could pay the fine, but he is encouraging them to donate to the school instead.
"Our district is deeply appreciative, not only for the Tampa Bay Buccaneers, but also Antoine Winfield, Jr. for this monetary donation that will make a strong impact at Young Middle Magnet," Hillsborough County superintendent Addison Davis said, according to the team's website. "Taking an unfortunate situation and turning it into a positive one is the measure of a true champion, and a wonderful example for our students and entire community."
Winfield received an unsportsmanlike conduct penalty for making a peace sign in Hill's face as the Chiefs receiver was getting up off the field in the fourth quarter with the Buccaneers comfortably ahead.
After the Buccaneers' 31-9 victory, Winfield told reporters he was only returning the favor to Hill, who he said made a similar gesture to him during the regular season in a game the Chiefs won 27-24. Hill scored three touchdowns and had 269 yards receiving on 13 receptions in that game but was held to seven catches, 73 yards and no touchdowns in the Super Bowl.
"The taunting, man, it's something I had to do. When we played them earlier, Hill went off on us. He backflipped right in front of my face and gave me the peace sign. So it was only right that I gave him the peace sign right back to him. It felt amazing to be able to do that," he told reporters.
ESPN's Adam Schefter contributed to this report.