I don't know about you all, but I will never be so happy to read "He's in the best shape of his life!" stories as players filter into spring training as I will be this year.
I will never be so happy to see that first video of players stretching and playing catch.
I'll be overjoyed the first time Aaron Judge and Giancarlo Stanton step into the batting cage to face live pitching.
This isn't the usual "winter bad, baseball good" attitude that creeps up this time of year, especially for those of us who live in areas of icy driveways and slush-filled sidewalks. This is about talking baseball and not the offseason mess of free agency. It's talking about great plays instead of place of play. It's talking about who is in camp instead of who isn't. It's about watching Judge and Stanton break car windshields and seeing if Ronald Acuna can make the Braves and how Andrew McCutchen and Evan Longoria look in their new duds.
The Yankees report to camp on Tuesday as pitchers and catchers get their physicals. Aaron Boone will have his first news conference since he was introduced as the team's manager, and one of the questions he'll be asked will be about his batting order. He can't go wrong no matter what he does, but it's fun to speculate about that Opening Day lineup. All I know is that once Judge and Stanton check in, I want to see the numbers — not just their projected home run totals but also their body-fat percentages.
Of course, the number that will come up time and time again is the number of free agents still out there; somewhere in the neighborhood of 100 remain unsigned. That list includes J.D. Martinez, who slugged .690 last season with 45 home runs; 2015 Cy Young winner Jake Arrieta; Eric Hosmer, who is coming off his best season; and Mike Moustakas and Logan Morrison, who both slammed 38 home runs.
Baseball has a way of doing this, of punching itself in the face, of drawing criticism instead of celebration. We had a remarkable 2017 season that included Stanton and Judge topping 50 home runs, Jose Altuve winning an MVP Award to further show baseball is for anyone of any size and an exciting postseason that culminated in the Astros' first championship in franchise history. The star power, especially all the young stars, means the game's future is in good hands.
Instead, we've spent the winter wondering why billionaires aren't sharing more of their money with millionaires. Whether some teams are "tanking" or just merely "rebuilding." About the sad state of the Marlins after Derek Jeter traded away an All-Star-caliber outfield in Stanton, Marcell Ozuna and Christian Yelich. About the economics of a sport that saw the Pirates and Rays trade away the long-time faces of their franchises.
To which I point out: The Yankees released Babe Ruth, the Giants dumped Willie Mays, the Mariners traded Ken Griffey Jr.
The fact is a lot of this stuff is inside baseball. It's interesting to the die-hards like us. The average fan just wants to go to the park, eat food that's bad for you and not feel guilty, soak in the sun and hopefully cheer for a winning team. In these days of social isolation and political division, the ballpark still brings everyone together.
Anyway, baseball is back, and given the way this winter unfolded, spring training will feel like less of a slog than ever. Here are some camps worth paying extra attention to:
New York Yankees. I think we'll have to get rid of the Baby Bombers nickname for 2018. Judge is now a wise old veteran who turns 26 in April. Gary Sanchez is an All-Star coming off a 33-homer season. Stanton is the reigning NL MVP and major league home run champ. The record for home runs by three teammates — 143, by the 1961 Yankees (Roger Maris 61, Mickey Mantle 54, Bill Skowron 28) — could be in play, along with the record for home runs by a team (264 by the 1997 Mariners).
Atlanta Braves. Acuna has been pegged as the game's next great star, the No. 1 overall prospect, after he hit .325 with 21 home runs and 44 steals across three levels of the minors. The most amazing part of his season: He hit .287 in Class A, .326 at Double-A and then .344 in 54 games at Triple-A. He didn't turn 20 until December. Along with Acuna, the Braves have a slew of pitching prospects to monitor — eight of them made it into Keith Law's list of 100 top prospects. Giant Brazilian lefty Luiz Gohara debuted last September, while others such as Mike Soroka, Kyle Wright, Kolby Allard, Ian Anderson and Max Fried will push for midseason call-ups.
Los Angeles Angels. Welcome to America, Shohei Ohtani. His attempt to play both ways begins in Tempe, and spring training is the perfect time to get him as many at-bats as possible. At the same time, Mike Scioscia's first priority is to get Ohtani on schedule to pitch in the rotation. If Ohtani doesn't hit well, will that doom his chances of getting some DH time in the regular season?
San Francisco Giants. The Giants collapsed to a 64-98 record — on the heels of a terrible second half in 2016 — and will have to prove that their roster isn't too old to compete in today's youth-centered game. They've added Longoria (32 years old) and McCutchen (31 years old) to help an offense that ranked next-to-last in the NL in runs scored, but the back of the rotation and bullpen have to improve as well.
New York Mets. The Mets hope to throw last year's soap opera of a season into the trash and start over, but all scrutiny will be on the health and production of Noah Syndergaard, Matt Harvey and Steven Matz. Besides the rotation, it will be interesting to see how youngsters Amed Rosario and Dominic Smith respond after their initial big league trials.
Chicago Cubs. It was already an interesting spring for Chicago. Kyle Schwarber is going to show up in really good shape. The World Series hangover year is over, but the Brewers and Cardinals should be better in the NL Central race. The Cubs already had a lot riding on 2018 — and now, Yu Darvish is headed to Chicago.
So, yes, it's time to talk some baseball.
P.S.: Heard anything new on J.D. Martinez?
Drew Robinson makes San Francisco Giants' Triple-A roster after losing eye in 2020 suicide attempt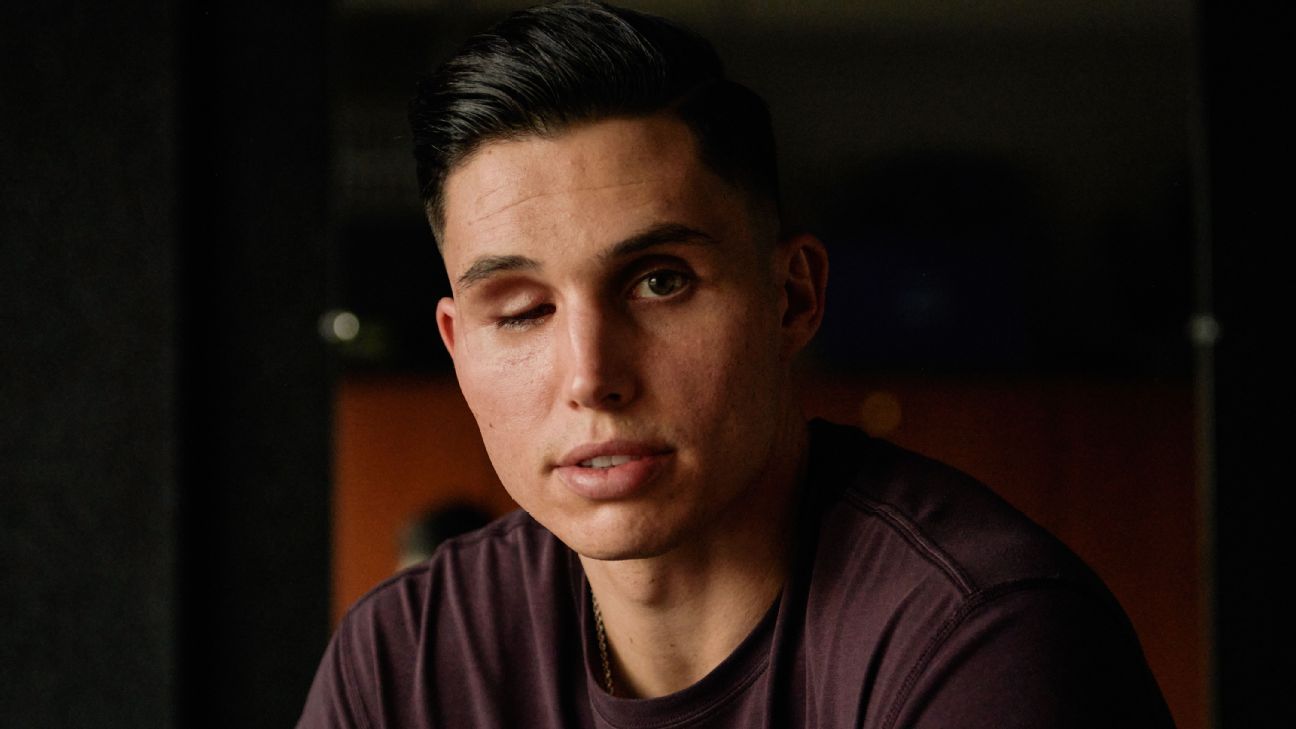 Drew Robinson, who lost his right eye in a suicide attempt last year, made the opening day roster for the San Francisco Giants' Triple-A affiliate and could play as soon as tomorrow, when the Sacramento River Cats open their season with a six-game series in his hometown of Las Vegas.
Robinson, 29, signed a minor league deal with the Giants over the winter, six months after he shot himself in the head. After a harrowing 20 hours that followed the attempt and more than a year of rehabilitation, a late-spring surge in Robinson's performance during minor league spring training convinced the Giants to place him one step from the team with the best record in the National League.
"I don't know if I'll be able to fully describe how excited I am for these next six games, but I know that this is going to be another powerful experience, and I'm so ready for it," Robinson told ESPN on Wednesday. "Our game isn't even until tomorrow, but I already had a hard time staying asleep last night because of how excited I am for these games and this experience as a whole.
"After going through most of my life not fully appreciating what was happening, I can promise that I'll be taking in every second of this season with a new understanding of how special all of this is."
Robinson's family, friends and doctors will gather at 7:05 p.m. PT Thursday at Las Vegas Ballpark, where Robinson spent much of the offseason taking live batting practice — and hit his first home run since he began his comeback attempt. His work at the stadium, just 2 miles from the house where his suicide attempt took place, convinced Robinson that his desire to play baseball again could be a reality.
He began the spring playing shortstop, a position Robinson hadn't regularly manned in nearly a decade, and struggled to adapt to its speed. When the Giants moved him to the outfield, where he played the majority of his 100 games with the Texas Rangers and St. Louis Cardinals from 2017 to 2019, Robinson's comfort returned.
Along with it came more offensive production. The concerns about the left-handed-swinging Robinson's ability to track pitches without his lead eye were palpable, but Robinson proved adept at discerning balls and strikes — and unleashing his massive power. He had rebuilt the rest of his body through a consistent workout regimen, adding nearly 20 pounds of muscle onto his 6-foot-1 frame and showing up at minor league camp a shredded 200 pounds.
Hard contact proved elusive early in spring training, but when Robinson squared balls up, they soared into the Arizona sky. He hit a pair of home runs, the latter a 450-foot shot on a high changeup. The Giants, whose support after the suicide attempt was vital in Robinson's recovery, were convinced. He wasn't just a great story. He was worthy of another shot at returning to the big leagues.
Even making it back to the minor leagues is stunning. The last player in the major leagues with one eye was Pittsburgh pitcher Whammy Douglas, who threw 47 innings in 1957. The questions about Robinson went far beyond the limitations having one eye might place on him, too.
For years, the vagaries of baseball had preyed on Robinson — the game's inherent failures, the up-and-down nature of a player who never quite got a toehold on a big league roster. His suicide attempt on April 16, 2020, surprised friends and family, who always had seen Robinson as the wisecracking, good-natured life of the party.
Four surgeries, including the removal of his eye that was damaged by a bullet, stabilized Robinson physically. Rebuilding him mentally was a far more difficult task, one that continues today through regular therapy, meditation and medication. It is the foundation that allowed Robinson to rejoin the sport that brought him joy and pain — and to apply all he has learned so that his family's fears of baseball sending him back to a dark place would be unfounded.
There were moments this spring that were frustrating, disappointing, problematic, but Robinson's perseverance won out. And now, with those closest to him there — his parents, his siblings and his best friend, Daiana Anguelova — he'll be where he belongs: playing professional baseball again.
Minor league baseball draws 103,483 for 47 games in return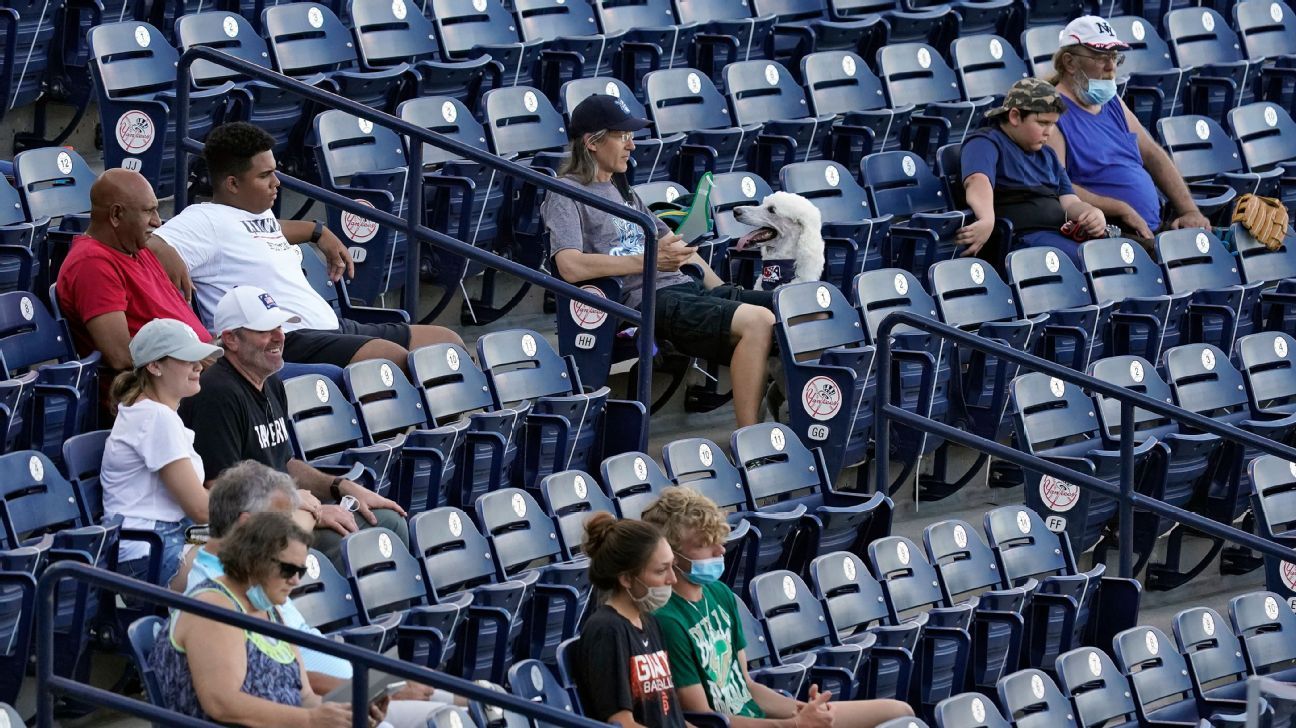 ST. PETERSBURG, Fla. — Minor league baseball drew 103,483 fans for 47 games on its opening day after missing the 2020 season because of the coronavirus pandemic.
The largest crowd Tuesday was 5,004 for the Tulsa Drillers' 4-3 loss to the Amarillo Sod Poodles in the Double-A Central.
All four Double-A South games were postponed by rain. The Triple-A West schedule does not start until Thursday.
The 176 minor league teams drew 41,504,077 in 2019, up 2.6% from 40,450,337 in 2018 and the ninth-highest total in minor league history. The 4,044 average increased 2.1% over 2018's 3,960.
Major League Baseball eliminated the separate governing body of minor league baseball and cut affiliations from 160 to 120 this season.
Toronto Blue Jays to again make temporary home in Buffalo, report says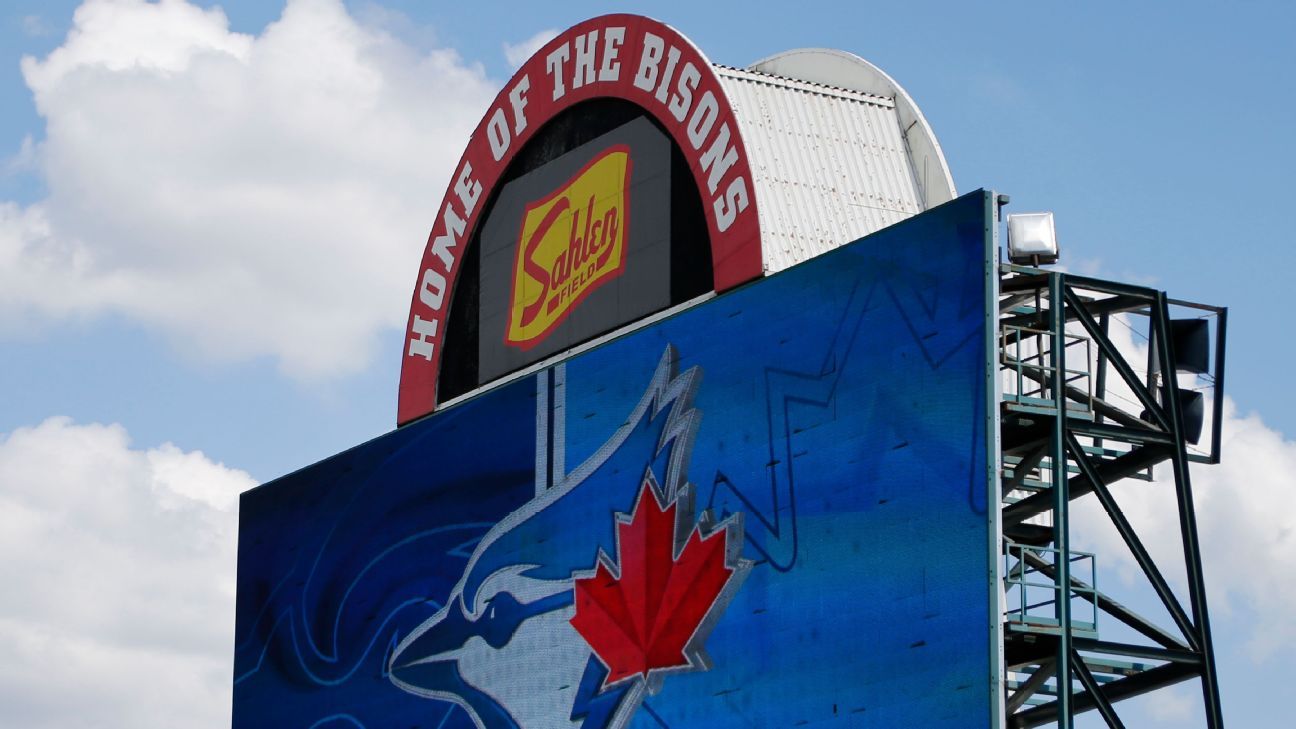 After two months in Florida, the vagabond Toronto Blue Jays are again ready to take flight in June and make their temporary home in Buffalo, New York, according to a report.
The Blue Jays will return to Sahlen Field on June 1 against the Miami Marlins, Sportsnet reported Wednesday. They played the first two months of the season at TD Ballpark — their spring training facility in Dunedin, Florida — because of Canadian government restrictions during the coronavirus pandemic.
Toronto last played at home at Rogers Centre, with its 49,000-person capacity, on Sept. 29, 2019.
The Blue Jays played home games during the shortened 2020 season at Sahlen Field — home of their Buffalo Bisons Triple-A farm team — and went 17-9. The Canadian government didn't allow the team to play at home because of the risk of spreading COVID-19 due to frequent travel required during a baseball season.
The Blue Jays, who have 10 games remaining in Dunedin, are 14-14 and are in fourth place in the AL East through Tuesday's games.
The Associated Press contributed to this report.